With a few back-to-back days of quiet on the hill, we thought we'd take a moment to provide a quick update on the crevasse rescue and medical evacuation that took place on Monday, June 5. Also, we would like to extend our gratitude to the many members of the greater climbing community who made it all possible!
Medical evacuation at Heartbreak Hill:  
Michael Metzler, the climber med-evacuated on June 5 with severe abdominal pain, is now headed home to Washington State after undergoing an emergency appendectomy at Mat-Su Regional Hospital.  A grateful Metzler swung by the Talkeetna Ranger Station yesterday with his family -- moving slowly and looking ahead to several more weeks of recuperation time.  
Of note, we also want to correct the original news release which stated that Metzler was a solo climber. Although he was registered under a solo permit, Metzler had in fact teamed up with fellow mountaineers for his expedition. He was not climbing alone!
The NPS gives special thanks to Medical VIP Elizabeth Keane, who was spot-on in her early diagnosis, provided patient care on the glacier, and served as medical attendant during the air evacuation.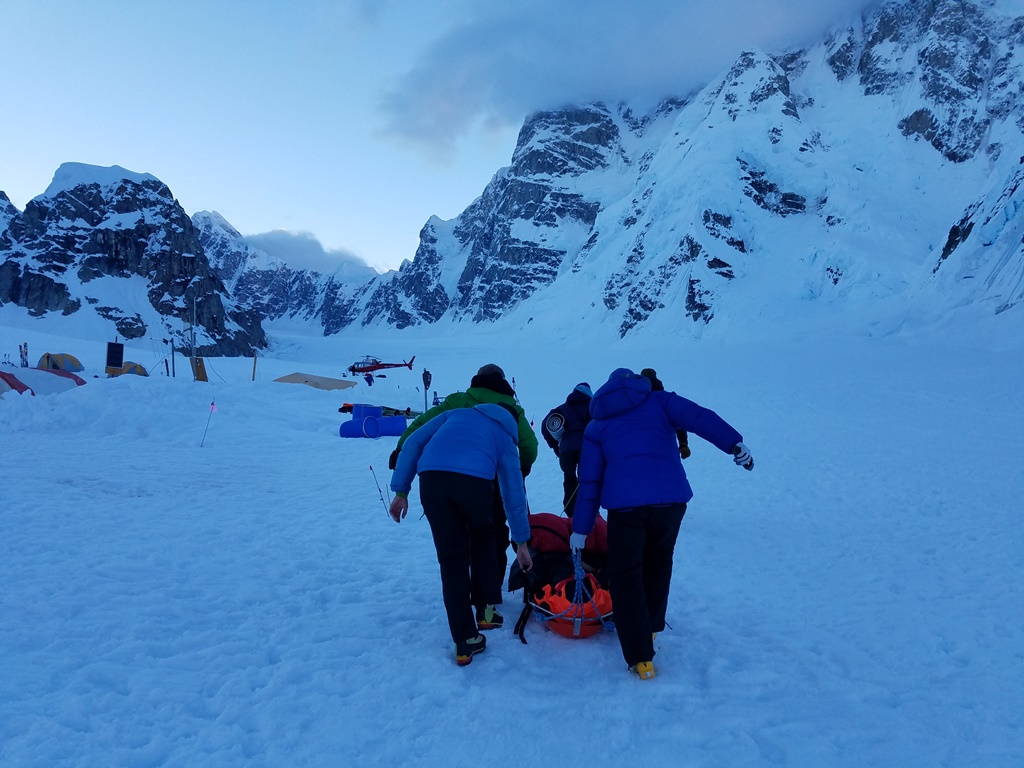 NPS Volunteers help shuttle the appendicitis patient over to the helicopter for med-evac. (NPS Photo/Kakiko Ramos-Leon).

Crevasse Rescue at 7,800 feet:
Martin Takac is slowly recovering in a Fairbanks hospital from the traumatic crevasse fall that very nearly took his life.
(Click here for a more detailed description of Takac's fall and the rescue effort that ensued). 
Denali's Chief Ranger Erika Jostad visited with Takac last evening at the hospital, and he relayed his profound gratitude to all staff and climbers who helped save his life.
In addition to the entire staff at the Talkeetna Ranger Station who pulled together to either chip away the ice while suspended sideways in the crevasse; manage or support the SAR operations; or ensure that the climber orientation schedule did not miss a beat, Denali National Park is humbled by the dedication of mountaineering volunteers (VIPs), mountain guides, and independent climbers who stepped in and helped save the day!  It was a grueling, resource-intensive ground effort, so the list is a long one.  High praise and deep thanks go out to:
First responders/rescue team members on scene who helped excavate Takac from the crevasse
:

Justin Fraser - NPS Volunteer-in-Parks
Stefan Beattie - NPS Volunteer-in-Parks
Bill Allen - Guide/Owner, Mountain Trip
John Karl Welter - Guide, Mountain Trip
Erin Laine - Guide, Mountain Trip
Kristie Kayl  - Guide, Alpine Ascents International
Jake Beren - Guide, Rainier Mountaineering, Inc.
Stephen Gately - Guide, Rainier Mountaineering, Inc.
Relief crew resources
Jaime Anderson  - NPS Volunteer-in-Parks
Thad Stavn - NPS Volunteer-in-Parks
Stephen Peters - Independent Climber
Bryce Lencoe - Independent Climber
Tim Ball - Independent Climber
Nadav Oakes - Guide, Alaska Mountaineering School
Dave Wade - Guide, Alaska Mountianeering School
Travis Swanson - Independent Climber
Joe Wagner - Independent Climber
Charles Bruce - US Army
William Eller - US Army
Rhian Oneil - US Army
Other SAR Support from 7K, 14K, and Talkeetna – including communications, resource recruitment, amassing rescue gear, boiling water and preparing food for rescuers.
Julie Hentrich - Basecamp Manager
Kakiko Ramos-Leon - NPS Volunteers-in-Parks
Katherine Cooper - NPS Volunteers-in-Parks
Dr. Jennifer Dow - NPS Volunteers-in-Parks
Tatiana Lawson  - NPS Volunteers-in-Parks
Liz Rocco - NPS Volunteers-in-Parks
Eeva Latosuo  -  NPS Volunteers-in-Parks
Tre-C Dumais -  NPS Volunteers-in-Parks
Rob Kutchin  - NPS Volunteers-in-Parks
Sydney Hartsock  - NPS Volunteers-in-Parks
Special thanks also go out to all three local arms of the Matanuska-Susitna Emergency Services, who helped in this week's rescues by providing tools, making recommendations, and caring for patients:
Talkeetna Volunteer Fire Department
Talkeetna Rescue (not to mention Moore's Hardware!)
Talkeetna Ambulance Service
And we've had many requests for photos or video, but very few were taken up above, and photos were near impossible down in the dark, narrow crevasse.  However, if we come across any good ones we can share, we wll be sure to do so!