| | | |
| --- | --- | --- |
| TODAY'S STATS |     Denali     | Mt. Foraker |
| Registered Climbers | 1,190 | 11 |
| Climbers Currently On Mountain | 65 | 0 |
| Completed Climbs | 1,125 | 11 |
| Number of Summits | 442 | 0 |
| Summit Percentage | 40% | 0% |
The Walter Harper Talkeetna Ranger Station also maintains a daily automated statistics phone line, so if this blog is lagging behind and you need up-to-date registration numbers, call (907) 733-9127.
Mountain Weather

Click here for today's National Weather Service Denali Climbing Forecast.  

And here for the Kahiltna and Ruth Webcams  http://avcams.faa.gov/  
Weather observations from both the 7K and 14K camps have concluded for the season. In the next couple weeks, we will upload the entire season's data to the park website for those that want to take a closer look.  
Ranger Update
NPS Denali (14K) Patrol #6 - (Preston + 3) Frank, Susannah, Levi, and Chris celebrated the 4th of July on the summit of Denali, along with several other teams. It proved to be a mild, calm day on top. Chris Bailey brought his guitar, and led the group in a heartfelt rendition of Stairway to Heaven.  They descended to 14K, then 7K, yesterday.  This morning, after loading up two Otters full of NPS camp gear at Basecamp, the team flew out to Talkeetna and are currently having lunch on Main Street, sitting in the sun, wearing flip-flops.
NPS Denali (14K Patrol #7 (McBrayer, Erickson, Raffaeli, + 2 volunteers) The crew spent the last few days packing up the 14,200-foot camp infrastructure. Yesterday, the majority of camp gear was slingloaded down to Basecamp in netload after netload.  They finished off the last several slingloads this morning.  All patrol members are now down enjoying a warm sunny afternoon in Talkeetna.
A few more planeloads of gear remain at the Upper Kahiltna airstrip, which the NPS will fly out at the next good opportunity. Then its on to weeks of washing, drying, repairing, replacing, and general unwinding from the 2017 patrol season.  
Route Conditions
Though its seen much prettier days, the lower glacier is still travellable in the colder, early morning hours. Very few teams remain on Denali, mostly all up high.  Temperatures at mid-elevations on Denali have been warm, including some afternoons above freezing at 14,200 feet.  As a result of melted ice on certain aspects, there have been multiple reports of rockfall near Windy Corner.     
Photos of the Day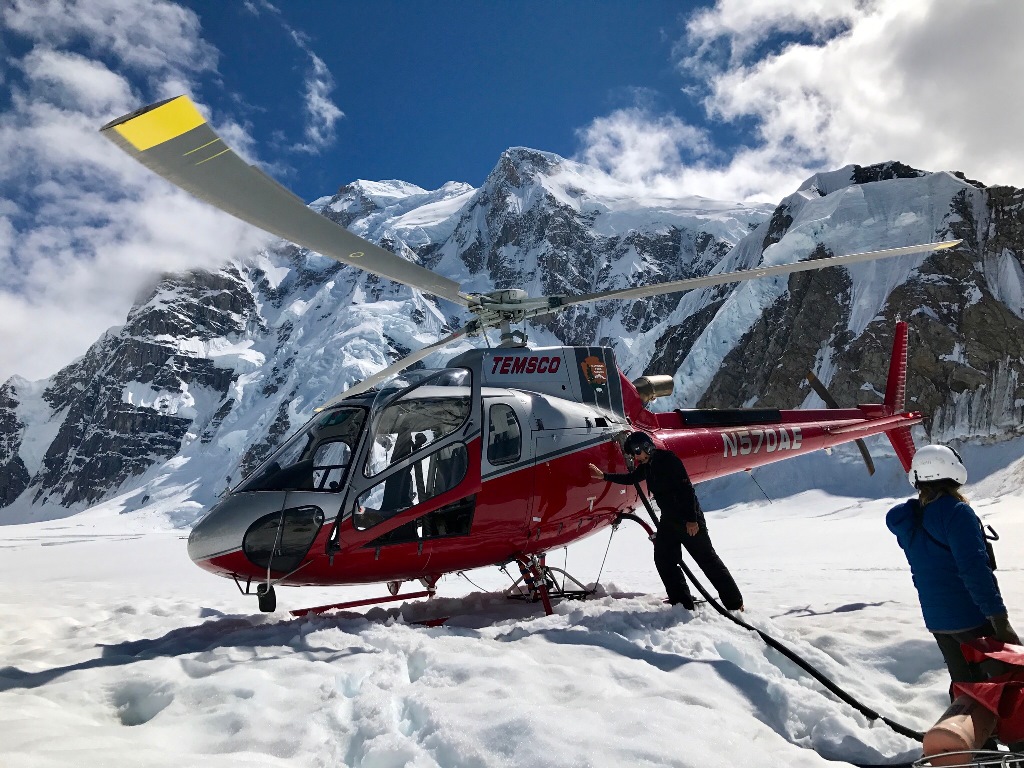 TEMSCO helicopter pilot Andreas Hermansky fuels up during a long day of slingloading netloads of gear from 14,200-feet to 7,200-feet. (NPS Photo/Dave Weber)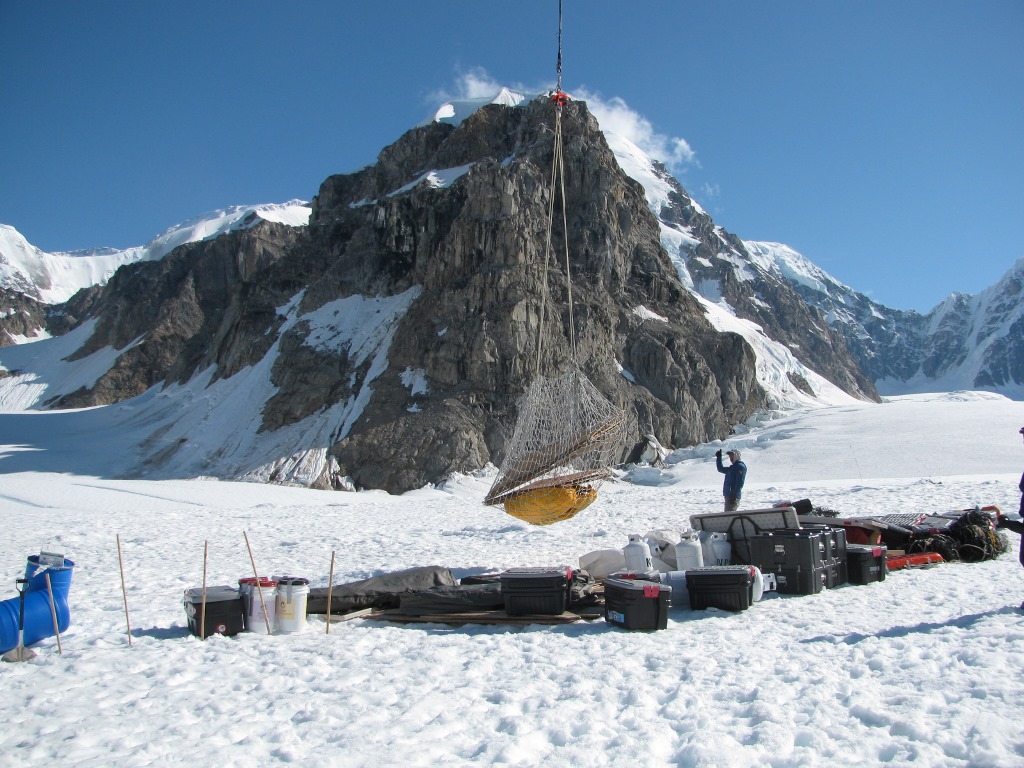 Ranger Frank Preston signals in a heavy netload of plywood and duffel bags.  (NPS Photo/Maureen Gualtieri)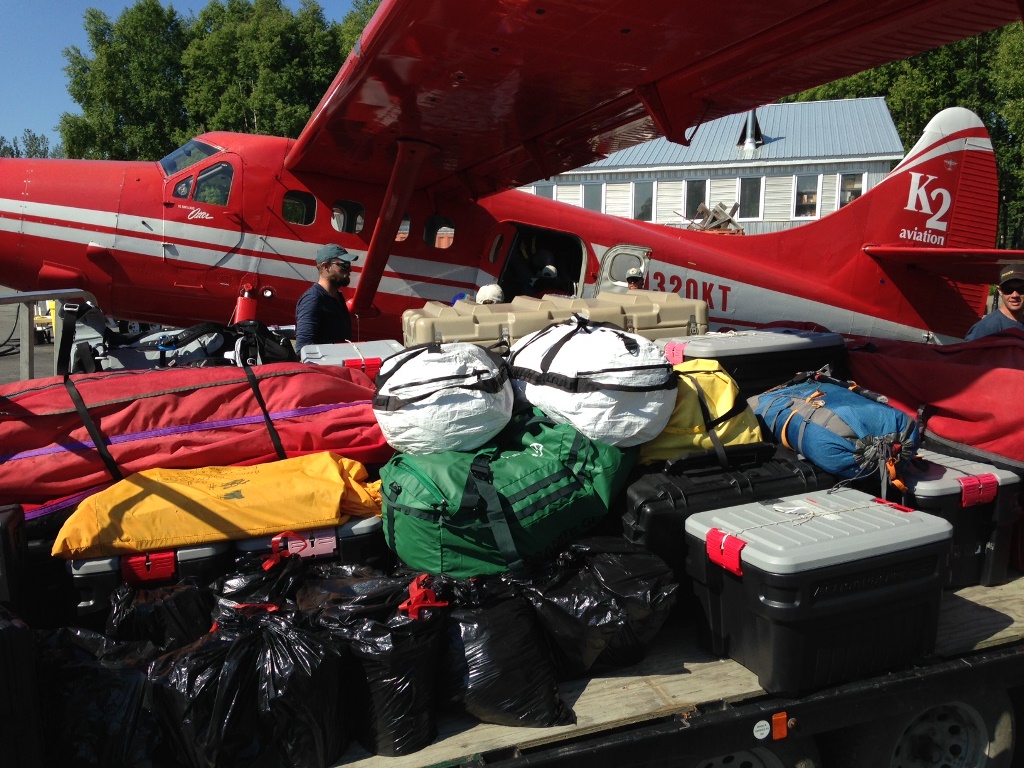 Two Otter loads of camp gear get unloaded onto a trailer at the Talkeetna State Airport.  (NPS Photo/Maureen Gualtieri)