| | | |
| --- | --- | --- |
| TODAY'S STATS |     Denali     | Mt. Foraker |
| Registered Climbers | 923 | 17 |
| Climbers Currently On Mountain | 131 | 7 |
| Completed Climbs | 11 | 4 |
| Number of Summits | 5 | 0 |
| Summit Percentage | 45% | 0% |
The Walter Harper Talkeetna Ranger Station also maintains a daily automated statistics phone line, so if this blog is lagging behind and you need up-to-date registration numbers, call (907) 733-9127.
There are 45 registered climbers in the glaciated backcountry of the Alaska Range, including:

> 18 - Upper Kahiltna 
>  1 - Mountain House
> 12 - Upper Ruth
>  2 - Lower Ruth
>  1 - Mount Hunter
>  5 - Tokositna Glacier
>  2 - Little Switzerland
>  2 - Mount Huntington
>  2 - Moose's Tooth
 
Mountain Weather

Click here for today's National Weather Service Denali Climbing Forecast.

According to Basecamp Manager Lisa Roderick, the temperature at 11:00 am today on the Kahiltna Glacier was an unseasonably mild 24 F (-5 C), with overnight temperatures in the single digits. (For context, last season on this day, the max temp reported for the mornng observations was -4 F, and in 2015, the max temp was 1 F on May 9.)  

Basecamp received 4" of new snow in the past 24 hours, with squirrelly winds.  Weather conditions prohibited all inbound flights yesterday, with only one Otter flight of climbers making it into Basecamp this morning before weather shut down again.

The FAA Webcam is slated to be re-installed on the Kahiltna Glacier during the first long available weather window -- hopefully that will be in place before the end of the week.
 
Ranger Update
NPS Denali (14K) Patrol #1 (Shain/Preston + 4 VIPs) reached the 14,200-foot plateau last night, and once they are well rested, the team will begin the process of establishing the primary NPS camp on Denali.  First the team will construct the Communications tent, including establishing radio and phone capability and setting up the 14K solar power system.  Next, the Cook Tent, then the Medical Tent, and lastly they will improve a helicopter landing pad.  
NPS Basecamp (7K) Patrol #1  As has become a seasonal tradition, the first basecamp patrol of the season will be led by Ranger Roger Robinson. Roger is joined this season by fellow Denali staff member Jessica O'Connor, who works in the park's Communications Center (park dispatch), as well as returning Volunteers-In-Parks Lance and Cami Taysom, both of whom are emergency flight nurses at home in Idaho.  This patrol will fly into the 7,200-foot Basecamp tomorrow, weather permitting, to dig out and set up NPS camp operations on the Kahiltna Glacier.     
Members of the second upper mountain patrol of the year, NPS Denali (14K) Patrol #2 have all arrived in Talkeetna to begin patrol preparation.  Ranger Dan Corn is joined by 5 VIPs, including Justin Fraser (his third upper mountain patrol in three years!), Stefan Beattie, Elizabeth Keane, Tatiana Lawson, and Elizabeth Rocco. The crew is scheduled to fly into Basecamp on May 11 to start their 28-day expedition.  
Route Conditions

Once telephone communications are established with the NPS Patrol at 14,200-feet, we should be able to bring you more detailed route conditions reports for the lower West Buttress.
 
Photos of the Day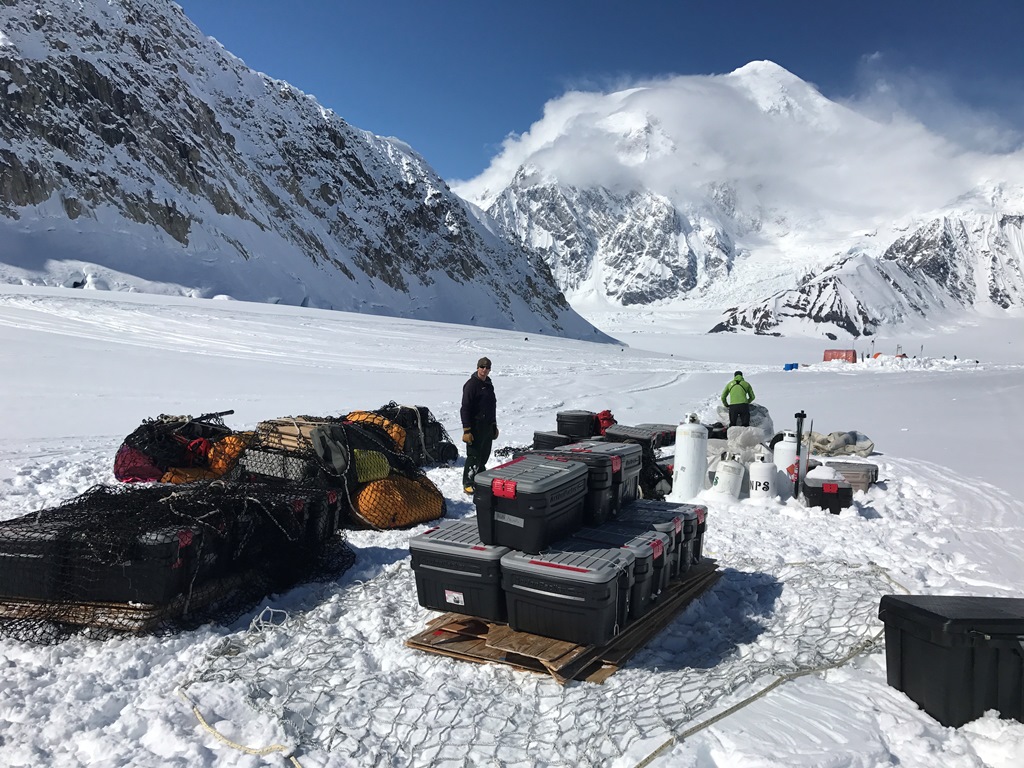 Rangers Joe Reichert and Dave Weber prepare the net loads of camp infrastructure that will get slingloaded to 14,200-foot camp.  Mount Foraker stands tall in the distance. (NPS Photo/Tucker Chenoweth)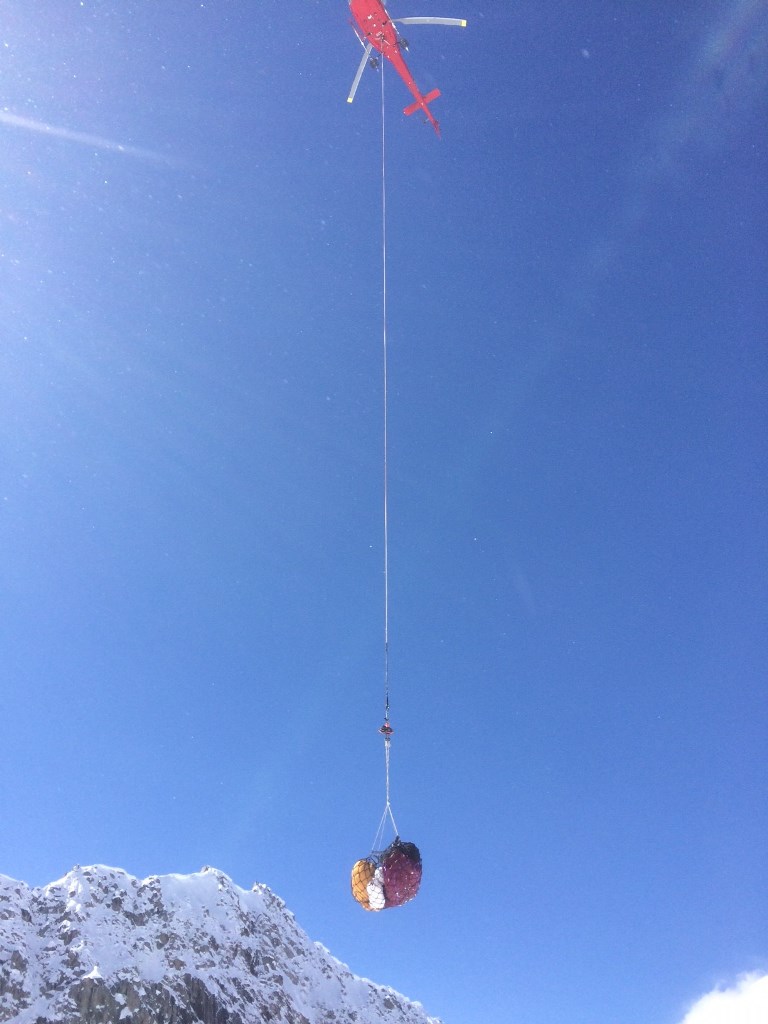 Temsco Backup Pilot Tighe Daugherty lifts off of Basecamp in the A-Star B3e helicopter, below which hangs a slingload of camp gear.  So far, 6,000 pounds of gear -- or 11 net loads -- has been dropped at the 14,200 camp.  Wondering what could be so heavy?!  Gear includes communications equipment, durable weatherport tents, flooring, solar panels, batteries, a heater, oxygen tanks, propane tanks, medical equipment, cooking equipment, and more...  (NPS Photo/Joe Reichert)