| | | |
| --- | --- | --- |
| TODAY'S STATS |     Denali     | Mt. Foraker |
| Registered Climbers | 855 | 11 |
| Climbers Currently On Mountain | 69 | 6 |
| Completed Climbs | 7 | 2 |
| Number of Summits | 2 | 0 |
| Summit Percentage | 29% | 0% |
The Walter Harper Talkeetna Ranger Station also maintains a daily automated statistics phone line, so if this blog is lagging behind and you need up-to-date registration numbers, call (907) 733-9127.
Mountain Weather

Click here for today's National Weather Service Denali Climbing Forecast.  

Weather permitting, the Kahiltna and Ruth Webcams should be installed either this afternoon, or later this week.  

7,200 camp:   Lisa Roderick, flight coordinator for TAT and K2, is now comfortably settled into her spring/summer home on the southeast fork of the Kahiltna Glacier, also known as Basecamp. After a 6-day weather delay flying in, she got wholloped shortly after arrival (May 5-6) by the strongest windstorm she has endured in her 19 years on the glacier. She clocked winds at 48 mph at 7,200 feet, a personal best. Between blowing and falling snow, the storm total was ~ 2 feet, coupled with temperatures in the single digits. 

The last two days (May 7-8) have been much kinder.  Winds have been calm, no new snow has fallen, temperatures are in the comfortable low 20's F.  Skies were broken, with visibility of most the surrounding peaks, with intermittent glimpses of Denali today.  

Lisa reports that the trail down the glacier is wanded nicely, and ski conditions are great.  The snow in basecamp is relatively deep if one ventures off trail.  Due to the past storm, not much climbing has been done recently in the general Kahiltna area, but some teams are starting to move around.

We'll have more official weather observations here in the next day or two.
 
Ranger Update
 
NPS Denali (14K) Patrol #1:
  (Preston, Baldwin, VIP Seitz, VIP Kasavana).  Patrol 1 spent the last two nights at 7,800 feet, with plans to move to 11,000-foot camp today.  Happy news is that the patrol is finally complete!  Grand Teton National Park climbing ranger Ken Kreis (who planned on joining the patrol from the beginning, but got delayed in the Range due a prolonged snowstorm) finally rendez-voused with the team at 7,800 feet.   In hopes of making up for lost time spent shovelling snow and breaking trail, Ken delivered a batch of fresh cinnabon rolls from the Talkeetna Roadhouse.  We still think they'll select Ken to start the trail-breaking to 11 camp this morning.
NPS Denali (14K) Patrol #2:
  The second upper mountain patrol of the season is currently prepping and packing in Talkeetna, with an anticipated fly-in day of tomorrow, May 9.  Ranger Joseph McBrayer is leading the patrol, accompanied by Volunteers-in-Parks (VIPs) Brian Desmond, Chris Martin, Kakiko Ramos-Leon, and Dr. Nicholas Weinberg.
Rangers Tucker Chenoweth, Dave Weber, and Melis Coady flew into the Range yesterday with helo pilot Andreas Hermansky for multiple missions, primary of which was installing the Mount Crosson radio repeater. This seasonal repeater is a critical safety tool, allowing NPS radio traffic in the Alaska Range during the climbing and rescue season.  Other tasks accomplished include bumping Ranger Kreis over to 7,800 feet to re-unite with his patrol and conducting maintenance on the remote fuel system at basecamp. Winds were too strong on the upper mountain to slingload 14K camp gear, as planned.     
Route Conditions
 
Denali:
  As mentioned above,  the lower mountain has accumulated between 4 - 12 feet of snow in the past two weeks.  In contrast, the upper mountain (above 12,000 feet) has been impacted by high winds and lesser snowfall totals.  The upper mountain appears very icy and wind scoured, but not atypical for this time of the season. 
Mount Huntington - Harvard Route
(April 8-10): "Approach couloir is in good shape. Deep unconsolidated snow on most of route, while ice slopes near the summit were in good shape with neve over ice. Rock pitches were generally clear and in good shape.  Approach to upper basin: Left approach is not usable, and right approach has some objective hazard, and may become difficult with melting." 
(Ken Kreis)
Peak 11,300 - Southwest Ridge
(April 18-19):  "Similar. Deep unconsolidated snow on most of route, while ice slopes near the summit were in good shape with neve over ice. Rock pitches were generally clear and in good shape. Descent ridge and rappel route were in good shape. Descent glacier will likely become difficult with melt out; evidence of regular activity from serac above." 
(Ken Kreis)
Ham & Eggs (April 15-18)
:  "H & E in good condition up to col, grade 2 ice up high on route."
Mini Moonflower (April 23):
  "Climbed 200 m up the route. Bergshrund OK. All blue ice. Tons of snow coming down from above and on approach."  
Photos of the Day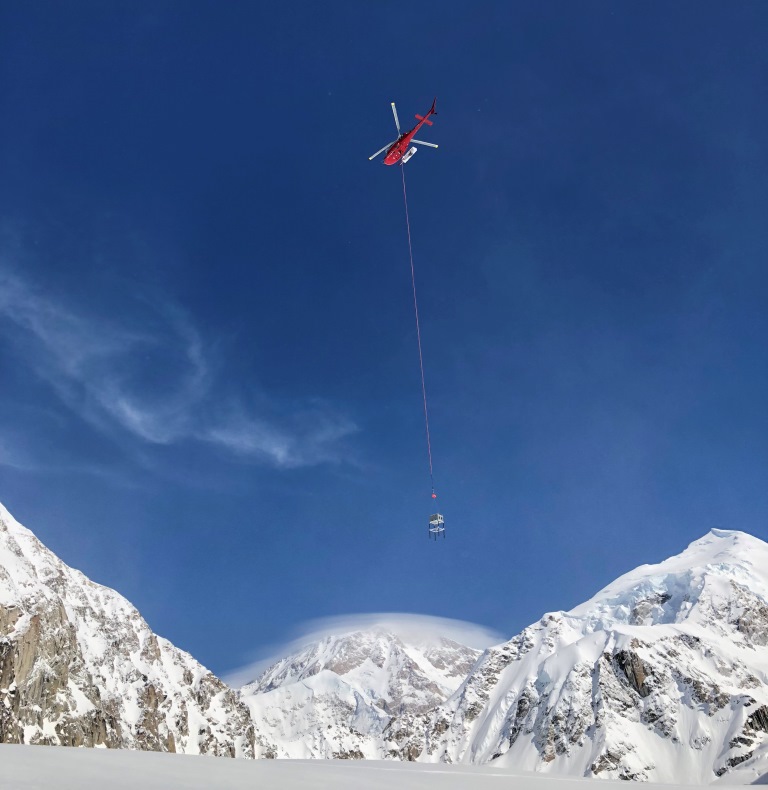 A-Star B3e
Helo pilot Andreas Hermansky slings the Mount Crosson radio repeater to its seasonal location.  The summit of Denali in the distance is capped with lenticulars, indicating strong winds up high. (NPS Photo - David Weber)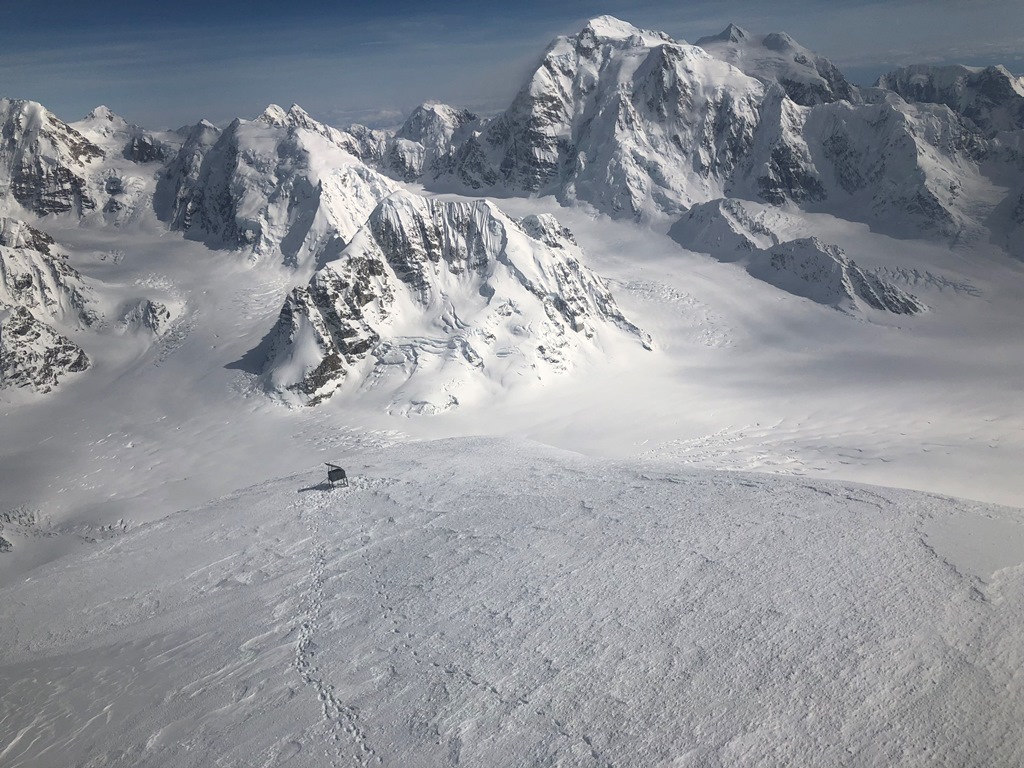 From its perch atop Mount Crosson, the NPS radio repeater enables critical person-to-person NPS radio traffic from most all elevations on Denali and neighboring peaks. (NPS Photo - David Weber)