| | | |
| --- | --- | --- |
| TODAY'S STATS |     Denali     | Mt. Foraker |
| Registered Climbers | 775 | 23 |
| Climbers Currently On Mountain | 85 | 8 |
| Completed Climbs | 4 | 0 |
| Number of Summits | 0 | 0 |
| Summit Percentage | 0% | 0% |

The Walter Harper Talkeetna Ranger Station also maintains a daily automated statistics phone line, so if this blog is lagging behind and you need up-to-date registration numbers, call (907) 733-9127. 

Weather Report
7,200 feet -  Scattered clouds over basecamp this morning, with thin stratos clouds at mid elevations. They had a trace of new snow overnight. Windspeed at 8 am was 9 mph out of the east, with gusts up to 14 mph. Barometer pressure was 30.14 and rising.
In the last 12 hours:
Current temp: -10 C / 14 F
Low temp:  -15 C / 5 F
High temp:  -9 C / 16 F
The FAA Kahiltna Glacier webcam is now operational. Look for the blue dot in the lower middle of Denali National Park, "Kahiltna Glacier Advisory WX na"
National Weather Service forecast 

Ranger Update
NPS AKR Patrol #3 (Shain, 1 VIP) Ranger Mik Shain and returning volunteer (and fiance) Sue Wolff are in the Ruth Gorge. Patrol objectives include climbing, contacting park visitors, assessing snow and route conditions, and cleaning up the glacier as needed. 
NPS Denali Patrol #1 (Erickson, Coady) flies into the Kahiltna Basecamp today.  Rangers Chris Erickson and Melis Coady are joined by Grand Teton NP District Ranger Scott Guenther and GRTE Climbing Ranger G.R. Fletcher.  Although the terrain is different, the mountaineering programs at Grand Teton NP and Denali NP share the same mission and philosophy.  This ranger exchange is designed to promote cross fertilization and sharing of best practices in climbing, aviation, and resource management.  Two returning Volunteers-in-Parks (VIPs) are also on the first Denali patrol, namely Steve Mock who volunteered in 2014 and Ben Weaver, a returning volunteer from last season. The first upper mountain patrol of the season, the 'set-up' patrol, is a particularly labor intensive one. These six patrol members are responsible for establishing both the 14,200- and 17,200-foot camps (digging out net loads, building camp infrastructure, setting up communications, getting the medical tent operational, etc); identifying and marking appropriate places for human waste disposal along the route; and helping maintain the fixed lines on the Headwall and the pickets along the Autobahn.  
Its a busy day at the Walter Harper Talkeetna Ranger Station, with 90 Third Graders from Wasilla, AK showing up to learn about mountaineering, teamwork, safety, and Leave No Trace skills.  Then the jazz band from Colony HIgh School in Palmer, AK will come by for a glacier briefing in the afternoon in preparation for their spring concert at the Kahiltna Basecamp tomorrow.  
Helo pilot Andy Hermansky, rangers Joe Reichert and Dan Corn, and helicopter training specialist Renny Jackson will make another attempt to place the park radio repeater on top of Mount Crosson, a crucial link in our mountain communications system, and then perform typical terrain short-haul training.

Route Conditions
Still early, but word on the glacier is that the West Buttress route has lots of new spring snow.  

Photo(s) of the Day
Ground school...The first Denali patrol of the season goes through a helicopter briefing and practices backboarding, loading, and securing a patient in the park's A-Star B3e helicopter at the Talkeetna State Airport helipad.  VIP Steve Mock is directing traffic in the helicopter, with fellow patrol members VIP Ben Weaver (in plaid), GRTE District Ranger Scott Guenther (in blue), DENA ranger Melis Coady (in arrowhead cap), and GRTE ranger GR Fletcher (with the visor). DENA ranger Chris Erickson is the one on the backboard.  NPS Photo/Andy Hermansky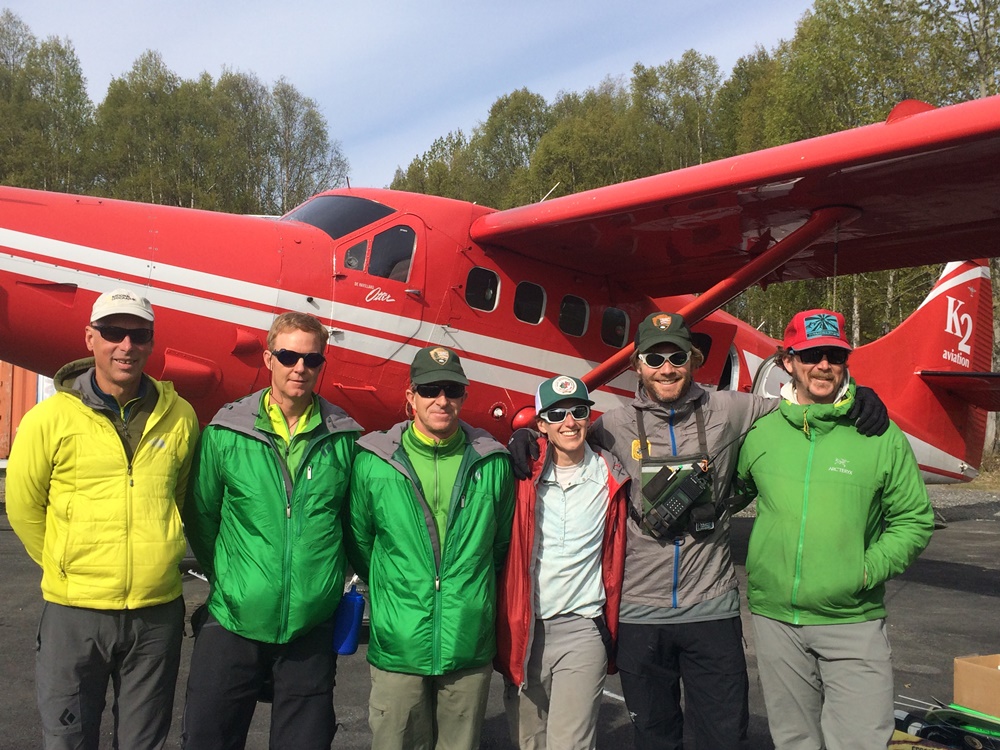 VIP Steve Mock, NPS-GRTE Scott Guenther, NPS-GRTE GR Fletcher, NPS-DENA Melis Coady, NPS-DENA Chris Erickson, VIP Ben Weaver  (Photo: Amanda Erickson)