| | | |
| --- | --- | --- |
| TODAY'S STATS |     Denali     | Mt. Foraker |
| Registered Climbers | 897 | 19 |
| Climbers Currently On Mountain | 69 | 7 |
| Completed Climbs | 6 | 0 |
| Number of Summits | 5 | 0 |
| Summit Percentage | 83% | 0% |
The Walter Harper Talkeetna Ranger Station also maintains a daily automated statistics phone line, so if this blog is lagging behind and you need up-to-date registration numbers, call (907) 733-9127.
Mountain Weather

The National Weather Service Denali Climbing Forecast is now available, along with several helpful new links.

Continue to stay tuned for actual weather observations from the Kahiltna Basecamp, with observations from the 14,200-foot camp to follow once the first patrol of the season reaches camp.

Likewise, stay tuned for the FAA Webcam links, they have not been installed yet.
 
Ranger Update
NPS Denali (14K) Patrol #1 (Shain/Preston + 4 VIPs) camped at 9,700 feet last night, and were headed up to 11,000-foot camp this afternoon.
NPS Basecamp (7K) Patrol #1 (Roger Robinson + VIPs/NPS Staff) will fly into the 7,200-foot Basecamp on May 10 to dig out and set up NPS camp operations on the Kahiltna Glacier. After experimenting with intermittent ranger coverage at Basecamp last season, we will be committing ranger presence on the Kahiltna from May 10 through the beginning of July.       
The second upper mountain patrol of the year, NPS Denali (14K) Patrol #2 (Dan Corn + 3 VIPs), is scheduled to fly into Basecamp on May 11 to start their 28-day expedition.
The Walter Harper Talkeetna Ranger Station has been abuzz this week. Not only is the orientation schedule getting full with teams checking in for climbs, but yesterday (May 4), the ranger station was visited by over 300 elementary school kids from the Alaskan communities of Wasilla and Palmer.  Each year, the school kids come to Talkeetna on the Alaska Railroad to spend a day learning about the history of the town and about Denali National Park.  This year, Rangers Melis Coady, Michael Connolly, and Jay Katzen led the children on a simulated climb of Denali.  The kids learned all about the gear used on Denali, and spent time outside learning about the construction and care of mountaineering tents.
It's a bluebird today, so Temsco Helicopter Pilot Tighe Daugherty flew into the mountains with Rangers Tucker Chenoweth, Joe Reichert, and Dave Weber to shuttle slingloads of camp gear from the 7,200-foot Kahiltna Glacier up to the 14,200-foot camp.  The netloads of gear will be awaiting Denali Patrol #1 who should arrive at 14K camp early next week.  This first team will do all the unpacking and subsequent camp construction.  

Route Conditions

DENALI / Mt. Crosson

Two earthquakes on Denali fault over the past week:

5.2 on Muldrow on April 29
3.0 on Muldrow on May 1

Climbers say they felt a lot of shaking and heard avalanches and serac falls on all aspects.

NPS Patrol #1 reports unseasonably warm conditions on the glacier. The patrol crew re-set the trail to glacier center.  Many climbers have been making shortcuts through icefalls near the base of Frances and into the East Fork of the Kahiltna and punch-ins and crevasse falls have been reported.

Mt. Crosson has melted out dramatically in the last month and looks much more like it would in late May, already with lots of rock exposed on its southern aspect and rock bands exposed on its southeastern nose.

RUTH  

(5/2/17) "Attempted Ham and Eggs on May 1. Bailed on 4th pitch due to poor conditions. Lots of sugary / unconsolidated snow. No ice pro found. May 2 - 5 inches new snow overnight. Route hadn't slid significantly in the last four days."
  -- Team PATC/AAC; Dustin, Dave, Pzotr, and Mike


(5/2/17) "Ham and Eggs is very snowy with rotting ice steps visible lower down. Did not climb due to consistent snowfall / loading. Consistent spindrift and serac fill, camp wisely out of hazard."
   -- San Juan Mountain Guides - Micah Lewkowitz
 
Photo of the Day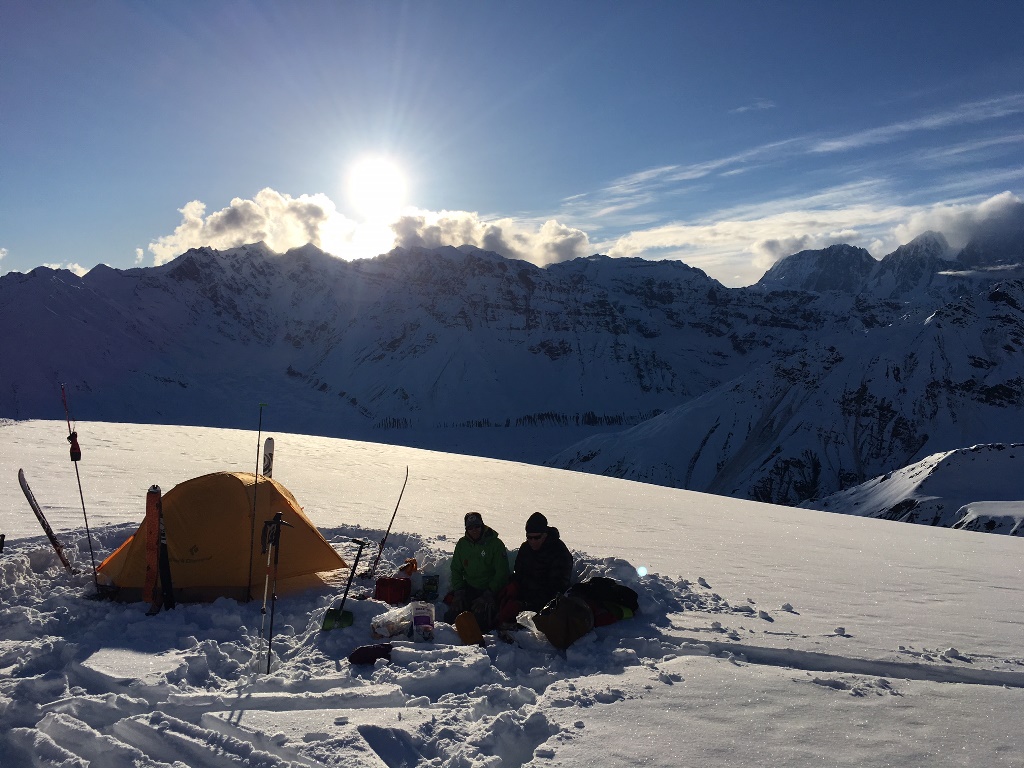 Two rangers enjoy the setting sunlight on the Whale's Tail during an early season Avalance Training. The Whale's Tail is situated above the toe of the Ruth Glacier, between Backside Lake and the Tokosha Mountain Range. (NPS Photo/Dan Corn)