| | | |
| --- | --- | --- |
| TODAY'S STATS |     Denali     | Mt. Foraker |
| Registered Climbers | 870 | 11 |
| Climbers Currently On Mountain | 27 | 4 |
| Completed Climbs | 6 | 2 |
| Number of Summits | 2 | 0 |
| Summit Percentage | 30% | 0% |
The Walter Harper Talkeetna Ranger Station also maintains a daily automated statistics phone line, so if this blog is lagging behind and you need up-to-date registration numbers, call (907) 733-9127.
Mountain Weather

Click here for today's National Weather Service Denali Climbing Forecast.  

Weather permitting, the Kahiltna and Ruth Webcams should be installed next week.  

See yesterday's Field Report (May 3) for snowfall data for the recent 10 day storm cycle, with reports ranging from 5 feet (Kahiltna Basecamp) to 12 (Little Switzerland, Root Canal) of new snow accumulation.  

7,200 camp for 5/4/18, 9:00 am:  The weather monitoring equipment is not yet up and running at Basecamp, but this morning Ranger Frank Preston at 7K reported winds were calm, with no new snow in the past 24 hours.  Preston described sky conditions as: "like sitting in a ping-pong ball, but with a flashlight shining through it".  

Beginning next week, Basecamp Manager Lisa Roderick will be recording official weather observations from 7K, which we will start relaying here.  Weather obs from 14K are still a couple weeks out.
 
Ranger Update
 
NPS Denali (14K) Patrol #1:
  (Preston, Baldwin, VIP Seitz, VIP Kasavana).  Patrol 1 has spent the last 24 hours digging out all the buried camp infrastructure and netloads that were installed just prior to the recent 10-day snow storm.  Today the team intends to build the NPS helipad adjacent to basecamp, and then they plan to hit the road for 7,800-foot camp.  
Talkeetna's local radio station KTNA prepares a weekly 'Denali Report' throughout the season.  The first report of the season focuses on CMC program changes to be implemented in 2018.  Listen in:  
https://ktna.org/2018/05/denali-report-for-may-5th-2018/
General Route Conditions / Avalanche Hazard
 
Prior to this storm cycle, there was 4 to 5 weeks of continuous fair weather with many cold, clear nights. It can be presumed that all of this new storm snow (2 to 4 meters of it), is now resting atop a widespread layer of surface facets, which is a recipe for a persistent and non-negligible avalanche problem. 
There is more snow in the forecast for the next week, and climbers are advised to use extra caution, perform their own snowpack assessments, and make conservative judgments.
 On Wednesday evening (May 2), one climber was injured when his team triggered an avalanche on Reality Ridge, having chosen to enter significant avalanche terrain less than 24 hours after the end of a major snowfall event.  This is not the first time that avalanche incidents have occurred when backcountry users were attempting to utilize a very short weather window in between prolonged storms. Tempting as it may be, doing so has a high potential for mishap. 
Flights around the upper mountain on Wednesday revealed that above 12,000 feet, Denali has been impacted by high winds and lesser snowfall totals.  The upper mountain appeared very icy and wind scoured.   
Specific Route Condition Reports
 
Mount Huntington - Harvard Route
(April 8-10): "Approach couloir is in good shape. Deep unconsolidated snow on most of route, while ice slopes near the summit were in good shape with neve over ice. Rock pitches were generally clear and in good shape.  Approach to upper basin: Left approach is not usable, and right approach has some objective hazard, and may become difficult with melting." 
Peak 11,300 - Southwest Ridge
(April 18-19):  "Similar. Deep unconsolidated snow on most of route, while ice slopes near the summit were in good shape with neve over ice. Rock pitches were generally clear and in good shape. Descent ridge and rappel route were in good shape. Descent glacier will likely become difficult with melt out; evidence of regular activity from serac above." 
(Thank you to Ken Kreis, visiting Grand Teton NP climbing ranger, for the Huntington and 11,300 reports!)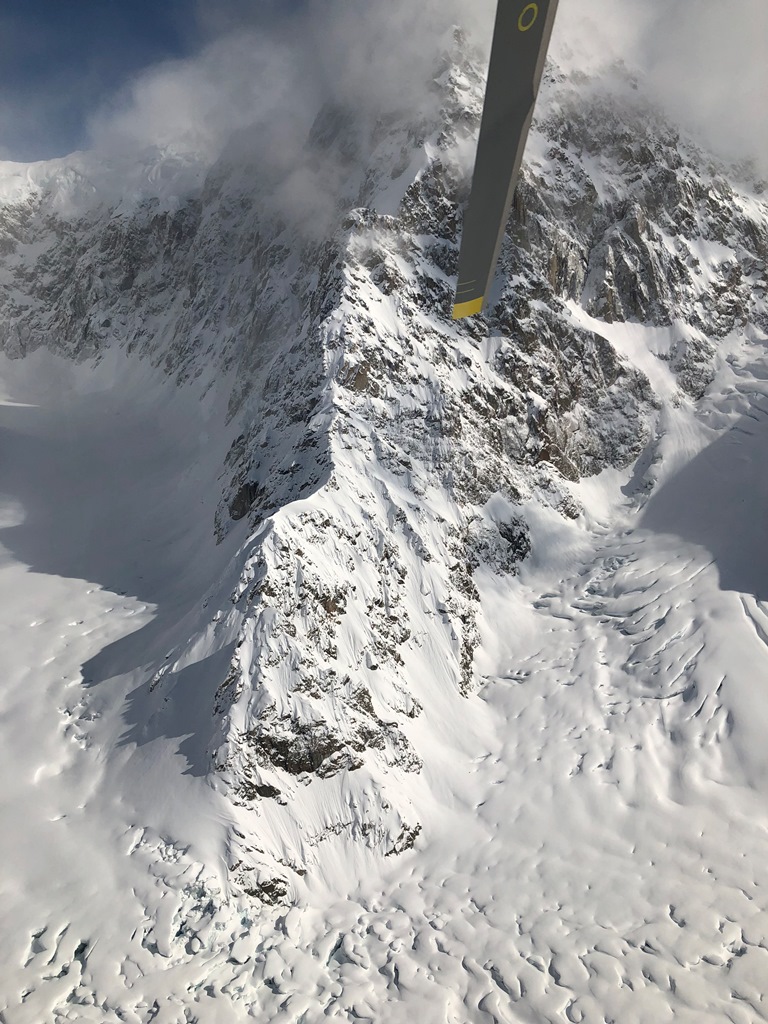 Southwest Ridge of Peak 11,300 (NPS Photo/David Weber)
Ham & Eggs (April 15-18)
:  "H & E in good condition up to col, grade 2 ice up high on route."
Mini Moonflower (April 23):
  "Climbed 200 m up the route. Bergshrund OK. All blue ice. Tons of snow coming down from above and on approach."  
Photo of the Day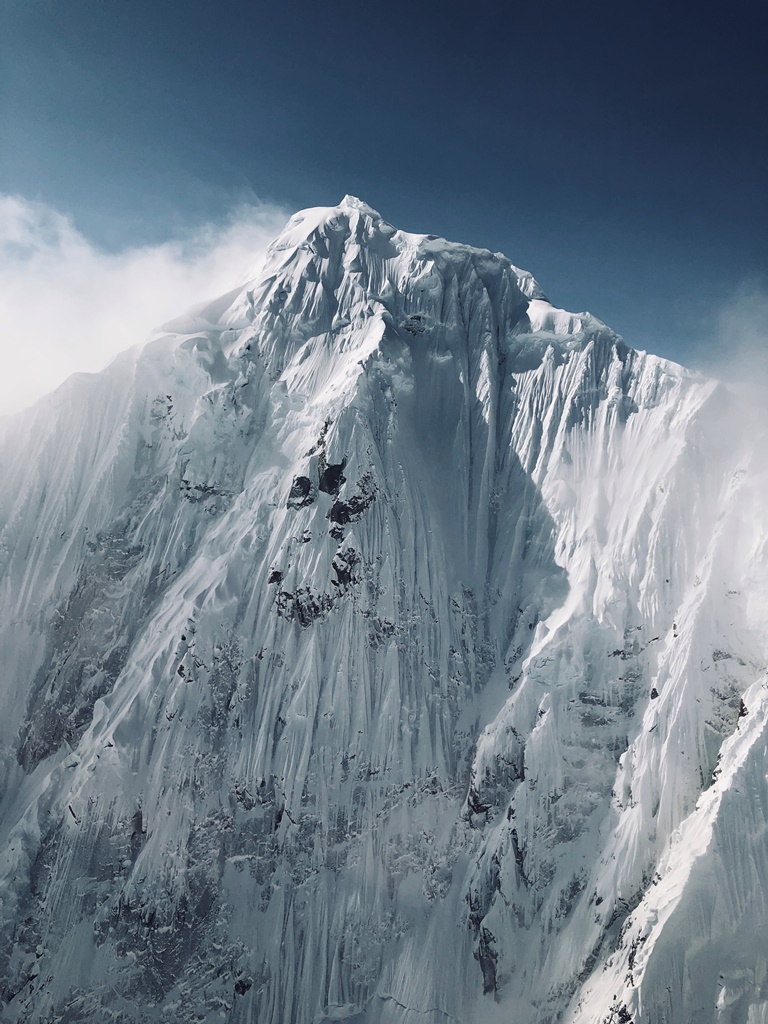 The dramatic north face of Mount Huntington, the view from the Ruth's west fork camp.  (NPS Photo/David Weber)