| | | |
| --- | --- | --- |
| TODAY'S STATS |     Denali     | Mt. Foraker |
| Registered Climbers | 1,065 | 16 |
| Climbers Currently On Mountain | 621 | 9 |
| Completed Climbs | 192 | 7 |
| Number of Summits | 20 | 0 |
| Summit Percentage | 10% | 0% |
The Walter Harper Talkeetna Ranger Station also maintains a daily automated statistics phone line, so if this blog is lagging behind and you need up-to-date registration numbers, call (907) 733-9127.
Mountain Weather

Click here for today's National Weather Service Denali Climbing Forecast.  The Talkeetna Ranger Station and the Kahiltna Basecamp patrol welcomed Ed Plumb of the NWS - Fairbanks office today! We are grateful for you and your collegues hard work, helping climbers and NPS make good weather decisions.

Both glacier webcams are currently operational:  http://avcams.faa.gov/  

7,200 feet - At last, at last.  Clear, bright, beautiful weather.  "Super awesome", in fact.  This morning, winds were out of the east at 6 mph, with some steady gusts to 16 mph from the east. No precip overnight.

In the last 12 hours:
Current temp  21 F  (-6 C)
Hi temp  27 F  (-3 C)
Low temp   16 F (-9 C)

14,200 feet - Likewise, a much anticipated bluebird day on the upper mountain.  Winds were even calmer at 14K relative to 7K, with a morning wind blowing at  1 mph from the north, with mild gusts to 6 mph from the northeast. No precip overnight.

In the last 12 hours:
Current temp  -8 F (-22 C)
Hi temp   -2 F  (-19 C)
Low temp   -9 F (-23 C)
 
Ranger Update
NPS Denali (14K) Patrol #2 (Corn + 5 VIPs)  Feeling antsy, Dan and his crew descended to Windy Corner yesterday afternoon to accompany Patrol #3 around the corner and up to 14 camp. This morning the two patrols transitioned with the ritual handoff tour of camp operations, and then all six members of Patrol #2 headed up to High Camp (along with most of the inhabitants of 14 camp!). With the long awaited clear, calm weather, there should be many teams heading towards the summit in the days to come.     
NPS Denali (14K) Patrol #3 (Weber + 5 VIPs)  AFter getting stuck over a week at 11,000-foot camp, Dave and his volunteers moved up to take the reigns of 14 camp for the next week or so. The park helicopter delivered a much-needed re-supply today...including food, meds, and a pile of clean CMCs. Denali's Birthday Pack-Out Initiative (see Clean Climbing pages on the website and/or listen in to a
KTNA interview with Roger Robinson
) has been a great success so far, with greater-than-expected participation on the hill.       
NPS Basecamp (7K) Patrol #3 - Basecamp patrol members assisted with the helo re-supply today, helping position a clean stash of CMCs higher on the mountain. They also received a visit from Fairbanks-based weather forecaster Ed Plumb today, one of the many NOAA forecasters working hard to develop accurate, useful mountain forecasts. 
NPS Denali (14K) Patrol #4 (Westman + 5 VIPs) After spending an extra couple days in Talkeetna due to bad weather, the patrol launched up the West Buttress shortly after arriving at Basecamp yesterday. The team camped at 7,800 feet last night, and were reportedly headed uphill to 9,500 feet today.  
Route Conditions
DENALI
Though we don't have official snow accumulation data from the mid-mountain, an estimated 6 feet of new snow has fallen between 8,000 and 12,000 feet in the past four or five days. While the new snow on the lower mountain has helped strenthen some snow bridges, other wider crevasses that were formerly visible are now hidden under new snow. All in all, adequate crevasse precautions (roped travel, flotation) are critical, and as always,
solo travel is not advised
. 
In general, the upper mountain has been windy and cold, with some new precipitation but mostly blowing and drifting snow.  Dan reports areas of localized windslab in lee areas on the upper mountain.
MOUNT HUNTINGTON - West Face Couloir
(May 20-27)  Mount Huntington received 8 feet of new snow this week. Heavy avalanche and serac fall activity. Bergschrund crossing is 'spooky' but doable. Ice looked in excellent shape. With time to consolidate snow, route should be 'in'.  (no names left)  
Photo of the Day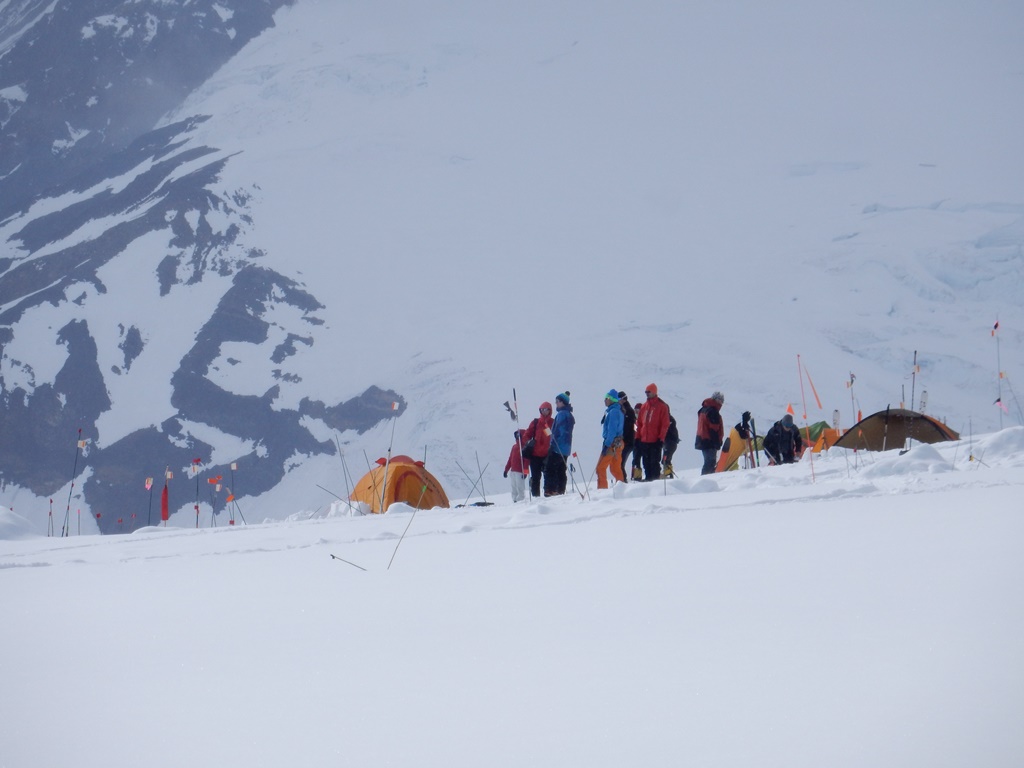 A band of brightly-colored climbers observe the comings and goings at the 'Kahiltna International Airport'. Today, Basecamp Manager Julie Hentrich (who is filling in for Lisa Roderick while she volunteers on an NPS patrol to 14K) reported that Basecamp was a bustling place after the multi-day stretch of unflyable weather.  At one point today, there were eight aircraft sitting on the glacier. Overall, she reported that more climbers LEFT the mountain than ARRIVED. Does that mean we are over the halfway hump of the season? (NPS Photo/Steve Mock)