| | | |
| --- | --- | --- |
| TODAY'S STATS |     Denali     | Mt. Foraker |
| Registered Climbers | 1,062 | 16 |
| Climbers Currently On Mountain | 619 | 9 |
| Completed Climbs | 160 | 7 |
| Number of Summits | 20 | 0 |
| Summit Percentage | 12% | 0% |
The Walter Harper Talkeetna Ranger Station also maintains a daily automated statistics phone line, so if this blog is lagging behind and you need up-to-date registration numbers, call (907) 733-9127.
Mountain Weather

Click here for today's National Weather Service Denali Climbing Forecast.  

Both glacier webcams are currently operational:  http://avcams.faa.gov/  

7,200 feet - Skies were overcast at 8 am this morning, but visibly starting to clear. Wind was 5 mph out of the east, with gusts to 13 mph.  In the last 12 hours they got 10 cm of new snow at Basecamp.  Though intermittent, in the past 24 hours, basecamp received closer to 23 cm of snow.

In the last 12 hours:
Current temp  21 F  (-6 C)
Hi temp  23 F  (-5 C)
Low temp   12 F (-11 C)

14,200 feet - It was another blustery morning with overcast skies and blowing snow. Wind was out of the northeast at 8 mph, gusting to 26 mph out of the northeast. Snow accumulation 5 cm.

In the last 12 hours:
Current temp  -8 F (-22 C)
Hi temp   -8 F  (-22 C)
Low temp   -11 F (-24 C)
 
Ranger Update
NPS Denali (14K) Patrol #1 (Shain + 4 VIPs) The patrol flew out of the Range on Saturday, after lending a hand in the crevasse fall incident Friday and Saturday. See story below.
NPS Denali (14K) Patrol #2 (Corn + 5 VIPs)  Dan and crew have had their hands full over the long weekend, with plenty of climbers in camp waiting out the cold and windy weather. Over the weekend, they assisted several climbers with frostbite. They are still waiting for Patrol #3 (and for better weather...) to reach 14,200 feet before they move up to High Camp.       
NPS Denali (14K) Patrol #3 (Weber + 5 VIPs)  Dave and his volunteers are probably pretty tired of being at the 11,000-foot camp, but they are waiting for better weather before they can move up the mountain.  While we haven't had any phone conversations with them due to their location, rumor has it they are shovelling, hunkering, waiting, and shovelling some more. Most of the team did head down to 8,300-feet on Friday evening to assist in the crevasse fall incident noted below.    
NPS Basecamp (7K) Patrol #3 - Joe, Kakiko, and Katherine are doing well, getting intermittent weather. Shovelling, taking some day skis, talking to climbers, relaying radio communications.
NPS Denali (14K) Patrol #4 (Westman + 5 VIPs) was supposed to fly into the Range on Sunday, weather has delayed their patrol start.  The crew has been patiently awaiting favorable flying conditions, and odds are high they will fly into Basecamp today.    
Route Conditions
DENALI
Though we don't have official snow accumulation data from the mid-mountain, at least 1+ meters of new snow has fallen between 8,000 and 12,000 feet in the past four or five days.  Basecamp has had periodic snowfall throughout this prolonged (albeit intermittent) storm cycle.  While the new snow on the lower mountain has helped strenthen some snow bridges, other wider crevasses that were formerly visible are now hidden under new snow. All in all, adequate crevasse precautions (roped travel, flotation) are critical, and as always,
solo travel is not advised
. 
In general, the upper mountain has been windy and cold, with some new precipitation but mostly blowing and drifting snow.  Dan reports areas of localized windslab in lee areas on the upper mountain.
NPS mountaineeirng rangers responded to multiple conditions-related incidents in the Alaska Range over the Memorial Day weekend, including a crevasse fall and several frostbite injuries. The two most significant incidents involved solo travellers. Rangers were grateful for the valuable assistance of several guide companies, independent climbers, and NPS Volunteers-in-Parks (VIPs) who rendered aid to fellow mountaineers throughout the busy weekend.  
On the afternoon of Friday, May 26, an un-roped climber fell into a crevasse at 8,300 feet on the West Buttress, near the top of Ski Hill.  A guided expedition ascending through the area witnessed the fall, and immediately notified NPS rangers via radio. The guides on the Alpine Ascents International team established that the climber was responsive, though wedged into the crevasse approximately 10 meters below the glacier surface. The two guides, Stuart Robertson and Michael Hutchins, then used technical rope rescue techniques to extract the climber from the crevasse. As the climber was experiencing significant pain to the hip and flank area, they packaged and warmed the patient in a tent.  
Ranger-Paramedic Dave Weber and four of his VIPs (Black, Homden, Quinones, Treat) skied down from 11,000-foot camp within an hour of the extraction. Upon further medical examination, Weber determined the patient had a suspected lumbar injury and possible hypothermia. Snowy weather prevented an air evacuation at that time. Several hours later, Weber's patrol was joined by NPS ranger Mik Shain and VIPs Jeff Lane and Ryan VanLuit who ascended from the 7,200-foot Kahiltna Basecamp to take over patient care while Weber's patrol returned to their 11,000-foot camp.  At 9:00 a.m. the following morning, helicopter pilot Andreas Hermansky flew directly to the patient's tent site at 8,300 feet. He was evacuated to Talkeetna and transferred to a ground ambulance.
NPS rangers and volunteers – along with multiple guided parties and independent climbers – also provided treatment for three cases of frostbite over the weekend, one of which was severe enough to warrant a helicopter evacuation. A soloist had ascended to High Camp at 17,200 feet on Friday night, May 26, and then found he was unable to use his hands due to frostbite. He turned around and began to descend the mountain, stopping at around 16,800 feet to wait out the night in an open bivy bag.  
The following morning, a climbing team discovered the injured climber and reported his condition to NPS rangers at the 14,200-foot camp. Weather at the time was not favorable for flying to higher elevations on Denali. Three separate parties assisted the injured soloist by short-roping him down the steep sections of the upper mountain, including a two-person team (Jay Claus and Hannes Seeger), a Mountain Trip team, and an Alaska Mountaineering School team.  Ranger Dan Corn and four VIPs met the patient below the fixed lines and assisted him down the medical tent. A medical assessment determined the climber had moderate to severe frostbite to all 10 fingers.  
As soon as weather permitted, Hermansky flew to the 14,200-foot camp and evacuated the patient directly to Matanuska-Susitna Regional Medical Center in Palmer for urgent thrombolytic frostbite care to minimize the patient's long term tissue damage.
MOUNT HUNTINGTON - West Face Couloir
(May 20-27)  Mount Huntington received 8 feet of new snow this week. Heavy avalanche and serac fall activity. Bergschrund crossing is 'spooky' but doable. Ice looked in excellent shape. With time to consolidate snow, route should be 'in'.  (no names left)  
Photo of the Day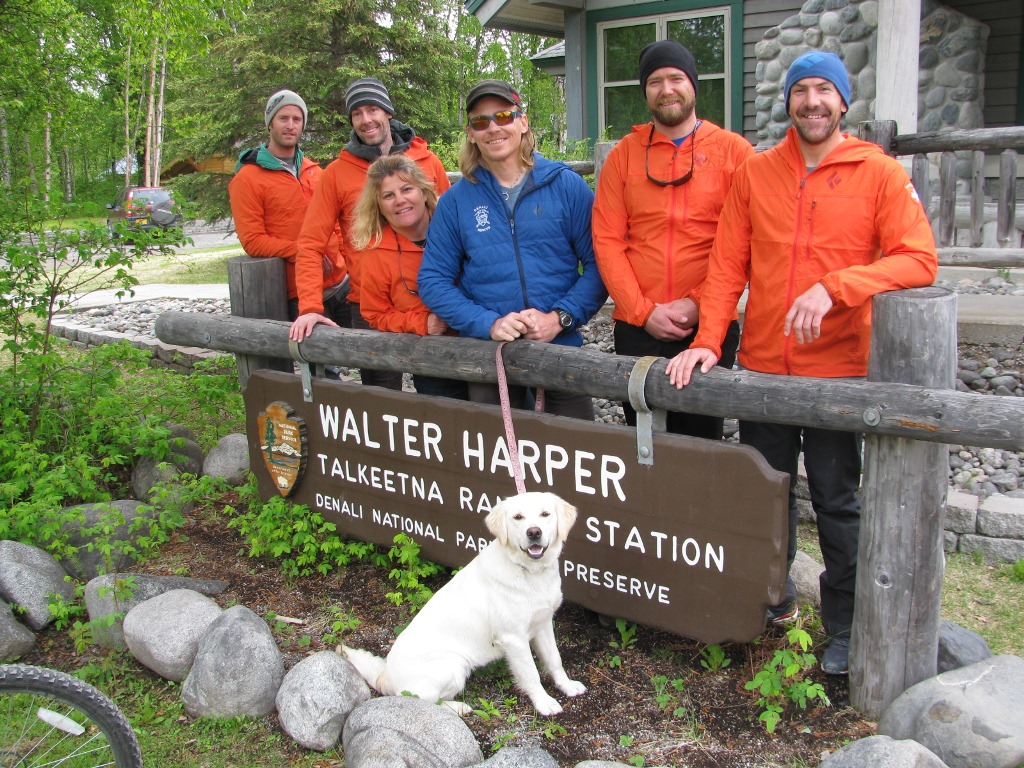 The team members of NPS Patrol #4 are looking forward to getting on the mountain after a couple extra weather days in Talkeetna.  From left to right: VIP Pat Gault, VIP Adam Burns, VIP Lisa Roderick, NPS Ranger Mark Westman, VIP (and visiting Mount Rainier climbing ranger!) Sam Siemens-Luthy, and VIP Gabe Webster.  Perfectly situated in front of her namesake, is young Harper, spending final moments with her adoring owners before they take off for the next 30 days. (NPS Photo)