| | | |
| --- | --- | --- |
| TODAY'S STATS |     Denali     | Mt. Foraker |
| Registered Climbers | 852 | 11 |
| Climbers Currently On Mountain | 21 | 4 |
| Completed Climbs | 6 | 2 |
| Number of Summits | 2 | 0 |
| Summit Percentage | 30% | 0% |
The Walter Harper Talkeetna Ranger Station also maintains a daily automated statistics phone line, so if this blog is lagging behind and you need up-to-date registration numbers, call (907) 733-9127.
Mountain Weather

Click here for today's National Weather Service Denali Climbing Forecast.  

Stay tuned for the Kahiltna and Ruth Webcams.  Once installed for the season, we'll post the links to the webcam sites here. 

The recent 10 day storm cycle was impressive in both its continuous duration as well as the intensity of the precipitation. Airplanes were unable to enter or land in the Alaska Range for 9 days, which is one of the longest stretches of unflyable weather in recent memory.

Yesterday, airplanes reached all the usual landing sites and picked up numerous overdue climbers, and dropped off a new round of hopeful climbers. Basecamp Manager Lisa Roderick and a team of helpers were able to reach Kahiltna Basecamp and began installing her camp, beginning her 19th season managing the Denali basecamp. 

Climbers and skiers reported having endured very large new snowfall depths over the past ten days.
 
Skiers in the Pika Glacier (Little Switzerland) reported measuring 12 feet (4 meters) of new snow
The Root Canal was estimated to have received 12 feet of new snow
West Fork of the Ruth was estimated to have received at least 6 feet of new snow,
Kahiltna Basecamp received at least 5 feet of new snow.

A flight around the range yesterday revealed that above 12,000 feet, Denali appeared to have mainly been impacted by high winds and lesser snowfall totals, as the upper mountain appeared very icy and scoured. 
 
Ranger Update
 
NPS Denali (14K) Patrol #1:
  The first Denali upper mountain patrol of the 2018 season is now at Basecamp!  In the weeks to come, we'll let you know how they are faring as they proceed up the mountain to 14,200-camp, where they are responsible for assembling camp.  Four of the five patrol members flew to the Kahiltna Basecamp yesterday afternoon, including returning ranger Frank Preston, first season Denali mountaineering ranger Travis Baldwin, and Volunteers-in-Parks (VIPs) Drew Seitz and Brian Kasavana.  Everyone at the Talkeetna Ranger Station is excited to work with Travis this season, as he brings excellent technical rescue skills, professional mountain guide experience, and has formerly worked as an NPS ranger in other national parks including North Cascades NP and Rocky Mountain NP.  Welcome Travis!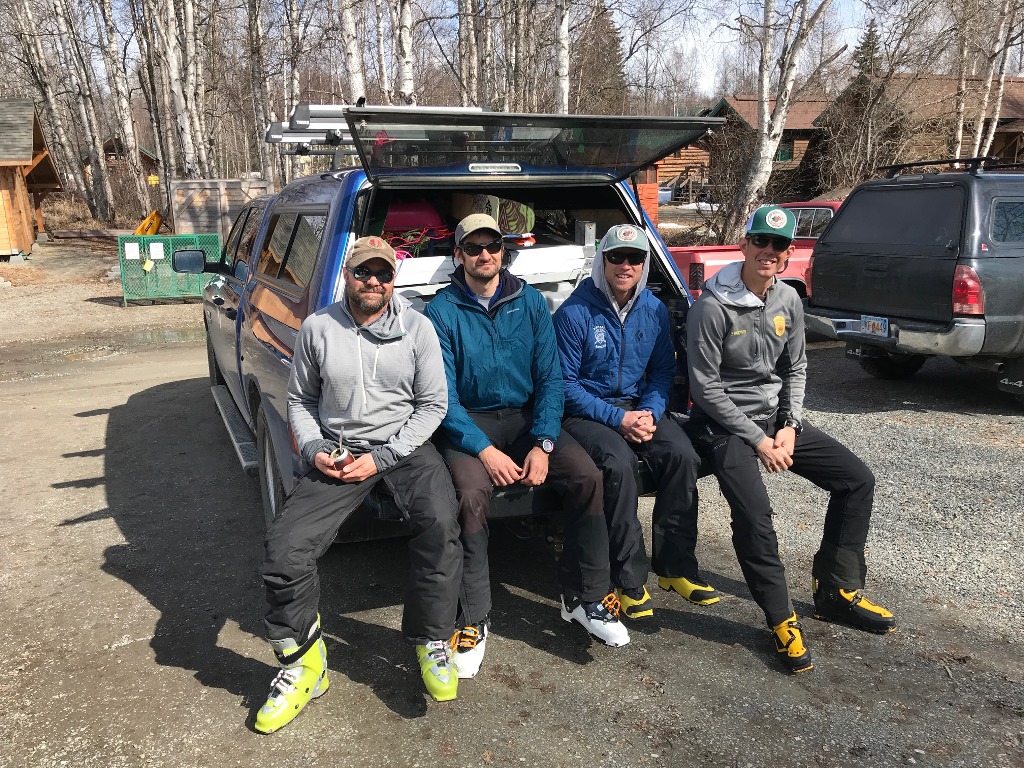 NPS Patrol #1, left to right:  VIP Drew Seitz, VIP/Paramedic Brian Kasavana, NPS Ranger Frank Preston, NPS Ranger Travis Baldwin.  (NPS Photo)
Search and Rescue
 
NPS rangers in Talkeetna responded to the second search and rescue (SAR) incident of the 2018 season last night.  On Wednesday evening (May 2), Talkeetna mountaineering rangers responded to a call for rescue from the west fork of the Ruth Glacier. A team of skiers had climbed a long, steep couloir on the east face of Reality Ridge, a remote and seldom climbed route on Denali, just west of the popular peak 11,300'. High in the couloir, while still on foot, one of the team triggered an avalanche and was swept approximately 600 meters to the bottom. He sustained numerous injuries, but fortunately and very luckily, none of these were life-threatening.  The injured climber was able to get to the nearby landing zone under his own power, where he was evacuated via NPS helicopter and transferred to a ground ambulance in Talkeetna.  
Route Conditions / Avalanche Hazard
 
Again, LOTS and lots of snow has fallen in the Alaska Range over the past week or two. See storm totals according to location above in
Mountain Weather
section.  Which leads us to the next topic, Avalanche Hazard.  
Prior to this storm cycle, there was 4 to 5 weeks of continuous fair weather with many cold, clear nights. It can be presumed that all of this new storm snow (2 to 4 meters of it), is now resting atop a widespread layer of surface facets, which is a recipe for a persistent and non-negligible avalanche problem. 
There is more snow in the forecast for the next week, and climbers are advised to use extra caution, perform their own snowpack assessments, and make conservative judgments.
  It is worth noting that the team involved in the SAR incident mentioned above chose to enter significant avalanche terrain less than 24 hours after the end of a major snowfall event.  This is not the first time that avalanche incidents have occurred when backcountry users were attempting to utilize a very short weather window in between prolonged storms. Tempting as it may be, doing so has a high potential for mishap.   
Photo of the Day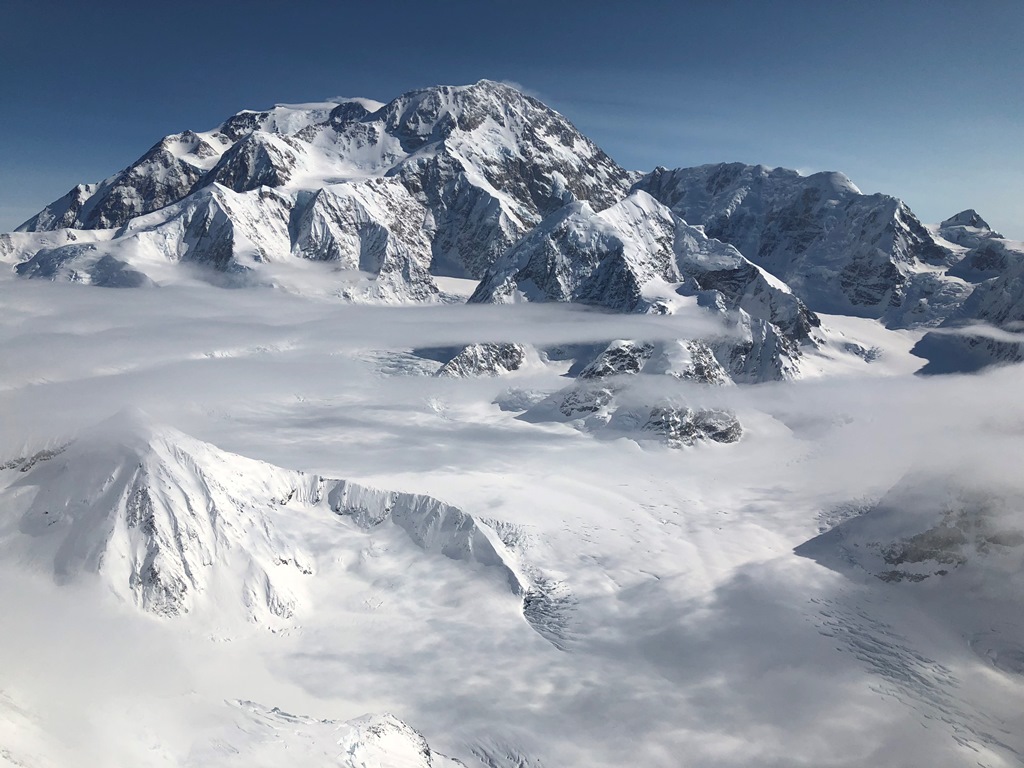 After the clouds finally lifted on Wednesday, May 2, Denali and surrounding peaks of the Alaska Range were blanketed in 5 to 12 feet of new snow.  (NPS Photo-Dave Weber)