| | | |
| --- | --- | --- |
| TODAY'S STATS |     Denali     | Mt. Foraker |
| Registered Climbers | 994 | 18 |
| Climbers Currently On Mountain | 426 | 12 |
| Completed Climbs | 156 | 6 |
| Number of Summits | 33 | 2 |
| Summit Percentage | 21% | 33% |
The Walter Harper Talkeetna Ranger Station also maintains a daily automated statistics phone line, so if this blog is lagging behind and you need up-to-date registration numbers, call (907) 733-9127. 

Weather Report
7,200 feet - Lisa reported a few clouds in the sky this morning, with obvious signs of high winds and visible snow transport over the higher summits. Even down at 7,200 feet, the wind clocked in at 18 mph out of the east, with gusts to 25 mph.  Temperatures have really been warming up, creating very slushy snow by afternoon.
In the last 12 hours:
Current temp:  6 C / 43 F
Low temp:  -2 C / 28 F
High temp:  5 C / 41 F
14,200 feet -   Denali Storm Evans is unrelenting. When the sun and milder temperatures came out yesterday afternoon, the winds only got stronger. Ranger Chris Erickson reports streamers off of every point possible, and yesterday evening the 14K weather station clocked the strongest gust (80 mph) that Erickson had ever experienced at 14K. This morning's wind speed was 32 mph from the northeast, with gusts of up to 80 mph from the east.  No new snow overnight, just blowing snow.
In the last 12 hours:
Current temp:  -6 C / 21 F
Low temp:  -8 C / 18 F
High temp:  -4 C / 25 F
National Weather Service forecast  

Ranger Update
NPS Denali Patrol #1 (Erickson, Coady, 2 GRTE rangers, 2 VIPs)  Patrol members are proud to report that they haven't lost a single gear item to the prolonged windstorm thanks to diligent reinforcement.  They are remaining in fairly consistent radio contact with the handful of climbers still hunkered down at 17K through this wind event, some of whom report signs of frostbite. This first patrol is nearing an end, they will descend the mountain over the weekend, with a scheduled fly-out date of Monday, May 30.
NPS Denali Patrol #2 (McBrayer and 3 VIPs) Joey and his crew are also busy wind-proofing camp, doing walk-abouts, and generally waiting for the wind to stop blowing. The patrol did say goodbye to one VIP last week who descended to basecamp (and ultimately home) due to a respiratory illness.    
NPS Denali Patrol #3 (Corn, 4 VIPs, 2 PJ's) Ranger Dan Corn and his fellow patrol members had another early morning. Last night they camped at 9,500 feet, and they will head up to the 11,200-foot camp today.
NPS Basecamp Patrol #2 (Robinson, 1 northside ranger, 2 VIPs)  Roger reports slushy conditions throughout basecamp now. Roger and his patrol are scheduled to swap out with Ranger Frank Preston and one volunteer starting tomorrow. 


Route Conditions
As mentioned above, Denali Storm Evans continues slam the upper mountain with severe winds.  No teams are moving between 14,200 feet and high camp. There are radio reports of frostbite from teams up high. 
14K camp is dramatically wind-scoured, with all the new snow blown away leaving raised ski tracks throughout. The helipad has disappeared. 
And in an ultimate statement from Evans himself, the actual weather forecast, as written on the dry erase board that sits outside the ranger tent at 14,200 feet, literally peeled off the board and blew away.  


Photo of the Day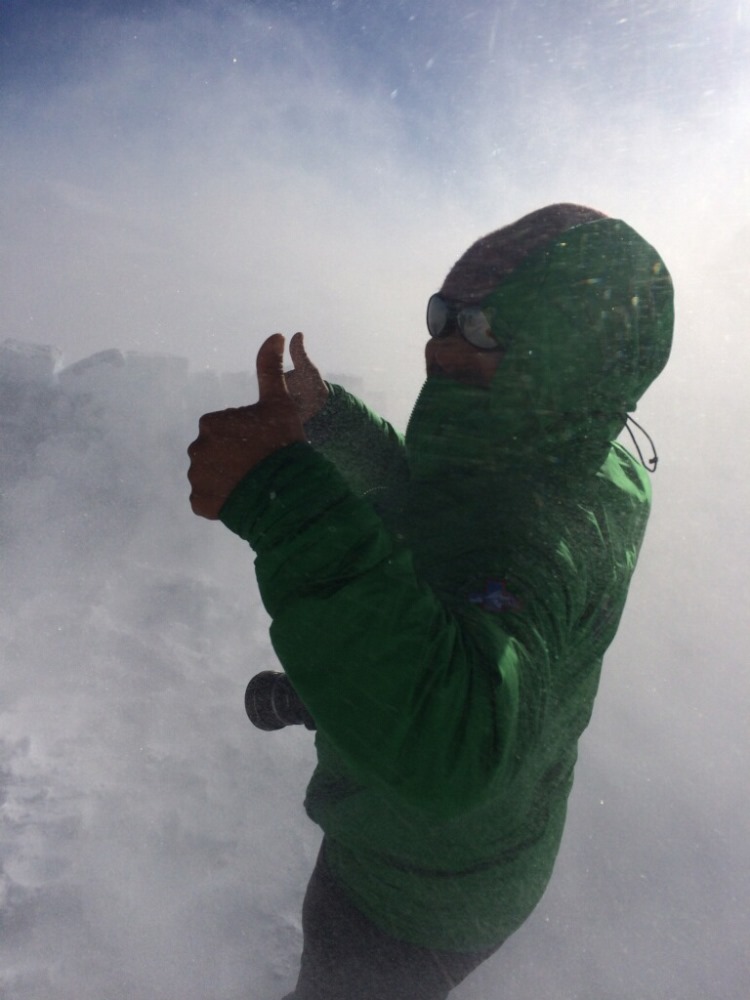 Volunteer Amrit Ale gives Evans a big thumbs up. The Himalayan guide says, 'you call this a windstorm?!'  NPS Photo/Scott Guenther