| | | |
| --- | --- | --- |
| TODAY'S STATS |     Denali     | Mt. Foraker |
| Registered Climbers | 1,032 | 16 |
| Climbers Currently On Mountain | 465 | 6 |
| Completed Climbs | 131 | 7 |
| Number of Summits | 20 | 0 |
| Summit Percentage | 15% | 0% |
The Walter Harper Talkeetna Ranger Station also maintains a daily automated statistics phone line, so if this blog is lagging behind and you need up-to-date registration numbers, call (907) 733-9127.
Mountain Weather

Click here for today's National Weather Service Denali Climbing Forecast.  Climbers have generally been hunkered down for the past 24 hours, after a brief reprieve today (Friday), the storm is expected to pick back up with more snowfall and wind.

http://avcams.faa.gov/  Both FAA webcams (Kahiltna and Ruth Glaciers) are now working.

7,200 feet - At 8:00 am this morning, Basecamp was enjoying only a few clouds overhead, although a significant lenticular cap sat over the summit of Denali. Winds were 6 mph out of the east, gusting to 34 mph out of the northwest.  They received 20 new cm of snow in the past 12 hours, with a storm total of 55 cm.

In the last 12 hours:
Current temp  10 F  (-12 C)
Hi temp  23 F  (-5 C)
Low temp   5 F (-15 C)

14,200 feet -Mostly cloudy skies, again with a lenticular sitting on top of Denali and Foraker. Wind was 7 mph out of the east, with a max wind gust of 39 mph in the past 12 hours, but the max gust recorded in the past 24 hours was clocked at 55 mph out of the southeast. Camp had blowing snow, but it was difficult to record the accumulation. The estimate was 15 cm in the past 24 hours, but with mostly blowing snow in the past 12 hours. According to Dan Corn, you were either sitting in a drift of snow up to your waist, or standing on the wind-scoured glacier surface. 

In the last 12 hours:
Current temp  -18 F (-28 C)
Hi temp   -11 F  (-24 C)
Low temp   -18 F (-28 C)
 
Ranger Update
NPS Denali (14K) Patrol #1 (Shain + 4 VIPs) As of around mid-day Thursday during a period of relative calm on the mountain, Mik and his patrol were planning on descending to Basecamp today. Their scheduled fly-out is tomorrow, weather permitting.  
NPS Denali (14K) Patrol #2 (Corn + 5 VIPs) Everyone is good spirits, doing laps around camp when weather permits. Yesterday they enjoyed some milder temperatures, but they plummeted again. The patrol will stay in camp until Dave Weber and his patrol reach 14K.  Which should coincide with the high winds diminishing on the upper mountain. As of last night, no teams are camped up high -- all are at 14K or lower.      
NPS Denali (14K) Patrol #3 (Weber + 5 VIPs)  Dave and his volunteers are staged at the 11,000-foot camp.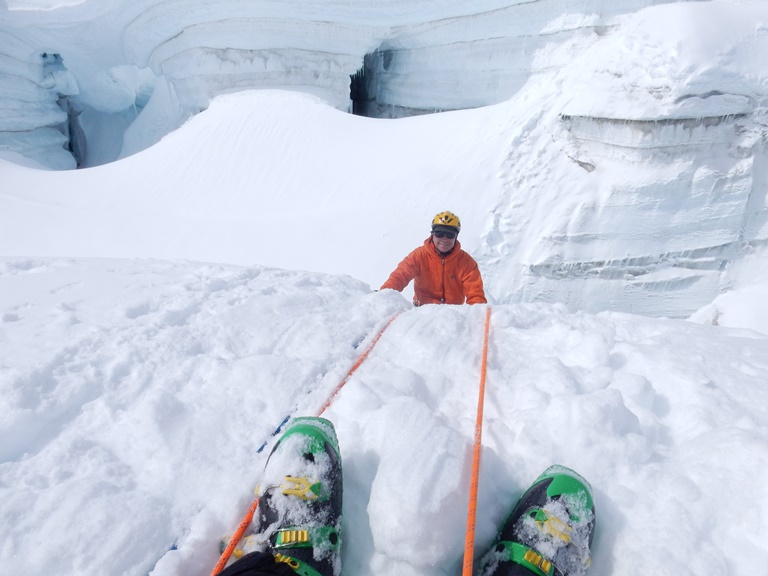 All NPS patrols start with an afternoon of reviewing crevasse rescue skills above Basecamp. A smiling VIP Mark Homden emerges unscathed. (He also says hi to his dad Ken back home in Australia!) NPS Photo/Steve Mock
 
NPS Basecamp (7K) Patrol #3 - Ranger Joe Reichert and VIPs Kakiko and Katherine have been busy shovelling snow and helping stamp out the glacier runway today. 
This week, the Talkeetna Ranger Station staff is excited to welcome back Rangers Chris Erickson and Joseph McBrayer, who have just completed their law enforcement field training assignments at Grand Canyon National Park and Redwoods National Park, respectively. Both are happy to be back home and looking forward to getting back out into snowy mountain terrain.  
Route Conditions

DENALI

In general, snow and climbing conditions on Denali are in fine shape this season. Below 8,000 feet, the glaciers have had less snow than usual, but above 8,000 feet, glacier travel has been good. Windy Corner has been characterized as 'easy'; there are great ski conditions in the 14K basin; and no blue ice on the fixed lines.  As mentioned in previous posts, a couple areas that require some extra attention include the lower glacier -- with at least two deep crevasses along the main trail.  The first crevasse is about a quarter mile (10 to 15 minutes) downglacier from Basecamp, and other is at the base of Heartbreak Hill. Neither have obvious sagging, however both are now flagged.  The second noteworthy area on the West Buttress is the bergschrund at the base of the fixed lines.  The schrund is more open than in past seasons, and the access point to the fixed lines might require some extra maneuvering over a bulge. Bottlenecking is anticipated on high traffic days.


MOUNT HUNTINGTON

(May 6 - 19) Harvard Route - Snow on route unconsolidated on rock at the beginning of trip, consolidating to neve by the end of the trip.  Upper ice fields above cave were bullet ice, having more ice screws would have been good (we brought 5).  Rappeling Harvard Route was a good option when snowing, only had spindrift. West Face Couloir had very big spindrift avalanches during storms.  Rappeled off summit ridge on big bollard, didn't find ice for V-thread.
                   ~ Michael Goodhoe and Jeff Longcor

MOUNT FRANCES/OTHER KAHILTNA AREA ROUTES

(May 21) Mt. Frances SW Ridge didn't have as much snow as usual. Pitch under Tower 3 was tricky rock climbing instead of snow. East Ridge descent was deep facets. Halfway down descent we triggered a small slab avalanche.  Bacon and Eggs in great condition. Mini-Moonflower North Couloir crux is thin.
                   ~ Dane Christensen

 
Photo of the Day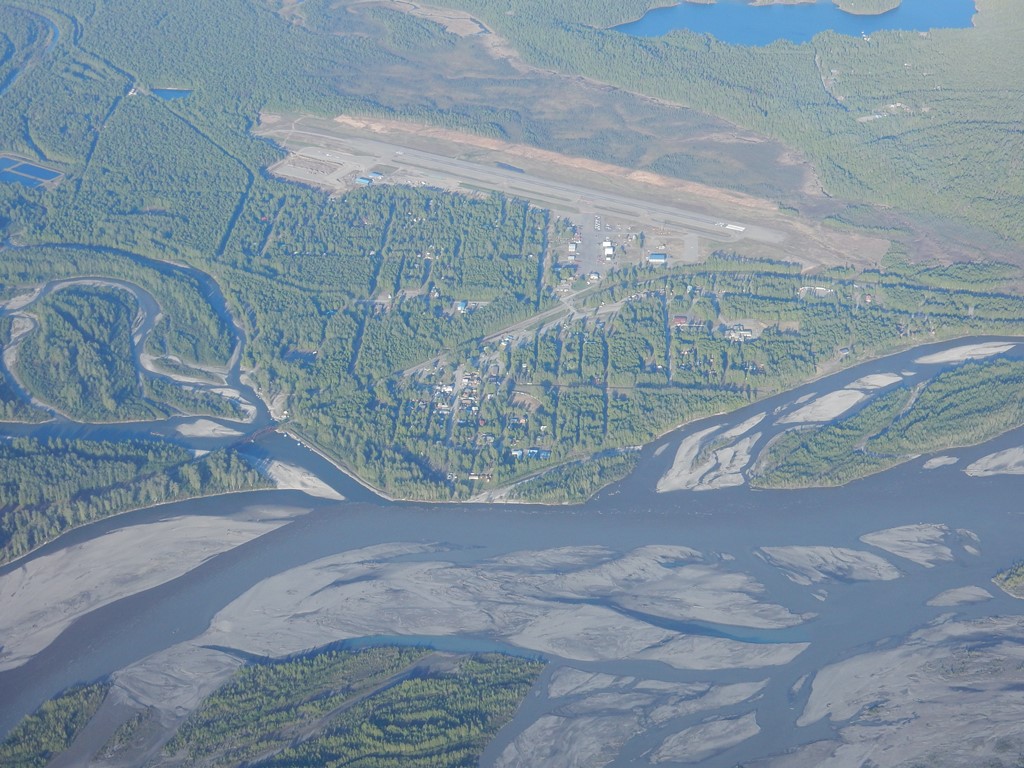 One way or another, all Denali climbs start in the small village of Talkeetna. Which looks even smaller from the air. NPS Photo/Steve Mock