| | | |
| --- | --- | --- |
| TODAY'S STATS |     Denali     | Mt. Foraker |
| Registered Climbers | 956 | 18 |
| Climbers Currently On Mountain | 341 | 11 |
| Completed Climbs | 60 | 2 |
| Number of Summits | 29 | 0 |
| Summit Percentage | 48% | 0% |
The Walter Harper Talkeetna Ranger Station also maintains a daily automated statistics phone line, so if this blog is lagging behind and you need up-to-date registration numbers, call (907) 733-9127. 

Weather Report
7,200 feet -  Stay tuned, weather obs still not available at time of publishing this post, but we'll try to add it later in the day...
In the last 12 hours:
Current temp:  - C /  F
Low temp:  - C /  F
High temp:  - C /  F
14,200 feet -  Skies are obscured with clouds today. Lots of blowing snow and very windy on the ridge.  In camp, the morning wind speed was 4 mph from the northeast, but gusts recorded at 39 mph from the east. Other than the snow blowing around, no new accumulation overnight, but a trace of new snow this morning.
In the last 12 hours:
Current temp:  -13 C / 9 F
Low temp:  -18 C / 0 F
High temp:  -13 C / 9 F
National Weather Service forecast  High wind warning through tonight. Significant winter storm impacting the mountain.

Ranger Update
NPS Denali Patrol #1 (Erickson, Coady, 2 GRTE rangers, 2 VIPs)  The patrol climbed to Washburn's Thumb yesterday on a day trip.  They replaced the remaining sections of fixed lines on the headwall that needed it. Then they returned to camp and prepared for the forecasted storm, reinforcing snow walls and tying down everythng that could move. 
NPS Denali Patrol #2 (McBrayer and 4 VIPs). Ranger Joey McBrayer and his four VIP's are still camped at 11,200 feet. They turned around below Windy Corner yesterday due to high winds. They will head to 14K as soon as weather allows.
NPS Denali Patrol #3 (Corn, 4 VIPs, 2 PJ's) Ranger Dan Corn and his fellow patrol members are all in Talkeetna getting ready...fingers crossed for a Sunday flight into basecamp. Volunteers include former Denali mountaineering ranger Jon Waterman, returning volunteer Justin Fraser, and two first time VIP's Bobby Cosker and Michael Hutchins. Two Air National Guard Pararescuemen (PJ's) from JBER in Anchorage are also headed up on patrol -- welcome Cody Inman and Jeff Hamilton!
NPS Basecamp Patrol #1 (Reichert, 1 ranger, 1 VIP)  The crew has taken a few ski trips out of camp, and otherwise, just manning the fort.  
NPS Basecamp Patrol #2 (Robinson, 2 VIPs) Roger Robinson will head into Basecamp on Sunday as well, along with volunteers Mike Jens and Mike Moxness, and Denali LE ranger David Olson.

Route Conditions
Fixed lines are now in good shape, with the final repair and replacement completed yesterday.
National Weather Service forecasts have been highly accurate this season, so mountaineers on the hill are taking heed of today's warning of a significant winter storm -- today's wind forecast for above 14,200-feet indicates wind from the southwest 60 to 70 mph, with gusts to 85 mph!  There are a handful of teams camped at 17K, but many have descended to 14K, and everybody has battened down the hatches. Ranger Melis Coady says they are 'ready for Armeggedon!'

Photo(s) of the Day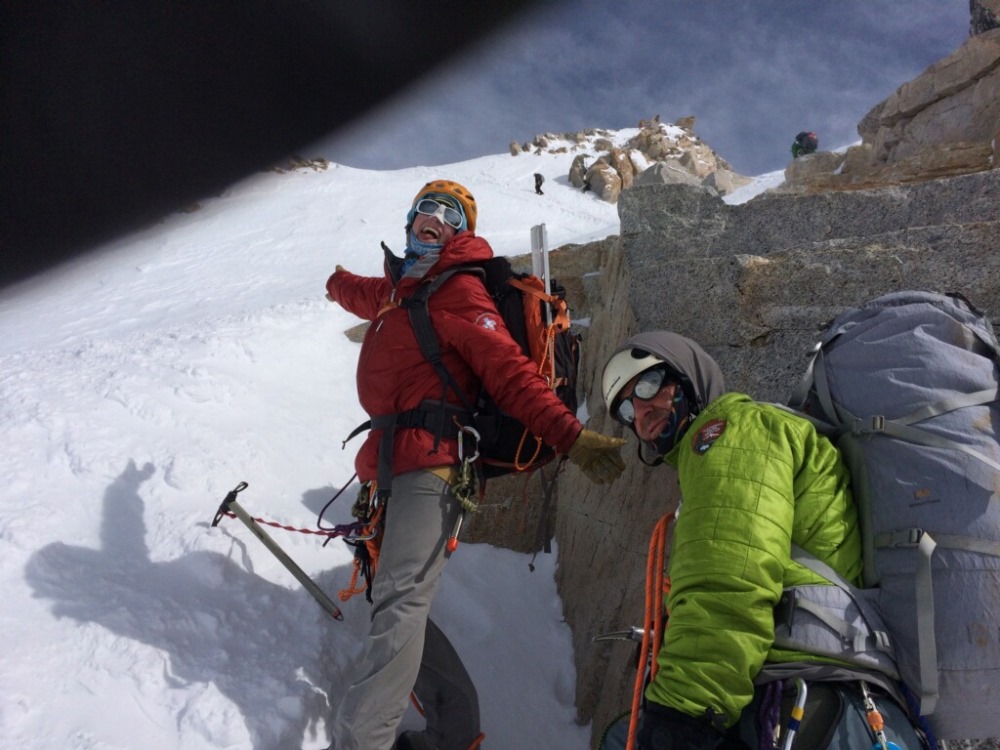 DENA Ranger Melis Coady and GRTE Ranger GR Fletcher glam it up at the top of the fixed lines yesterday. And note the proper PPE usage of the photographer...this image demonstrates that even for the best photographic moments, its not worth removing gloves in cold, windy places!  NPS Photo/Scott Guenther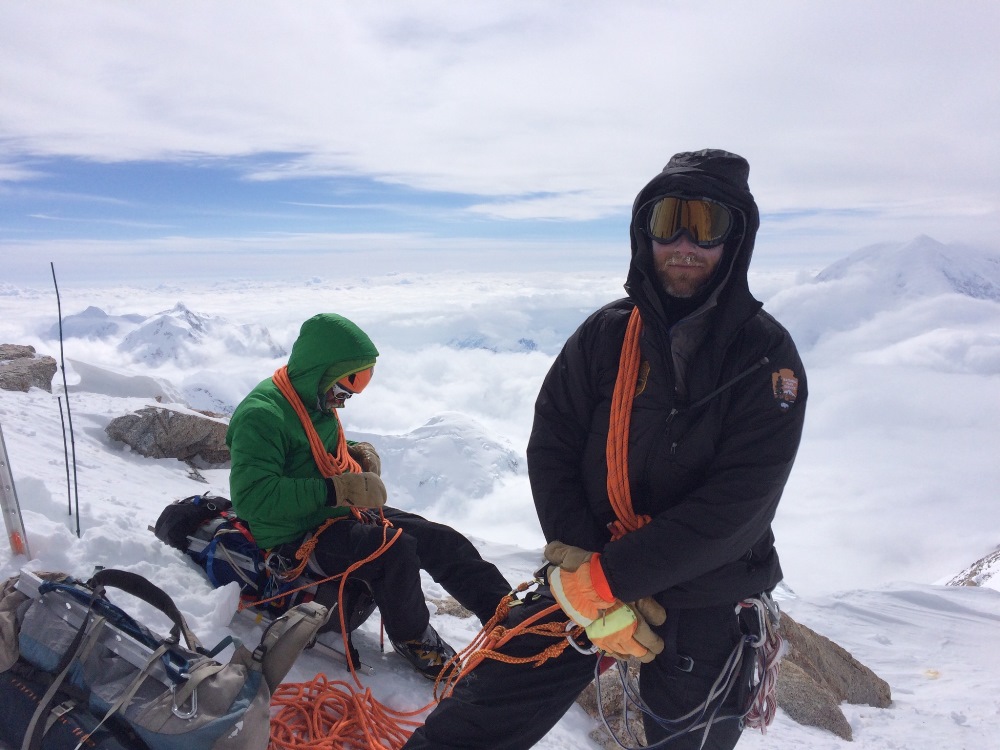 DENA Ranger Chris Erickson and Mystery Volunteer (Steve Mock? Ben Weaver? hard to tell...) take a rest at 16,200 feet after swapping out some new rope on the fixed lines.