| | | |
| --- | --- | --- |
| TODAY'S STATS |     Denali     | Mt. Foraker |
| Registered Climbers | 1,001 | 16 |
| Climbers Currently On Mountain | 365 | 7 |
| Completed Climbs | 39 | 4 |
| Number of Summits | 11 | 0 |
| Summit Percentage | 28% | 0% |
The Walter Harper Talkeetna Ranger Station also maintains a daily automated statistics phone line, so if this blog is lagging behind and you need up-to-date registration numbers, call (907) 733-9127.
Mountain Weather

Click here for today's National Weather Service Denali Climbing Forecast.

http://avcams.faa.gov/  The FAA webcams on the Kahiltna and Ruth Glaciers have been installed for the season. Look for the two adjacent blue dots within Denali National Park boundaries. Note that the Kahiltna Glacier Advisory camera is currently down, though repairs are in the works. The Ruth Glacier Advisory camera is currently functioning properly.

7,200 feet - Skies were obscured this morning, and snow was falling.  They received 5 cm in the past 12 hours, with a total storm accumulation of 13 cm. Winds were generally calm, gusting to 12 mph out of the northwest.  

In the last 12 hours:
Current temp  23 F  (-5 C)
Hi temp  25 F  (-4 C)
Low temp   19 F (-7 C)

14,200 feet - Scattered clouds with a cloud deck at 13,000 feet.  Occasional light snowfall. Camp received 1 cm of snow in the past 12 hours, with a total of 3 cm in the past couple days. Winds were calm at 8:00 am, with gusts to 6 mph out of the south.  

In the last 12 hours:
Current temp  -8 F (-22 C)
Hi temp   -6 F  (-21 C)
Low temp   -11 F (-24 C)
 
Ranger Update
NPS Denali (14K) Patrol #1 (Shain + 4 VIPs) Mik Shain and crew will remain at 14 camp at least another full day in order to transition camp duties to Patrol #2, who will move up 14 camp today. If weather is conducive, Patrol #1 will ascend to high camp over the weekend.
NPS Denali (14K) Patrol #2 (Corn + 5 VIPs) will move up to 14K today, and will assume primary responsibility of camp operations over the weekend.  
NPS Basecamp (7K) Patrol #2 (Coady + 2 VIPs) holding down the fort at 7K.    
NPS Denali (14K) Patrol #3 is currently staged in Talkeetna, waiting for good weather to fly onto the mountain.  The patrol is led by Ranger David Weber, accompanied by three returning VIPs Dr. Jennifer Dow, Mike Quinones, and Shane Treat, as well as first time VIPs Rick Black and Mark Homden.  Dr. Dow, in addition to being a longtime mountaineering volunteer, serves as the Medical Director for the Alaska Region of the National Park Service.    
Route Conditions

DENALI

In general, recent snowfall on the lower glacier has been steady but light, which has gradually refreshed much of the melt-out of the prior sunny week.  The glacier is in good travel condition.
 
 
Photo of the Day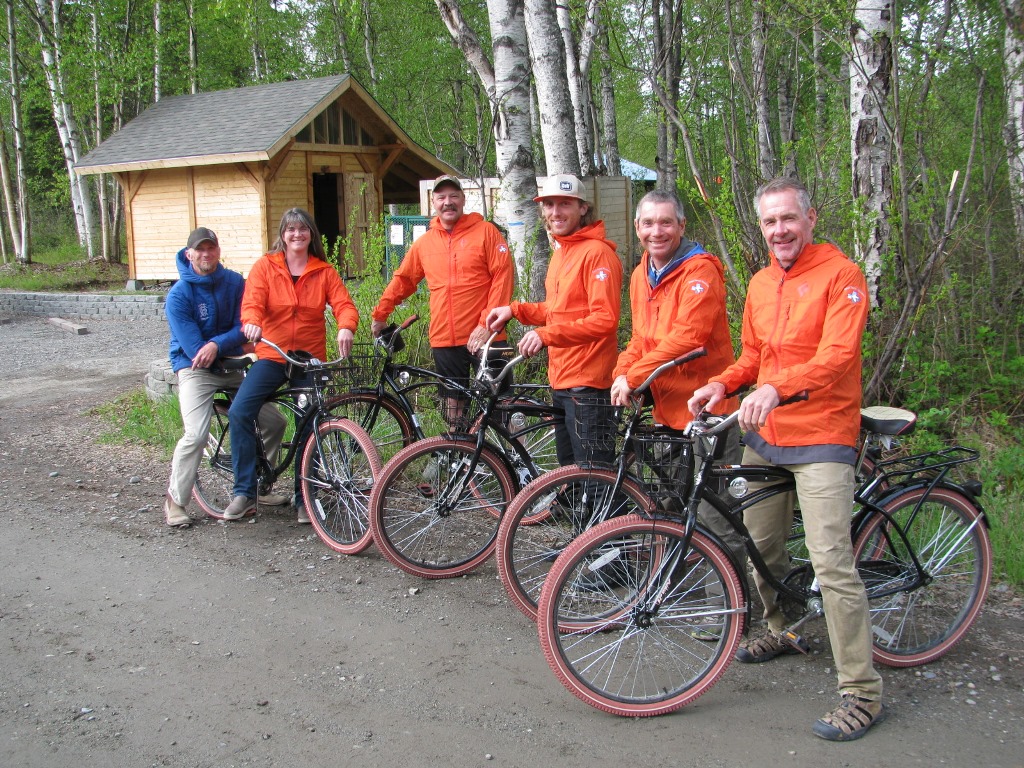 From left to right, NPS Ranger Dave Weber, VIP Jenn Dow, VIP Mike Quinones, VIP Shane Treat, VIP Mark Homden, and VIP Rick Black. (NPS Photo)
With deep gratitude to Denali Rescue Volunteers (DRV), members of Patrol #3 model this season's DRV glacier uniforms, while riding the new modern fleet of volunteer bicycles, also funded by DRV. Denali Rescue Volunteers is a 501(c)(3) non-profit organization that helps support the mountaineering program at Denali National Park in a wide variety of ways, including volunteer gear and logistical assistance. For more information about this valuable park partner and to check out their amazing photo gallery, go to 
https://denalirescue.com/