| | | |
| --- | --- | --- |
| TODAY'S STATS |     Denali     | Mt. Foraker |
| Registered Climbers | 984 | 16 |
| Climbers Currently On Mountain | 336 | 7 |
| Completed Climbs | 37 | 4 |
| Number of Summits | 10 | 0 |
| Summit Percentage | 27% | 0% |
The Walter Harper Talkeetna Ranger Station also maintains a daily automated statistics phone line, so if this blog is lagging behind and you need up-to-date registration numbers, call (907) 733-9127.
Mountain Weather

Click here for today's National Weather Service Denali Climbing Forecast.

http://avcams.faa.gov/  The FAA webcams on the Kahiltna and Ruth Glaciers have been installed for the season. Look for the two adjacent blue dots within Denali National Park boundaries. Note that the Kahiltna Glacier Advisory camera is currently down, though repairs are in the works. The Ruth Glacier Advisory camera is currently functioning properly.

7,200 feet - Light snow was falling on Basecamp at 8:00. They received 2 cm in the past 12 hours, and total accumulation since yesterday of 5 cm.  Winds were 4 mph out of the west, gusting to 8 mph out of the north.  

In the last 12 hours:
Current temp  21 F  (-6 C)
Hi temp  23 F  (-5 C)
Low temp   21 F (-6 C)

14,200 feet - Skies were obscured by clouds this morning, with only a trace of new snow overnight. Since snow started yesterday, a total of 2 cm had fallen on camp. Wind was 4 mph out of the east, with gusts to 12 mph out of the southeast.  

In the last 12 hours:
Current temp  -8 F (-22 C)
Hi temp   -6 F  (-21 C)
Low temp   -9 F (-23 C)
 
Ranger Update
NPS Denali (14K) Patrol #1 (Shain + 4 VIPs) Mik and crew are staying put at 14 camp today, preparing hot cocoa in expectation of a visit from Dan Corn and his volunteer crew.
NPS Denali (14K) Patrol #2 (Corn + 5 VIPs) are camped at 11,000 feet, but today's agenda includes a daytrip to 14 camp for acclimatization and to drop off some gear.  
NPS Basecamp (7K) Patrol #2 (Coady + 2 VIPs) Melis reports a handful of teams are attempting difficult routes on Mount Hunter lately...Moonflower, Deprivation, French Couloir.  The patrol, as well as camp neighbor Lisa Roderick, have enjoyed the friendly company of a wayward Wilson's Warbler the last couple days.       
Route Conditions

DENALI

> Fixed lines and pickets on the upper mountain should all be usable and in good shape. 

> Frank reported that the bergschrund at the base of the fixed lines is a little more challenging than usual due to general snow conditions, i.e. its bigger, more open. Climbers should expect some extra maneuvering to get over it. Also, the route gets pinched a bit, so expect a possible bottleneck in the vicinity if multiple teams are moving through.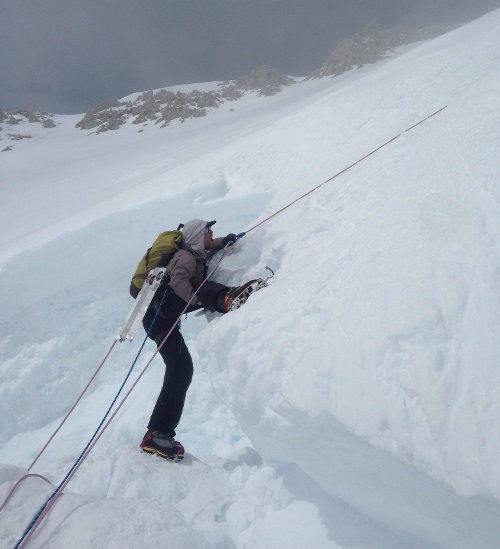 Ranger Mik Shain uses a low angle 'figure 4 maneuver', demonstrating how NOT to climb over the bergschrund. (NPS Photo/Preston)

> While only a couple inches of new snow have accumulated at Basecamp itself, reports of heavier accumulation has occured at elevations just above 7,200 feet.

> Climbers are cautioned to use adequate flotation and be roped up at all times as they leave Basecamp.  A crevasse has opened up on the main trail about a 1/4 mile downhill from from camp. The crevasse is relatively small now, but will likely open up as the temperatures continue to rise.  
 
Photo of the Day



A team of roped climbers on the final approach to the 14,200-foot camp.  Photo courtesy of VIP Andrew Peacock (www.footloosefotography.com)