| | | |
| --- | --- | --- |
| TODAY'S STATS |     Denali     | Mt. Foraker |
| Registered Climbers | 807 | 21 |
| Climbers Currently On Mountain | 159 | 11 |
| Completed Climbs | 16 | 2 |
| Number of Summits | 0 | 0 |
| Summit Percentage | 0% | 0% |

The Walter Harper Talkeetna Ranger Station also maintains a daily automated statistics phone line, so if this blog is lagging behind and you need up-to-date registration numbers, call (907) 733-9127. 

Weather Report
7,200 feet -  Basecamp had scattered high clouds at 8:00 am this morning, with a cloud layer around 9,000 feet.  No new snow overnight. Winds were 5 mph out of the E, with gusts to 13 mph from the SE. A big thank you to Julie Hentrich and Sarah McConkie for providing weather observations...they are filling in for a couple weeks at the Kahiltna Basecamp for manager Lisa Roderick.
In the last 12 hours:
Current temp: -3 C / 27 F
Low temp:  -4 C / 25 F
High temp:  -1 C / 30 F
National Weather Service forecast 

Ranger Update
NPS AKR Patrol #4 (Corn, Preston, Jackson) had a change of plans and are doing day climbs based out of the Kahiltna Basecamp. Today, their objective was Bacon and Eggs.
NPS Denali Patrol #1 (Erickson, Coady, 2 GRTE rangers, 2 VIPs) were still at the 11,000-foot camp this morning, with intentions of ascending to the 14,200-camp today.  Which would be convenient timing, as helo pilot Andy Hermansky is flying slingloads of gear to 14K today.  
NPS Denali Patrol #2 (McBrayer and 4 VIPs). Joey's four mountaineering VIPs arrived last night, and are getting situated around the ranger station today...planning food, packing gear. We'll introduce everybody here tomorrow...
In addition to flying the remaining slingloads of camp infrastructure to 14K today, pilot Andy Hermansky has a long honey-do list today. The Mount Crosson radio repeater still needs to get placed, marginal weather has thwarted all previous attempts to install it.  Also, mountaineering ranger Tucker Chenoweth is working with NPS scientists Mike Loso and Ken Hill to place a glacier and weather monitoring station at 10,300-feet, and another at 3,900 feet.  
Route Conditions
Once radio and phone communications are up and running at 14K in the next few days, we hope to have more to report than just 'lower Kahiltna glacier is in good shape'. 
NPS Patrol #1 marked an appropriate poop crevasse (a large deep crevasse suitable for tossing biodegradable bags of human waste) at the 7,800-foot camp. Its marked by an orange survey stake.
Jess Roskelley and Benjamin Erdmann named their recent first ascent in the Kichatna Spires zone of the Alaska Range after our own renowned mountaineering ranger Mark Westman. Alpinist magazine recently published a trip report of their climb earlier this season where they described Westman, "We completed the route at VI M7 AI4X A3 70° naming it "Westman's World" in honor of our dear friend, mentor and Captain, Mark Westman who holds a legendary presence in Alaskan climbing history." 
http://www.alpinist.com/doc/web16b/newswire-citadel-of-ice-and-wind-new-route-kichatna-spires

Photo of the Day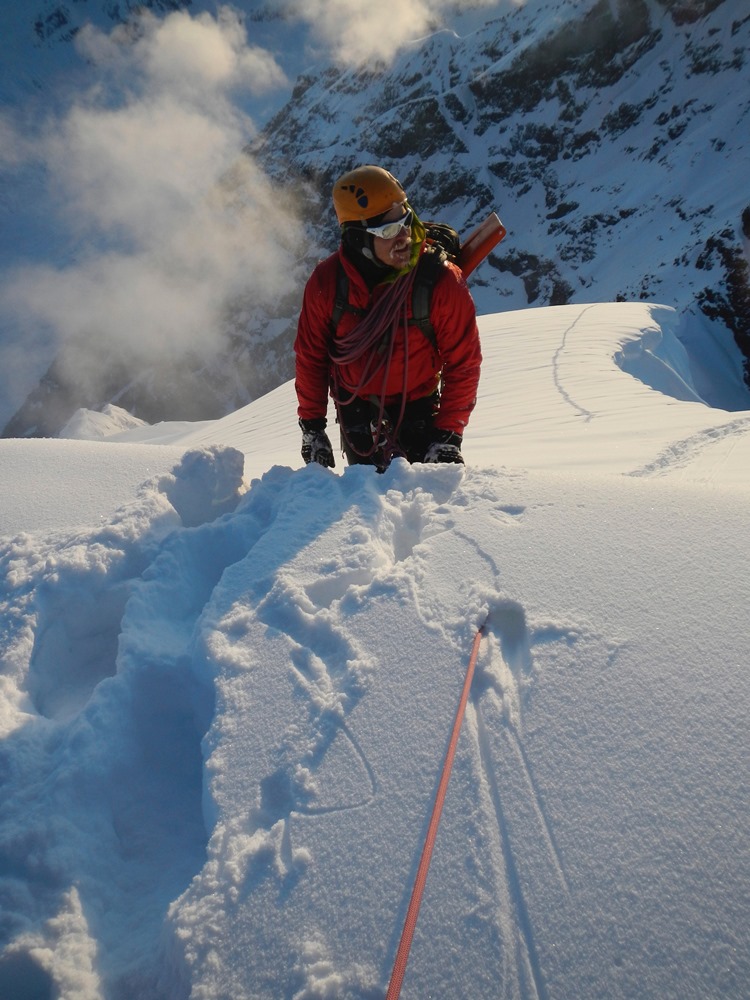 Ranger Mark Westman reaches the top of Mount Church during a 2012 NPS patrol, NPS Photo/Dave Weber.