| | | |
| --- | --- | --- |
| TODAY'S STATS |     Denali     | Mt. Foraker |
| Registered Climbers | 953 | 16 |
| Climbers Currently On Mountain | 174 | 7 |
| Completed Climbs | 11 | 4 |
| Number of Summits | 5 | 0 |
| Summit Percentage | 45% | 0% |
The Walter Harper Talkeetna Ranger Station also maintains a daily automated statistics phone line, so if this blog is lagging behind and you need up-to-date registration numbers, call (907) 733-9127.
Mountain Weather

Click here for today's National Weather Service Denali Climbing Forecast.


7,200 feet - Lisa reports a few clouds overhead this morning at 8:00 am, with winds 12 mph out of the east. Max gust was 16 mph from the southeast. There was no new snow overnight. Barometer 30.16 and rising.

In the last 12 hours:
Current temp  19 F  (-7 C)
Hi temp  25 F  (-4 C)
Low temp   18 F (-8 C)

14,200 feet - Frank at 14 camp reports clear skies and almost non-existant winds this morning at 14,200 feet. The last several days they have generally been above the clouds, with fog or cloud layers intermittently below them. 

In the last 12 hours:
Hi temp   10 F  (-12 C)
Low temp   -13 F (-25 C)

FAA and NPS staff are installing FAA Webcams on both the Kahiltna and Ruth Glaciers as we speak. Once these links are active, we will start linking to the webcams here.
 
Ranger Update
NPS Denali (14K) Patrol #1 (Shain/Preston + 4 VIPs) have been industrious all week. All the major camp structures at 14,200 feet are now up (Communications tent, Cook tent, Medical tent) and all electronics (radio, phones, heaters, solar) are all functioning well. Today, the team plans to head up to assess and repair/replace the lower sections of the fixed lines. 
NPS Basecamp (7K) Patrol #1 (Robinson, O'Connor, + 2 VIPs) flew into Basecamp Wednesday, and similarly have most camp infrastructure in place and operational.     
NPS Denali (14K) Patrol #2 (Corn + 5 VIPs) flew into Basecamp yesterday afternoon and will spend today practicing crevasse rescue and getting situated. They will likely head out of camp tomorrow.
Its been a busy few days of flying for helo pilot Andy Hermansky.  As noted above, NPS Ranger Joe Reichert is working with FAA staff to install the webcams on the Kahiltna and Ruth Glaciers today.  
NPS Scientist Mike Loso is working with South District Ranger Tucker Chenoweth and VUA Becca Stenerson on various glacier-related science projects. Yesterday, Hermansky flew the crew to multiple sites in the Alaska Range, including Kahiltna Pass where they installed a seasonal glacier monitoring station. As part of a continued study, this device will record both temperatures and snow accumulation at the pass. Today, they are collecting snow and water samples at key sites near the toe of the Kahiltna Glacier, as part of a long term study of glacier and water quality.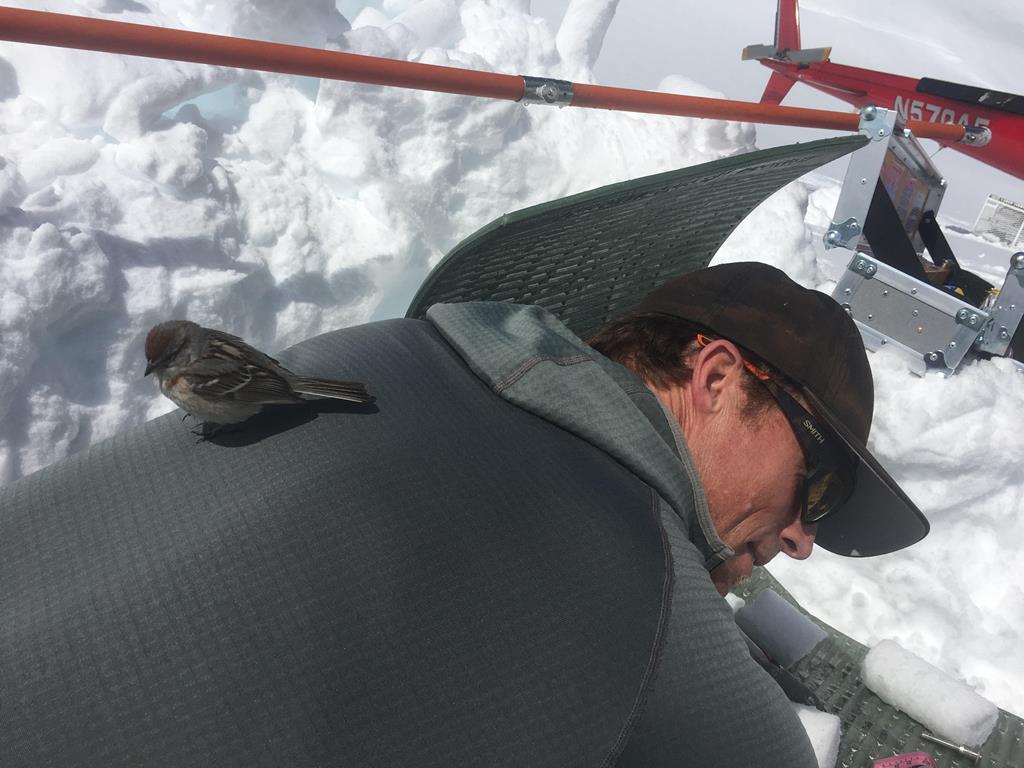 "Denali's Sparrow" An exhausted tree sparrow rests on the back of South District Ranger Tucker Chenoweth at Kahiltna Pass (~10,000 feet), where Chenoweth was helping install a seasonal glacier monitoring station. Its not uncommon for small song birds to fly off course and wind up in unconventional glaciated terrain.  NPS Photo/Mike Loso
Route Conditions

DENALI

> Heavy snow between 7,800 feet and Windy Corner earlier in the week has led to slow travel. Teams in the vicinity are trudging through knee deep snow up Motorcycle Hill.  In some camps, reports of up to 3 feet of new snow fell.  

> Most of the Fixed Lines are reported in good shape, with the exception of the lower-most sections.  NPS rangers and VIPs at 14 camp plan to assess the bottom sections of the fixed lines today; reports indicate that much of this lower section is unusable and/or buried. The team will replace any damaged sections.  

> Early teams on the mountain have reported that the pickets on the autobahn are 'findable and usuable'. 

> Ravens abound, hungry for poorly buried caches. Reports of cache-robbing at 10,200-feet required some Good Samaritan clean-up efforts. REMEMBER to bury caches at least 1 meter deep!

> Obvious flag markers have been placed at both the 7,800-ft and 11,000-ft camps designating appropriate crevasses for human waste. NPS patrol #1 will be designating a similar crevasse at 14,200-foot camp today.


KAHILTNA BASECAMP AREA PEAKS

(5/9/17)
> Lots of facets in snowpack, difficulty finding solid snow anchors in many places.

> Thin and undetectable bridges near Pt. Farine in shear zone, turned back and camped on Kahiltna. No slumping to indicate crevasses. Spooky.

> HUGE detached serac threatening access to Radio Control Tower - hole @ bottom of serac making it weak. Debris in normal path ~ maybe fell @ end of April.  May find access thru crevasses, but we found dead ends with pressure ridges and deep crevasses.

> SW Ridge Frances access snow is scallped, shallow, thin, but easy climbing. Ridge is mostly rock, excellent climbing to Tower 1 where we rappelled with one client. 

> Lots of slumps and open crevasses on "trail" to Camp 1 already.
   
    --Lyra Pierotti, Alpine Ascents Int'l (w/Bryce Hill)
 
Photo of the Day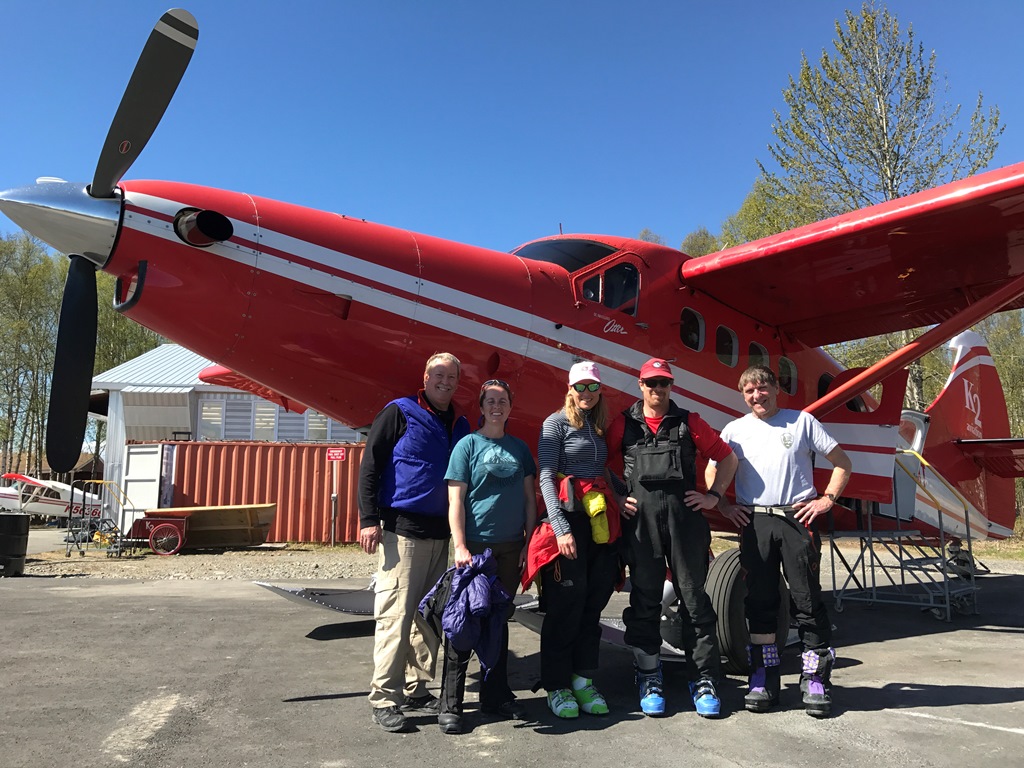 Basecamp patrol #1 - from left to right, K2 Pilot (and former Denali Park Pilot!) Stan Steck, NPS Dispatcher Jessica O'Connor, Mountain VIPs Cami and Lance Taysom, and Ranger Roger Robinson. NPS Photo/Tucker Chenoweth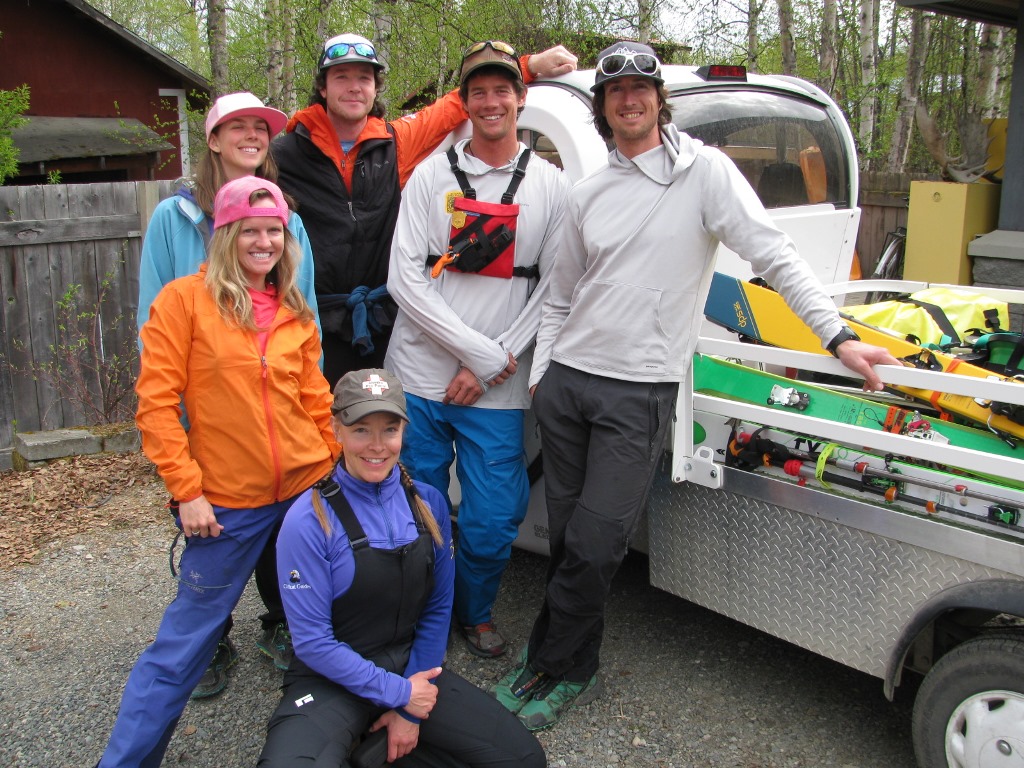 Upper Mountain Denali Patrol #2: Kneeling is VIP Tatiana Lawson, then left to right stands VIP Elizabeth Keane, VIP Liz Rocco, VIP Justin Fraser, NPS Ranger Dan Corn, and VIP Stefan Beattie. (NPS Photo/Maureen Gualtieri)