| | | |
| --- | --- | --- |
| TODAY'S STATS |     Denali     | Mt. Foraker |
| Registered Climbers | 861 | 11 |
| Climbers Currently On Mountain | 87 | 8 |
| Completed Climbs | 7 | 2 |
| Number of Summits | 2 | 0 |
| Summit Percentage | 29% | 0% |
The Walter Harper Talkeetna Ranger Station also maintains a daily automated statistics phone line, so if this blog is lagging behind and you need up-to-date registration numbers, call (907) 733-9127.
Mountain Weather

Click here for today's National Weather Service Denali Climbing Forecast.  

The Kahiltna and Ruth Webcams will be installed when weather permits.  

7,200 camp:   Skies were obscured by clouds last night and today, with Lisa reporting a cloud layer sitting on top of the glacier this morning at 8:00 am.  General wind speed was 2 mph out of the east, with gusts to 26 mph out of the northeast. Basecamp recorded 14 cm of new snow in the past 24 hours, most all of which fell overnight.


In the last 12 hours:

Current temp (8am): -1 C (30 F)
High temp: 2 C  (36 F)
Low temp: -1 C  (30 F)
 
Ranger Update
 
NPS Denali (14K) Patrol #1:
  (DENA Rgr Preston, DENA Rgr Baldwin, GRTE Rgr Kreis, VIP Seitz, VIP Kasavana).  Patrol 1 went for a day trip up to Windy Corner yesterday, but sticking closer to 11K camp today in light of the heavy snow in the forecast.  Rumor on the mountain is that no teams are at 14,200 camp at this time.
NPS Denali (14K) Patrol #2:
  (Rgr McBrayer, VIP Desmond, VIP Martin, VIP Ramos-Leon, VIP Weinberg)  The crew arrived at basecamp around noon yesterday, then once their camp was in place, the team commenced with building all remaining net loads for 14 camp...which means organizing and packing the camp infrastructure and supplies in convenenient, netted bundles. These netloads now await a clear, calm-ish day for the park helicopter to deposit at the 14,200-foot camp.  It'll be a race to see who/what arrives first at 14K -- Patrol #1 or the helo net loads.  Ideally the latter.    
Route Conditions
 
As of May 8, there were 77 backcountry users spread between the Upper and Middle Kahiltna Glacier, the Upper Ruth, Mount Hunter, the Tokositna Glacier, and Little Switzerland.
(May 8)
Ham & Eggs
  "Lots of snow. Generally firm conditions, ice was fat! All anchors were in for rappels."
(May 10) 
Shaken Not Stirred
  "Went free, no ice on crux pitch."
(May 10) 
Ham & Eggs
  "In great condition, plenty of fixed anchors (could use some cleaning up). Snow climbed well!"
(May 7) 
Mount Hunter / Bibler Klewin
  "Lots of snow on Mugs Approach, not a lot of ice. Prow in good condition. Lower McNerthy was decent ice though not very wide.  Upper McNerthy was rotten ice. Bailed before Tamara's Traverse."
(See previous Field Reports for older route condition reports)
Photos of the Day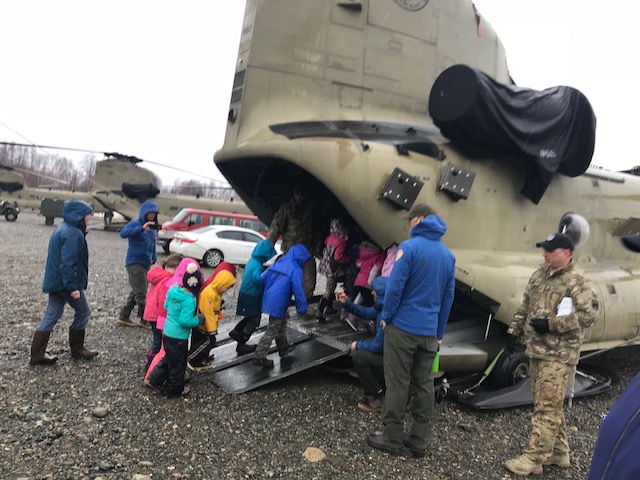 Students from Talkeetna Elementary School took a field trip to the State Airport helipad for a tour of the US Army Chinook (CH-47) helicopters, in town a couple weeks ago for training and NPS camp insertion.  (NPS Photo - Melis Coady)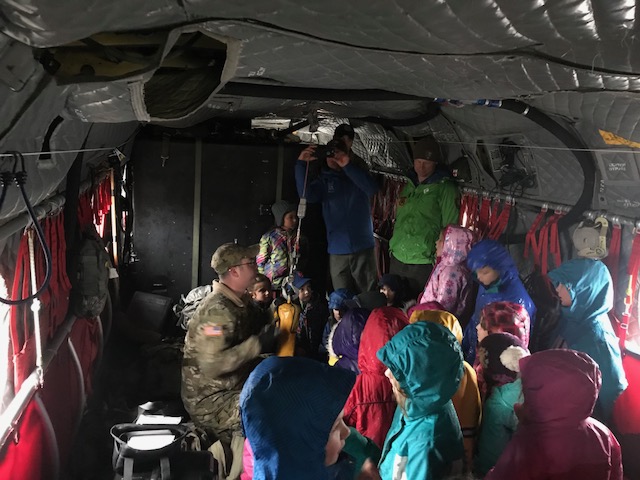 One of the Sugar Bears from the Army High Altitude Rescue Team describes the helicopter's hoist capability to the students.  (NPS Photo - Melis Coady)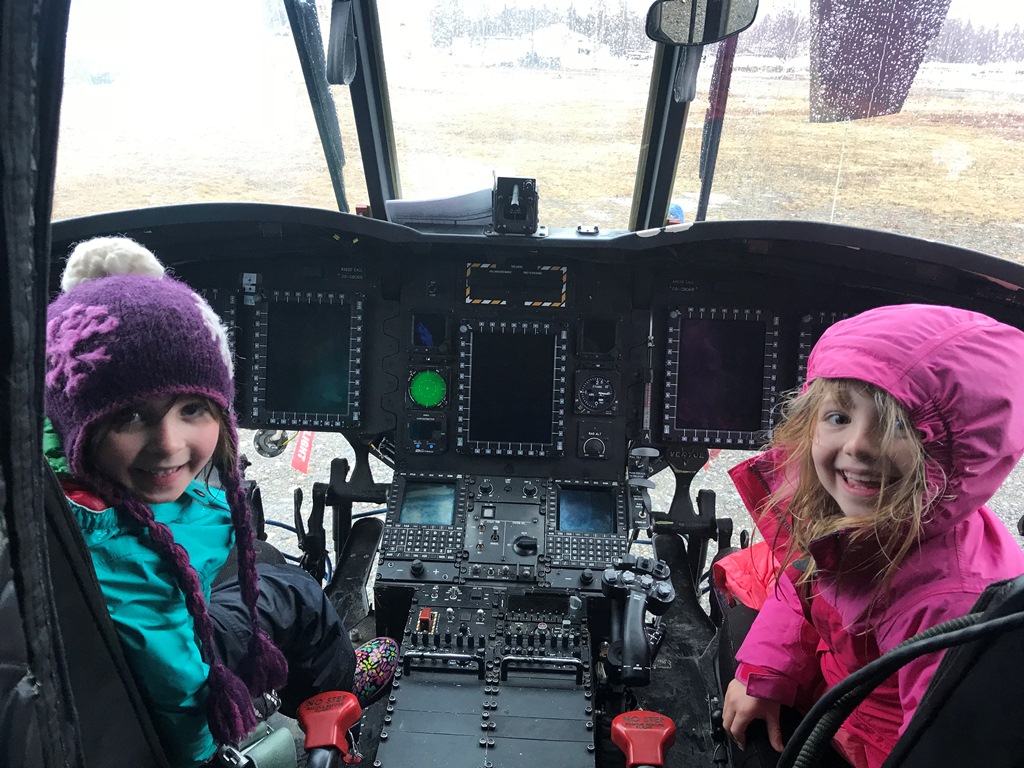 Future pilots Skye and Judy get a turn to sit in the driver's seat.  (NPS Photo - Melis Coady)