| | | |
| --- | --- | --- |
| TODAY'S STATS |     Denali     | Mt. Foraker |
| Registered Climbers | 934 | 17 |
| Climbers Currently On Mountain | 140 | 7 |
| Completed Climbs | 11 | 4 |
| Number of Summits | 5 | 0 |
| Summit Percentage | 45% | 0% |
The Walter Harper Talkeetna Ranger Station also maintains a daily automated statistics phone line, so if this blog is lagging behind and you need up-to-date registration numbers, call (907) 733-9127.
Mountain Weather

Click here for today's National Weather Service Denali Climbing Forecast.

After a couple days of the 'Talkeetna Hang', a healthy number of backlogged climbers flew into Basecamp yesterday afternoon/evening as clouds over the Kahiltna lifted.  Today is severe clear in the Alaska Range.

7,200 feet - 8:00 am weather observations from Lisa at Basecamp:  No new snow overnight. Clear sunny skies. Current winds out of the east at 7 mph, with a max gust of 12 mph out of the east  Barometer 30.39 and rising.

In the last 12 hours:
Current temp    23 F
Low temp   17 F

The FAA Webcam is scheduled to be installed on the Kahiltna Glacier on Friday, weather permitting.
 
Ranger Update
NPS Denali (14K) Patrol #1 (Shain/Preston + 4 VIPs) reached the 14,200-foot plateau on Monday evening. The team has begun the process of establishing the primary NPS camp on Denali.  First the team will construct the Communications tent, including establishing radio and phone capability and setting up the 14K solar power system.  Next, the Cook Tent, then the Medical Tent, and lastly they will improve a helicopter landing pad.  
NPS Basecamp (7K) Patrol #1 (Robinson, O'Connor, + 2 VIPs) flies in to Basecamp today.     
NPS Denali (14K) Patrol #2 (Corn + 5 VIPs) have finished their pre-expedition helicopter training, and today will pack for their 28-day expedition. The team will fly into the Alaska Range tomorrow.
Helo pilot Andy Hermansky is flying the remaining two net loads of camp gear to the 14,200-foot plateau today.  And there is a steady flow of climbing briefings at the ranger station today, as the season continues to pick up steam.  
Route Conditions

DENALI

Once telephone communications are established with the NPS Patrol at 14,200-feet, we should be able to bring you more detailed route conditions reports for the lower West Buttress.

KAHILTNA BASECAMP AREA PEAKS

(5/9/17)
> Lots of facets in snowpack, difficulty finding solid snow anchors in many places.
> Thin and undetectable bridges near Pt. Farine in shear zone, turned back and camped on Kahiltna. No slumping to indicate crevasses. Spooky.
> HUGE detached serac threatening access to Radio Control Tower - hole @ bottom of serac making it weak. Debris in normal path ~ maybe fell @ end of April.  May find access thru crevasses, but we found dead ends with pressure ridges and deep crevasses.
> SW Ridge Frances access snow is scallped, shallow, thin, but easy climbing. Ridge is mostly rock, excellent climbing to Tower 1 where we rappelled with one client. 
> Lots of slumps and open crevasses on "trail" to Camp 1 already.
   
    --Lyra Pierotti, Alpine Ascents Int'l (w/Bryce Hill)
 
Photo of the Day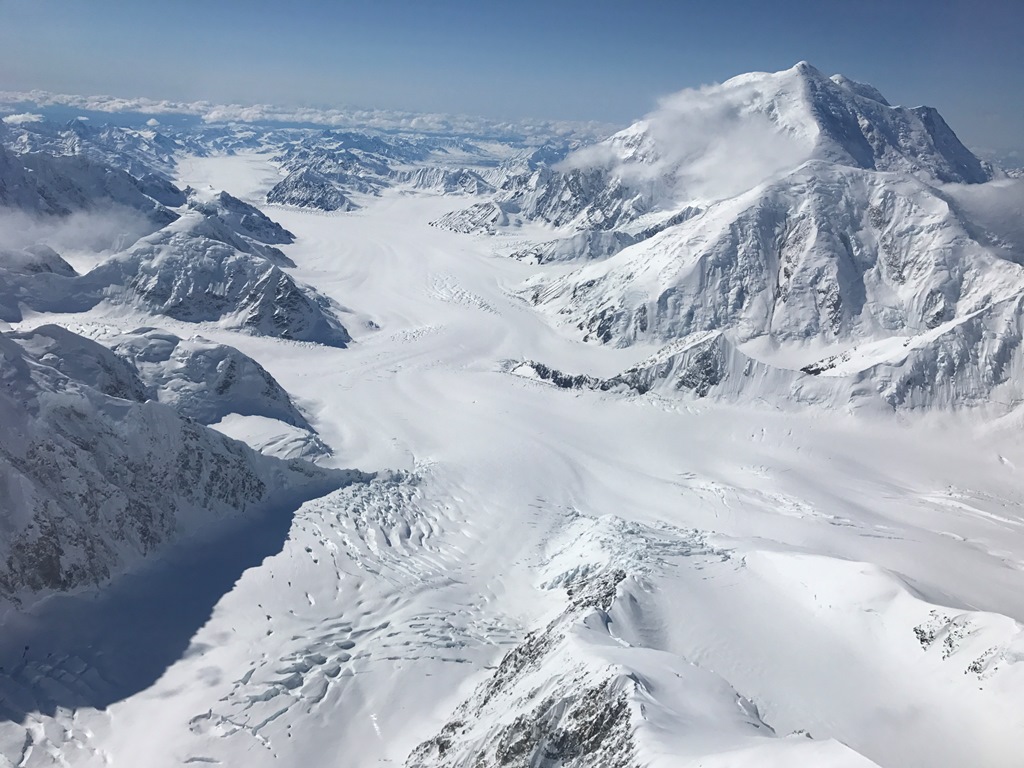 View down the Kahiltna Glacier, witih Mount Crosson and Mount Foraker to the right. In the center of the image is the confluence of the main Kahiltna and the Northeast Fork, which is the more crevassed leg on the bottom left. (NPS Photo/Tucker Chenoweth)