| | | |
| --- | --- | --- |
| TODAY'S STATS |     Denali     | Mt. Foraker |
| Registered Climbers | 906 | 19 |
| Climbers Currently On Mountain | 35 | 3 |
| Completed Climbs | 5 | 0 |
| Number of Summits | 5 | 0 |
| Summit Percentage | 100% | 0% |
The Walter Harper Talkeetna Ranger Station also maintains a daily automated statistics phone line, so if this blog is lagging behind and you need up-to-date registration numbers, call (907) 733-9127.
The Talkeetna Ranger Station activity is getting into full swing, with a busy weekend behind us and a full orientation schedule throughout the week ahead. The second team of the year successfully finished up their climb of the West Buttress, so the early season summit percentage stands at 100% -- though that rate won't linger for long.  In other news, Mount Foraker will soon be hosting its first party of the season, though they reportedly are acclimating on Denali first.
 
Activity in the park's glaciated backcountry is nearing its peak.  As of today, 93 registered climbers are in the following areas:

> 33 - Upper Ruth Gorge
> 15 - Moose's Tooth
>  5  - Mountain House
> 15 - Upper Kahiltna
> 13 - Little Switzerland
>  4  - Tokositna Glacier
>  2  - Mount Huntington
>  2  - Kichatna Spires
>  2  - Mount Hunter
>  2  - 11,300

All backcountry climbers are highly encouraged to register at the Walter Harper Talkeetna Ranger Station. NPS staff can assist climbing teams with route information, snow/ice conditions, and provide teams with a Clean Mountain Can and biodegradable bags. 

Mountain-specific weather forecasts, NPS weather observations, and links to the FAA webcams will be activated soon.  

Ranger Update
NPS Denali Patrol #1 (see photo below) is flying to the Kahiltna Basecamp as we speak.  The patrol is lead by Rangers Mik Shain and Frank Preston, who are joined by Mountaineering Volunteers-in-Parks (VIPs) Ryan VanLuit, Andrea Tupy, Jeffrey Lane, and Andrew Peacock.  The patrol is an experienced and well-rounded one -- both Jeffrey and Andrew are physicians and will provide medical leadership during the 28-day patrol, and both Jeffrey and Andrea are returning VIPs on Denali.  After spending a day or two at the 7,200-foot camp getting situated and reviewing crevasse rescue skills, the crew will begin their week-long commute to the 14,200-foot camp.  In addition to keeping the mountain clean and assisting climbers in need, the first NPS patrol of the season is tasked with constructing the 14,200-foot camp -- days and days of digging, hauling, assembling, trouble-shooting electronics, and other heavy lifting.     

Route Conditions

DENALI 
Conditions on the West Buttress are considered to be 'fairly normal early season conditions'.  We'll get more specific in the days and weeks to come, as NPS rangers fly up to the mountain today for the first upper mountain patrol of the season. 

RUTH  
(4/30/17) "Ham & Eggs ice getting thin, some rockfall; an earthquake broke off a serac, causing some new debris near the runway."
   -- Dusty Eroh (AMS) 

(4/29/17)  "Climbed Ham & Eggs on 4/24, took a rest day on 4/25 and had consistent snow the following days. Total accumulation was 16-18 inches of new snow.  Exited glacier on 4/29.  Route will need 1 to 2 days for consolidation -- lots of loose, dry snow. With new snow, it should heal the crux pitch."
    -- Marc Ripperger (Mountain Bureau)

(4/29/17)  "No ice on the easier Ruth routes, just snow, getting mushy daily in afternoon sun. Escalator appears to be out. West Ridge route of Dickey has surprisingly steep steps and some rotten snow above 9,000 feet. (Still -- it's gorgeous out there!)
   -- No name left

(4/24 - 4/29) "Spent 3 nights on the route. Heavy snow so we bailed 700 feet from the summit. Some sugary snow under the 2 feet of new snow.  Some snow slides during the heavy snow."
  -- No name, and not sure which peak they climbed.


Continued thanks to all climbers who share their route/snow conditions with ranger staff upon return. Again, we would love to share your observations and photos, send one or two to maureen_gualtieri@nps.gov and we will be sure to credit the photographer.

Photo of the Day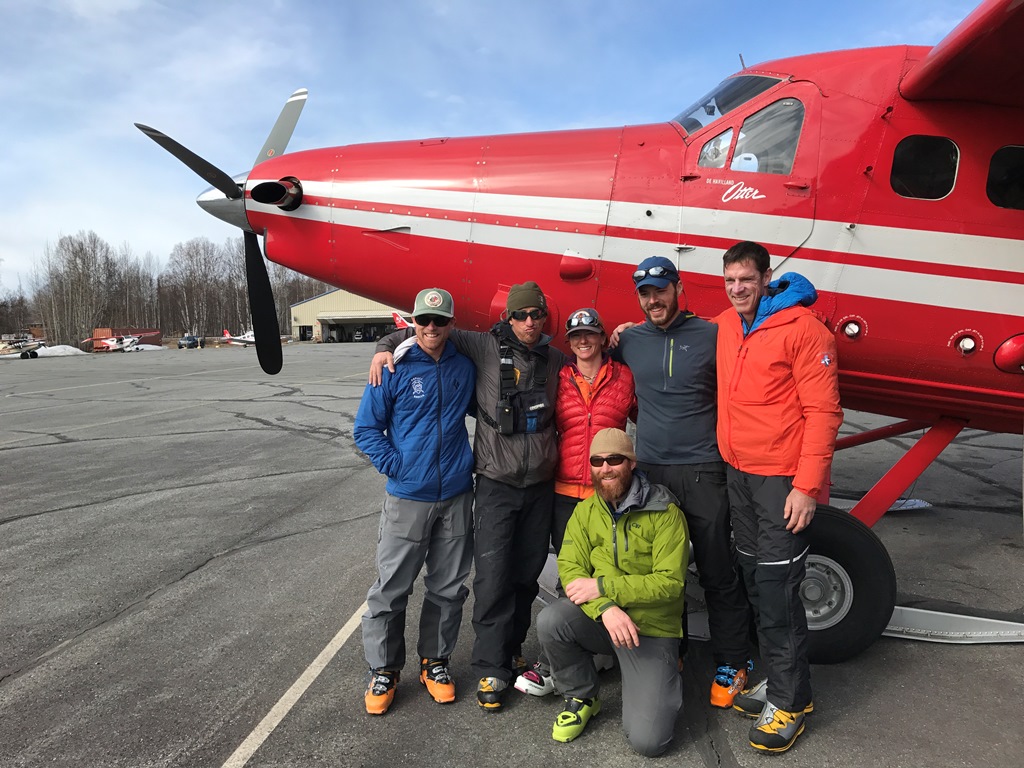 NPS Patrol #1 is poised for departure at the Talkeetna State Airport.  On bended knee is VIP Ryan VanLuit. Standing from left to right, NPS Ranger Frank Preston, NPS Ranger Mik Shain, VIP Andrea Tupy, VIP Dr. Jeffrey Lane, and VIP Dr. Andrew Peacock.  Good luck, stay warm!  (NPS Photo/Tucker Chenoweth)