| | | |
| --- | --- | --- |
| TODAY'S STATS |     Denali     | Mt. Foraker |
| Registered Climbers | 1,114 | 14 |
| Climbers Currently On Mountain | 486 | 5 |
| Completed Climbs | 489 | 9 |
| Number of Summits | 179 | 0 |
| Summit Percentage | 37% | 0% |
The Walter Harper Talkeetna Ranger Station also maintains a daily automated statistics phone line, so if this blog is lagging behind and you need up-to-date registration numbers, call (907) 733-9127.
Mountain Weather

Click here for today's National Weather Service Denali Climbing Forecast.  

Both webcams are undergoing some repairs today, hopefully fixing the intermittent outages: http://avcams.faa.gov/  

7,200 feet - Warm temperatures + precipitation means rain and slush at basecamp. Last night lower elevations on Denali received 2 cm of slushy rain.  This morning there was no new precipitation but skies were overcast with a ceiling around 12,000 feet.  Winds were calm, with gusts to 14 mph from the northeast.

In the last 12 hours:
Current temp  45 F  (7 C)
Hi temp  48 F  (9 C)
Low temp   43 F (6 C)

14,200 feet - Also overcast, but with blowing snow. Wind from the southeast at 2 mph, but with significant gusts to 36 mph from the southeast. Camp received 3 cm of new snow in the past 12 hours, with a storm total of 6 cm in the last 24 hours.  

In the last 12 hours:
Current temp  21 F (-6 C)
Hi temp   23 F  (-5 C)
Low temp   19 F (-7 C)
 
Ranger Update
NPS Denali (14K) Patrol #3 (Weber + 4 VIPs)  The patrol had planned to stay at high camp, but they instead decided to join the 70+ climbers who descended to 14,200 feet yesterday as the winds picked up.  No climbers are higher than 14,200 feet on Denali at the moment. If winds die down over the weekend, they plan to ascend to Washburn's Thumb and replace some deteriorating fixed lines.    
NPS Denali (14K) Patrol #4 (Westman + 4 VIPs)  Its a full house with both patrols #3 and #4 tending to the 270+/- climbers in  the limbo of 14,200-foot camp -- too windy to be up high, and too warm and slushy to go down.
NPS Basecamp (7K) Patrol #4 - Ranger Mik Shain and VIP Thad Stavn are enjoying some tent time at 7K during this heat wave. 
NPS Denali (14K) Patrol #5 - Melis and her VIPs moved up to 11,000-foot camp early this morning, so are just above the rain threshold.  The word for today at 11K was 'groppel'.   
Route Conditions
LOW --- Extreme post-holing. Warm temperatures and rain have made a mess of the lower glacier. Julie at Basecamp reports 'waist deep post-holing in slush.'  And the glacier is riddled with crevasses, so roping up when travelling on the lower glacier is critical.  Travel roped up at all times, and only at night when the temperatures are cooler.
MIDDLE  --- Rangers at 14 camp are advising climbers interested in descending to stick around camp for a few more days until the temperatures get colder. 
HIGH --- Yesterday saw a mass exodus from high camp due to wind. All of the 70+ climbers (and rangers and volunteers) descended to 14 camp in difficult conditions. Winds on the ridge were sustained at 50 mph, but the upper mountain is well protected with pickets, and climbers were using them to full advantage.  
Photo of the Day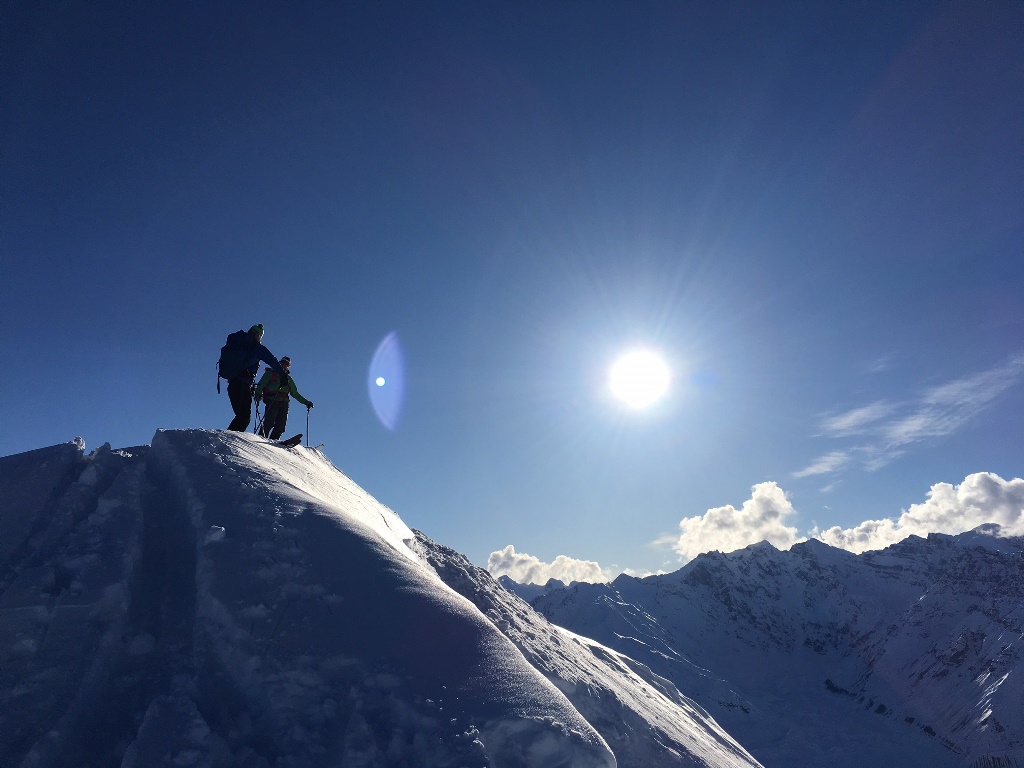 Two skiers take in the view near the Whale's Tail ealier in the season (NPS Photo/Dan Corn)