| | | |
| --- | --- | --- |
| TODAY'S STATS |     Denali     | Mt. Foraker |
| Registered Climbers | 1,084 | 14 |
| Climbers Currently On Mountain | 527 | 5 |
| Completed Climbs | 386 | 9 |
| Number of Summits | 122 | 0 |
| Summit Percentage | 32% | 0% |
The Walter Harper Talkeetna Ranger Station also maintains a daily automated statistics phone line, so if this blog is lagging behind and you need up-to-date registration numbers, call (907) 733-9127.
Mountain Weather

Click here for today's National Weather Service Denali Climbing Forecast.  

Both glacier webcams are currently operational:  http://avcams.faa.gov/  

7,200 feet - (Better late than never...its been a busy couple days on the lower glacier!) Scattered clouds above 17,000 feet, plus a few lower clouds skirting Denali.  Winds were 6 out of the northeast, with gusts to 10 mph. There was a trace (.75 cm) of new snow overnight.

In the last 12 hours:
Current temp  30 F  (-1 C)
Hi temp  30 F  (-1 C)
Low temp   27 F (-3 C)

14,200 feet - Mark reported broken clouds overhead. Although the upper mountain looked windy with visible plumes up high, winds were generally calm in camp.  That said, a few rogue gusts up to 29 mph from the east blew through camp keeping everyone on their toes. There was a trace of snow overnight.

In the last 12 hours:
Current temp  1 F (-17 C)
Hi temp   7 F  (-14 C)
Low temp   0 F (-18 C)
 
Ranger Update
NPS Denali (14K) Patrol #2 (Corn + 5 VIPs)  Dan and his crew had an action-packed last several days on the mountain. As they were descending to Basecamp late Sunday night for their anticipated Monday am departure for Talkeetna, they were perfectly positioned to assist in two lower glacier rescues, including a medical evacuation and a dramatic crevasse rescue. (See yesterday's blog post for more details.) The team is flying out of basecamp as I type this. Huge congratulations to Dan, Elizabeth, Fraser, Liz, Stefan, and Tatiana on a job well done!    
NPS Denali (14K) Patrol #3 (Weber + 5 VIPs)  Dave, Mike, Shane, Rick, and Mark moved up at High Camp at 17,200 feet on Sunday afternoon. Dave reports they are sharing high camp with around 50 climbers at the moment. Winds up high are estimated at about 30 mph, with a few teams reportedly headed towards the summit today. Thank you to VIP Dr. Jenn Dow who flew out from 14,200 feet today...as always, your medical oversight and expertise is invaluable to the NPS!    
NPS Denali (14K) Patrol #4 (Westman + 5 VIPs)  Mark and his crew made it to 14,200-foot camp on Sunday, taking over camp management from Patrol #3. Other than assisting the 200+ climbers at 14 camp this week, they worked hard yesterday to pull together a relief crew for the crevasse rescue that took place yesterday at 7,800 feet. Today they managed a series of helicopter flights, both re-supplying camp with propane bottles/gear/camp supplies, as well as sending out several weeks worth of garbage and NPS CMCs. VIP Lisa Roderick also flew down from 14,200 foot camp today, and she will resume her role as Basecamp Manager at the Kahiltna in the days to come.
NPS Basecamp (7K) Patrol #3 (Reichert + 2 VIPs) Joe, Kakiko, and Katherine just finished up a busy stint at 7K...lots of inbound/outbound climbers, too many crevasse rescues, and no shortage of shovelling.  Thank you team!
NPS Basecamp (7K) Patrol #4 - Ranger Mik Shain and VIP Thad Stavn began their Basecamp patrol down in a crevasse at 7,800 feet, serving as a much-needed relief team during yesterday's rescue.
NPS Denali (14K) Patrol #5 is led by Ranger Melis Coady, who flew into the Alaska Range today with VIPs Tre-C Dumais, Sydney Harsock, Rob Kutchin, and Eeva Latosuo. Their fifth VIP, Jaime Anderson, will meet them at Basecamp. Anderson, whose day job is as a paramedic with the Anchorage Fire Department, was a key player in yesterday's crevasse rescue -- providing guidance on rescue extraction equipment, and then serving as the Lead Medic and attendant on the patient's helo flight to a Fairbanks hospital.   
Route Conditions
Rangers can't say it enough this season...roping up when travelling on the lower glacier is more critical than ever. A low winter snow pack has meant weaker snow bridges in general. Exacerbating the low snow winter, colder than average temperatures this spring have resulted in less melt-out, and therefore less sagging, making the crevasses more difficult to see.
In addition to the two major crevasse rescues reported in this blog in the past week or so, two additional crevasse falls occurred last night at the base of Heartbreak Hill.  In last night's falls, the climbers were uninjured and/or pulled out by a teammate.  Nevertheless, in all four if these instances, the climbers that fell into the crevasse were NOT ROPED to their partners.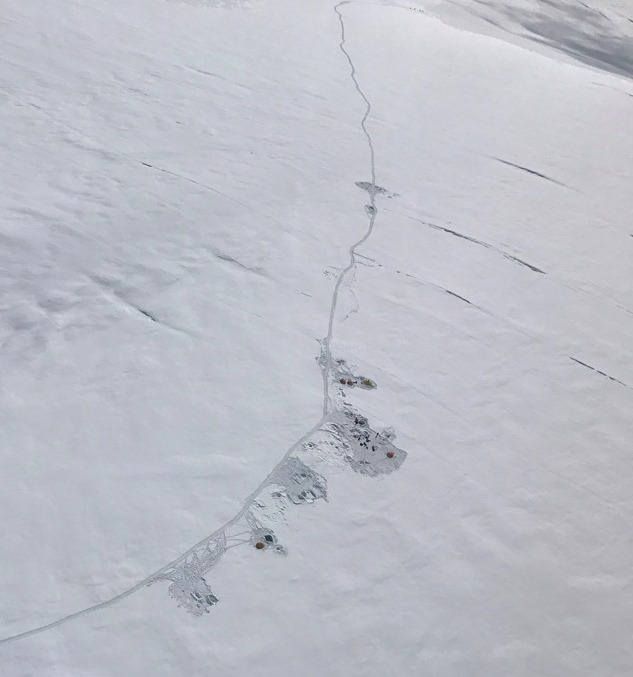 This early season photo was taken of the 7,800 foot camp, providing an indication of the crevasses that typically traverse the glacier...visible as stripes in the distance.  Now that its a few weeks later, those stripes have only gotten wider.  (NPS Photo)
Photo of the Day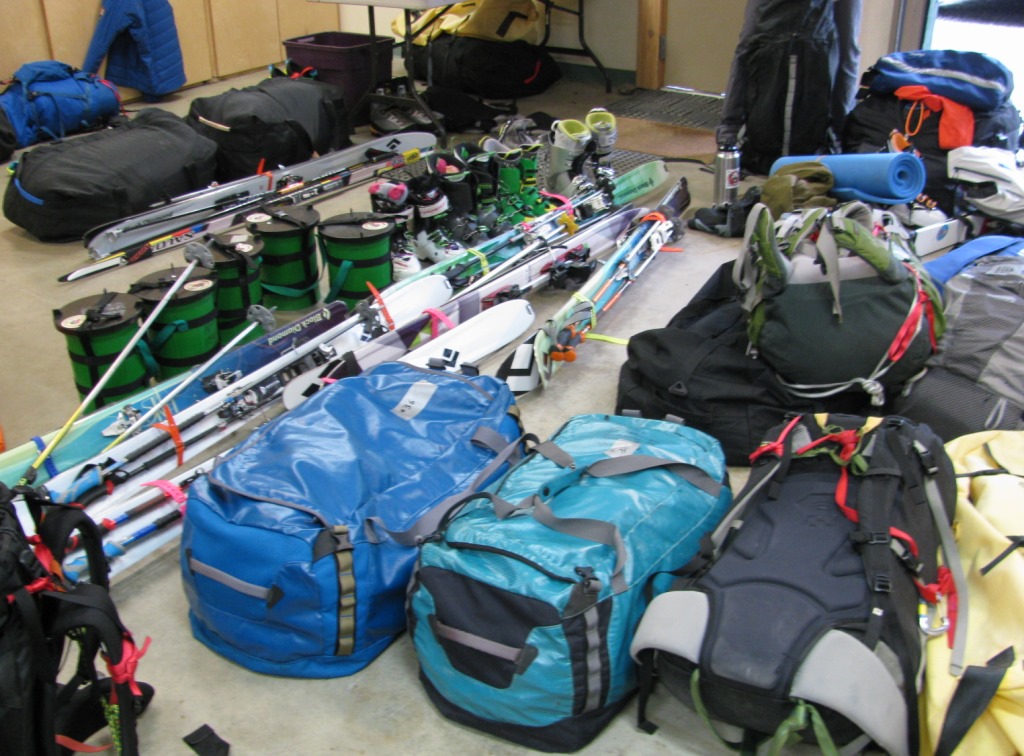 A common view of the back bay at the Walter Harper Talkeetna Ranger Station as an NPS patrol awaits their fly-on date.  (NPS Photo)