| | | |
| --- | --- | --- |
| TODAY'S STATS |     Denali     | Mt. Foraker |
| Registered Climbers | 1,139 | 16 |
| Climbers Currently On Mountain | 170 | 0 |
| Completed Climbs | 952 | 16 |
| Number of Summits | 574 | 7 |
| Summit Percentage | 60% | 44% |
The Walter Harper Talkeetna Ranger Station also maintains a daily automated statistics phone line, so if this blog is lagging behind and you need up-to-date registration numbers, call (907) 733-9127. 

Weather Report
7,200 feet -  Scattered clouds over basecamp today, with wind at 5 mph out of the east, gusting to 11 mph. No new snow accumulation in the past 24 hours...though lots and lots of snow (hopefully snow, not rain) is forecasted for the next few days. 
In the last 12 hours:
Current temp:  2 C / 36 F
Low temp:  1 C / 34 F
High temp:  2 C / 36 F


14,200 feet -  Sky conditions were reported as few clouds, but high winds visible on the summit this morning. At 14 camp, the winds were only 3 mph out of the east, with slight gusts to 7 mph. 14 camp received 2 cm ov new snow overnight, which fell on top of the 6 cm that fell yesterday afternoon. The forecast through the upcoming weekend calls for heavy snow and high winds in the 
In the last 12 hours:
Current temp:  -15 C / 5 F
Low temp:  -18 C / 0 F
High temp:  -14 C / 7 F


National Weather Service forecast

Ranger Update
NPS Denali Patrol #5 (Gentzel, 3 VIPs)  Coley and his fellow patrol members joined a slew of other climbing teams in reaching the summit of Denali yesterday. Sounded like great conditions and many teams took advantage of good weather.  And then in light of the rather miserable weather forecast coming their way, they will move down to 14 camp later today (again, along with most teams currently at 17K).
NPS Denali Patrol #6 (Weber, Preston, 4 VIPs)  Yesterday, the patrol succeeded in removing the small weather station from the Edge of the World (14,200 camp), where it has been field-tested for the last couple weeks. Patrol members are currently re-installing it on top of the 16K ridge. We hope to report real time weather data in the next few days, after a trouble-shooting period. The small unit will remotely report temperatures, windspeed, and wind direction.
Route Conditions
Lisa is back in at basecamp, reporting sagging snow bridges on the Lower Kahiltna as a result of no hard freezes. There is a light, breakable crust layer.
There are great skiing conditions at 14K as a result of the new, moderate snowfall.. 
And we'll replay the
Pika Glacier
 conditions for another day -- its in great shape - firm for travel yet soft for camping.  
Bergschrunds to the major climbs are easily crossed and rockfall near routes is (so far) minimal.  Much snow fell on the upper slopes of the Pika peaks during the 6/18-19 snowstorm (Storm Genet) and has been slowly melting, though many teams reported wet or snowy conditions on "The Lost Marsupial" on The Throne and "The South Face" of Middle Troll.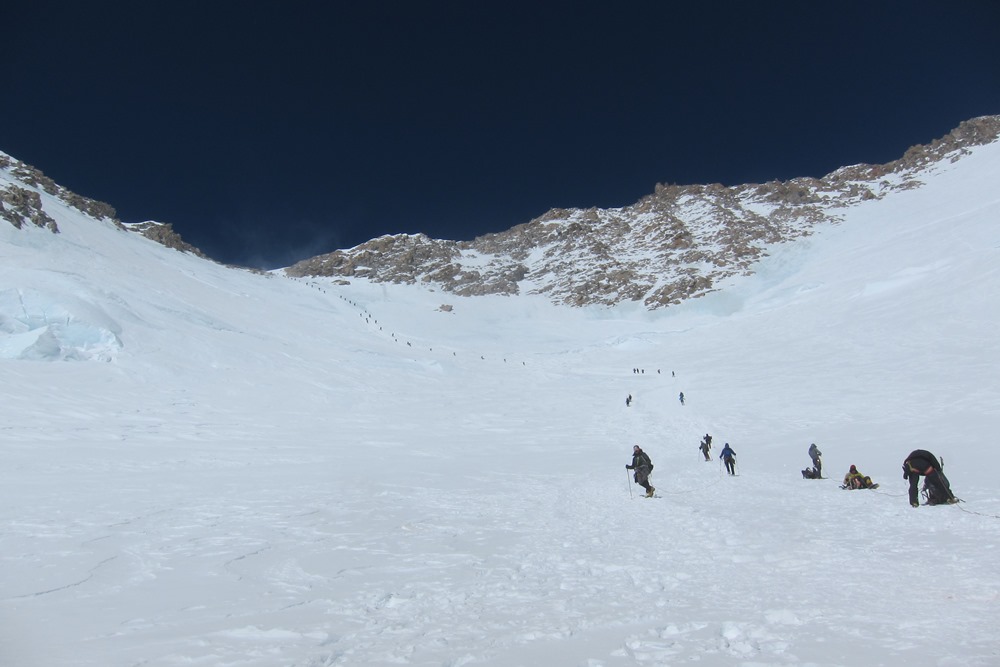 Ever wonder what a busy day on the fixed lines look like?  NPS Photo/Melis Coady