| | | |
| --- | --- | --- |
| TODAY'S STATS |     Denali     | Mt. Foraker |
| Registered Climbers | 1,193 | 11 |
| Climbers Currently On Mountain | 179 | 0 |
| Completed Climbs | 1,010 | 11 |
| Number of Summits | 359 | 0 |
| Summit Percentage | 36% | 0% |
The Walter Harper Talkeetna Ranger Station also maintains a daily automated statistics phone line, so if this blog is lagging behind and you need up-to-date registration numbers, call (907) 733-9127.
Mountain Weather

Click here for today's National Weather Service Denali Climbing Forecast.  

And here for the Kahiltna and Ruth Webcams  http://avcams.faa.gov/  

7,200 feet - Alas, the Basecamp weather monitoring equipment has been packed away for the season. 


14,200 feet - Scattered clouds this morning, wind out of the north at 3 mph. Gusts to 8 mph out of the northwest. No new snow.

In the last 12 hours:
Current temp  14 F (-10 C)
Hi temp   16 F (-9 C)
Low temp  7 F  (-14 C)
 
Ranger Update
NPS Denali (14K) Patrol #5 - (Coady + 5)  Patrol #5 will be heading down to Basecamp tonight, with intentions to fly back to Talkeetna tomorrow, weather permitting.
NPS Denali (14K) Patrol #6 - (Preston + 3) The patrol will generally remain around 14 camp until Patrol #7 reaches camp. In the mean time. 
NPS Denali (14K/7K) Patrol #6.5 (Chenoweth+2) The mini-patrol flew out yesterday, so they are back in Talkeetna.
NPS Denali (14K Patrol #7 (McBrayer, Erickson, Raffaeli, + 2 volunteers)  After a delayed start to the patrol, they took advantage of their first night to begin their ascent to 14K.     
Route Conditions
The lower glacier is in typical late season condition. Its still 'travellable', but don't step off the packed trail. Off trail, the isothermic snow is punchy and hollow - even in snowshoes, climbers are stepping off trail into pits of unconsolidated snow.  Crevasse falls are starting to happen again, so stay roped up and mindful at all times.
Up high, conditions are remain solid. There is a crevasse opening at the top of the 'bunny hill' at 14K, but it is clearly visible to climbers/skiers headed that direction.  An informal survey at high camp places the population estimate at 50+ individuals, mostly from members of guided expeditions.  
Photo of the Day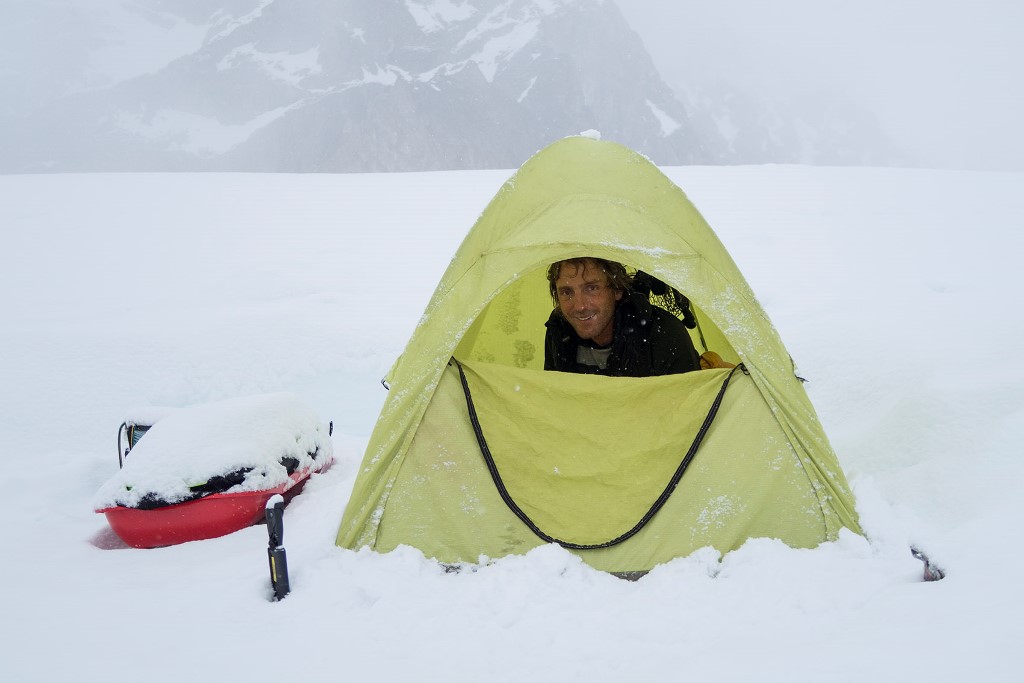 Veteran NPS mountaineering volunteer Shane Treat peaks out from his snowy tent during last season's patrol on Denali. Photo courtesy of Menno Boermans.