| | | |
| --- | --- | --- |
| TODAY'S STATS |     Denali     | Mt. Foraker |
| Registered Climbers | 1,193 | 11 |
| Climbers Currently On Mountain | 216 | 0 |
| Completed Climbs | 965 | 11 |
| Number of Summits | 333 | 0 |
| Summit Percentage | 35% | 0% |
The Walter Harper Talkeetna Ranger Station also maintains a daily automated statistics phone line, so if this blog is lagging behind and you need up-to-date registration numbers, call (907) 733-9127.
Mountain Weather

Click here for today's National Weather Service Denali Climbing Forecast.  

And here for the Kahiltna and Ruth Webcams  http://avcams.faa.gov/  

7,200 feet - Skies were generally cloudy this morning, though Tucker sees clear blue sky above Annie's Ridge. Winds were calm, with gusts to 15 mph out of the southeast.  A trace of new snow fell overnight, with a 24  hour storm total of 2 cm.

In the last 12 hours:
Current temp  34 F  (1 C)
Hi temp  36 F  (2 C)
Low temp   32 F (0 C)


14,200 feet - Clear skies, with a lenticular on the summit.  Wind was out of the northeast at 2 mph, with gusts to 8 mph out of the east.  It wasn't snowing at 8 am, but 14 camp did receive 3 cm of new snow last night.

In the last 12 hours:
Current temp  7 F (-14 C)
Hi temp   12 F (-11 C)
Low temp  3 F  (-16 C)
 
Ranger Update
NPS Denali (14K) Patrol #5 - (Coady + 5)  The whole patrol enjoyed a rather perfect summit day yesterday!  Beautiful, warm, calm.  The team is descending to 14 camp today, should be there in time for dinner.    
NPS Denali (14K) Patrol #6 - (Preston + 3) Frank and his VIPs have taken a few trips up high in the last week, taking advantage of beautiful weather. Winds starting kicking in up high today, so they will play it by ear in terms of moving up.  Currently they are sharing 14 camp with 6 or 7 guided parties, and a handful of independent teams.   
NPS Denali (14K/7K) Patrol #6.5 (Chenoweth+2) Tucker, Lisle, and James are at Basecamp today, hoping for a ride out.  They've enjoyed a lovely week, reaching 14 camp on a day trip.
NPS Denali (14K Patrol #7 (McBrayer, Erickson, Raffaeli, + 2 volunteers)  The final 14K patrol of the season (Joseph McBrayer and Chris Erickson + 3) are waiting in Talkeetna for good flyable weather. So far, they got shut out yesterday and today.  Fingers crossed for a window tomorrow.   
Route Conditions
Tucker reports the lower glacier is in typical late season condition. Its still 'travellable', but don't step off the packed trail. Off trail, the isothermic snow is punchy and hollow - even in snowshoes, climbers are stepping off trail into pits of unconsolidated snow.  Crevasse falls are starting to happen again, so stay roped up and mindful at all times.
Up high, conditions are great.  
Photo of the Day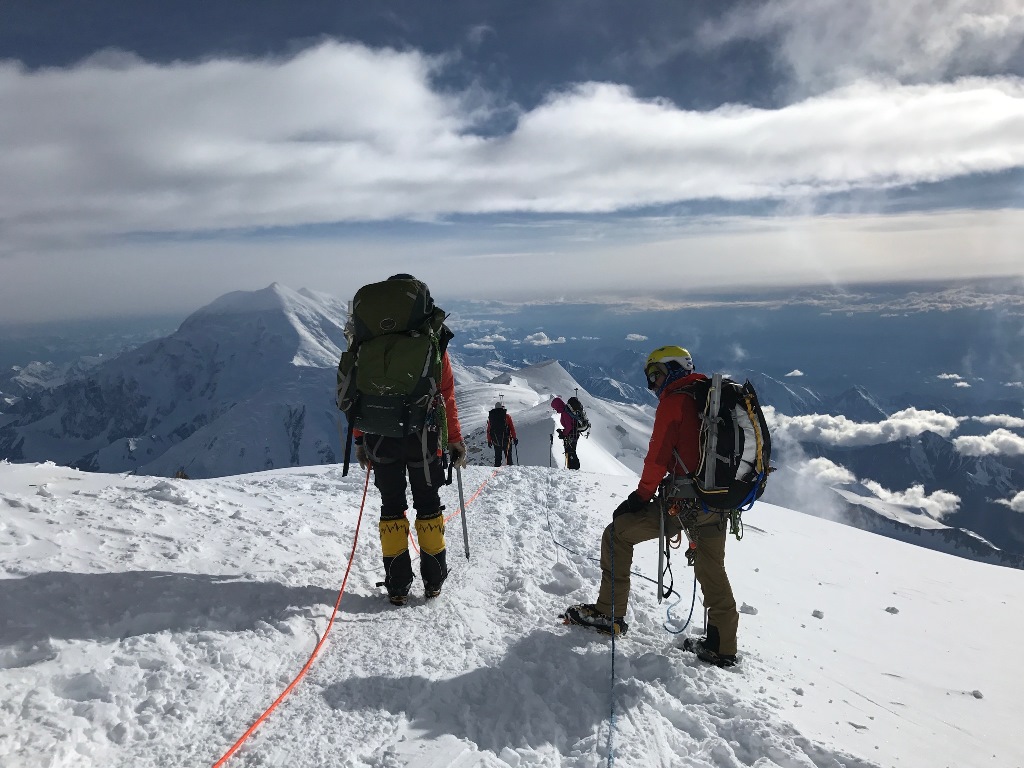 In this photo from last week, Patrol #5 (Coady) descends from a daytrip to 17K, returning with packs full of trash and used oxygen bottles.  (NPS Photo/Melis Coady)