| | | |
| --- | --- | --- |
| TODAY'S STATS |     Denali     | Mt. Foraker |
| Registered Climbers | 1,184 | 11 |
| Climbers Currently On Mountain | 286 | 0 |
| Completed Climbs | 874 | 11 |
| Number of Summits | 258 | 0 |
| Summit Percentage | 29% | 0% |
The Walter Harper Talkeetna Ranger Station also maintains a daily automated statistics phone line, so if this blog is lagging behind and you need up-to-date registration numbers, call (907) 733-9127.
Mountain Weather

Click here for today's National Weather Service Denali Climbing Forecast.  

And here for the Kahiltna and Ruth Webcams  http://avcams.faa.gov/  

7,200 feet - Its summer solstice and its a bluebird day on Denali. There are a few high clouds over basecamp, winds are calm.  Max gusts are up to 14 mph out of the east. No new snow.

In the last 12 hours:
Current temp  34 F  (1 C)
Hi temp  39 F  (4 C)
Low temp   30 F (-1 C)


14,200 feet - Similarly beautiful morning at 14 camp, with some scattered high cirrus clouds above.  Wind 3 mph from the north, with max wind speed of 8 mph out of the northeast. No new snow.

In the last 12 hours:
Current temp  3 F (-16 C)
Hi temp   7 F  (-14 C)
Low temp   0 F (-18 C)
 
Ranger Update
NPS Denali (14K) Patrol #4 (Westman + 4 VIPs)  Mark's patrol will likely be descending from 14 camp to basecamp this evening. The will linger for a few days at 7K, then will fly out back to Talketna in a couple days.
NPS Denali (14K) Patrol #5 - (Coady + 5)  Melis and friends daytripped to high camp yesterday, doing some cleanup around camp. Today they went for a ski in the 14K basin, and tomorrow they will make the official move on up to high camp.   
NPS Denali (14K) Patrol #6 - (Preston + 3) Frank and his three volunteers are rounding Windy Corner at this exact moment, and should make it to 14 camp in plenty of time for dinner tonight.   
NPS Denali (14K/7K) Patrol #6.5 (Chenoweth+2) South District Ranger Tucker Chenoweth will lead a short 7 day patrol on the lower mountain, bringing along volunteers Lisle Doria and James Shinas. They fly in to Basecamp today, where they will do a camp cleanup and some crevasse rescue training. Then in the next 7 days, they'll head up to 14 camp for a quick visit, turn around, come back, and then pack up NPS basecamp operations.
NPS Denali (14K Patrol #7 (McBrayer, Erickson, Raffaeli, + 2 volunteers)  The final 14K patrol of the season will also be a shorter one, co-led by rangers Joseph McBrayer and Chris Erickson, and will focus on packing up 14 camp for the season.  The crew flies into Basecamp on Monday, June 23, and also includes Denali Kennels Manager Jennifer Raffaeli, and Volunteers-in-Parks Amanda Erickson and Will Boardman.   
Route Conditions
Lisa reports that the glacier is still freezing at night, but lots of snow melt during the long sunny days.  Travel on the lower glacier is fine as long as a good crust develops. Night travel is a must. Its summer solstice, which means night travel starts at about 3:00 am and continues to 9:00 to 10:00 am in the morning. A few climbers are still punching through crevasses, but in the past two weeks, none have required NPS assistance.
Guides descending to 14 camp today say that Denali Pass is in GREAT shape. They estimate that about 50 people summitted Denali yesterday (6/20) in prime conditions.  
Photo of the Day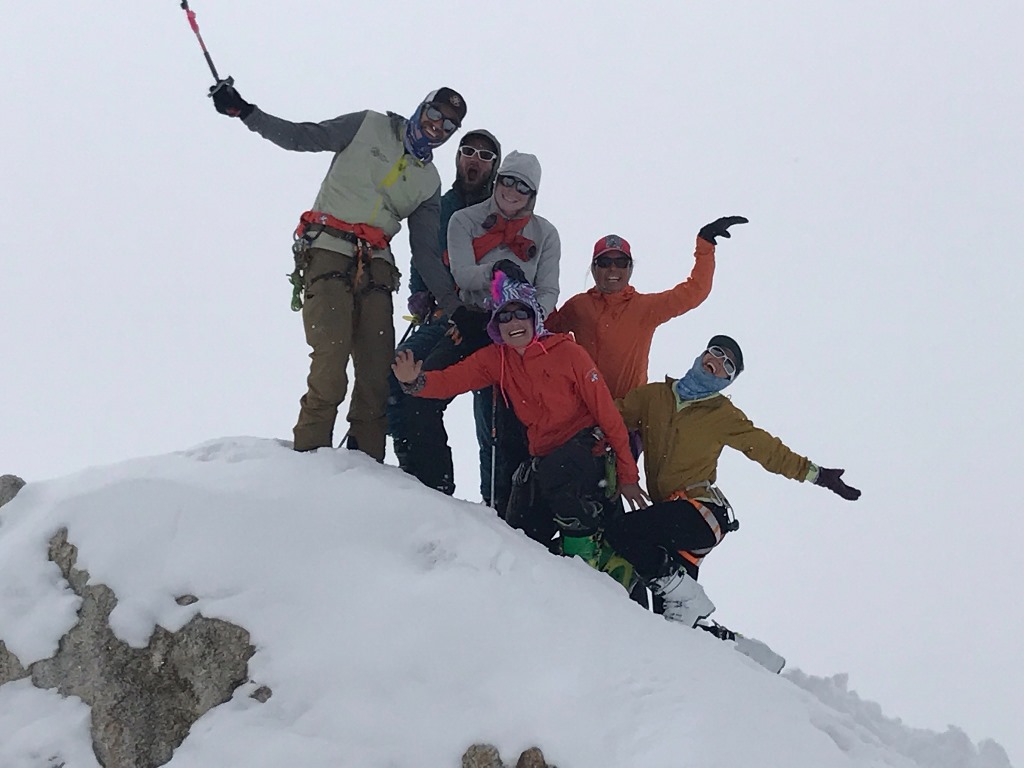 There's no such thing as having too much fun on Denali, Patrol #5 enjoys a well-deserved day of silliness at the Edge of World, following a long week+ of patient care and emergency management. NPS Photo/Melis Coady