| | | |
| --- | --- | --- |
| TODAY'S STATS |     Denali     | Mt. Foraker |
| Registered Climbers | 1,181 | 11 |
| Climbers Currently On Mountain | 378 | 0 |
| Completed Climbs | 751 | 11 |
| Number of Summits | 237 | 0 |
| Summit Percentage | 31% | 0% |
The Walter Harper Talkeetna Ranger Station also maintains a daily automated statistics phone line, so if this blog is lagging behind and you need up-to-date registration numbers, call (907) 733-9127.
Mountain Weather

Click here for today's National Weather Service Denali Climbing Forecast.  

And here for the Kahiltna and Ruth Webcams  http://avcams.faa.gov/  

7,200 feet - Scattered clouds both last night and this morning, with a big lenticular cap sitting on top of Denali.  Winds at basecamp were 6 mph out of the east, with gusts to 14 mph.  Lisa reports no new snow overnight, but a trace of snow fell in the last 24 hours.

In the last 12 hours:
Current temp  28 F  (-2 C)
Hi temp  30 F  (-1 C)
Low temp   25 F (-4 C)

14,200 feet - Clear beautiful skies this morning, with a cloud bank to the south at 9,000 feet. To the north, generally clear with some cirrus clouds. Temperatures continue to be cold for this time of year. Winds out the northeast at 5 mph, with max gusts to 10 mph out of the north.  No new snow overnight, but in the past 24 hours, 14K camp received 4 cm of snow.

In the last 12 hours:
Current temp  0 F (-18 C)
Hi temp   1 F  (-17 C)
Low temp   -4 F (-20 C)
 
Ranger Update
NPS Denali (14K) Patrol #4 (Westman + 4 VIPs)  Mark's patrol descended from high camp to the 14,200 foot camp yesterday. They will hang out there for a day or two, then make their way down to Basecamp for a Thursday fly-out date.
NPS Denali (14K) Patrol #5 - (Coady + 5)  Patrol #5 treated a skier with a blown out knee for a day or so, but the skier was evacuated via helicopter yesterday afternoon. To celebrate the first full day with an empty medical tent since the patrol arriving at 14K, Melis and her teammates took a well-deserved dayhike up the ridge to 16,200 feet.
NPS Denali (14K) Patrol #6 - (Preston + 3) Patrol #6 arrived at 11,000-foot camp yesterday, and will remain at 11K tonight for further acclimatization. 
NPS Basecamp (7K) Patrol #5 - (Erickson + 2)  Chris and Dave flew out of Basecamp yesterday afternoon, along with 70 to 100 climbers who had been backed up due to weather.  Through the rest of the season, there will be only intermittent NPS ranger coverage at Basecamp as the final patrols of the season either fly into or out of the mountains.  
Incident Follow-up
The remains of the climber who died above high camp were flown off the mountain yesterday afternoon, and then transferred to the State of Alaska Medical Examiner.  Sanjay Pandit, age 28, of Kathmandu, Nepal, died of unknown medical causes on Friday, June 16 after a summit bid with two teammates.    
Route Conditions
"Crust is king." Travel on the lower glacier is fine as long as a good crust develops. Night travel is a must. In Alaska, as we approach the summer solstice, night travel starts at about 3:00 am and continues to 9:00 to 10:00 am in the morning. A few climbers are still punching through crevasses, but in the past two weeks, none have required NPS assistance.  
Photo of the Day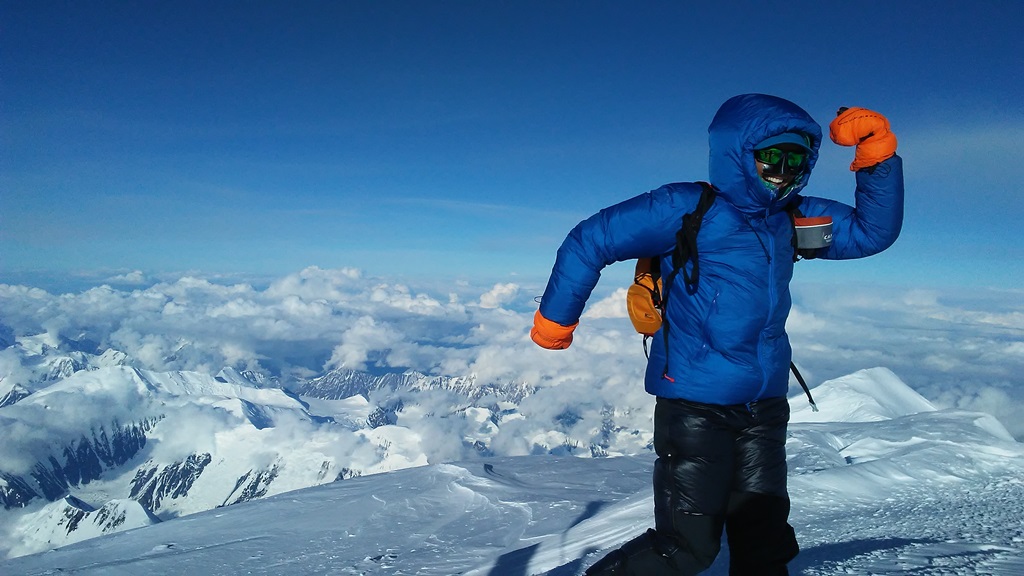 Congratulations go out to climber Katie Bono (above) who enjoyed a very cold, but gratifying moment at the summit of Denali during her recent speed ascent.  At 6:01 am on June 13, Katie departed Basecamp and sped up the West Buttress route, reaching the summit of Denali in 14 hours, 45 minutes, 30 seconds. The lower glacier was frozen hard both at the start and at the finish, but extremely windy. Adding to the challenge, Katie reported she had to break trail in a whiteout from 12,000 to 14,000 feet on the way up, then again across the Autobahn on both the ascent and the descent.  Katie's round trip travel time from Basecamp-to-Basecamp was 21 hours, six minutes.  Although its worth noting that all Denali records for speed ascents and other 'firsts' are self-reported and unofficial, Katie's achievement -- which was observed by numerous witnesses from Basecamp on up to the summit -- is the first women's speed ascent on file at Denali National Park. (Photo courtesy of Peter Dale)