| | | |
| --- | --- | --- |
| TODAY'S STATS |     Denali     | Mt. Foraker |
| Registered Climbers | 1,176 | 11 |
| Climbers Currently On Mountain | 393 | 0 |
| Completed Climbs | 723 | 11 |
| Number of Summits | 223 | 0 |
| Summit Percentage | 30% | 0% |
The Walter Harper Talkeetna Ranger Station also maintains a daily automated statistics phone line, so if this blog is lagging behind and you need up-to-date registration numbers, call (907) 733-9127.
Mountain Weather

Click here for today's National Weather Service Denali Climbing Forecast.  

And here for the Kahiltna and Ruth Webcams  http://avcams.faa.gov/  


Weather observations for 7,200 feet and 14,200 feet were not available as of this posting time. 
 
Ranger Update
NPS Denali (14K) Patrol #4 (Westman + 4 VIPs)  Mark's patrol is at 17,200 feet. Most of the patrol went to the summit last night, and did some picket maintenance along the way.
NPS Denali (14K) Patrol #5 - (Coady + 5) The patrol has been assisting a skier with an injured knee for the last 24 hours.  
NPS Denali (14K) Patrol #6 - (Preston + 3)  Talkeetna staff have not spoken with Frank yet today, but we believe the patrol to be at the 11,000 foot camp today.
NPS Basecamp (7K) Patrol #5 - (Erickson + 1) Chris and David (Stack) are busy at basecamp. By their estimation, 70 to 100 climbers are currently at the upper Kahiltna strip waiting for weather to clear for a flight down to Talkeetna.  Based on the sounds of airplanes over Talkeetna as I type this, weather conditions are improving rapidly.  
Incident Update
(From a news release distributed at 10:00 today:)
The mountaineer who died at 17,500 feet on Denali's West Buttress route on June 16 is identified as Sanjay Pandit, age 28, of Kathmandu, Nepal.  Pandit was descending the mountain with two teammates when he succumbed to an unknown medical illness.    
The climber's remains will be recovered from the 17,200-foot high camp when the cloudy and windy weather conditions improve.  
Route Conditions
Ranger Mark Westman and most of his patrol members climbed to the summit yesterday, breaking trial both directions due to wind and snow up high.  The team did some routine maintenance on the Autobahn pickets, which are reportedly in good shape.
The lower glacier continues to hold up thanks to cold weather.   
Photo of the Day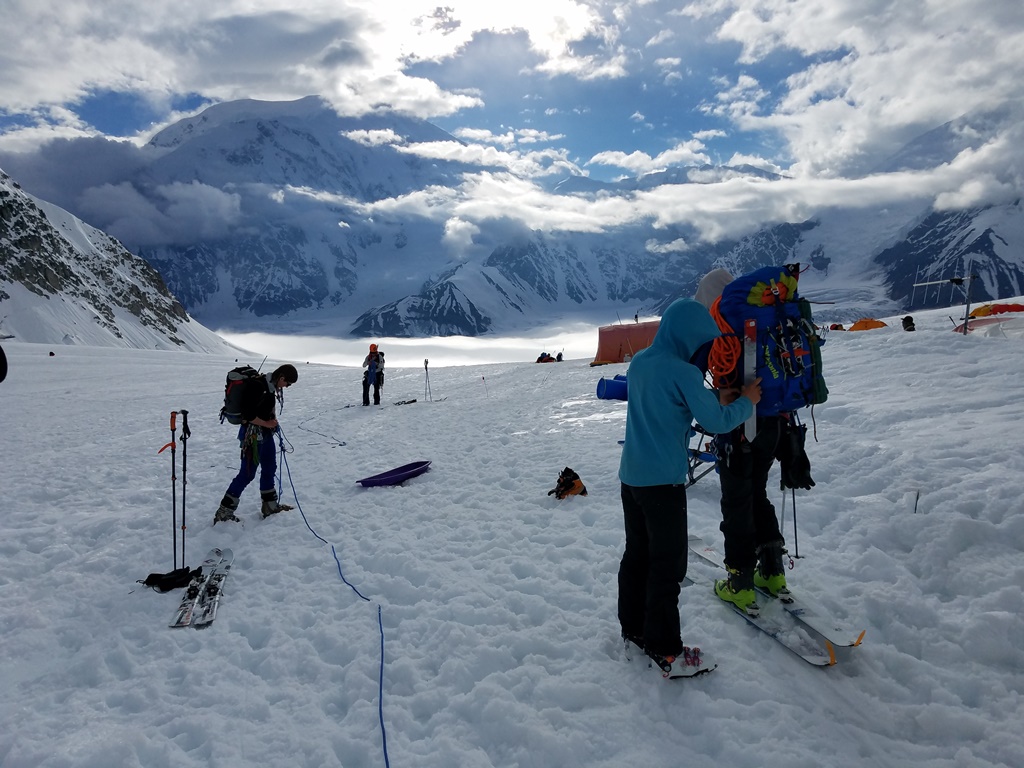 A climbing team at the Kahiltna Basecamp gets ready to head downglacier. (NPS Photo/Kakiko Ramos-Leon)