| | | |
| --- | --- | --- |
| TODAY'S STATS |     Denali     | Mt. Foraker |
| Registered Climbers | 1,167 | 11 |
| Climbers Currently On Mountain | 382 | 0 |
| Completed Climbs | 672 | 11 |
| Number of Summits | 196 | 0 |
| Summit Percentage | 29% | 0% |
The Walter Harper Talkeetna Ranger Station also maintains a daily automated statistics phone line, so if this blog is lagging behind and you need up-to-date registration numbers, call (907) 733-9127.
Mountain Weather

Click here for today's National Weather Service Denali Climbing Forecast.  

And here for the Kahiltna and Ruth Webcams  http://avcams.faa.gov/  

7,200 feet - At 8:00 am it was overcast with cloud layers at least until 9,000 feet. Winds were calm, with gusts to 9 mph out of the southeast. No new snow overnight, but it was starting to dump snow around noon when rangers called for weather observations.

In the last 12 hours:
Current temp  34 F  (1 C)
Hi temp  34 F  (1 C)
Low temp   30 F (-1 C)

14,200 feet - 14 camp was in a whiteout this morning. Winds were 10 mph out of the southwest, gusting to 24 mph. They received 15 cm of new ovenight, and it was still windy and snowing later this morning.

In the last 12 hours:
Current temp  3 F (-16 C)
Hi temp   3 F  (-16 C)
Low temp   -4 F (-20 C)
 
Ranger Update
NPS Denali (14K) Patrol #4 (Westman + 4 VIPs)  Mark's patrol is at 17,200 feet. Overnight they responded to medical fatality just above camp at 17,500 feet. See below for more information.
NPS Denali (14K) Patrol #5 - (Coady + 5) Melis and her VIPs continue to be busy in the medical tent.  Shortly after treating then evacuating two unrelated climbers with snowblindness and with frostbite/dehydration two days ago, they have been helping several new climbers -- two for frostbite and one for abdominal illness. 
NPS Denali (14K) Patrol #6 - (Preston + 3) Frank and friends moved to 7,800 foot camp last night.
NPS Basecamp (7K) Patrol #5 - (Erickson + 2) On hand at Basecamp.  
Incident Report
(From a news release distributed at 12:00 today:)
An NPS ranger patrol responded to a request for help at 17,500 feet on Denali's West Buttress route at approximately 1 am on June 16.  An independent party of three had been descending from Denali Pass when one of the teammates collapsed due to unknown illness. By the time the initial team of two NPS mountaineering volunteers reached the scene, the climber was unresponsive. Despite emergency medical interventions, the patient never regained consciousness and was pronounced deceased.  
The name of the deceased climber is being withheld until family notifications are made overseas. The climber's remains will be recovered from the 17,200-foot high camp when weather conditions allow.  
Route Conditions
Lisa reports that the lower glacier is in good shape before 9:00 am, at which point it starts to deteriorate. Night schedules are definitely preferred.  Lisa has also moved the aircraft operations to the upper Kahiltna strip, which is about a 5 to 10 minute ski up glacier from her established camp. This move commonly happens towards the end of each season as the runway deteriorates and crevasses open up; with this low-snowpack season, the move has occurred a week+ earlier than usual.
In news from the upper mountain, ranger Mark Westman and his volunteers replaced the fixed lines below Washburn's Thumb which had begun to deteriorate.  
Photo of the Day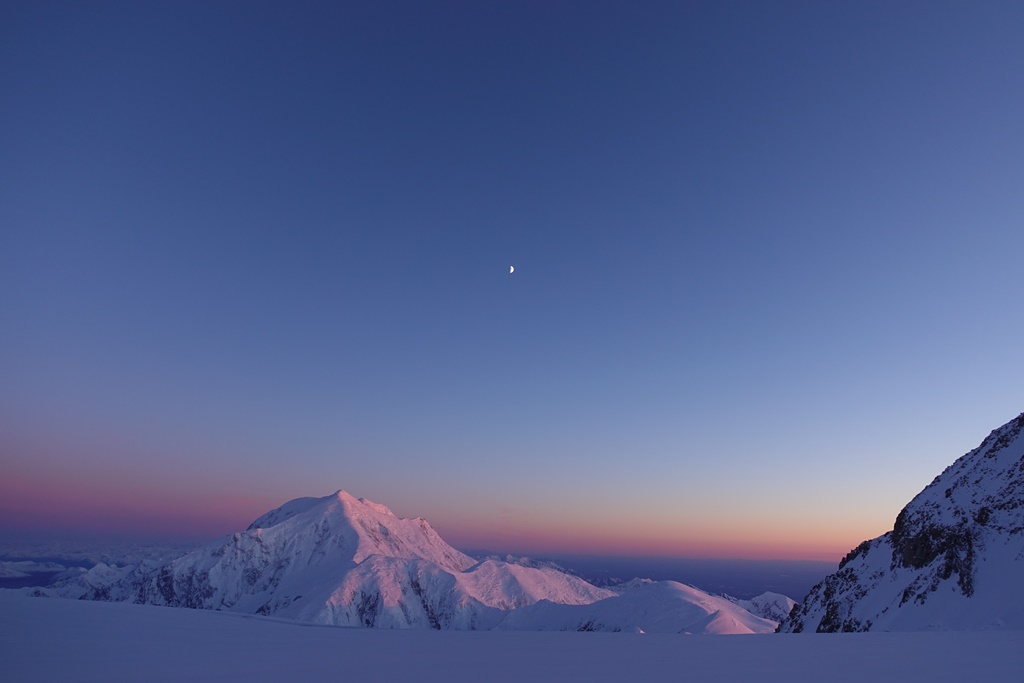 A sliver of moon appears over Mount Foraker as the midnight sun sets.  (NPS Photo/Dave Weber)