| | | |
| --- | --- | --- |
| TODAY'S STATS |     Denali     | Mt. Foraker |
| Registered Climbers | 1,169 | 14 |
| Climbers Currently On Mountain | 399 | 2 |
| Completed Climbs | 650 | 12 |
| Number of Summits | 185 | 0 |
| Summit Percentage | 28% | 0% |
The Walter Harper Talkeetna Ranger Station also maintains a daily automated statistics phone line, so if this blog is lagging behind and you need up-to-date registration numbers, call (907) 733-9127.
Mountain Weather

Click here for today's National Weather Service Denali Climbing Forecast.  

Webcams have been fickle again lately: http://avcams.faa.gov/  

7,200 feet - Lisa is back at Basecamp -- big thanks to Julie Hentrich for your weather observations and assistance to the NPS and climbers during a lively few weeks at Basecamp!  Scattered clouds at 7K this morning, Denali is obscured by clouds. Wind was 2 mph out of the east, with max wind speeds up to 9 mph from the east. Basecamp received a trace of new snow overnight.

In the last 12 hours:
Current temp  30 F  (-1 C)
Hi temp  30 F  (-1 C)
Low temp   27 F (-3 C)

14,200 feet - Broken cloud cover this morning.  Winds were generally calm in camp, with maximum wind speeds clocked at 8 mph from the northeast.  Melis reports visible wind up higher on the ridges, however.  Last night 14K experienced pulses of snow squalls totalling 1 new cm of snow in the last 12 hours, and 6 cm of snow over the past 24 hours.

In the last 12 hours:
Current temp  -4 F (-20 C)
Hi temp   -2 F  (-19 C)
Low temp   -9 F (-23 C)
 
Ranger Update
NPS Denali (14K) Patrol #4 (Westman + 4 VIPs)  Mark's patrol is at 17,200 feet today, along with a healthy number of climbing teams.  Their crew replaced the deteriorated fixed lines below Washburn's Thumb yesterday. 
NPS Denali (14K) Patrol #5 - (Coady + 5) Melis and her VIPs have been busy in the medical tent, treating multiple patients in the past several days. Two unrelated climbers were med-evacuated together yesterday - one for snowblindness and one for frostbite/dehydration.   
NPS Denali (14K) Patrol #6 - (Preston + 3) Frank and his volunteers flew into Basecamp yesterday, and will remain in camp today practicing crevasse rescue skills.
NPS Basecamp (7K) Patrol #5 - (Erickson + 2) Patrol #5 also flew into Basecamp yesterday, and are similarly doing crevasse rescue training today.  
Route Conditions
Lisa reports that the lower glacier is in good shape before 9:00 am, at which point it starts to deteriorate a bit. Night schedules are definitely preferred.  Lisa has also moved the aircraft operations to the upper Kahiltna strip, which is about a 5 to 10 minute ski up glacier from her established camp.  This move commonly happens towards the end of each season as the runway deteriorates and crevasses open up; with this low-snowpack season, the move has occurred a week+ earlier than usual.
In news from the upper mountain, ranger Mark Westman and his volunteers replaced the fixed lines below Washburn's Thumb which had begun to deteriorate.  
Photo of the Day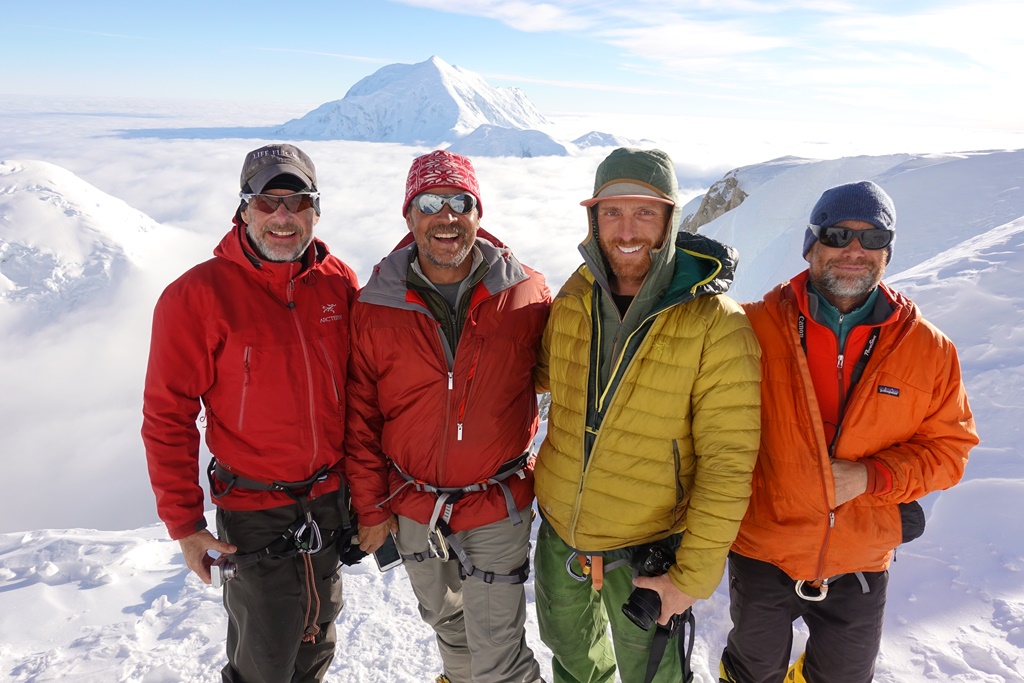 TThe volunteer crew of NPS Patrol #3 pause a moment at the Edge of the World, with Mount Foraker stands in the distance. The patrol, led by Ranger Dave Weber, flew off the mountain yesterday after a month on Denali. From left to right: VIPs Rick Black, Mike Quinones, Shane Treat, and Mark Homden.   (NPS Photo/Dave Weber)