| | | |
| --- | --- | --- |
| TODAY'S STATS |     Denali     | Mt. Foraker |
| Registered Climbers | 1,163 | 14 |
| Climbers Currently On Mountain | 441 | 2 |
| Completed Climbs | 589 | 12 |
| Number of Summits | 181 | 0 |
| Summit Percentage | 31% | 0% |
The Walter Harper Talkeetna Ranger Station also maintains a daily automated statistics phone line, so if this blog is lagging behind and you need up-to-date registration numbers, call (907) 733-9127.
Mountain Weather

Click here for today's National Weather Service Denali Climbing Forecast.  

Webcams have been fickle again lately: http://avcams.faa.gov/  

7,200 feet - Scattered clouds at 8:00 am today, with a visible cloud layer between 12,000 and 17,000 feet. Gratefully, temperatures on the lower glacier have again dipped below freezing. Winds were calm this am, with gusts to 13 mph from the southeast.  There was no new precipitation in the past 12 hours, but as of 8 pm last night, 13 cm of new snow had fallen.

In the last 12 hours:
Current temp  30 F  (-1 C)
Hi temp  30 F  (-1 C)
Low temp   25 F (-4 C)

14,200 feet - Few clouds at 14 camp, Melis also reports a cloud bank at around 12,000 feet. Winds were calm, with some gusts up to 18 mph from the north. They had one cm of new snow overnight, and a storm totals of 5 cm.

In the last 12 hours:
Current temp  -2 F (-19 C)
Hi temp   3 F  (-16 C)
Low temp   -6 F (-21 C)
 
Ranger Update
NPS Denali (14K) Patrol #3 (Weber + 4 VIPs)  Dave and crew are currently at basecamp today, awaiting a flight back to Talkeetna.    
NPS Denali (14K) Patrol #4 (Westman + 4 VIPs)  Mark's patrol is moving up to 17,200 feet today. The estimated population of high camp is ~120 climbers. 
NPS Denali (14K) Patrol #5 - (Coady + 5) Melis and her VIPs are at 14,200-foot camp, tending to multiple medical issues in camp, including snowblindness and frostbite and gastro illness.
NPS Denali (14K) Patrol #6 - (Preston + 3) Ranger Frank Preston is heading back up on his second upper mountain patrol of the season. This time around, he is joined by VIPs Susannah Bone and Levi Pendleton, as well as Air National Guard Pararescueman (PJ) Chris Bailey. They will be swapping out with Weber's patrol as soon as weather permits.
NPS Basecamp (7K) Patrol #4 - Ranger Mik Shain is at Basecamp, enjoying what might be his very last day on patrol as a Denali Mountaineering Ranger before he transitions to his new position as a climbing ranger at Grand Tetons National Park next week.  Mik and VIP Thad are scheduled to fly out of the range today, but weather is not cooperating just yet.  Perhaps it is Denali's way of holding onto Mik one more day...
NPS Basecamp (7K) Patrol #5 - Ranger Chris Erickson is joined on patrol by two fellow NPS rangers, namely David Olson of Denali's East District, and David Stack of Wrangell-St. Elias National Park.  
Route Conditions
Freezing temperatures over the past several days have made lower glacier travel a whole lot more pleasant. We've received no new reports of crevasse falls in recent days! As always, climbers are cautioned to travel roped up to partners, wear skis/snowshoes, and pay close attention to the trail ahead at all times.    
Photo of the Day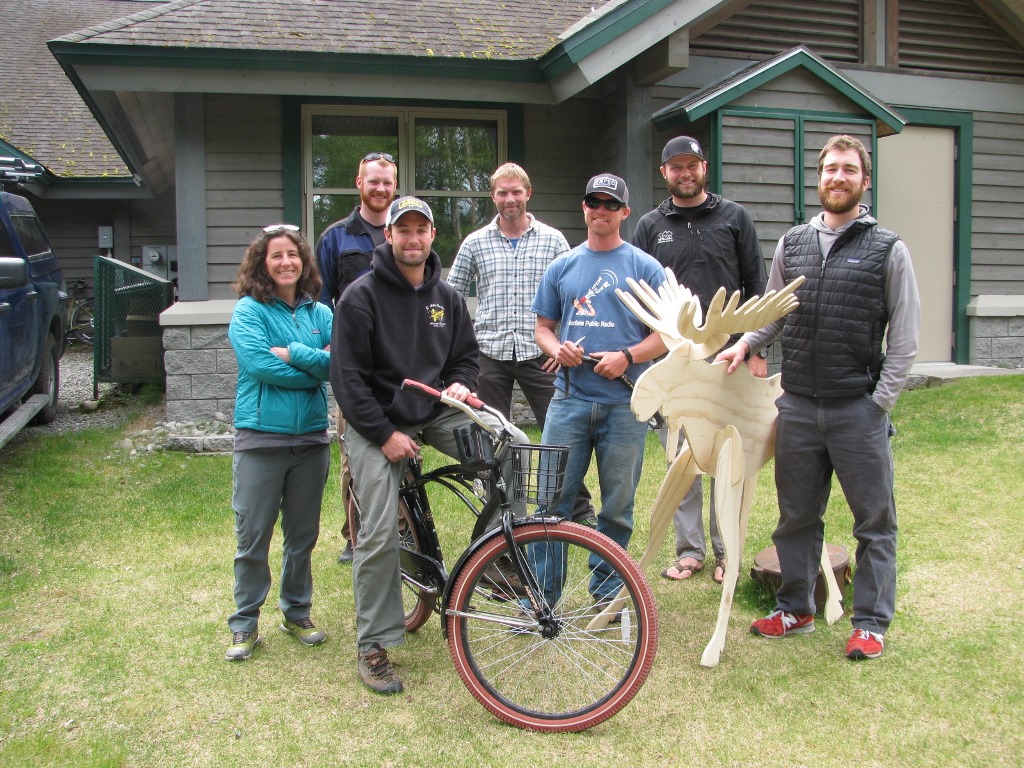 Two patrols (7K and 14K) are waiting for the skies to open up this afternoon. From left to right: VIP Susannah Bone, NPS ranger David Olson, PJ Chris Bailey (on bike), NPS ranger Chris Erickson, NPS Ranger Frank Preston, VIP Levi Pendleton, and visiting NPS Ranger Dave Stack (on loan from Wrangell-St. Elias NP).  (NPS Photo)