| | | |
| --- | --- | --- |
| TODAY'S STATS |     Denali     | Mt. Foraker |
| Registered Climbers | 1,019 | 18 |
| Climbers Currently On Mountain | 499 | 9 |
| Completed Climbs | 217 | 9 |
| Number of Summits | 40 | 2 |
| Summit Percentage | 18% | 22% |
The Walter Harper Talkeetna Ranger Station also maintains a daily automated statistics phone line, so if this blog is lagging behind and you need up-to-date registration numbers, call (907) 733-9127. 

Weather Report
7,200 feet - Skies are broken, but Denali is nice and visible from basecamp. No new snow, and winds are calm with gusts to 13 mph out of the southeast. 
In the last 12 hours:
Current temp:  1 C / 34 F
Low temp:  -2 C / 28 F
High temp:  1 C / 34 F
14,200 feet -  Another gorgeous day on the upper mountain. Clear skies above, with some clouds below 14,000 feet.  Winds are calm, with gusts to 7 mph out of the northeast.
In the last 12 hours:
Current temp:  -18 C / 0 F
Low temp:  -19 C / -2 F
High temp:  -15 C / 5 F
National Weather Service forecast  

Ranger Update
NPS Denali Patrol #2 (McBrayer and 3 VIPs) The patrol headed up to high camp this morning, just ahead of a slew of independent and guided teams.  Most of 14 camp cleared out today, taking advantage of great weather conditions.
NPS Denali Patrol #3 (Corn, 4 VIPs, 2 PJ's) The team is now getting themselves fully situated at 14 camp --making the rounds, generally cleaning up around camp how that most teams went up or down this morning. 
NPS Denali Patrol #4 (Shain, 4 VIPs)  Patrol #4 left basecamp this morning with intentions of an overnight at 7,800 feet.
NPS Basecamp Patrol #3 (Preston, 1 VIP)  With a few days of clear weather, basecamp has generally cleared out...was a ghost town this morning.  Also a good time for the patrol to do camp sweep for melted out caches and resource impacts.  Teams should start coming-and-going by mid-day.


Route Conditions  
Upper mountain: the new snow from a couple days ago is sticking around camp, though plenty of blue ice is visible on surrounding mountain faces. Lots of teams headed up from 14 camp today.
Lower mountain: Ranger Dan Corn says the West Buttress trail is in excellent shape overall.  The temperatures have been cooler the last couple days, providing relief from the formerly slushy conditions. Lisa Roderick reports that most climbers are now on an early morning schedule, taking advantage of cooler temperatures. 
Recent Mount Hunter observations:  
"Tried the route 3 days ago. Lots of running water even at midnight. We think it might be done for the season" (left 5/30/16 by J. Henriquez and R. Slowinski).  
"Made it part way up rock band -- difficult mixed climbing (soft sugar snow, loose rock) so turned around. Snow OK in the a.m., but goes soft in p.m. Ice after Cat Ears is good, protectable. NW Basin route looked too challenging and dangerous to attempt." (left 6/1/16 by Sarah Strattan and Matt Lemke)
 
Frostbite Information:  Though the upper mountain is currently experiencing a few mild days, the forecast indicates a shift later in the week with another powerful weather system moving in.  The high altitude, arctic temperatures and high winds characteristic of the Alaska Range greatly increase the incidence of frostbite. Eighteen percent of the patients treated on Denali between 1992 and 2011 suffered from this form of tissue trauma. The body parts furthest from the core, including fingers, toes, ears, nose and genitals, are most susceptible to cold injury. Early recognition and subsequent rewarming are essential to minimizing the extent of tissue damage caused by frostbite. 
The two patients evacuated on May 30 from the 14,200-foot camp on Denali suffered extensive frostbite injuries. One of the patients sustained deep frostbite on 6 of 10 toes while the second patient exhibited similar injuries to 8 out his 10 fingers. Prevention and awareness of the initial signs and symptoms of frostbite are critical to avoiding the tissue loss often associated with injuries of this severity. 
Stay tuned in the coming days for a blog post dedicated to the prevention, assessment and treatment of frostbite... (~Ranger and Paramedic Dave Weber)
Photo of the Day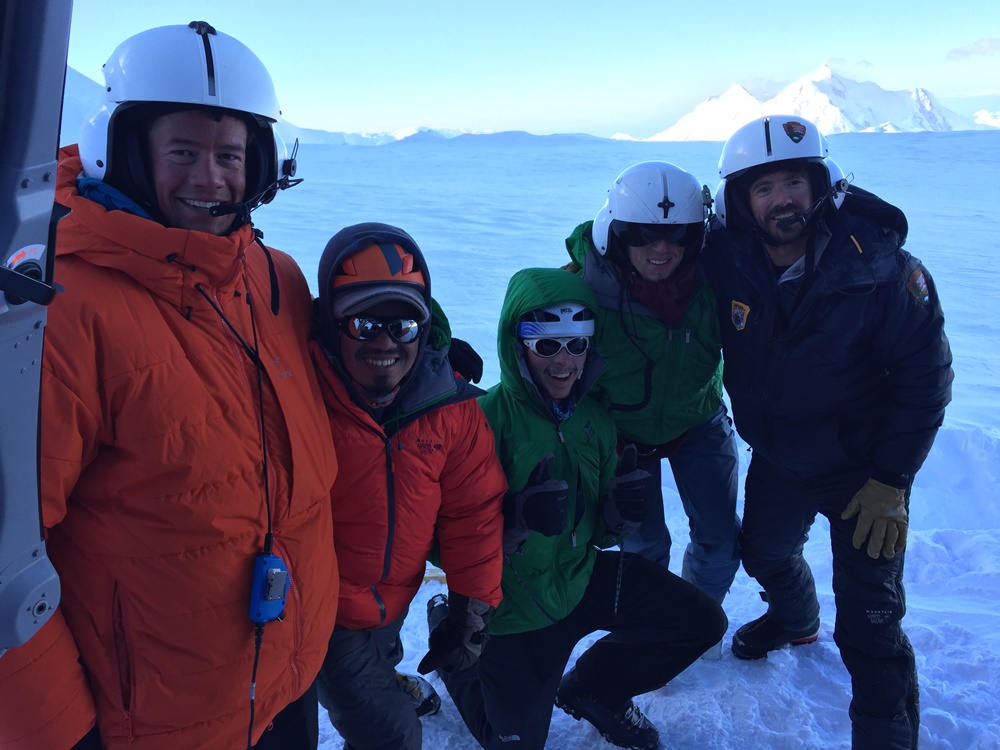 Up bright and early on a cold morning to meet the helicopter at 14 camp, from left to right: Ranger Dan Corn, VIP Amrit Ale, VIP Wes Burgess, VIP Chris Martin, and Ranger Joseph McBrayer. Photo: Andy Hermansky