| | | |
| --- | --- | --- |
| TODAY'S STATS |     Denali     | Mt. Foraker |
| Registered Climbers | 1,061 | 16 |
| Climbers Currently On Mountain | 596 | 9 |
| Completed Climbs | 225 | 7 |
| Number of Summits | 20 | 0 |
| Summit Percentage | 8% | 0% |
The Walter Harper Talkeetna Ranger Station also maintains a daily automated statistics phone line, so if this blog is lagging behind and you need up-to-date registration numbers, call (907) 733-9127.

Wow, 8%!  But that's going start improving dramatically, Dave estimated about 100 climbers went to the summit yesterday...with more to come in this stretch of fine weather. 
 
Mountain Weather

Click here for today's National Weather Service Denali Climbing Forecast.  

Both glacier webcams are currently operational:  http://avcams.faa.gov/  

7,200 feet - Another clear, bright, beautiful morning. There was a steady wind blowing this morning, stronger than predicted:  current winds at 8:00 am were 9 mph winds out of the northeast, with some sustained max gusts to 18 mph from the northeast. No precip overnight.

In the last 12 hours:
Current temp  25 F  (-4 C)
Hi temp  32 F  (0 C)
Low temp   19 F (-7 C)

14,200 feet - Clear skies all around.  Winds were again calmer at 14K than 7K, with a morning wind blowing at 3 mph from the northeast, with mild gusts to 7 mph from the northeast. No precip overnight.

In the last 12 hours:
Current temp  0 F (-18 C)
Hi temp   3 F  (-16 C)
Low temp   -6 F (-21 C)
 
Ranger Update
NPS Denali (14K) Patrol #2 (Corn + 5 VIPs)  Yesterday afternoon's trip to 17K was just an acclimatization run, but the patrol moved to high camp today. They intend to spend several nights at 17K addressing some high camp duties, inspecting fixed lines and pickets, inventorying the 17K rescue cache...and importantly, being poised to respond to any climbers in need on the upper mountain.     
NPS Denali (14K) Patrol #3 (Weber + 5 VIPs)  Dave and VIP Shane were up most of the night assisting a couple climbers with altitude related illnesses. Prime weather has resulted in a big push on the upper mountain yesterday.     
NPS Basecamp (7K) Patrol #3 (Reichert + 2 VIPs) With good weather comes a lot of Basecamp comings-and-goings to support. Finally there are climbers starting to head out of the Range with happier summit stories to tell. 
NPS Denali (14K) Patrol #4 (Westman + 5 VIPs)  The team camped at 9,500-feet last night.  
Route Conditions
DENALI
For several years now, NPS rangers have noted a growing trend in the numbers of climbers opting for a long summit push from 14,200-foot camp, as opposed to the traditional push from 17,200 feet. Yesterday, an estimated 20 to 30 climbers left 14K with intentions of one long day to the summit and back.  NPS Rangers caution climbers that this single push strategy limits one's ability to be self-sufficient and can increase the margin of error exponentially. Factors to consider include:  
>  Travelling light means you are carrying limited emergency gear;
>  Without an established camp at 17,200-feet, there are limited options in terms of places to retreat to in a storm/illness/unexpected situation;
>  The feat is often a much more significant undertaking than climbers expect;
>  Don't forget to factor in wait times on the fixed lines and other bottlenecks during the height of the season - this can often add hours to an already long and exhausting day at altitude. 
Ranger Dave Weber and his team of volunteers assisted and treated at least 3 climbers who requested help of some variety either during or after an exhausting single push from 14,200 feet yeseterday. An extended day at altitude spurred signs and symptoms of HACE, HAPE, and some cases of minor frostbite.  Always be self-sufficient -- its not appropriate to rely on other climbers who are camped at 17,200 feet!    
Photo of the Day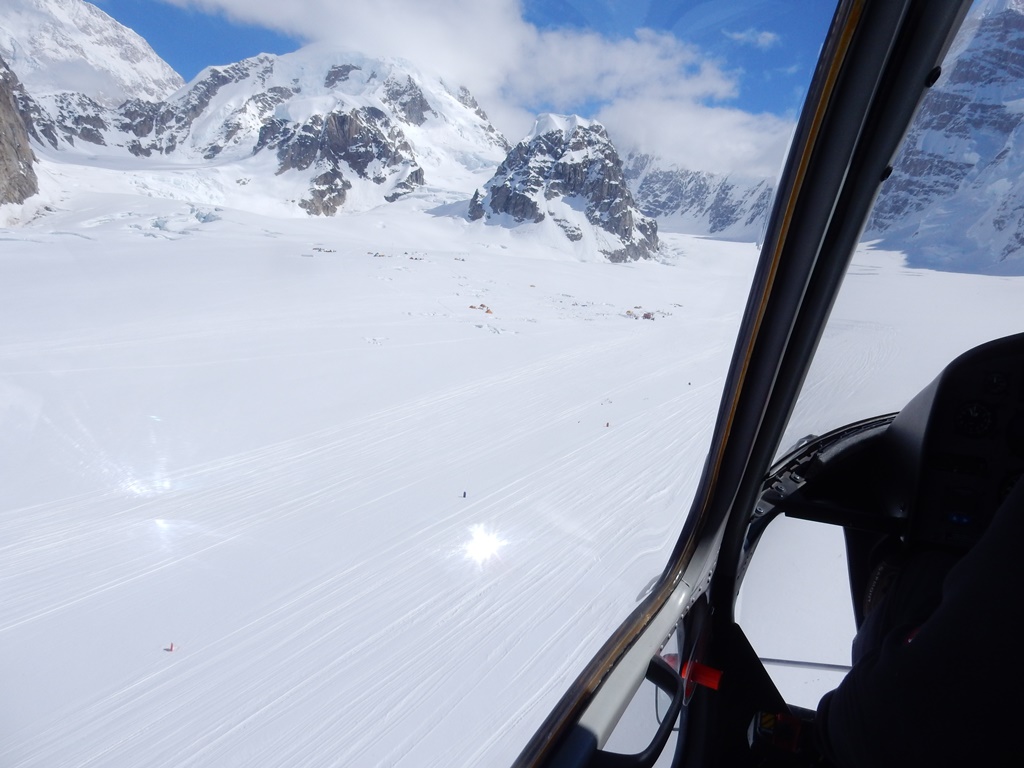 Temsco pilot Andy Hermansky flies the park A-Star B3e helicopter up the Kahiltna Glacier airstrip headed to Basecamp. (NPS Photo/Steve Mock)