| | | |
| --- | --- | --- |
| TODAY'S STATS |     Denali     | Mt. Foraker |
| Registered Climbers | 1,124 | 16 |
| Climbers Currently On Mountain | 72 | 0 |
| Completed Climbs | 1,052 | 16 |
| Number of Summits | 651 | 7 |
| Summit Percentage | 62% | 44% |
The Walter Harper Talkeetna Ranger Station also maintains a daily automated statistics phone line, so if this blog is lagging behind and you need up-to-date registration numbers, call (907) 733-9127. 
And it looks like we might have seen the last of the new climbers come through for the 2016 season. We have no more registrations on the books. Nevertheless, these statistics above are not considered final until we do a post-season data-cleansing.  We will post the final numbers here in the next couple weeks!

Weather Report
7,200 feet - Lisa Roderick, our faithful weather observer at 7,200 feet, flew off the mountain yesterday (Thursday, July 7) and is probably still taking her well-deserved bubble bath.  Thanks again to Lisa, Sarah, and Julie for their invaluable weather data this season!

14,200 feet - The weather station at 14 camp was disassembled yesterday, so no current weather observations. Although Dave Weber and his patrol are still at 14 camp as I type this at 11 am (July 8), they won't be for much longer. It's been a beautiful, clear, calm morning...perfect weather to fly camp gear down to basecamp.
National Weather Service forecast

Ranger Update
NPS Denali Patrol #6 (Weber, Preston, 4 VIPs)  The team worked through the night to pack up the 14 camp tents and gear for the season.  Our relief helicopter pilot Tighe Daugherty began flying the ~10 slingloads to basecamp early this morning, taking advantage of a perfect weather window.  As I type this, Tighe has shuttled about 8 of the 10.  Once all the gear is gone, Dave, Frank, Phunuru, Menno, Nick, and Shane will similarly head down to basecamp and ultimately, off the mountain.
NPS staff is currently coordinating with the Sugar Bears out of Fort Wainwright in Fairbanks for the final camp extraction. Assuming good weather, the Chinooks and respective crews will come fly the basecamp loads off to Talkeetna on Monday, July 11.
Ranger Dan Corn and North District backcountry ranger Monica Morin are on a backcountry traverse from Cantwell, AK to Park Headquarters. They'll take 'Cook's Escape Route' to the Pendleton Glacier, climb Mount Pendleton, and return to HQ.
Rangers Tucker Chenoweth and Mik Shain flew to the Pika Glacier yesterday to assess late season conditions and look for melted out caches or garbage. Current plan is to hike and packraft out to Talkeetna.
Ranger Roger Robinson and VUA Pam Robinson are headed into Backside Lake today for a four day patrol of that increasingly visited south side destination. They will be monitoring backcountry use, wildlife activity, etc. 
Route Conditions
Considerable new snow has fallen on the upper mountain in the past week. Over last weekend, (7/2 > 7/3), 14 camp saw unrelenting snowfall with a total storm accumulation of 41 cm as of Sunday evening. Trail-breaking was challenging. Teams waited a day or two for the snow to consolidate, then several teams moved up to high camp or went for the summit in the past couple days.
Lower on the mountain, the repeated days of rain have taken a toll. Sagging snow bridges and generally 'droopy' glacier conditions are prevalent. And Lisa has received reports that the trail is not wanded between basecamp and the East Fork of the Kahiltna.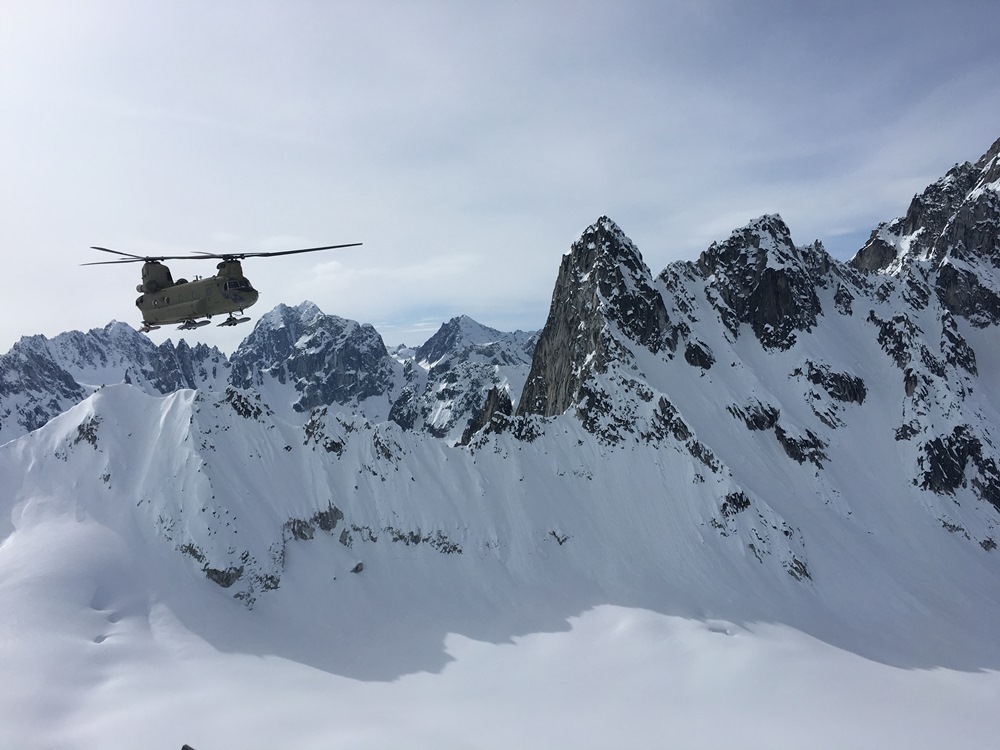 Just seems like yesterday that the Sugar Bears and their CH-47 (Chinook) helicopters flew the camp gear into the Alaska Range.  This photo was taken during the April 2016 camp insertion, and we have fingers crossed for equally beautiful weather on Monday, July 11 for a smooth and easy camp extraction. NPS Photo/Dan Corn