| | | |
| --- | --- | --- |
| TODAY'S STATS |     Denali     | Mt. Foraker |
| Registered Climbers | 1,137 | 16 |
| Climbers Currently On Mountain | 100 | 0 |
| Completed Climbs | 1,022 | 16 |
| Number of Summits | 627 | 7 |
| Summit Percentage | 61% | 44% |
The Walter Harper Talkeetna Ranger Station also maintains a daily automated statistics phone line, so if this blog is lagging behind and you need up-to-date registration numbers, call (907) 733-9127. 

Weather Report
7,200 feet - It's been a rather dismal string of days at basecamp, no flights, no visibility, lots of low-lying fog. After several days of rain, Lisa did report it turned to snow last night. Accumulation in the last 24 hours was 11 cm. Wind conditions were calm, 'gusting' to 1 mph out of the south.   
In the last 12 hours:
Current temp:  1 C / 34 F
Low temp:  0 C / 32 F
High temp:  1 C / 34 F


14,200 feet -  Weather conditions have been slightly better higher on the mountain, but morning skies were reported as 'broken', i.e. partly cloudy. They received 19 cm of new snow overnight, with avalanche and sloughing visible above 14 camp. Winds were calm this morning, with gusts recorded at 11 mph out of the southeast.
In the last 12 hours:
Current temp:  -15 C / 5 F
Low temp:  -13 C / 9 F
High temp:  -15 C / 5 F


National Weather Service forecast

Ranger Update
NPS Denali Patrol #5 (Gentzel, 3 VIPs) flew off the mountain over the weekend.
NPS Denali Patrol #6 (Weber, Preston, 4 VIPs)  Half the patrol (Weber, Boermans, Asher) moved to high camp a day or two ago. If the weather conditions permit, they may take a trip to the summit today. Otherwise, they will head down to 14 camp tonight or tomorrow.  Meanwhile, the other half (Preston, Sherpa, Treat) of the team is holding down the fort at 14 camp. The camp break-down process has commenced, and looking at the weather forecast, we're all hoping to commence with the helicopter slingloads of infrastructure down to basecamp this Friday.
In other patrol news: Ranger Dan Corn joined North District backcountry ranger Monica Morin for a backcountry traverse from Cantwell, AK to Park Headquarters. They'll take 'Cook's Escape Route' to the Pendleton Glacier, climb Mount Pendleton, and return to HQ.
Rangers Tucker Chenoweth and Mik Shain are waiting for good weather to fly to the Pika Glacier to assess late season conditions and look for melted out caches or garbage. Current plan is to hike and packraft out to Talkeetna.
Route Conditions
Considerable new snow has fallen on the upper mountain in the past five days. Over the weekend, (7/2 > 7/3), 14 camp saw unrelenting snowfall with a total storm accumulation of 41 cm as of Sunday evening. Trail-breaking was challenging. Teams waited a day or two for the snow to consolidate, then several teams moved up to high camp or went for the summit in the past couple days. And then the lull in snowfall ended, with 19 new cm falling last night at 14 camp.  Frank reports visible avalanche sloughing above 14 camp today.
Lower on the mountain, the repeated days of rain have taken a toll. Sagging snow bridges and generally 'droopy' glacier conditions are prevalent. And Lisa has received reports that the trail is not wanded between basecamp and the East Fork of the Kahiltna. 
Basecamp manager Lisa Roderick has been packed and ready to go home to Talkeetna for multiple days now, hoping to fly off for the season once visibility improves at basecamp. So 7K weather observations may be coming to an end in the next day or two...hearty thanks to Lisa, and to her caretakers Sarah McConkie and Julie Hentrich, for helping keep the Denali climbing community informed!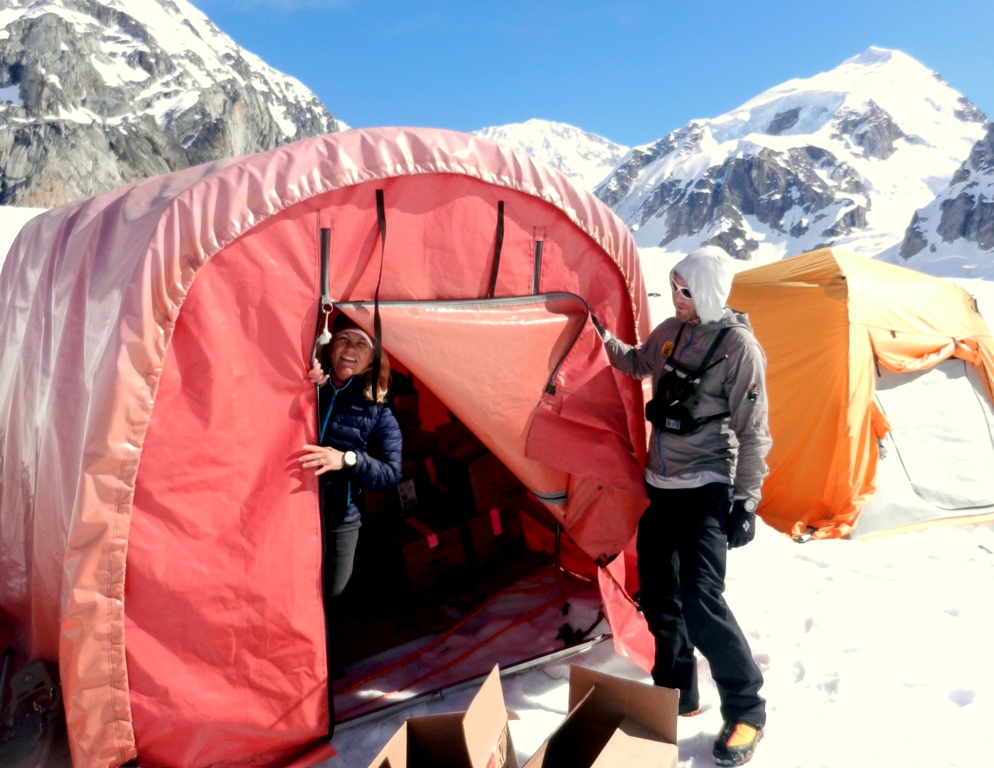 TAT/K2 Basecamp Manager Lisa Roderick and Ranger Chris Erickson take an inventory of the basecamp fuel (white gas) cache on a sunny day at basecamp.  (NPS Photo/Becca Stenerson)