| | | |
| --- | --- | --- |
| TODAY'S STATS |     Denali     | Mt. Foraker |
| Registered Climbers | 1,191 | 11 |
| Climbers Currently On Mountain | 131 | 0 |
| Completed Climbs | 1,059 | 11 |
| Number of Summits | 393 | 0 |
| Summit Percentage | 37% | 0% |
The Walter Harper Talkeetna Ranger Station also maintains a daily automated statistics phone line, so if this blog is lagging behind and you need up-to-date registration numbers, call (907) 733-9127.
Mountain Weather

Click here for today's National Weather Service Denali Climbing Forecast.  

And here for the Kahiltna and Ruth Webcams  http://avcams.faa.gov/  

7,200 feet - Thank you Lisa and Julie for all your weather observations this season!  The TAT/K2 Basecamp Manager(s) have finished up operations for the season.  


14,200 feet - Broken clouds this morning, with cloud layers visible at multiple elevations.  This morning at 8 am, wind was out of the northeast at 4 mph, with mighty gusts of 5 mph out of the northwest. No new snow.

In the last 12 hours:
Current temp  14 F (-10 C)
Hi temp   14 F (-10 C)
Low temp  10 F  (-12 C)
 
Ranger Update
NPS Denali (14K) Patrol #5 - (Coady + 5)  Patrol #5 flew out to Talkeetna on Friday, June 30.
NPS Denali (14K) Patrol #6 - (Preston + 3) Frank, Susannah, Levi, and Chris ascended to high camp today, where they will likely finish out their patrol. They will be sharing camp with a handful of guided parties at high camp.
NPS Denali (14K Patrol #7 (McBrayer, Erickson, Raffaeli, + 2 volunteers)  Patrol #6 reached 14 camp today around lunchtime.      
Route Conditions
According to Chris and Joey on Patrol #7, no climbers are currently on the lower glacier.  All teams that they encountered at 11,ooo-foot camp also ascended to 14 camp with them today.  Their travels from Basecamp to 14 camp were reportedly easy, and they were able to take advantage of a firm crust for travelling.
Temperatures at mid-elevations on Denali have been warm, even an afternoon above freezing at 14,200 feet.  As a result of melted ice on certain aspects, there have been multiple reports of rockfall near Windy Corner.     
Photo of the Day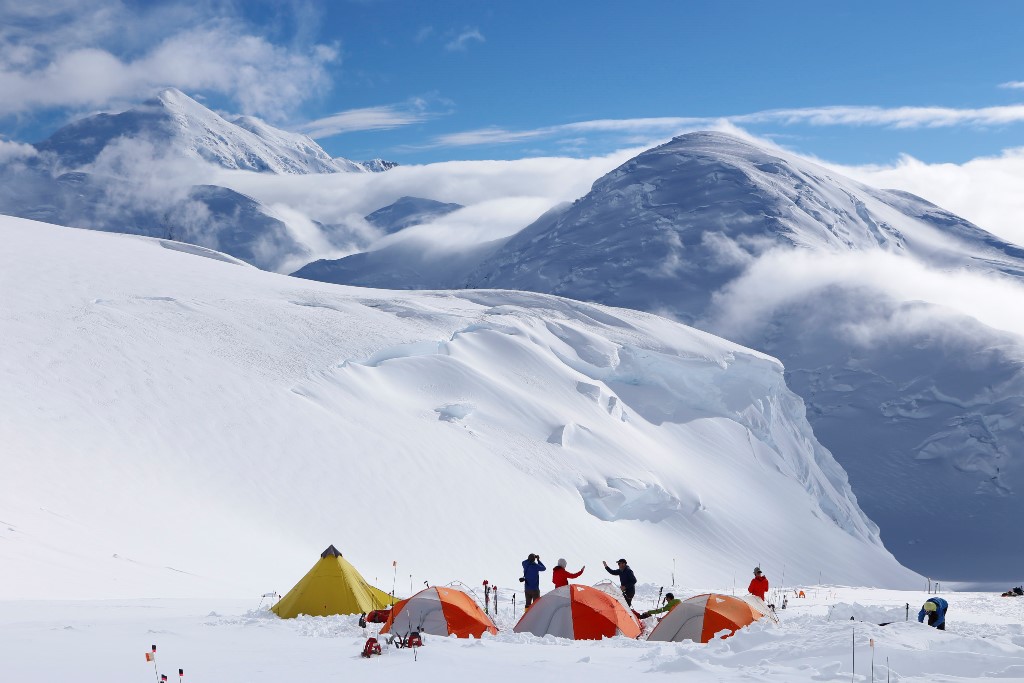 In a photo from last season, climbers enjoy a perfect weather day at 11,000-foot camp, peering out at Kahiltna Dome to the west (right), with Mount Foraker in the distance.  Photo courtesy of Menno Boermans.