| | | |
| --- | --- | --- |
| TODAY'S STATS |     Denali     | Mt. Foraker |
| Registered Climbers | 863 | 18 |
| Climbers Currently On Mountain | 13 | 0 |
| Completed Climbs | 2 | 0 |
| Number of Summits | 2 | 0 |
| Summit Percentage | 100% | 0% |

Its still the calm before the storm in terms of numbers on Denali, though the number of climbers in the glaciated backcountry continues to pick up.  As of today, 74 registered climbers are in the following areas:

> 30 - Upper Ruth Gorge
> 19 - Moose's Tooth
>  2  - Mountain House
> 10 - Upper Kahiltna
>  5  - Little Switzerland
>  4  - Tokositna Glacier
>  2  - Mount Huntington
>  2  - Kichatna Spires


All backcountry climbers are highly encouraged to register at the Walter Harper Talkeetna Ranger Station. NPS staff can assist climbing teams with route information, snow/ice conditions, and provide teams with a Clean Mountain Can and biodegradable bags. 

Mountain-specific weather forecasts and NPS weather observations will be starting soon, as will NPS Patrol Reports.  Stay tuned for a backcountry patrol report from our first (and only) early season Alaska Range patrol.  Our first wave of mountaineering volunteers The first upper mountain patrol of the season
Conditions Report

DENALI 
No new reports since earlier in the week -- see previous entries for current conditions.

RUTH  
Moose's Tooth
(4/24/17) "Climbed Ham & Eggs on 4/24 as a party o f2 (2nd time in 7 days) and in lieu of the high temps of the previous two weeks, I could tell the deterioration of the ice over that time period.  The bottom half of the route's mini cruxes is getting rotten.  The actual crux pitch I climbed the right-most variation on the rock because of worsening ice on the crux pitch (delaminated, thin, and rotten).  The upper half of the route is actually in really good shape and clmbing quite fast.  From col on up to summit ridge, I left 3 picketed anchors with cord for rappels." 
    -- Elias de Andres (SJMG)

(4/22/17) "Climbed Ham & Eggs, party of 2 from Portland, OR. No ice at bottom of p. 7 but can use pro to gain icy smear. Ice sufficient for climbing on the left (ice). Vertical snice at times. Agree with anchor information below (A.R. 4/16/17).  We rapped over the slabby rock section at the bottom. Cold temps helpful to get through the climb."
    -- Rebbeca Madore  


Peak 11,300; Mt. Dan Beard
(4/22/17) Snow conditions were variable. Lots of sunshine is consolidating a rotten snow layer under ice crust. Route was in great shape. Dan Beard was also in great shape. The snow on Dan Beard gets very soft in the afternoon. Start early. Our descent actually took longer than the climb.  Cheers, - B & B.


Thank you to all climbers who share their route/snow conditions with ranger staff upon return. We would love to share your observations and photos here as well, send one or two to maureen_gualtieri@nps.gov and we will be sure to credit the photographer.
 
Photo of the Day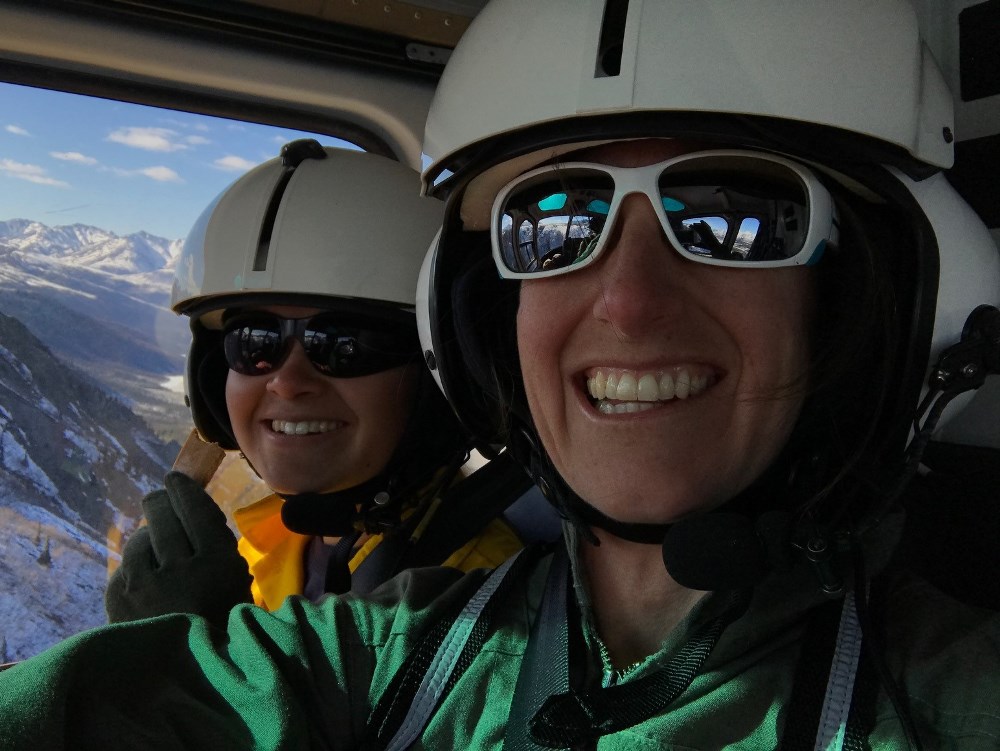 Talkeetna Ranger Station staff members Becca Stenerson and Melis Coady enjoy the scenic route home from a Helicopter Manager course at park headquarters. (NPS Photo/Coady)