| | | |
| --- | --- | --- |
| TODAY'S STATS |     Denali     | Mt. Foraker |
| Registered Climbers | 834 | 19 |
| Climbers Currently On Mountain | 6 | 0 |
| Completed Climbs | 2 | 0 |
| Number of Summits | 2 | 0 |
| Summit Percentage | 100% | 0% |

The first climbing team of the year flew out of the Range on Friday, April 21 after reaching summit of Denali via the Cassin Ridge route. Their summit day was April 16.  

Most of the climbing and skiing activity in the Alaska Range this time of year takes place on the lower elevation peaks that surround Denali and Mount Foraker.  As of today, we have 47 registered climbers in the glaciated backcountry, including:

> 13 - Upper Ruth Gorge
> 18 - Moose's Tooth
>  2  - Mountain House
>  8  - Upper Kahiltna
>  2  - Tokositna Glacier
>  2  - Mount Huntington
>  2  - Kichatna Spires


All backcountry climbers are highly encouraged to register at the Walter Harper Talkeetna Ranger Station. NPS staff can assist climbing teams with route information, snow/ice conditions, and provide teams with a Clean Mountain Can and biodegradable bags. 
 
Conditions Report

DENALI 
(4/21/17)  As mentioned above, a team of two just came off Denali and experienced a full value adventure on an April ascent of the Cassin Ridge. Although they experienced good climbing and protectable ice above the Cowboy Arete -- cold conditions and high winds put them into multiple dire situations that are noteworthy. 

One team member received frostbite to their feet and the other suffered severe altitude illness (HAPE) coughing up pink frothy sputum (aka blood) on the upper part of the route. Descent after summiting was made difficult by extreme cold and high winds.The team set up a hasty camp in the rocks below the Football Field on the West Buttress at approximately 19,000 ft. Their tent was destroyed by wind. Illness and meager food/water made safe egress nearly impossible. Moderate/easy terrain was rendered almost impassable by their condition.

Currently there is one other team on the mountain on ascent. Similarly they report a team member with frostbite. Both groups have experienced numerous crevasse falls because of unconsolidated early season snow. Areas of particular concern are crevasses in 11,000' camp, at the base of Motorcycle Hill, and between Windy Corner and 14-camp. Roped travel has prevented our season's first fatalities. One of the biggest falls was reported when a climber was belaying his teammate out of a probed camp and they "just disappeared" out of sight into a large crevasse.

The difference between climbing Denali in May versus April can be enormous. Over the last several years we have seen an uptick in early season rescue and tragedy. Unconsolidated snow, cold temperatures, hard ice, and high winds often leave early season climbers little to no margin for error.   We will see our first big wave of climbers May 1, and they should all be on alert for wintry conditions.    -- NPS Rangers


(4/17/17)  "Appears to be a lower-than-normal snow pack with more exposed rock on ridges and solar aspects. Significant wind events in early March also contributed to scouring of ridges. From the air, there are more signs of crevasses than usual between 14K and base camp.  Height of new snow at base camp is 4".  Snow surface at 14K is hard sastrugi."  -- NPS Rangers returning from an upper mountain re-con flight

RUTH  
Moose's Tooth
(4/22/17) "Climbed Ham & Eggs, party of 2 from Portland, OR. No ice at bottom of p. 7 but can use pro to gain icy smear. Ice sufficient for climbing on the left (ice). Vertical snice at times. Agree with anchor information below (A.R. 4/16/17).  We rapped over the slabby rock section at the bottom. Cold temps helpful to get through the climb."
    -- Rebbeca Madore  

(4/16/17)  "Climbed the Moose's Tooth via Ham & Eggs on April 14. The route climbed quickly. We took the ice option in the crux. It was steep and thin. The snow was conducive for bollards to get back to the col. Most anchors are exposed and in good shape. Bring some cord to replace some older tat.  A party tried the route on the 15th in warm weather and did not succeed on the route."
  - Alan Rousseau
Peak 11,300; Mt. Dan Beard
(4/22/17) Snow conditions were variable. Lots of sunshine is consolidating a rotten snow layer under ice crust. Route was in great shape. Dan Beard was also in great shape. The snow on Dan Beard gets very soft in the afternoon. Start early. Our descent actually took longer than the climb.  Cheers, - B & B.

Mt. Dan Beard
(4/16/17) "Low temps ~0 F at night. Highs ~30-40 F, felt much warmer in the sun. Rock climbing is warm and pleasant on south and west aspects.  Belayed barefoot for several hours on 4/15. Snow on south and west aspects is entering melt/freeze cycle. Saw significant west slide activity on SW face of Dan Beard beginning at 2 pm, continued through afternoon.  Recommend climbing such routes early in day. No significant wind or snow events at climbing elevations in 1.5 to 2 weeks. Last storm cycle ended ~ April 1, which deposited 60 cm of light snow over 6 days."
   - Unnamed entry left in the Ruth Gorge section of the Conditions binder 

Thank you to all climbers who share their route/snow conditions with ranger staff upon return. We would love to share your observations and photos here as well, send one or two to maureen_gualtieri@nps.gov and we will be sure to credit the photographer.
 
Photo of the Day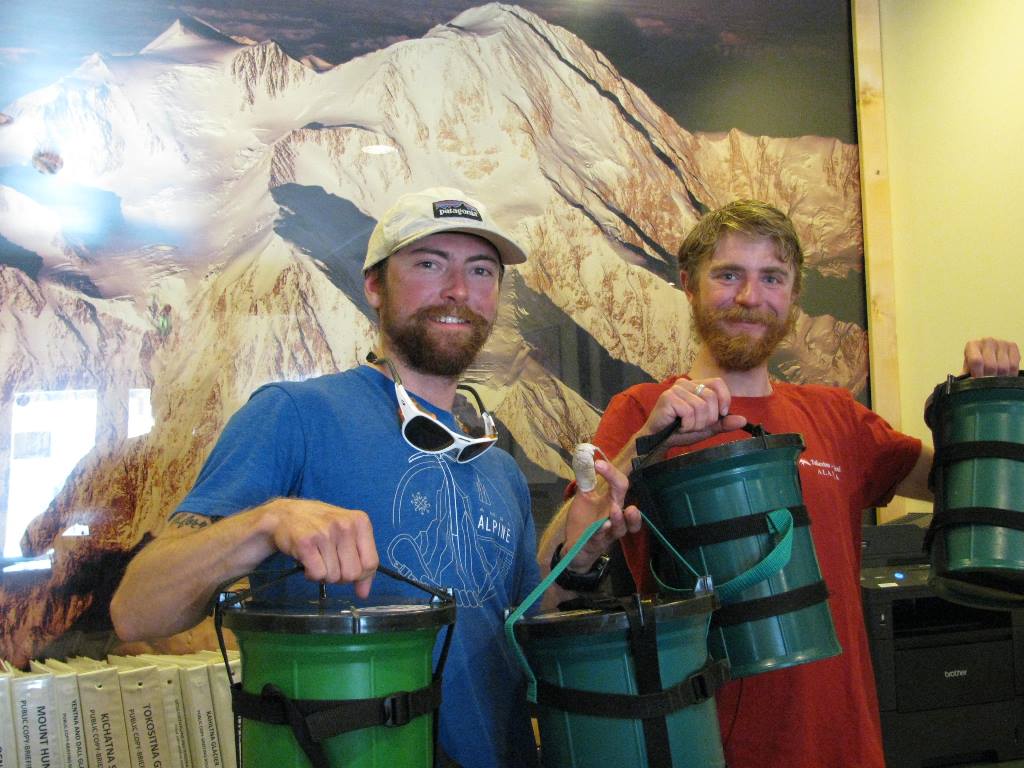 Climbers Christian Chilcott and Forrest Barker were not only the first team of the season to reach the summit, they were also the first two climbers to participate in Denali's 2017 Birthday Pack-Out Initiative -- successfully packing out all their human waste from the Cassin Ridge and West Buttress.  The team (pictured above with their Clean Mountain Cans) reached the summit of Denali on April 16 via the Cassin Ridge route.  (NPS Photo/R. Robinson)