| | | |
| --- | --- | --- |
| TODAY'S STATS |     Denali     | Mt. Foraker |
| Registered Climbers | 819 | 19 |
| Climbers Currently On Mountain | 5 | 0 |
| Completed Climbs | 0 | 0 |
| Number of Summits | 0 | 0 |
| Summit Percentage | 0% | 0% |

Other than two early season teams attempting routes on Denali, most of the climbing and skiing activity in the Alaska Range this time of year takes place on the lower elevation peaks that surround Denali and Mount Foraker.  As of today, we have 24 registered climbers in the glaciated backcountry, including:

> 12 - Upper Ruth Gorge
>  2  - Moose's Tooth
>  2  - Tokositna Glacier
>  4  - Buckskin Glacier
>  4  - Kichatna Spires

All backcountry climbers are highly encouraged to register at the Walter Harper Talkeetna Ranger Station. Staff can assist climbing teams with route information, snow/ice conditions, and provide teams with a Clean Mountain Can and biodegradable bags. The ranger station is now open 7 days a week, from 8:00 am to 5:30 pm.
 
Conditions Report

DENALI -- Returning from an early season reconnaissance flight on April 17, Ranger Mik Shain had this to report: "Appears to be a lower-than-normal snow pack with more exposed rock on ridges and solar aspects. Significant wind events in early March also contributed to scouring of ridges. From the air, there are more signs of crevasses than usual between 14K and base camp.  Height of new snow at base camp is 4".  Snow surface at 14K is hard sastrugi."

RUTH -- From the same flight, Shain reported "There's been some climbing activity in the Ruth Gorge area and reports back are that snow conditions are fast and good with less-than-average amounts of ice on ice routes."

And from first-hand conditions reports written by returning climbers...
 "Climbed the Moose's Tooth via Ham & Eggs on April 14. The route climbed quickly. We took the ice option in the crux. It was steep and thin. The snow was conducive for bollards to get back to the col. Most anchors are exposed and in good shape. Bring some cord to replace some older tat.  A party tried the route on the 15th in warm weather and did not succeed on the route."
  - Alan Rousseau (4/16/17)

 "Low temps ~0 F at night. Highs ~30-40 F, felt much warmer in the sun. Rock climbing is warm and pleasant on south and west aspects.  Belayed barefoot for several hours on 4/15. Snow on south and west aspects is entering melt/freeze cycle. Saw significant west slide activity on SW face of Dan Beard beginning at 2 pm, continued through afternoon.  Recommend climbing such routes early in day. No significant wind or snow events at climbing elevations in 1.5 to 2 weeks. Last storm cycle ended ~ April 1, which deposited 60 cm of light snow over 6 days."
   - Unnamed entry left in the Ruth Gorge section of the Conditions binder (4/16/17)

And thank you to all climbers who share their route/snow conditions with ranger staff upon return! We'd love to share your photos here as well, send one or two to maureen_gualtieri@nps.gov and we will be sure to credit the photographer.
 
Photo of the Day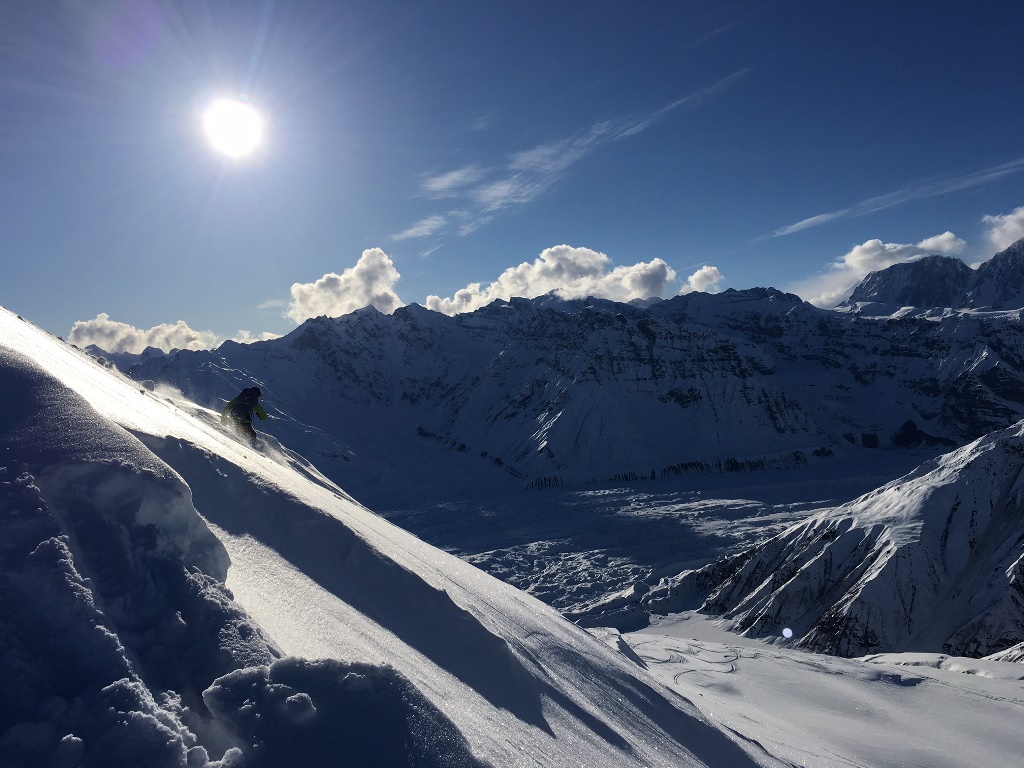 A Denali mountaineering ranger skis the Whale's Tail above Backside Lake during a recent avalanche course. (NPS Photo - Dan Corn)