Winter Wrap Up
Where did winter go? Even though we had snow on the ground until well into May it already feels like winter is a distant memory. Every year in the fall Jess and I warn the new winter staff that winter will start off feeling slow, and maybe even endless, as we lose daylight and temperatures drop steadily colder throughout October, November and December. Then, something switches in January, and the daylight begins to return (though the temperatures continue to stay well below zero) and with that time seems to speed up. Our days blur together in an endless stream of various patrols, constantly on the trail with the dogs in one part of the park or another. Just as we are all getting completely adjusted to life on the trail, our systems are perfected, the dogs are running beautifully and are in great shape, it is time to store the sleds and get ready for another summer. So here we are, it is June, and we are just finally catching our breath and saying, "Wow! Another wonderful winter has come and gone."
This year we focused on a few major projects with the dogs. For those who are new to the NPS sled dogs and what we do. We use our dog teams to accomplish projects within the 2 million acres of designated Wilderness in Denali (Learn more about NPS wilderness at https://wilderness.nps.gov/) so that we can reduce the use of motorized transport such as helicopters, planes, snowmobiles for park projects or research in designated wilderness.
An ongoing project this winter was collecting scat from wolves, lynx, coyotes, and foxes for a mesocarnivore study going on in the park. A researcher is doing a three year study in both summer and winter to look at the population dynamics of these animals in the park in relation to the wolf numbers. Whenever we had the dog teams out we would keep an eye o the trail for scat that didn't belong to our dogs. We would collect it in sample bags, ID the species it came from based on size, shape, tracks in the area, etc. and then take a GPS point of the location where it was collected. All of this was given to the researcher who will analyze the data in years to come. Partnering with the NPS sled dogs allowed her to have a much greater sample size for her data as she was busy collecting samples in other areas of the park.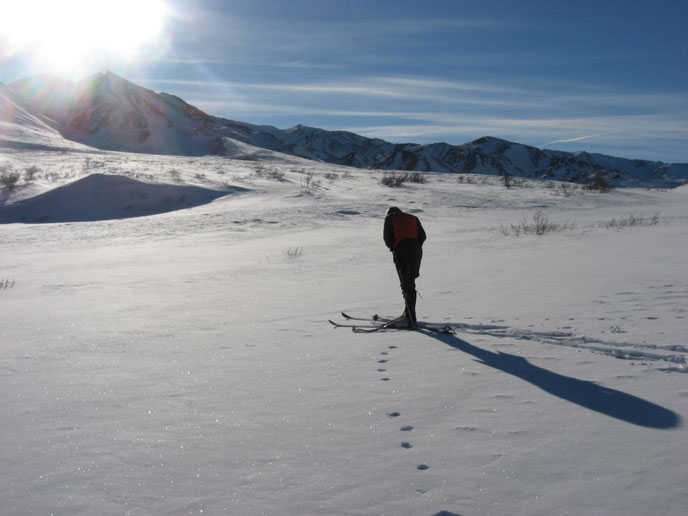 We partnered with our NPS fire crew to haul their burn supplies and a few fire crew folks out to a cabin in the park to perform a controlled burn of many brush piles that fire crew had created around the cabin during the summer months.  The kennels partners with any other division in the park that needs to access or haul heavy supplies or equipment into designated wilderness or other remote and hard to reach parts of the park. The kennels strives to help reduce the use of helicopters, planes, or other motorized transport in Denali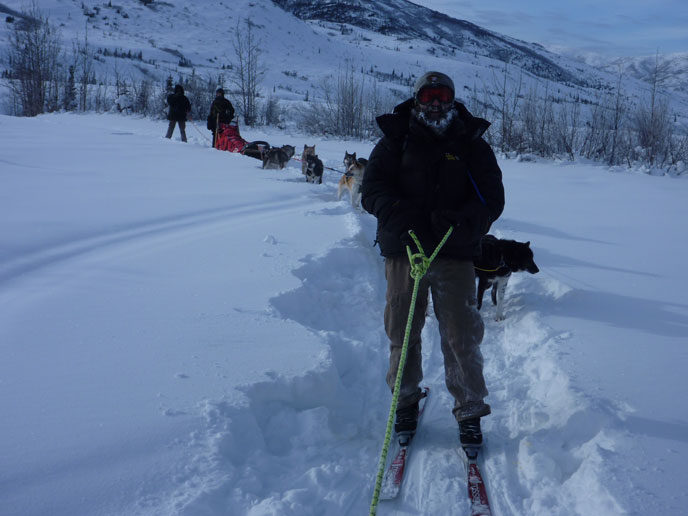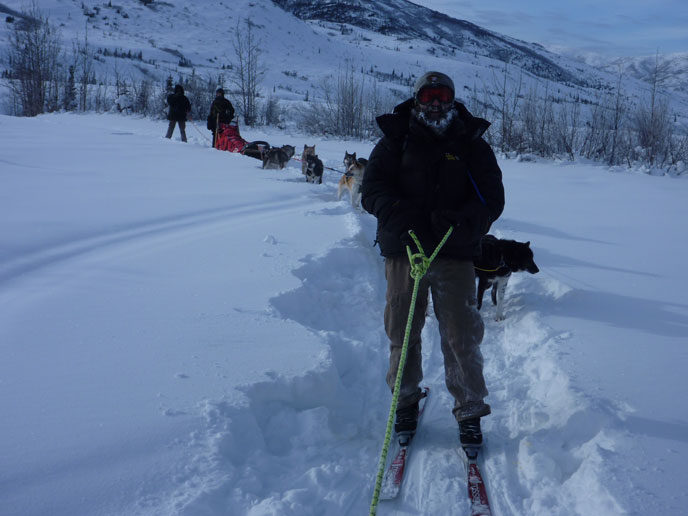 We also partnered with our NPS mountaineering rangers to haul and cache their supplies for a north side patrol of Denali this summer. It is standard practice for parties approaching Denali from the north side to have dog teams haul their supplies of food and equipment over McGonnagall Pass and onto the Muldrow Glacier where it is cached until climbers can hike in from Wonder Lake, cross the McKinley Bar River, and hike up to the Muldrow. It saves climbers a lot of time and energy to not have to backpack and cross potentially hazardous high water rivers with hundreds of pounds on their backs. By the time they pick up their supplies on the Muldrow they can use small plastic sleds to haul some of this weight towing behind them on the glacier. Climbing Denali from the north side is typically a longer trip and most mountaineers these days opt to fly straight on to the mountain from the south side and start climbing sooner without the long hike in.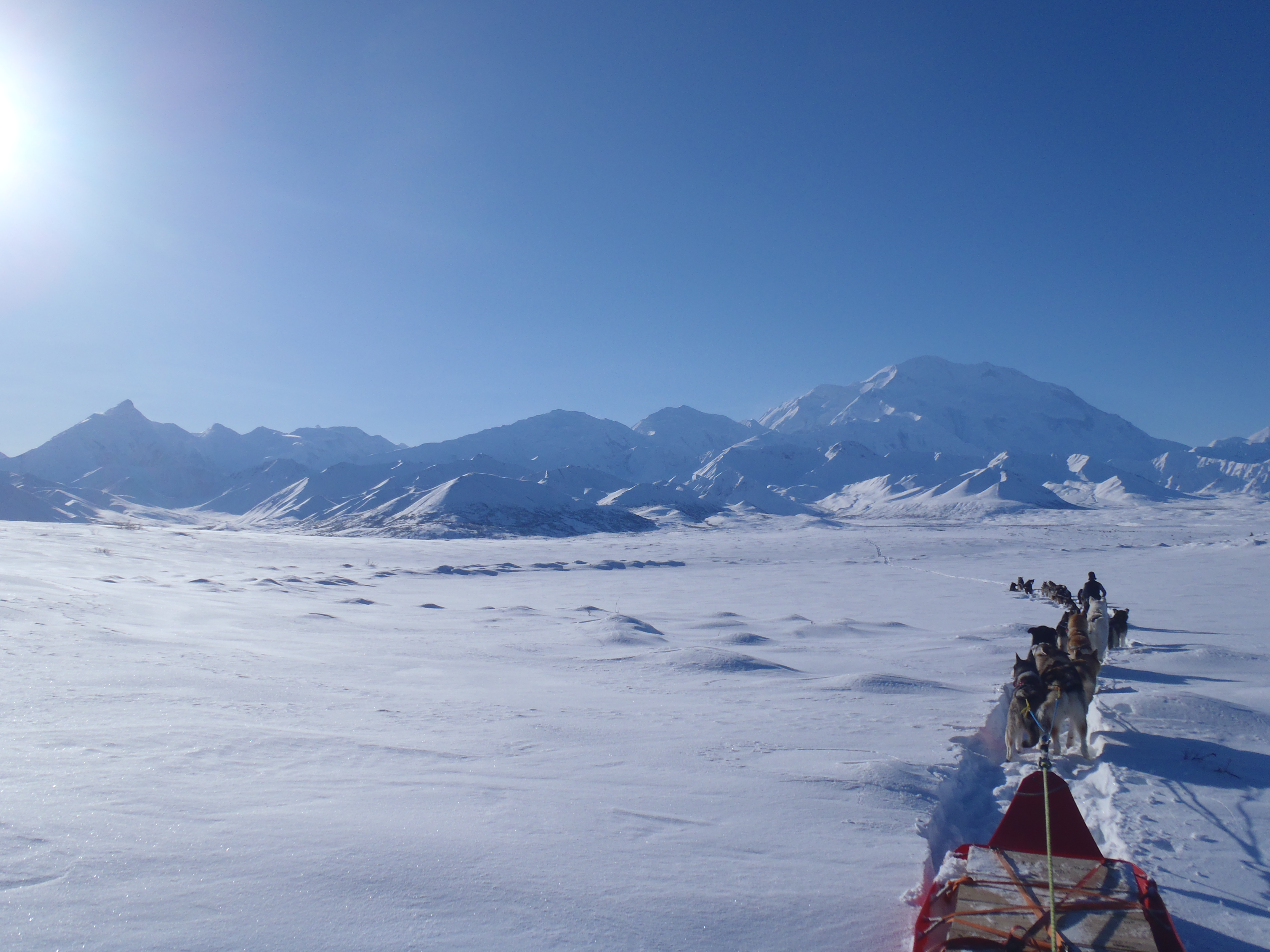 We also had the opportunity to partner with our park glaciologist and assist with some research on the Traleika Glacier which is in the same area as the Muldrow. We hauled out a steam drill and aluminum stakes to install in the glacier ice. As the glacier moves these stakes will move and change location and the researcher will be able to document movement over time. We were also able to gather some snow data for him to assess what the winter snow accumulation on the glacier is like. Getting a steam drill to work in cold and windy weather to drill into glacier ice in Alaska in winter was a new challenge for us, but you couldn't ask for a more beautiful "laboratory" to work in.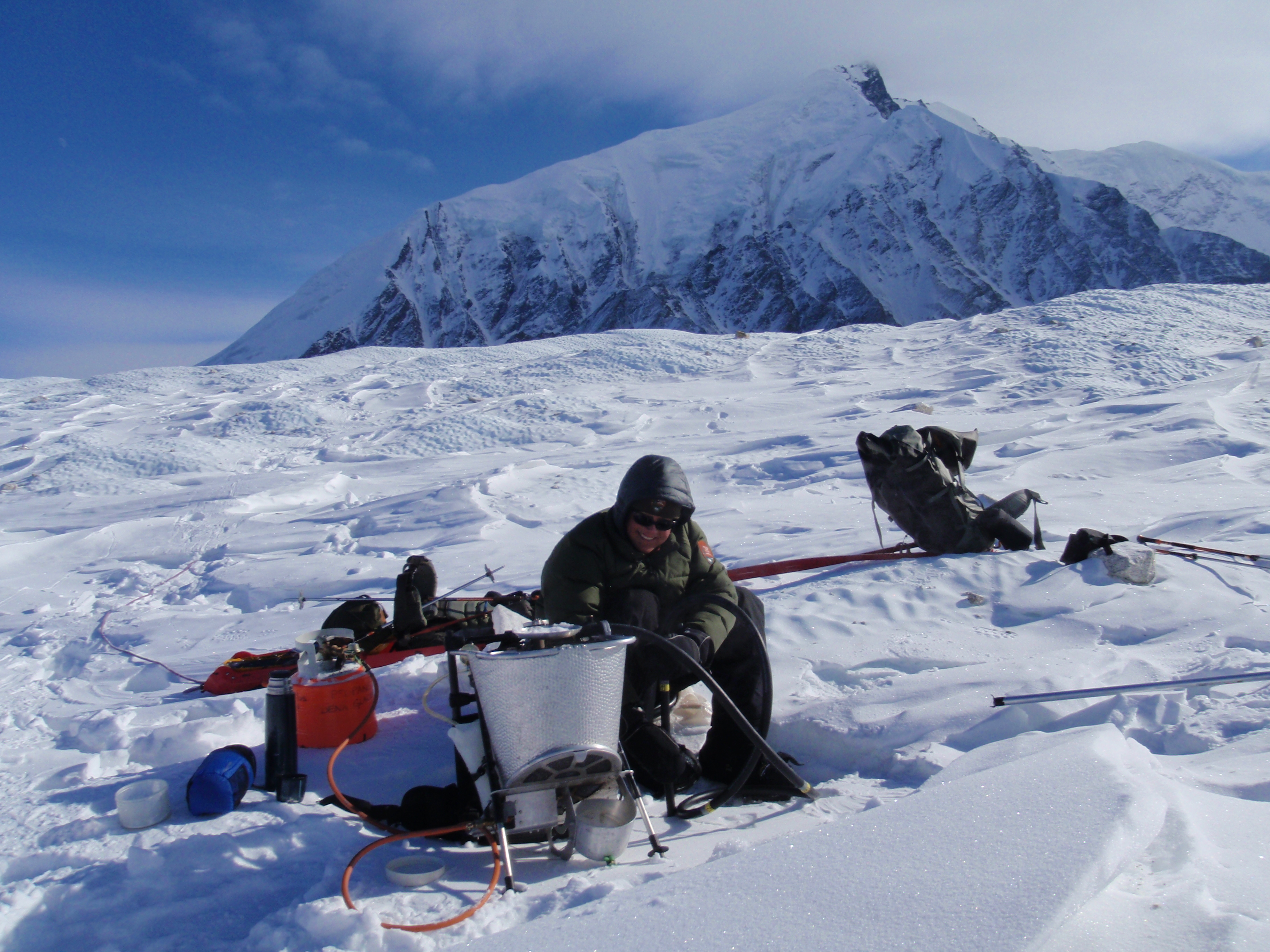 Now that it is summer the winter gear is stored briefly and dogs and humans are busy educating park visitors about why we have a National Park Service dog team and just what we do with them all winter. Summers in Alaska are short and winters are long so dogs and humans both know it won't be too long before we are all out on the trail together again and working on more projects in the name of preserving and protecting  wilderness values in Denali. We are grateful to all the different park service divisions in Denali that to work with the kennels dog teams to accomplish their work. During the summer we begin planning with all employees to figure out what projects that NPS dogs can help with next winter. In the meantime, the dogs are enjoying lazing around and gathering well-earned belly rubs and ear scratches from hundreds of visitors who are amazed and inspired by what these hard working huskies accomplish here.