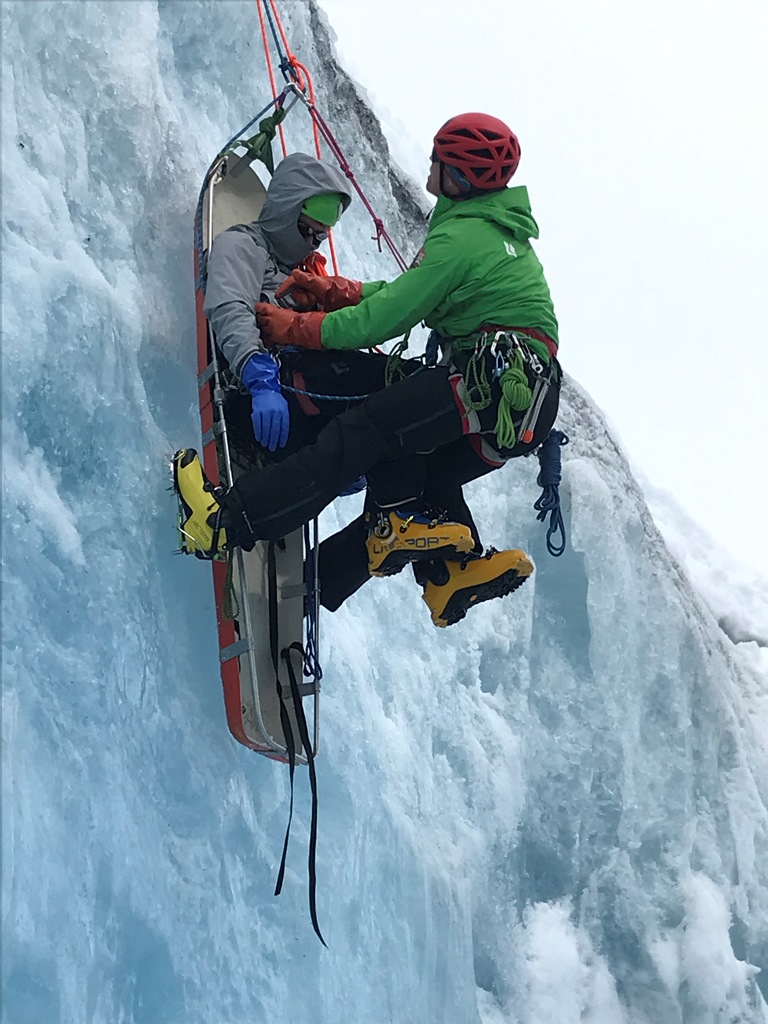 Ranger Frank Preston practices securing an unresponsive patient to a litter in a technical rigging course on the Valdez glacier. (NPS Photo/Melis Coady)

Climbing season is underway in Denali National Park. Groups have been arriving to ski and climb in the Alaska Range, reporting warm and snowy conditions. Denali National Park has 11 climbing rangers based out of the Walter Harper Talkeetna Ranger Station.  The entire team returns to work in early March and begins a 6-week training block addressing the wide variety of skills necessary to perform technical rescues in a remote and austere environment. Courses and review sessions include: operational leadership, technical rigging, an EMT/medical refresher, avalanche forecasting, aviation safety, and helicopter crew member proficiencies including short-haul technique.

Two instructors from Rigging for Rescue, Mike Gibbs and Jared Vilhauer, joined the rangers and several Air National Guard pararescuemen (PJs) in Valdez for a 4-day training course reviewing patient packaging, site management, pick-off techniques, research and testing updates, raising and lowering, and Denali-specific scenarios.  Conditions were unseasonable warm and wet, but the team was creative with terrain and wore insulated waterproof fishing gloves to keep hands warm and dry.

The following week the team received security clearance to attend a medical refresher training at Elmendorf Air Force base led by Staff Sgt. Cody Inman of the 212th Rescue Squadron. The National Park Service works in coordination with the military frequently on major rescues during the climbing season. Understanding a common language and response is critical to our effectiveness to carry out a mission. Cody drilled the ranger team on terms and skills his team uses in tactical combat to save lives. Principles such as:  stopping massive blood loss with rapid tourniquet application, identifying mortal wounds, immediately treating traumatic lung injury, and making rapid transport decisions were practiced until rote. The training also included time for the NPS - Alaska Region medical director Dr. Jennifer Dow to review last season's 29 rescues and provide medical response guidance for the ranger program moving forward.

Next week the rangers will fly into the lower Kahiltna Glacier for 5-days of avalanche terrain. Always a valuable experience, this field training will be the rangers first time back in the Range together since last July.