Welcome to the National Park Service 7K camp! 
Volunteers-in-Parks (VIPs) Katie and Ben Weaver and VIP Steve Mock recently participated in a 7K patrol on Denali.  The rare 'All-VIP patrol' was joined midway through by Ranger Joe Reichert.  The following photo series from that patrol is an effort to answer the eternal question:
"So, exactly what is it you do on a 7K patrol?"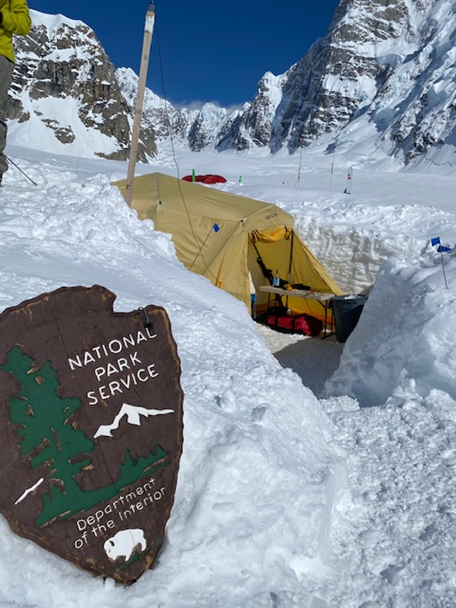 (NPS Photo / Katie Weaver)
Not your typical ranger station...the big yellow tent is home to the NPS 7K kitchen and communications center.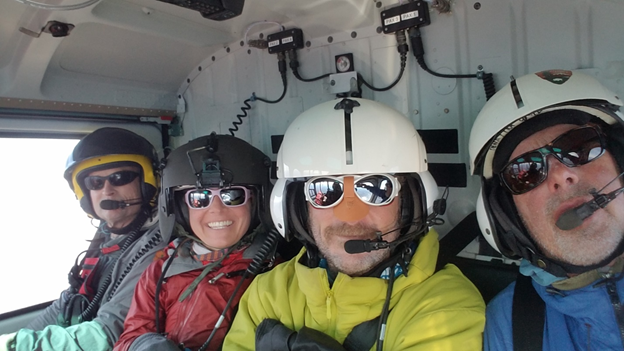 (NPS Photo/Steve Mock)

Ranger patrols usually consist of one professional NPS ranger and 1 to 4 volunteers, depending on whether the patrol will stay at 7K or patrol the upper mountain.  Pictured here (left to right) are Ranger Joe Reichert and volunteers Katie and Ben Weaver and volunteer Steve Mock.  All three volunteers have served on multiple previous patrols, lending their skills as medical professionals and rescue technicians.  Ben and Steve both serve on the advisory board for Denali Rescue Volunteers (www.denalirescue.org) that provides direct support for the essential volunteer program.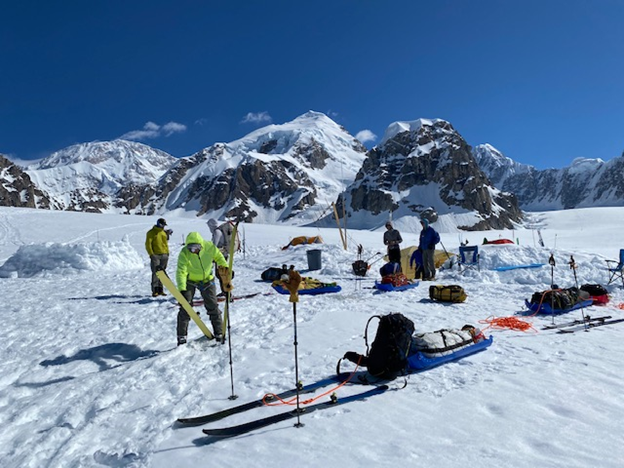 (NPS Photo/Steve Mock)

Basecamp patrol members often provide direct support to the upper mountain NPS patrols when they transition through basecamp.  The Mock-Weaver patrol "hosted" the first 14K patrol led by Rangers Jake Beren and Chelsea Bomba, who spent several hours at basecamp at the end of their 24-day patrol before their flight out to Talkeetna. The 7K patrol team provided food, water, coffee, and whatever else they needed.  The plane that flew the Beren-Bomba 14K patrol out to Talkeetna was the same plane that delivered the third 14K patrol onto the mountain, a team led by Ranger Dave Weber.  That team spent two full days at basecamp as they practiced crevasse extrication and worked on other last minute details.  The 7K patrol provided for them all their meals, drinks, water, and helped them get established on the mountain.  In the photo above, Dave's team is shown during the final preparation just prior to "launch".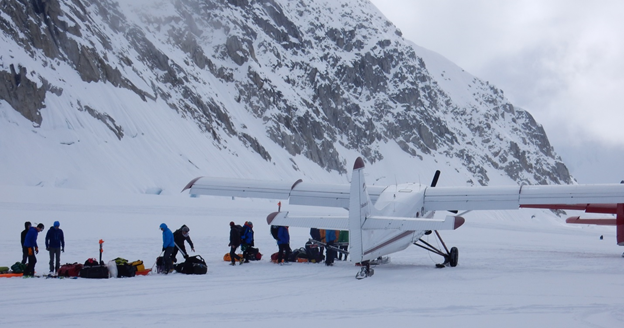 The Kahiltna Baggage Claim  (NPS Photo/Steve Mock)

Is this your bag?  Planes fly in and out of the 7K camp on a nearly daily basis with incoming and outgoing passengers.   Those flying on are eager to take pictures and get started; those flying off are eager to get on a plane and head to Talkeetna for showers and "real" food and drink.  Pilots are eager to get passengers and gear off and new passengers and gear on board.  That's a recipe for a messy situation!  NPS volunteers frequently assist the basecamp manager keep things sorted out by helping with the organization of people and gear, as well as helping transport the enormous quantities of equipment and supplies that fly in and out with each team.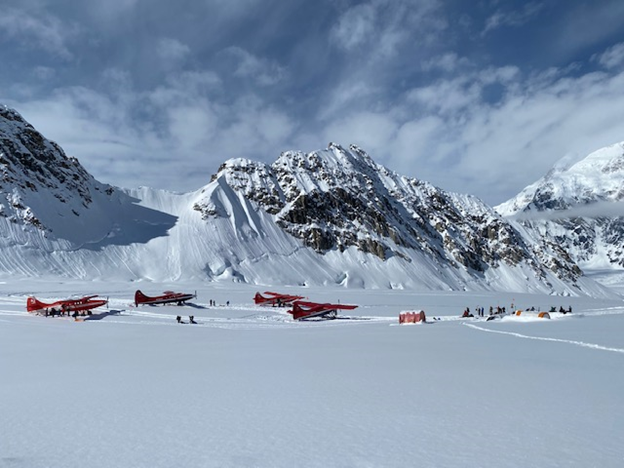 (NPS Photo/ Katie Weaver)

When many planes are at 7K, common after a few days of non-flying weather, the management can be quite challenging and intense, but also enjoyable.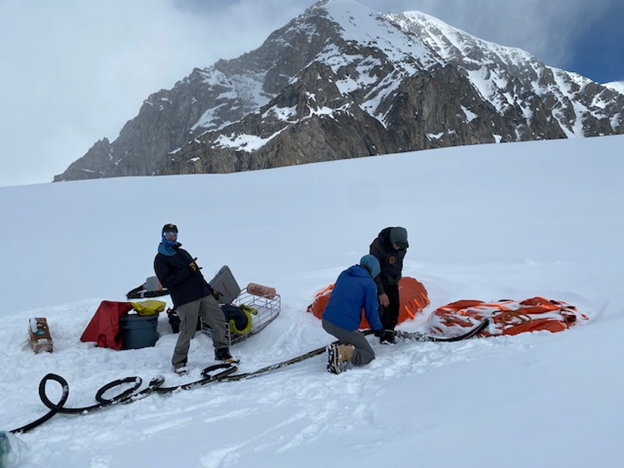 (NPS Photo/ Katie Weaver)
On our recent 7K patrol, we did a bit of maintenance at the helipad area.  Here are Steve and Ranger Joe trying to determine the best way of disconnecting the fuel line coming from the fuel bladder without leaking any fuel.  The point was to get the coils and kinks out of the hose.  It's not clear what Ben is doing, but clearly it was beneficial as the mission was completed without a drop of fuel leaking onto the snow.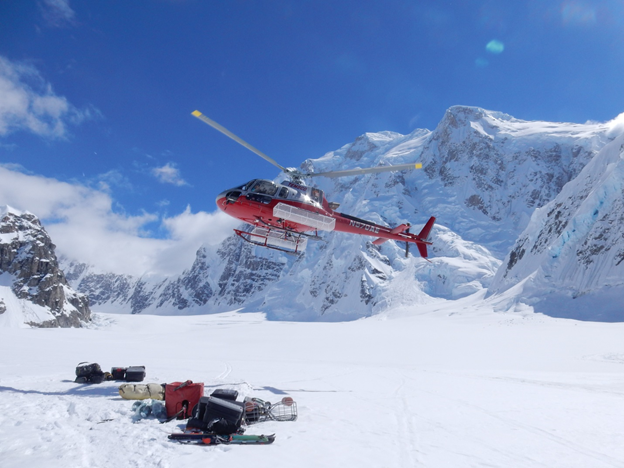 (NPS Photo/ Steve Mock)
The helicopter routinely stages missions out of the 7K camp.  Supplies and possibly medical patients arrive at the 7K camp.  This year, the team helped off-load 2 victims of frostbite and assisted them as they were eventually flown out by plane.  The 7K team puts effort into maintaining a good landing platform as well as a safe landing area.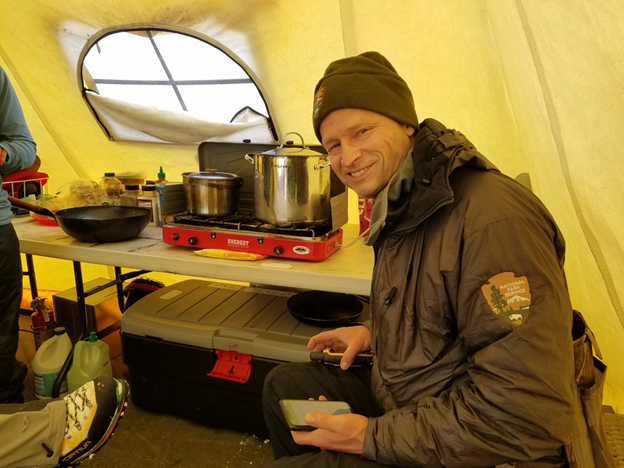 (NPS Photo/ Steve Mock)
Ranger Joe in his element!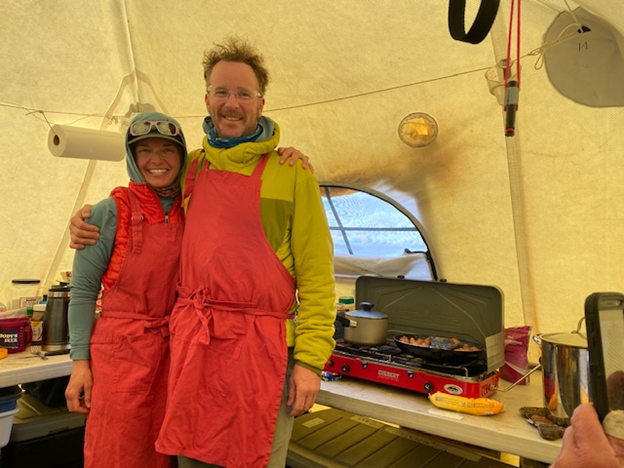 (Photo courtesy of Lisa Roderick)
Spacious dining!  Gourmet meals!  Katie and Ben sporting their matching aprons in the camp kitchen.  Looks like bacon on the skillet, a favorite food staple on the mountain.  Meal prep and clean-up were quite a challenge in the small kitchen when we prepared meals for nine hungry mountaineers with another patrol in camp.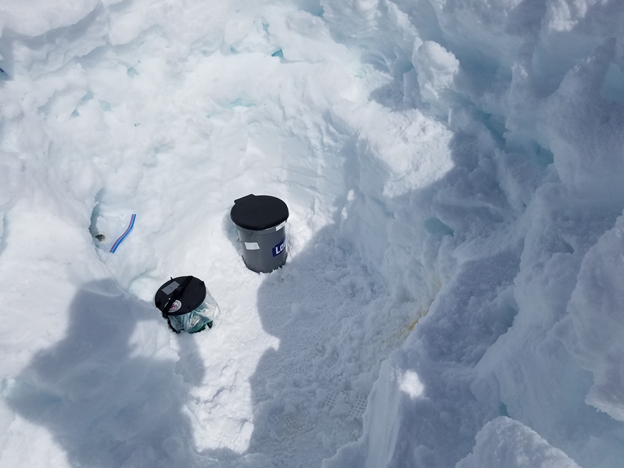 (NPS Photo/Steve Mock)
We had a bathroom with plenty of fresh air!  A CMC, clean mountain can, is on the left.  They are required of all climbers on the mountain in order to dispose properly of all human waste for both health and aesthetic reasons.  Yes, one actually squats on the can to do his/her business.  At the 7K camp, we live in luxury with a five gallon bucket along with solar heated toilet seat (at least if it's midday and sunny, otherwise, it features thermal cooling).   The "urinal" is barely visible on the right.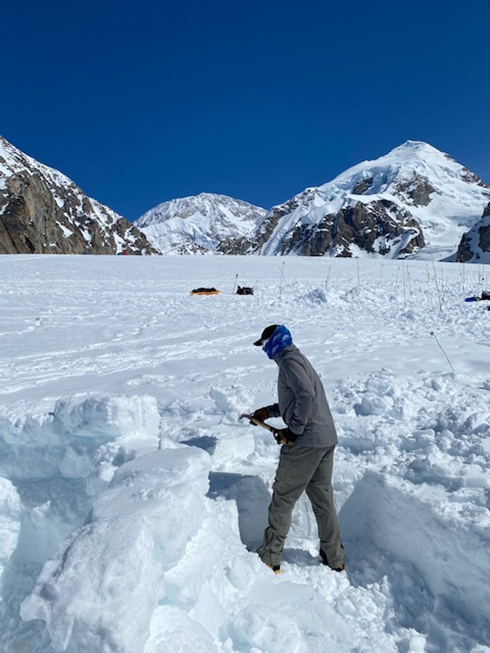 (NPS Photo/Katie Weaver)
But it's not all glamour work.  We spend a lot of time "rearranging" snow.  As a matter of fact, that is likely the number one activity during the waking periods of any Denali trip.  The best way to train for Denali is to shovel lots and lots of snow.  If your back doesn't hurt, you aren't shoveling enough.  Ben is shown rebuilding walls on the bathroom as sun and wind have taken their toll. 


(NOTE: This photo was removed by the editor, who found it just too disgusting for public viewing! Yet, the topic of the invaluable role our rangers and volunteers play in resource protection and keeping the mountain clean and hygenic is too important to cut -- so, no photo needed, readers are advised to use their imaginations...) 
Glamour,  Part 2.  This is as good as it gets.  Early in the season, someone dug a snow cave for shelter.  Later, someone else found it and used it for other purposes.  Yea, it's as bad as it looks and is a perfect example of what NOT to do.  Ben and Steve spent more than an hour cleaning up this mess, burying the yellow parts and bagging the other.  What a pleasure taking care of someone else's mess.  The hole was then filled in and hopefully that's the end of it.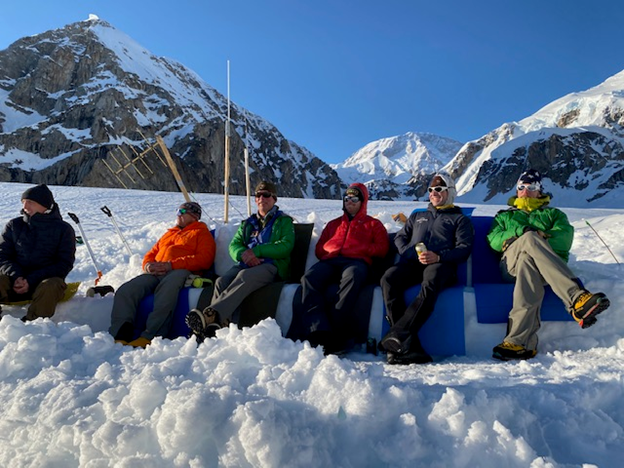 Couch pototoes.  (NPS Photo / Katie Weaver)
Evening on the couch.  Clearly, it's not all hard work.  Left to right: VIP Shane Treat, Grand Teton NP Ranger Jon Politis, VIP Steve Mock, VIP Eric Robbins, Black Canyon of the Gunnison NP Ranger Steve Kay, VIP Ben Weaver.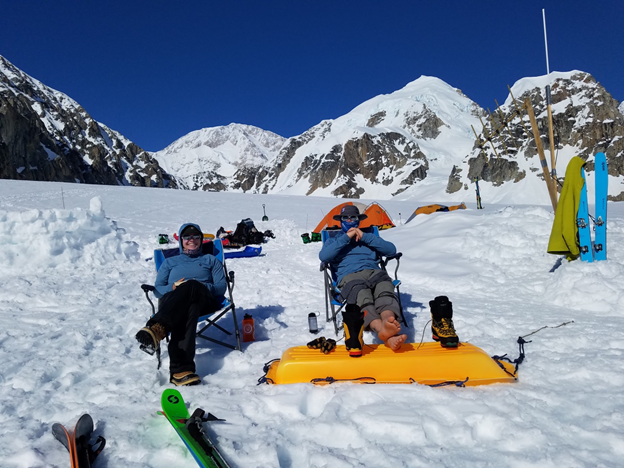 (NPS Photo / Steve Mock)
As good as it gets!!  Katie and Ben soaking up some sunshine with Denali in the background.