"A wilderness, in contrast with those areas where man and his own works dominate the landscape, is hereby recognized as an area where the earth and its community of life are untrammeled by man."
-Wilderness Act, Section 2 (c).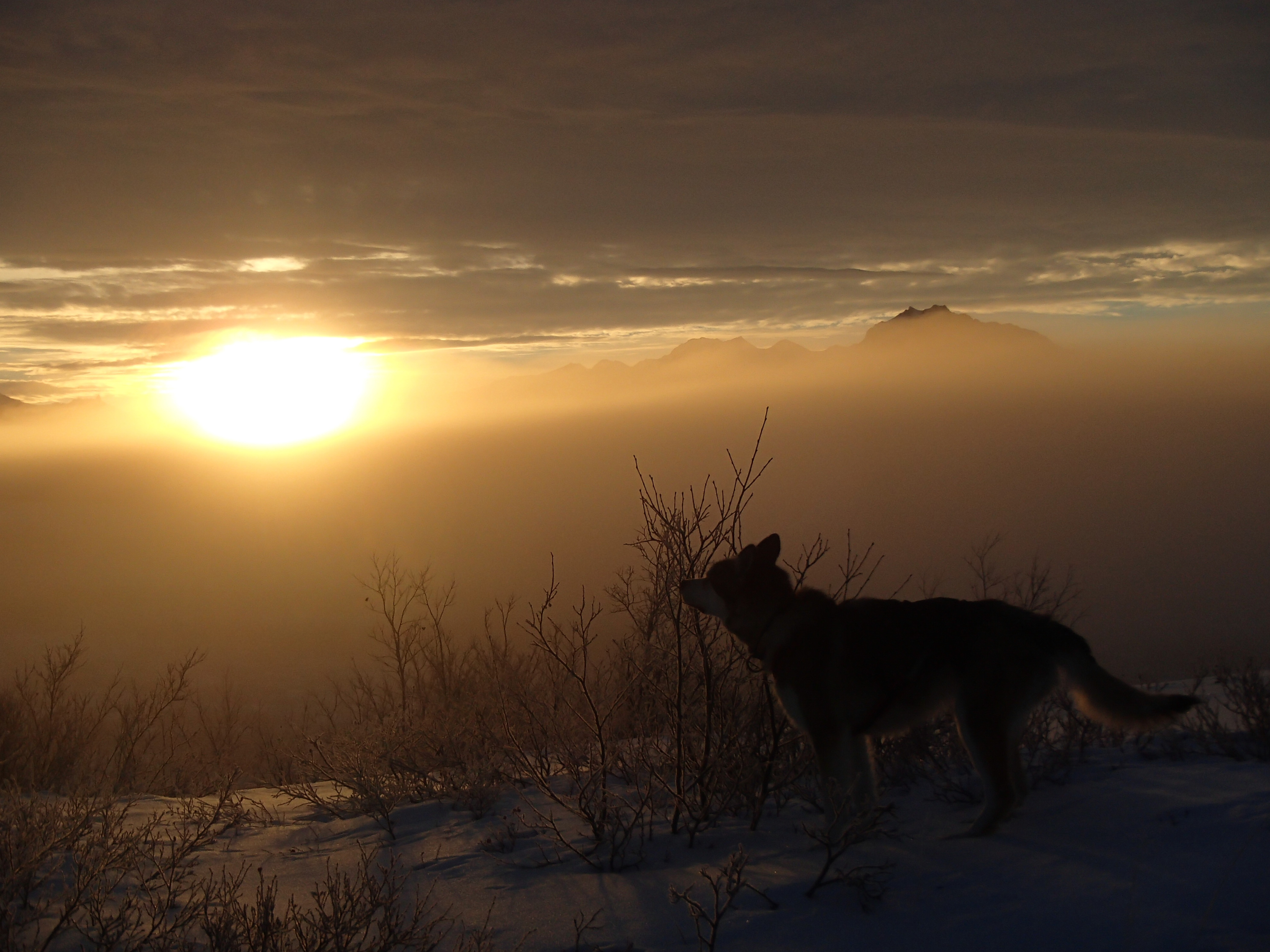 Annie and the sun(NPS photo/ Lauren Gomes)
What does this "community of life" look like in Denali National Park and Preserve? What wildlife is present and why? Has this community shifted in the last 70 years? University of Alaska Fairbanks researcher, Kelly Sivy, is addressing these basic questions, specifically relating to coyotes and how they are interacting with other carnivores in the Park.According to Sivy, the coyote population has increased dramatically here in the last century.
"Adolph Murie provided some of the earliest accounts of coyotes in Denali while conducting his field observations of wolves in the 1940s. Although Murie noted the coyote's low abundance at the time, by the 1970s, they were becoming a common sight along the Park road. Today, coyotes are frequently observed in Denali, prompting numerous questions regarding their apparent increase and ecological role in the park, of which little is presently known."
Kelly and her team analyze the genetic information in coyote, fox, and wolf scats to estimate the population size and growth rates of coyotes and red foxes living among wolves. This genetic analysis also provides insight into how much coyotes and red foxes depend on carrion scavenged from wolf kills.
One of the limiting factors in collecting scat is the inability to go deep into the park to where these animals are roaming. That's where we come in. We've teamed up with Kelly to act as her extra eyes (and in the case of our canine rangers, noses) to find out where the coyotes and red foxes are visiting and what they are leaving behind. Each time we head out into the park, we equip ourselves with a scat pack that includes plastic baggies for collecting samples and a GPS so that we can mark coordinates of scat location. It's natural instinct for the park dogs to want to sniff out other critters and mark where these animals have been. Fortunately, these other critters are just as curious to sniff out the park dogs. The dogs are in charge of following their noses, and Kennels staff collects the data.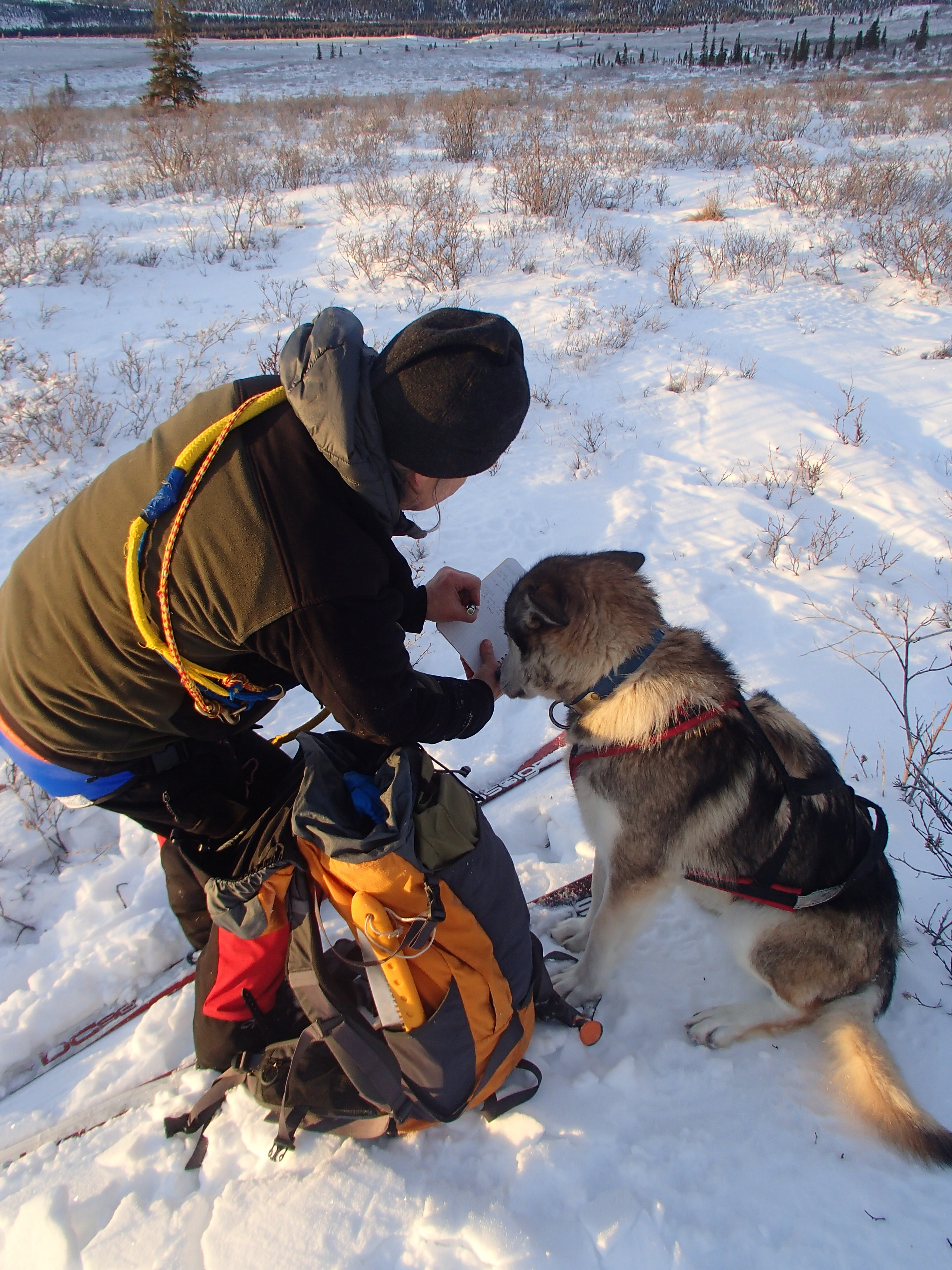 Patty explaining Data to Annie. (NPS photo/ Lauren Gomes)
We've also set up "scat trails" that are proximal to locations that coyotes are frequenting. Animals will often use these "trails" for easy travel, instead of wasting their energy walking through the deep snow. It is not uncommon for us to find fresh carnivore tracks on these routes only a day or two after we've been on them. We provide them easy passage from place to place, and they supply us with scat.Our most recent patrol 40 miles into the park, while pondering the most efficient way to traverse an avalanche on the park road, the kennels staff spotted movement across Igloo Creek on the side of Sable Pass. At first we thought we spotted two wolves in the distance. When we looked closer we realized we were watching a coyote and a lynx sharing a dall sheep. After exploring the area, we discovered an active kill site, with signs of at least three different species that are being studied in Kelly's research. Witnessing this event not only provided us with an abundance of scat, but will provide Kelly invaluable insight into the feeding dynamics and coexistence of carnivores in the park.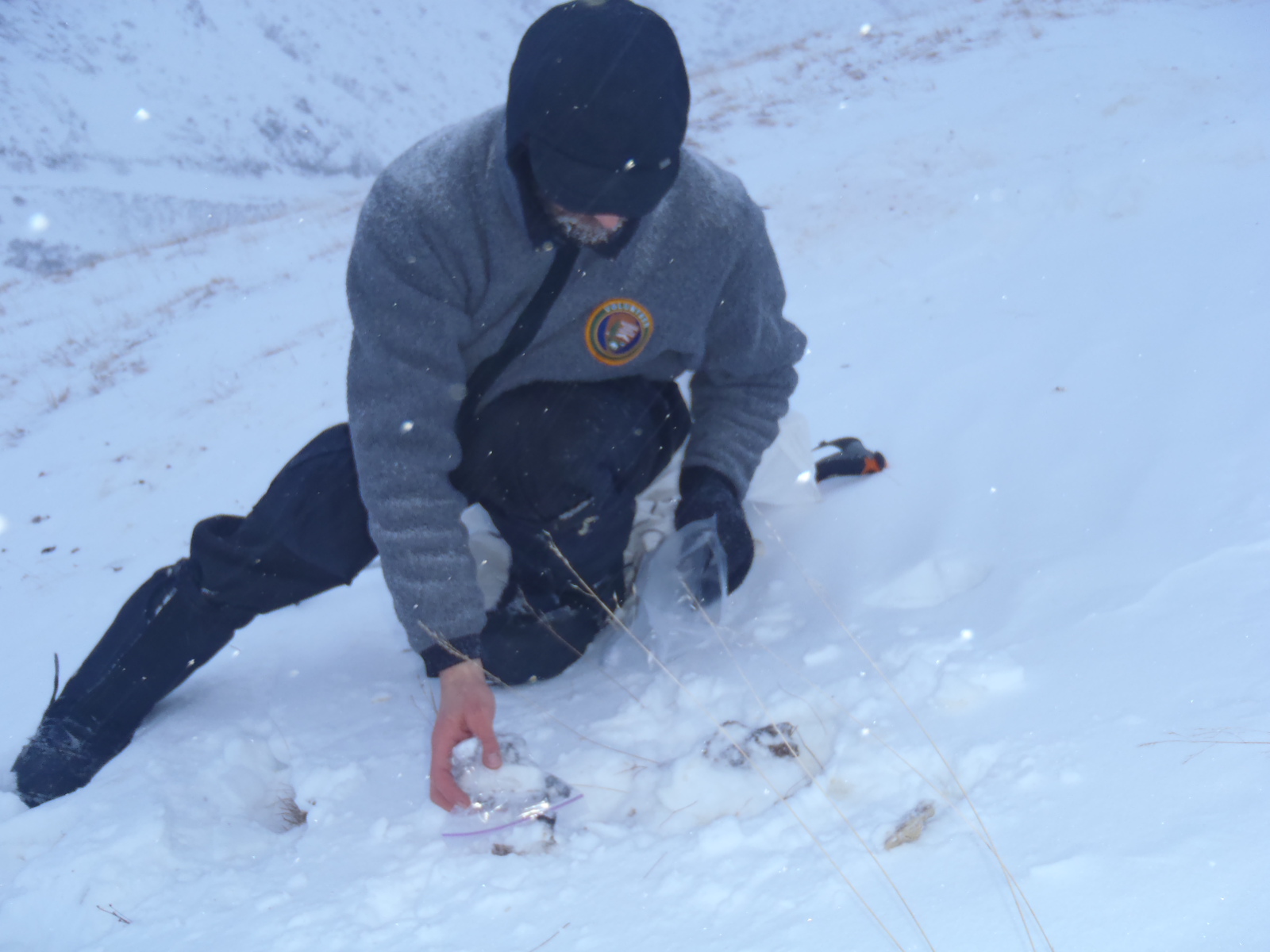 Kennels VIP collecting scat (NPS Photo/ Julie Carpenter)
Superstar dog: Tatum
In this blog we'd like to recognize Tatum for her efforts skijoring with Patty in search of scat. We'd also like to commend Tatum for her efforts to stay awake during the filming of this video (click on the link below to watch).
https://www.youtube.com/watch?v=uddzyyPP9U0&feature=share&list=UUyfk7EjiFzH49NnWqRyLC3w