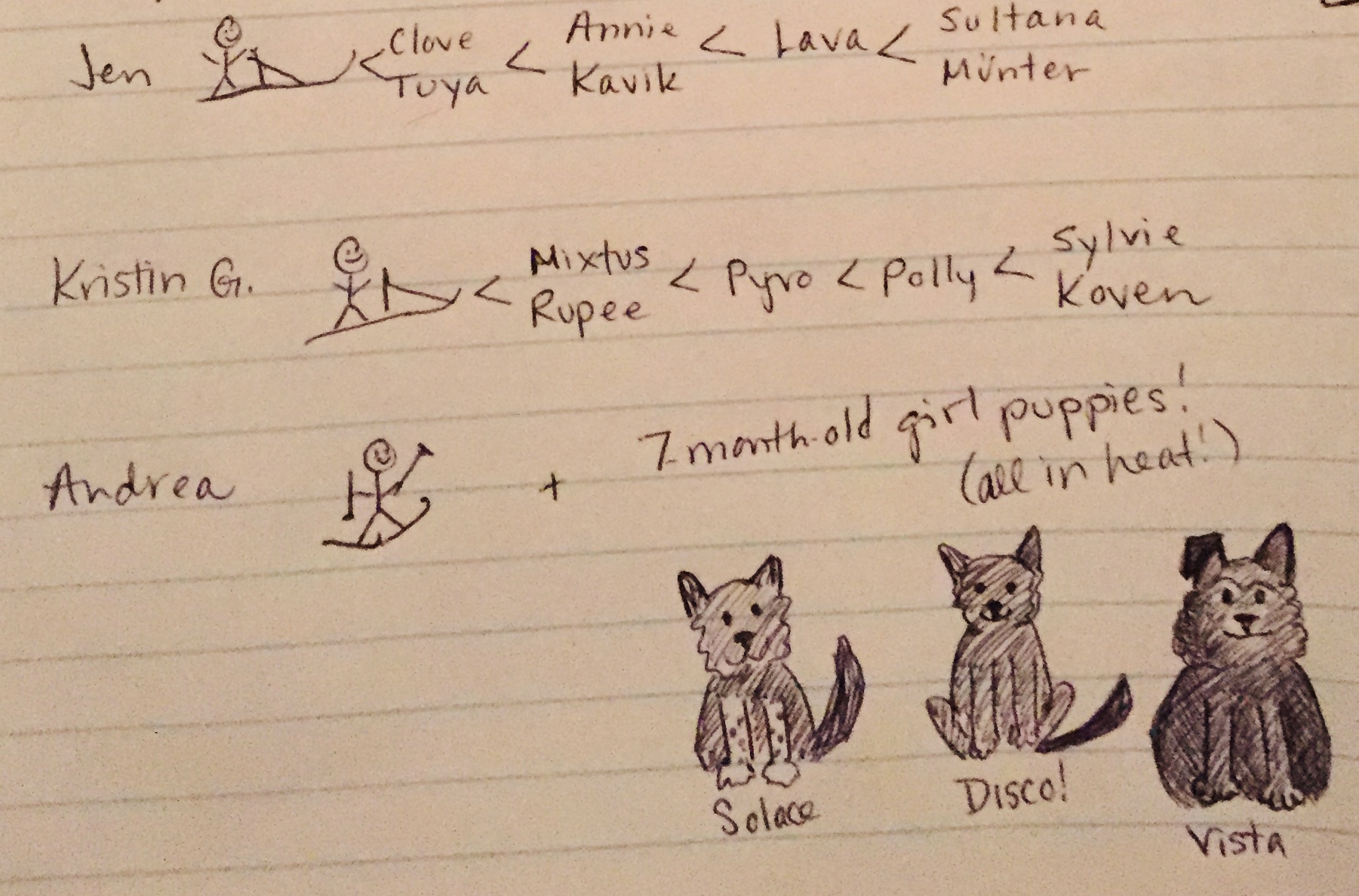 (NPS Photo/ Andrea Schneider)
A flurry of paws and fur caught my attention. "Is that a dog?" I asked hesitantly. The three of us kennels staff peered out of the fogged window into the dark. It was the third day of a week-long backcountry operation and we were staying in a cabin next to Sanctuary River. We had made it to camp and settled in for the night. The dogs were fed and we were preparing our own dinner inside, assuming that all was well and quiet beyond the cabin walls. We were wrong.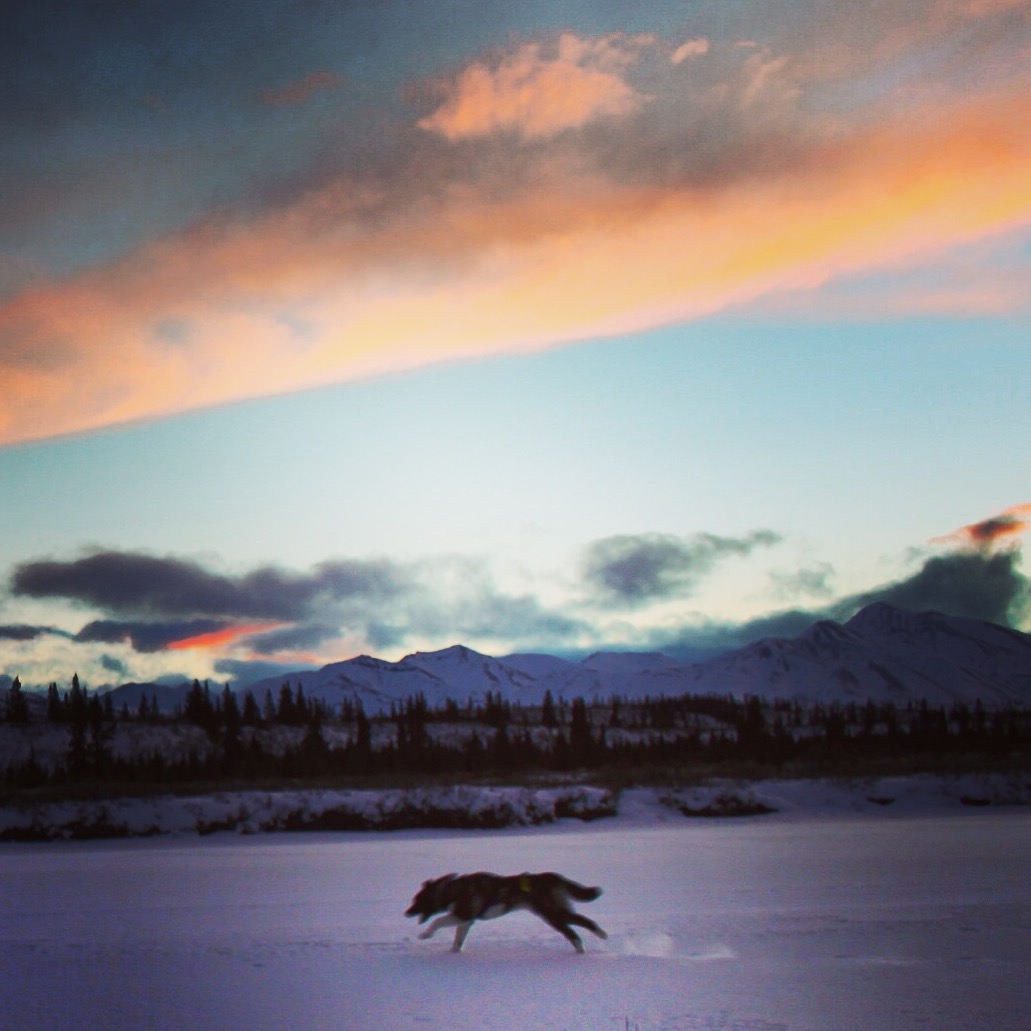 (NPS Photo/ Kristin Gates)
We cracked open the door armed with headlamps and heard a shuffling outside. Our lights only illuminated empty space until we turned the corner. "Vista?" One of the three girl puppies, Vista, was helping herself to the breakfast that we had prepared for the dogs for the next morning. She had slipped loose of her collar after dinner and was getting a ten hour head start on the next meal.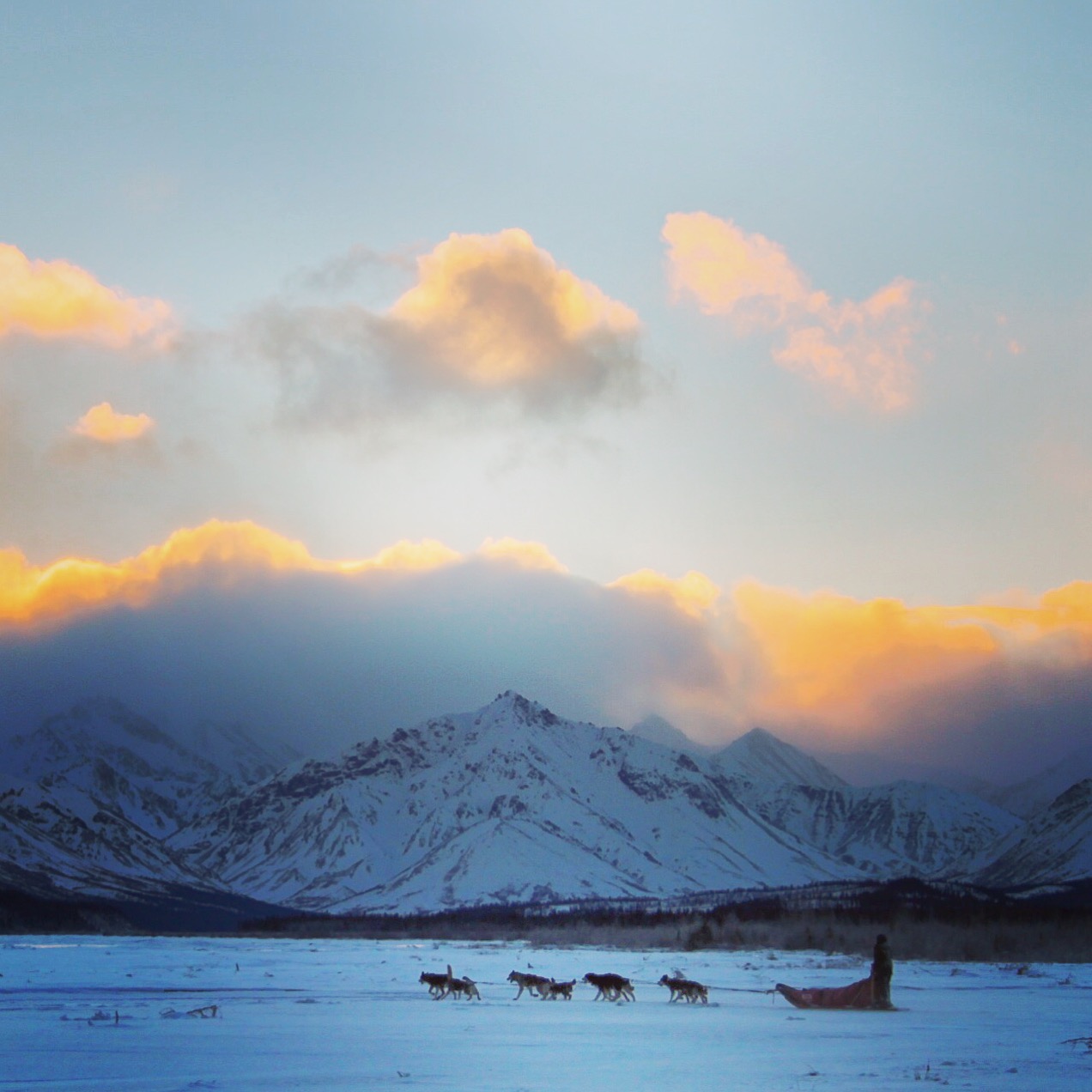 (NPS Photo/ Kristin Gates)
After many years of experiments, it was discovered that the park dogs surprisingly prefer frozen breakfasts over anything else while out on the trail. One would think that on a subzero morning after sleeping out in the snow the dogs would want a nice hot breakfast to start the day, but, in fact, just the opposite. They repeatedly dumped these warm meals in the snow or turned their noses up at them. However, if we froze their meal solid and chopped it into bite size chunks they gobbled them right up. So now, after dinner every night, we set out bowls with broth, kibble, and supplements, allowing it to freeze so that we can cut it up with an axe and serve the tasty ice chips to them in the morning.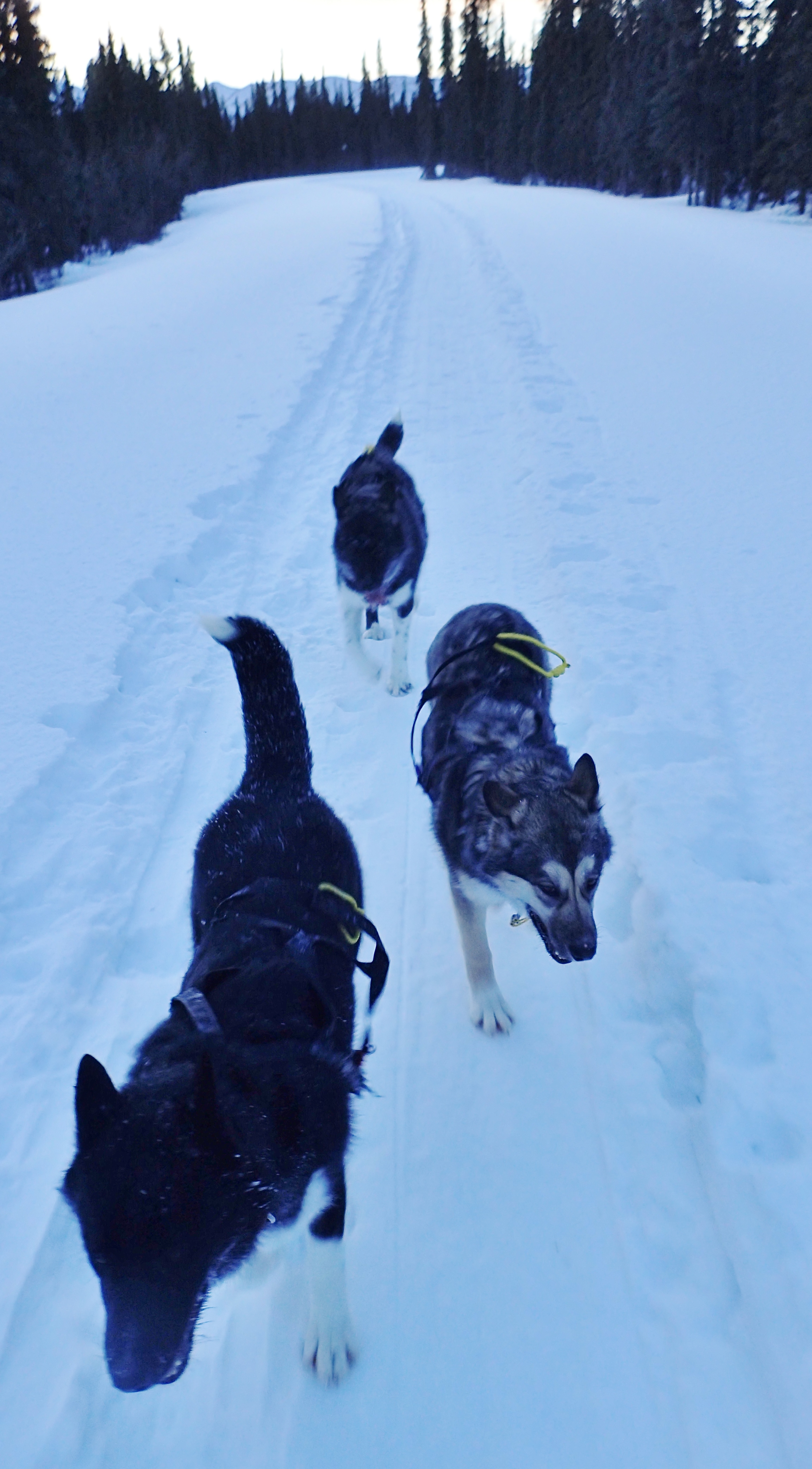 (NPS Photo/ Jen Raffaeli)
Vista stared up at us sheepishly, visibly wider than she had been half an hour earlier. It was lucky that we had set the bowls by the cabin window or she may have gone through every bowl! Whenever a dog gets loose or does something it is not supposed to, you can usually count on the entire kennel to bark and exclaim and tattle tale until a human remedies the situation. We are not sure what deal Vista had struck with the rest of the dogs that night, but they all sat still and silent, giving her time to get through two and a half bowls before she was discovered.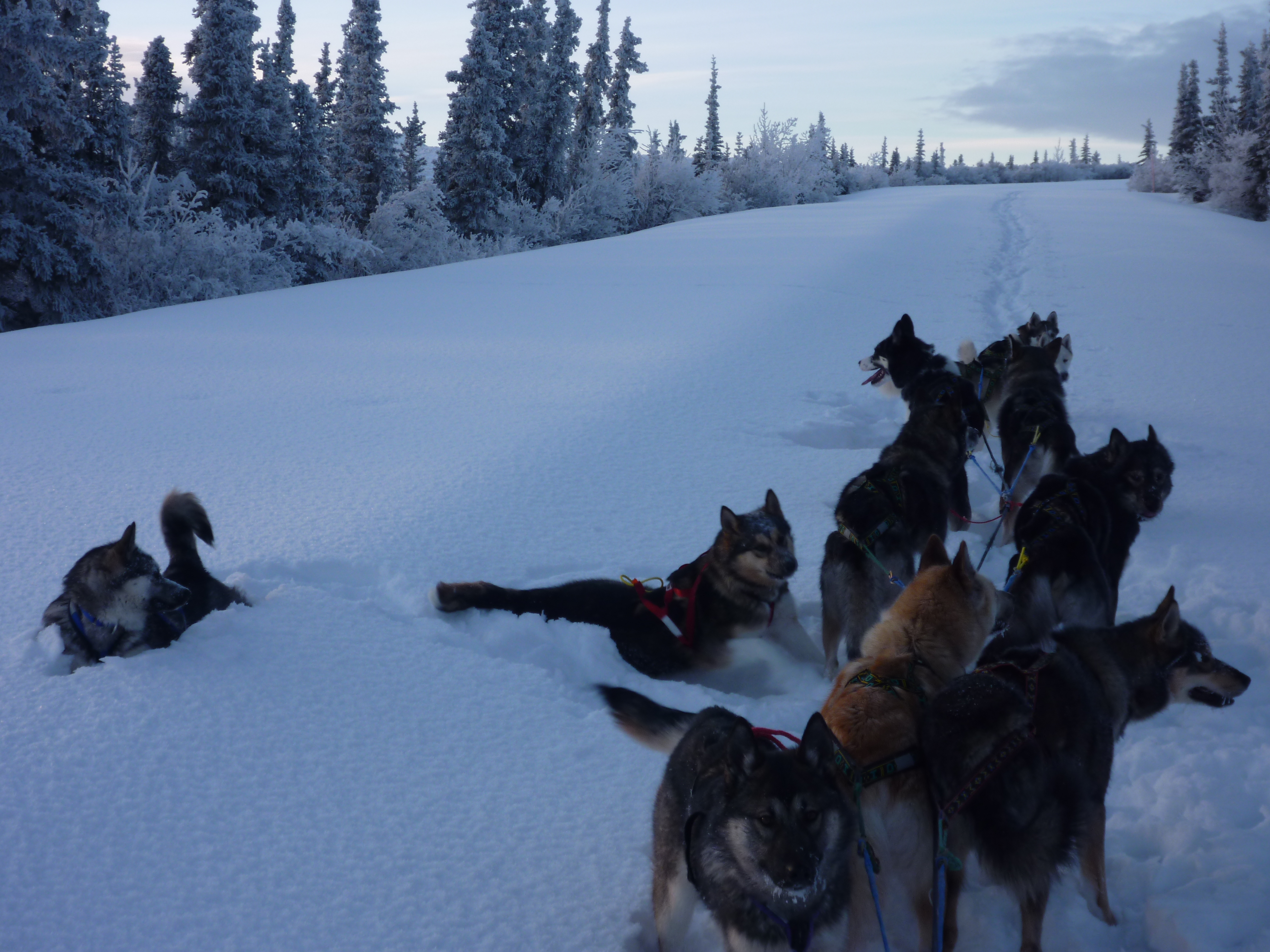 (NPS Photo/ Sarah Hayes)
This trip was the first time the three girl puppies had ventured farther out than Savage River and they had accomplished it all in joyful leaps and bounds. Their three brothers, S'more, Summit and Venture, were on a similar adventure with the other half of the kennel and staff. Each puppy had fun, which is our number one goal especially during their first winter. The puppies are introduced to running with a team in gradual steps. We start taking them on walks with their mom and other adults in the yard during the summer months as soon as they are several weeks old and able to toddle about. Their walks get progressively longer as they build their strength and courage and we start to introduce them to terrain they will encounter on the trail in winter such as water crossings, steep hills, rocks and trees. Then we have them start wearing harnesses during the walks so that they associate harnesses with getting to do their favorite thing which is run about, explore, and play with their siblings and other dogs. Next we have them run loose alongside teams as we head out into the park. Simultaneously we will practice skijoring with them so that they can work closely with staff, become comfortable with pulling, and begin learning the commands. Then, during their first winter, they are ready to run with a team actually pulling the sled for very short miles. They won't truly become full members with the big dogs until their second winter in the kennels. They also learn a lot from the dogs that they are running next to, so we choose their early running partners carefully. If you want to watch a short video series about how we raise and train our puppies check out our "Puppy Paws" video series featuring Annie, Polly and Lucky at https://www.nps.gov/dena/planyourvisit/puppy-paws.htm.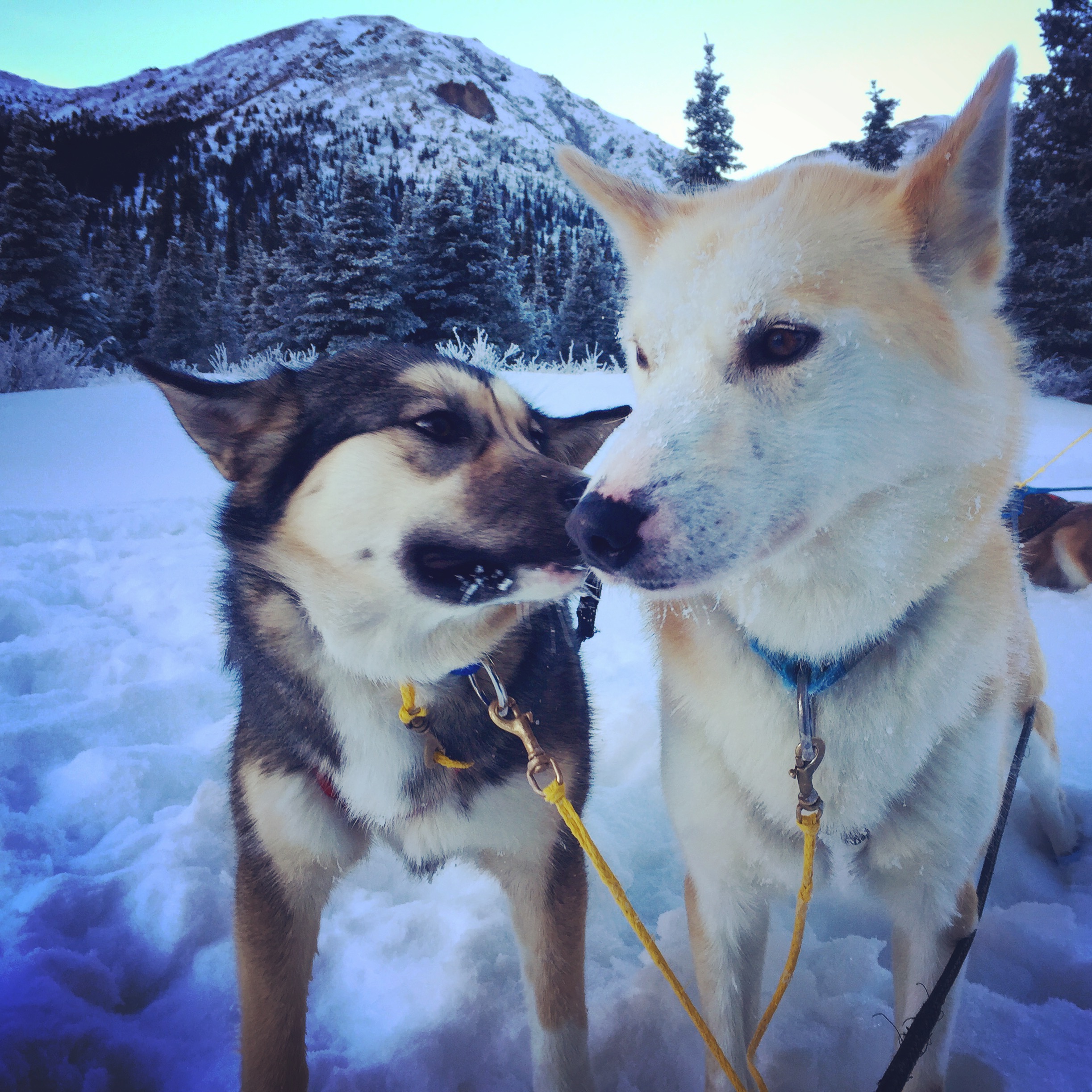 (NPS Photo/ Kristin Gates)
On the Teklanika River the girls joined our teams for the very first time (which we did in order to make sure they avoided any bad ice). Disco hopped right into the swing of things as if she had been secretly going on runs every night for the last month. Vista and Solace were a little more timid but both tried hard and Vista even took up a nice trot for a while. After we set the girls free again past the river ice, they ran around happily, completely unfazed, chasing the teams and trying to play with whatever dog they could manage to distract. We were all watching Vista carefully, worried that she might feel sick after her feast, but she ran around like an Olympian as happily as ever.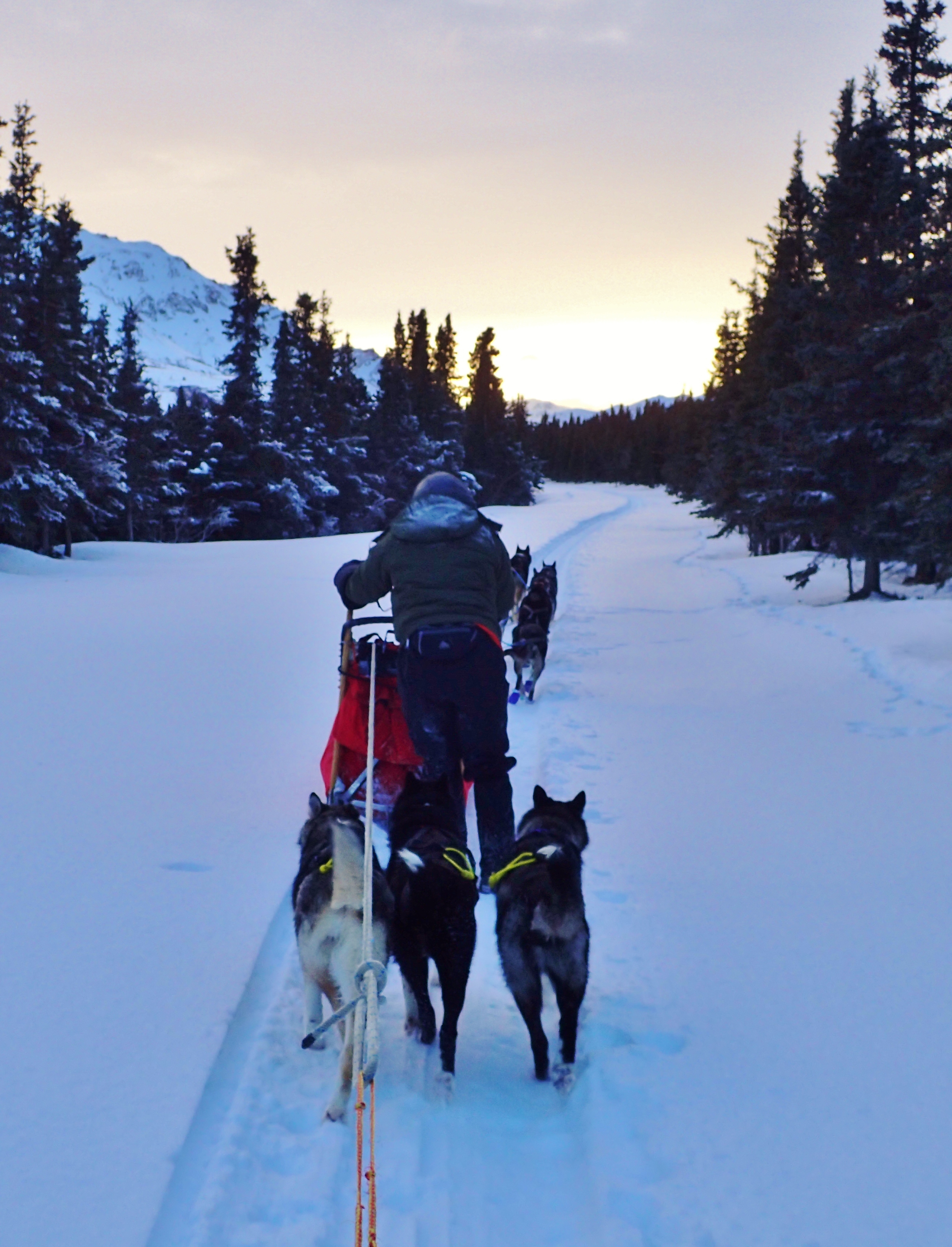 (NPS Photo/ Jen Raffaeli)
One thing is for sure. This litter is all going to grow up to be great, happy sled dogs. They are busy "finding their park" out in Denali this winter and we hope they inspire you to get out and "Find your Park" in 2016 too. Learn more at http://findyourpark.com.