We know that many of you have been anxiously awaiting news of this summer's litter of pups. For those who haven't heard the answer in person from one of our kennels rangers, here is the status for this summer.
We have all spent the spring (im)patiently waiting for one of our chosen breeding females to go into heat and be receptive to breeding. Females only go into heat once or twice a year - typically in the spring and fall and then they are only receptive to breeding for a few days during that cycle.
We can't just plan for a litter of pups to arrive whenever we want; we have to wait for nature to cooperate! Once a female is receptive to mating we attempt to breed her a few times with the chosen male that we have determined to be a good match for her. Then we cross our fingers and paws and wait 63 days, give or take, for her to whelp a litter.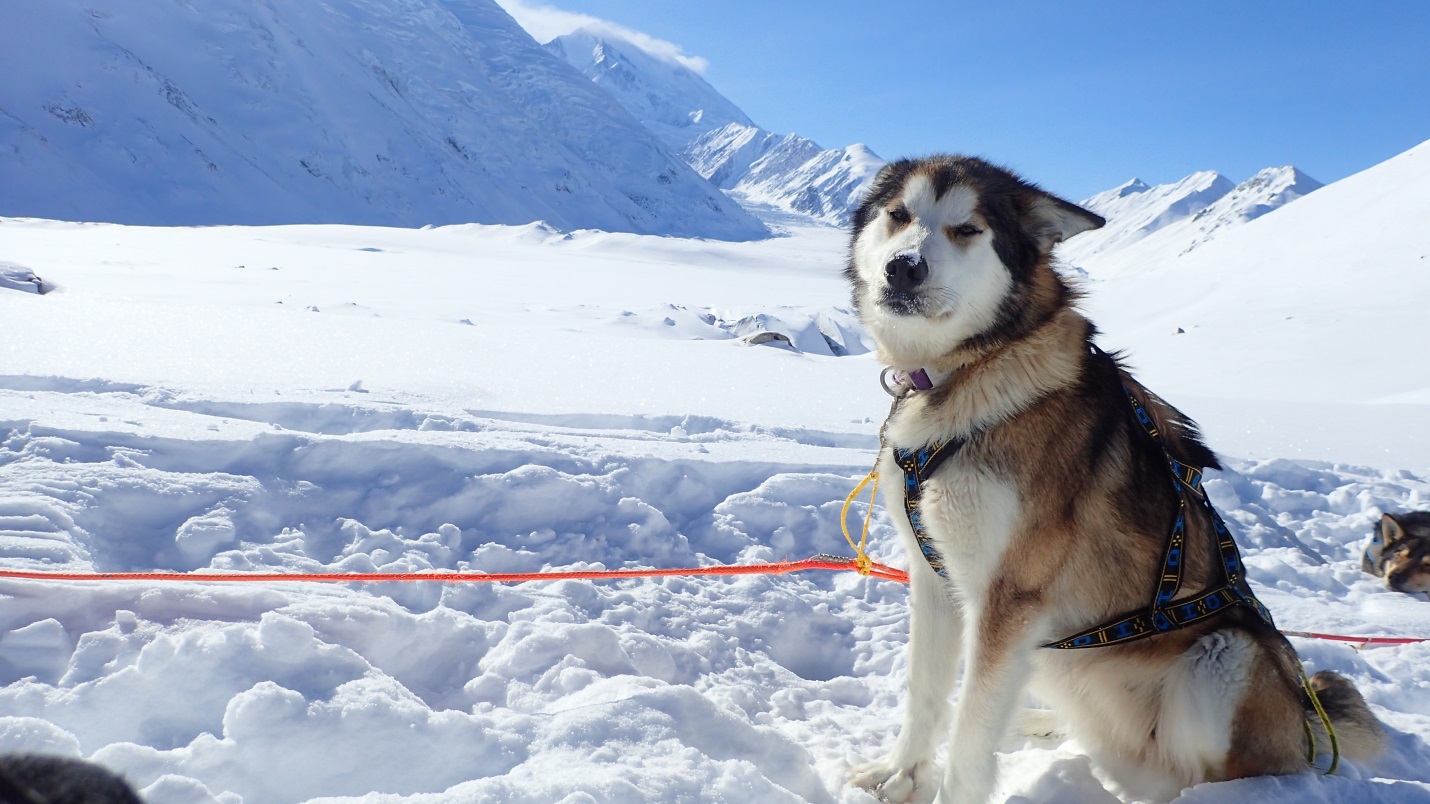 Annie on McGonagall Pass. NPS Photo.
This year we chose to breed Annie again. She delivered our "Birthday" litter of pups in 2016 (Happy, Party, Pinata, Cupcake and Hundo). All of these pups are growing up to be very smart, very people focused and good, strong, hardworking dogs.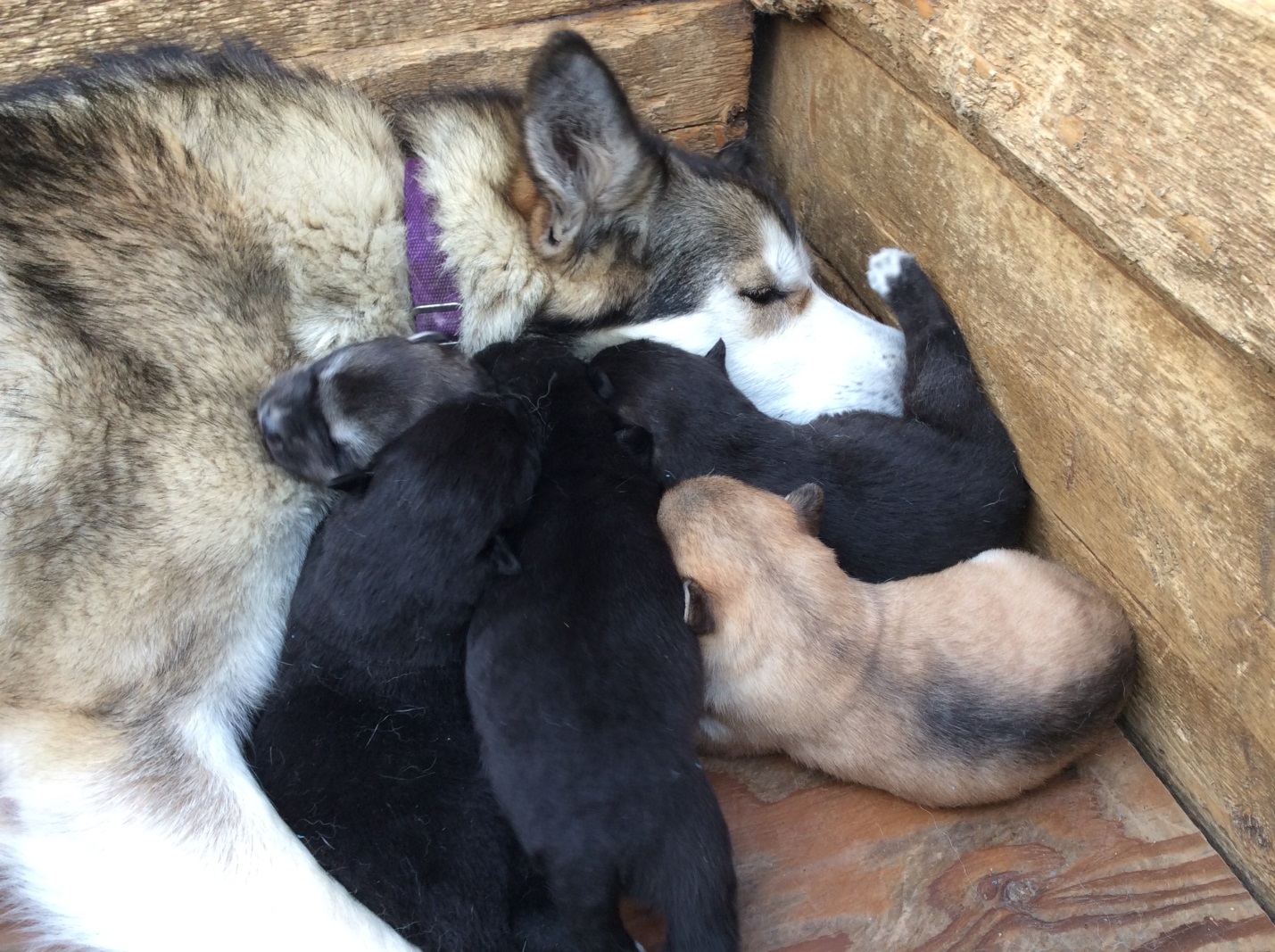 Annie and Birthday-litter pups. NPS Photo
This is a very unique year in terms of the male we have chosen. If you have followed our dogs for the last several years, you may remember that we have worked closely with Pat Hastings (
learn more about her work with dog breeding
) to assess the structure and conformation of our dogs to ensure that they are physically well built to perform the work that we ask them to do as sled dogs in the park in winter. It is critical that a dog's body is well put together for the tasks they are bred to perform or they will struggle to do their work. This will often present as unhappiness or pain in the dog.
We always want our dogs to love their jobs and that begins with careful breeding. When we are breeding our Alaskan Huskies we are always focused on breeding for their performance. There is no breed standard "appearance" required of Alaskan Huskies - they come in all different shapes, sizes and colors. However, there are very consistent physical traits that all Alaskan Huskies share (and that they share with other northern pulling breeds like Siberian Huskies and Malamutes). These traits include long legs for breaking trail through deep snow, tough feet, a good, thick fur coat and a nice, bushy tail to keep them warm in Alaskan winters. In addition to the physical traits, they also need to have certain mental and personality traits that make a great sled dog including a love of running and pulling, and a strong connection to people, yet the independent confidence to make decisions while leading a team on the trail.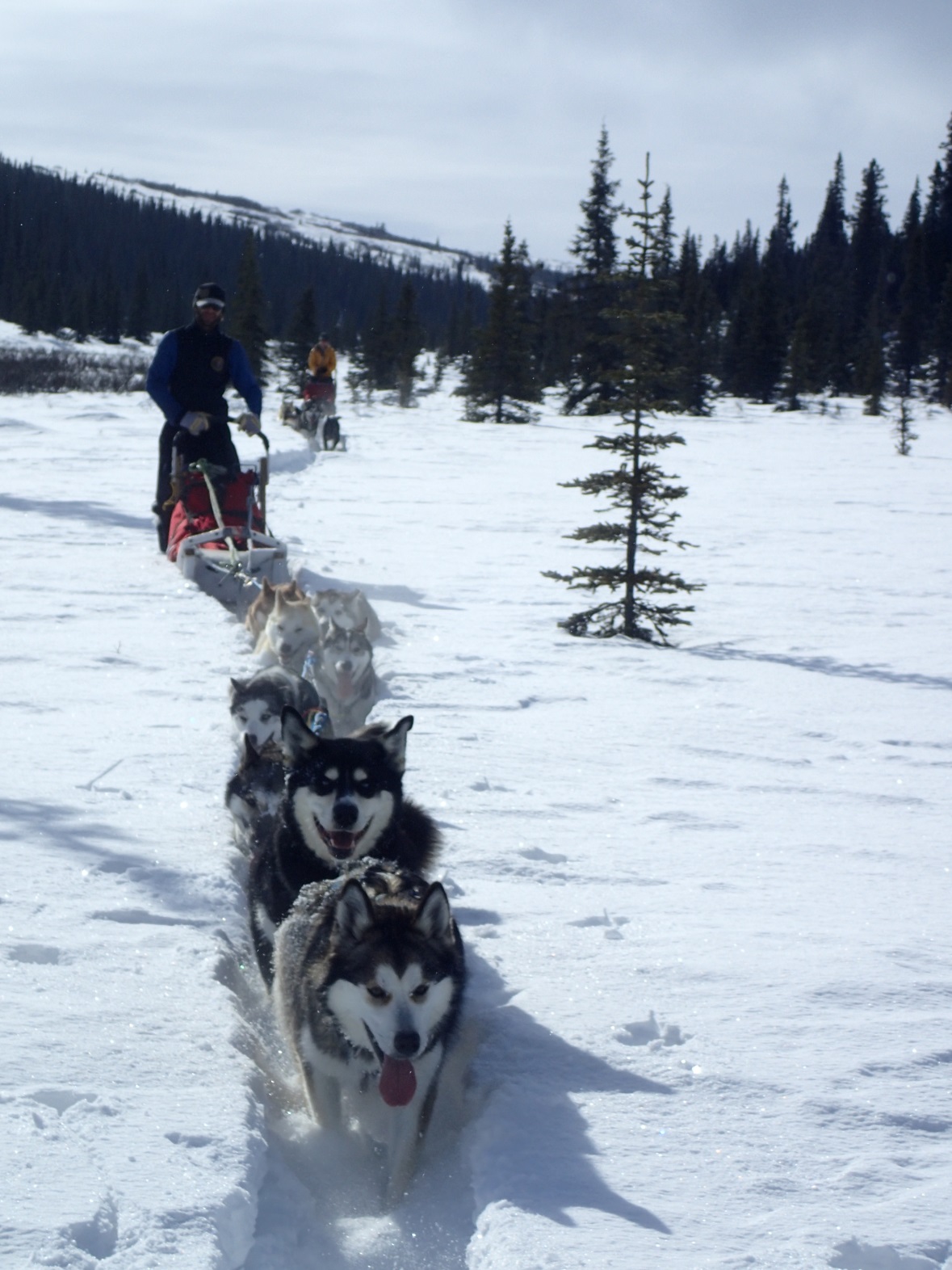 Annie leading the team. NPS Photo.
So, back to the selection of our breeding male. It is important to the health of any bloodline to occasionally mix in new genetics. We have a few other kennels in Alaska that we have frequently shared breedings with in the past, but it was time to bring in some entirely new bloodlines to our breeding pool. Thankfully, Pat Hastings knows well the traits we need in our dogs and has connections to dogs all over the world. When Pat contacted me about a dog that she felt would be a perfect outcross for our lines, I was instantly intrigued. I had never heard of the Tamaskan dog before and after some research and conversations with Luchta's breeders I was even more convinced that we would be very smart to add Tamaskan blood to our lines. The Tamaskan dog originated in Finland and was bred to have exactly the same physical and mental traits that we look for in our Alaskan Husky sled dogs.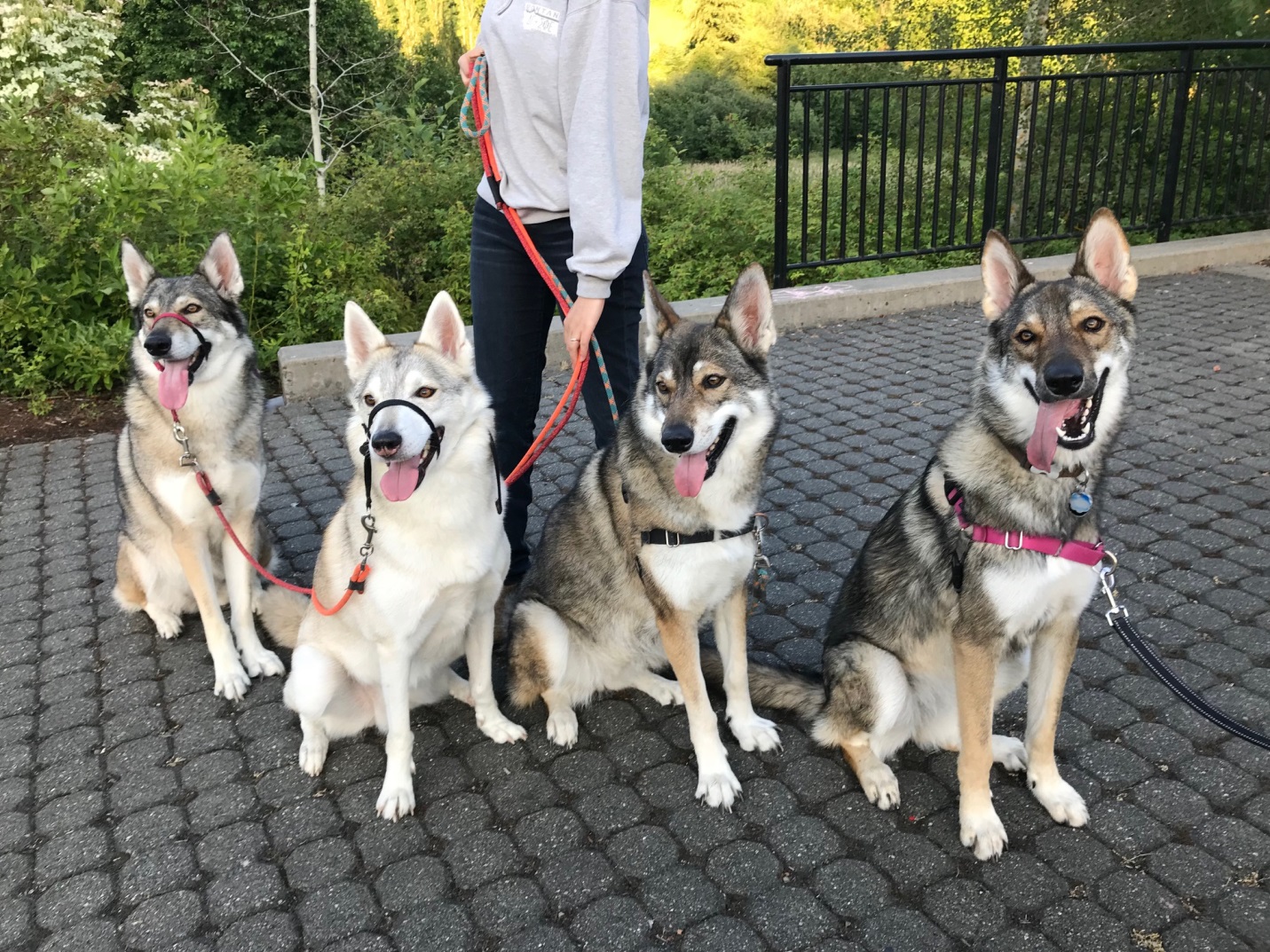 Tamaskans sitting politely. Courtesy of White Elk Tamaskans
Often when people say their dogs are "big and furry" or "leggy" in my mind I always think, "Yeah, maybe compared to most dogs, but your dog is not likely to be as big and leggy and furry as a Denali NPS dog." So, I was quite pleasantly surprised when we met Luchta in person and he was exactly as his breeders described with all the physical traits we were hoping for.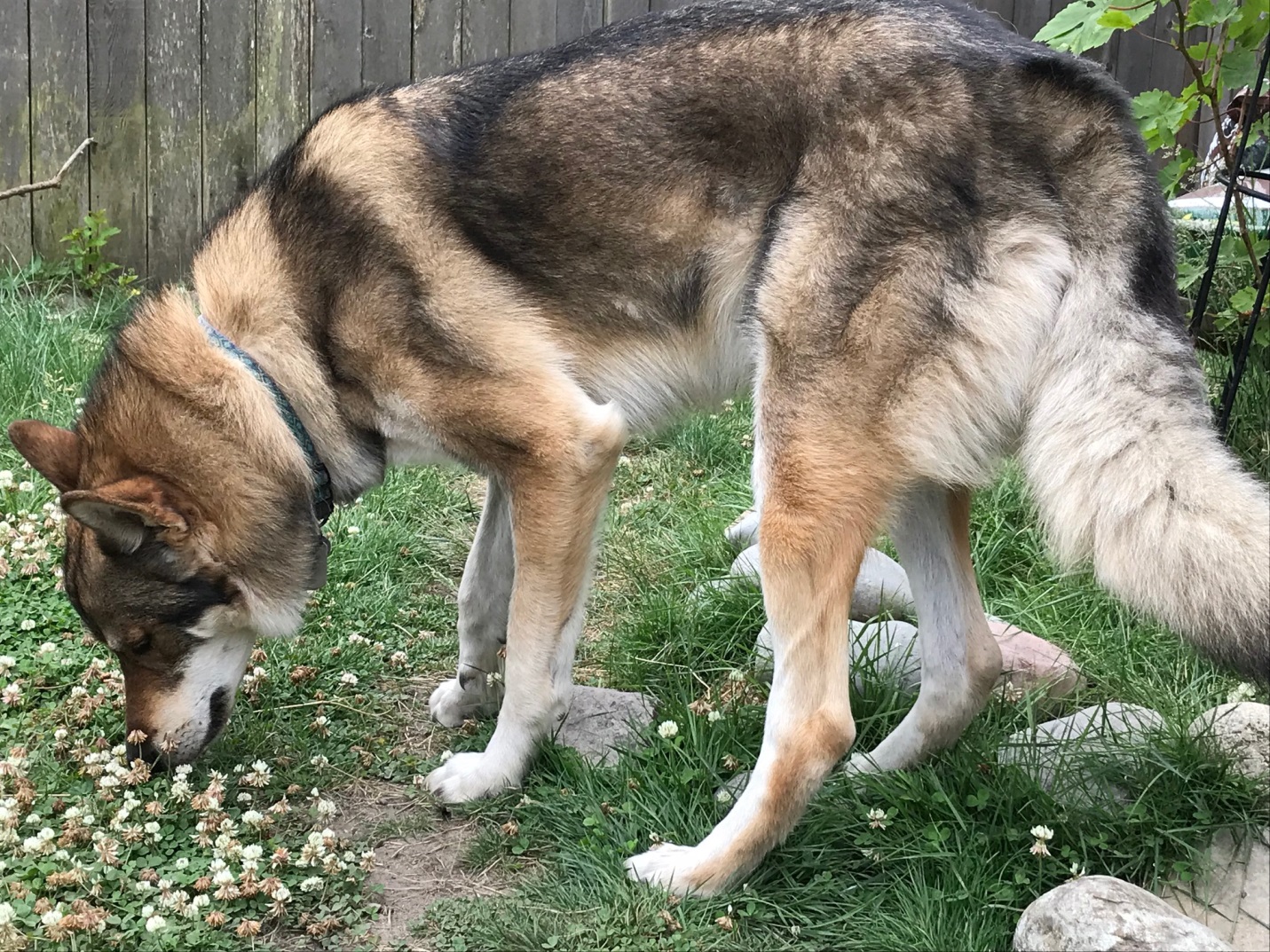 Luchta. NPS Photo
While these physical traits are essential for their comfort and success on the trail, the mental traits are equally important. While Luchta has not been a member of a working dog team, he does have a very impressive resume that includes
acting on Broadway!
. Luchta obviously demonstrates the important traits of intelligence, confidence and a strong desire and willingness to work with humans that we look for in our best lead dogs.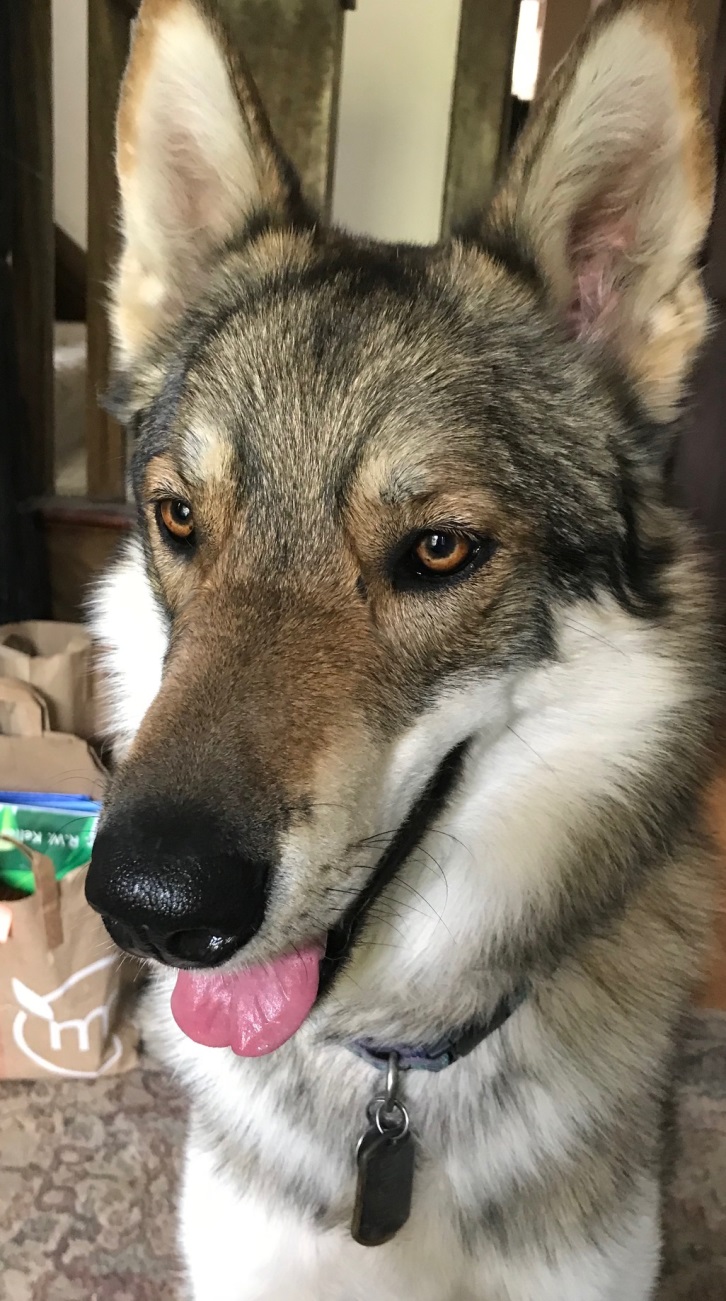 Luchta. NPS Photo
When Annie met Luchta, she was apparently as impressed as I was with his "legs for days", his sweet personality, his intellect and demeanor and/ or she was perfectly in the receptive phase of her heat cycle. She and Luchta completed their first successful tie on their first meeting on June 20 and a few more ties after that, so now we are in the waiting game until approximately August 22. If Annie delivers a healthy litter of pups we will have a strong new component to our park bloodlines that will hopefully keep our dogs healthy and happy to do their jobs as working sled dogs for another 100 years to come.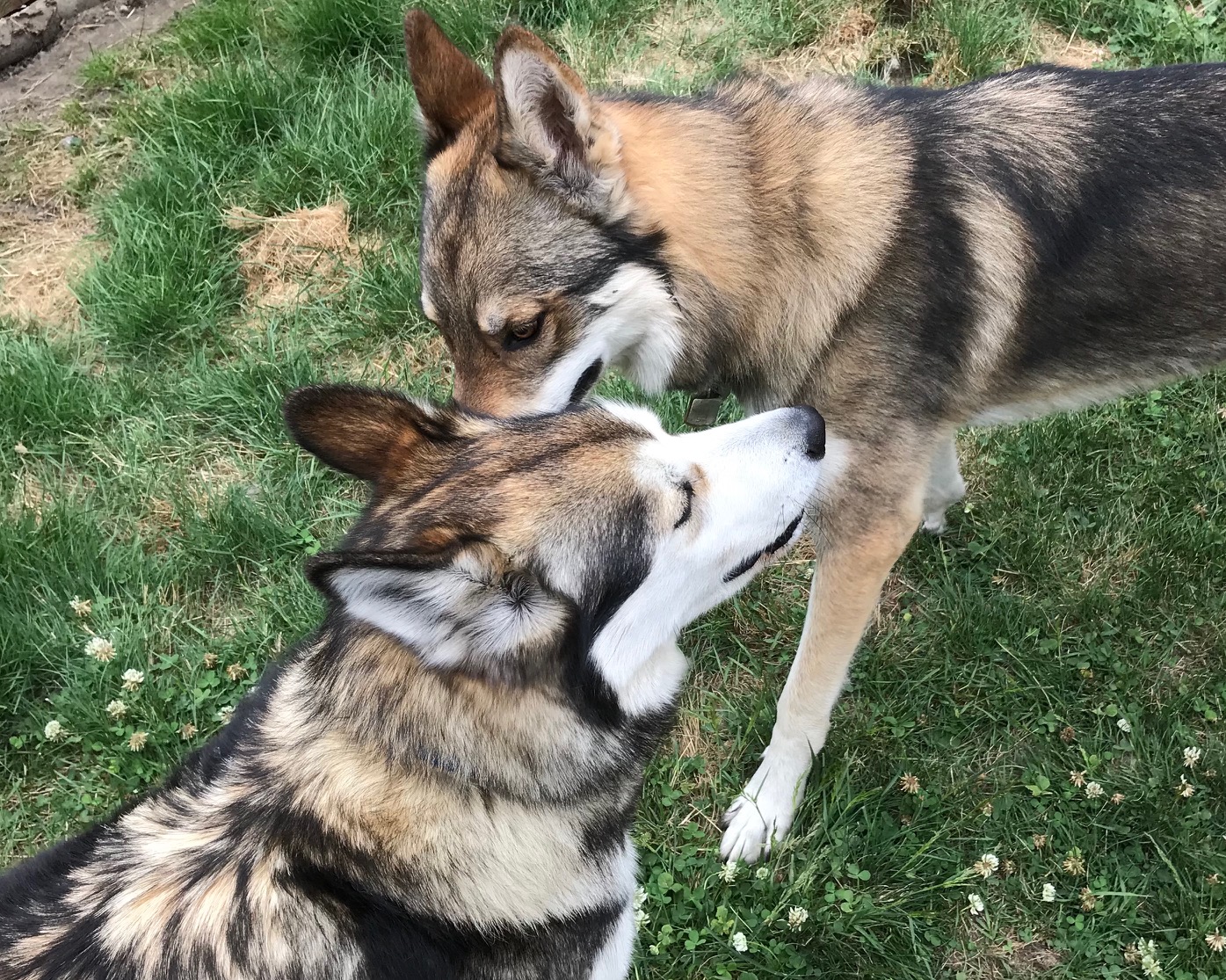 Luchta and Annie. NPS Photo
Learn more about the Tamaskan breed
. We are so grateful to his family and his breeders for their belief in outcrossing for the long term health of our bloodlines and their willingness to work with us to make this special breeding happen. We are eagerly anticipating the arrival of this litter and already looking forward to watching them grow into the next generation of incredible canine rangers.
Learn why we breed, rather than adopt or rescue dogs