First, an update on last summer's puppy – Zahnie! Zahnie was born on August 9, 2014. His mom is Sylvie and his dad is Opus, and he looks and acts like a perfect blend of both his parents. Come meet them all at the kennels and see for yourself! He was the only puppy in his litter which is unusual, but not unheard of. As is often the case with solo pups, Zahnie had to be delivered by c section because Sylvie's body was never triggered to have strong enough contractions to deliver just one pup. Our local veterinarian did an amazing job with his delivery and mom and pup were back at the kennels in no time – happy and healthy.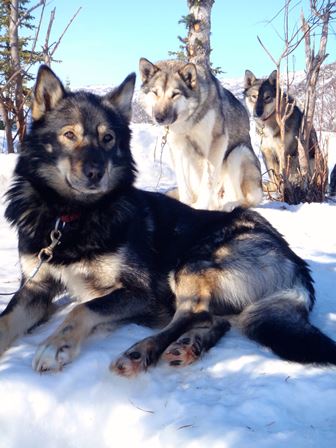 Opus Sylvie and Zahnie's family portrait
Because Zahnie was born relatively late in the summer, he was younger than most of our litters by the time our winter field season was in full swing. He wasn't old enough to pull in harness with the big dogs so he got to run alongside the teams and observe what his future as a Denali NPS sled dog holds. By the time he wrapped up his first season, Zahnie had experienced more of the park in winter than most people ever will. He ran from park headquarters to Wonder Lake, all the way to the top of McGonnagall Pass, and all the way back home at the end of March.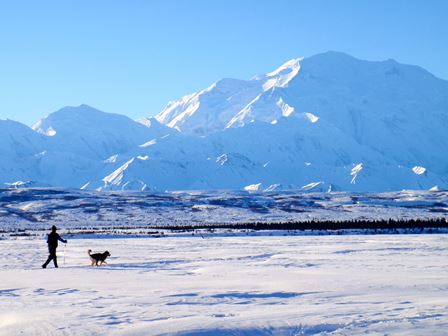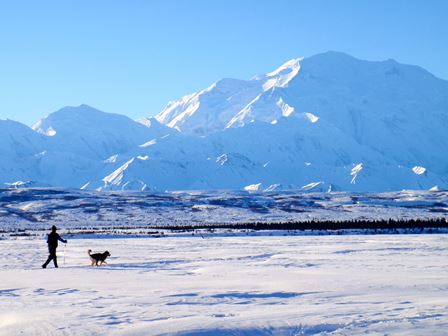 Zahnie skiing in front of Denali
He loved to try to race to the front of the team as they ran and then stop and play with the leaders (which the big dogs didn't find very amusing when they were working, but Zahnie thought it was great fun). He loved to bound through deep snow, play with his neighbors on the drop line when we got to camp, run around and wake everyone up for breakfast in the morning, and come inside the cabins for snuggle time.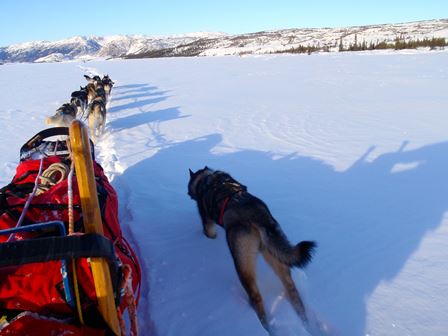 Zahnie running to the front of the team
Zahnie got plenty of practice facing the challenges he will frequently encounter as a full fledged team member next year – running through wet overflow, across slippery glare ice, through howling windstorms and deep snow. He did it all with a constant grin on his handsome little face. Now Zahnie is facing new adventures. He is right up front in the dogyard this summer and loves meeting tons of new people and getting belly rubs and ear scratches from visitors all day long. Zahnie has run in a few of our summer demonstration teams and goes as fast as he can around the track. The next challenge for Zahnie is being a big brother to EIGHT new puppies!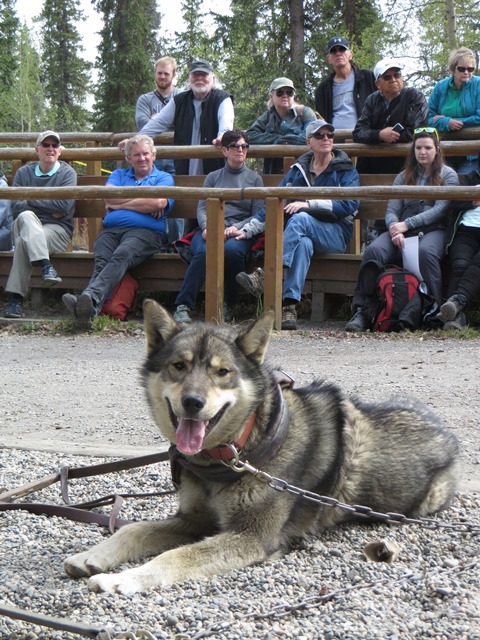 Zahnie after his first Dog Demo run
The New Arrivals 
Technically, momma Rupee is a new arrival herself. Rupee and Drachma are both sisters to Sylvie, Zahnie's mom. We got Sylvie as a puppy from a kennel in Eagle, Alaska. There are many people in Eagle who also breed and use traditional freight hauling dogs for long distance travel and transport, and we have traded pups with several kennels in the Eagle area over the years. We have loved Sylvie since the day we got her so when we heard of the opportunity to adopt her sisters, Rupee and Drachma, we jumped on it. They were with us all winter and adjusted beautifully to life in our kennel. All three girls share a love of belly rubs that they inherited from their parents. If you come to the kennels this summer you can bet that these ladies will beg for love and attention from you with their sweet eyes and smiles. 
Last fall we were very lucky to have renowned dog show judge Pat Hastings visit our kennel to do hands on training and evaluation of canine structure and conformation with us. When Pat and others saw Rupee, they advised breeding her as she has an excellent build for what we do. After running Rupee with our teams all winter we also saw that she had the necessary temperament and mental toughness to do what we do in the wilderness of Denali all winter long.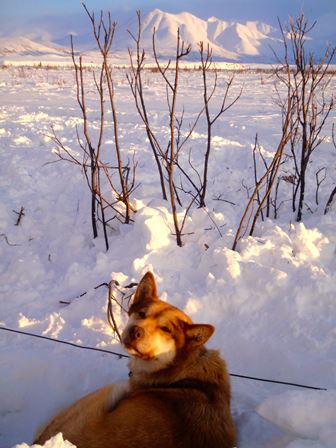 Rupee bathes in the sun after a long day on the trail
The next step was determining which male was the right match for Rupee. As Kennel Manager, I spend a good part of my days on the runners pondering the pros and cons of various breeding pairs and imagining what different litters of pups might turn out to be like. After much deliberating I felt certain that the right match for Rupee was our park dog, Lucor. Lucor is one of our steadiest leaders. He will put in trail anywhere you ask him to go, has a beautiful gait and a very sweet personality.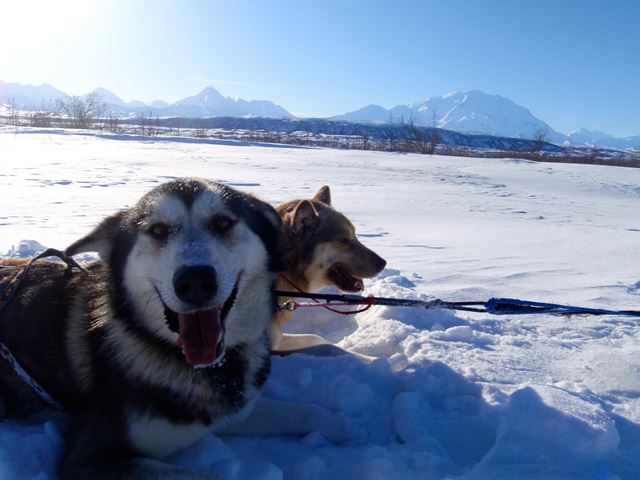 Lucor and Rupee smiling big at Wonder Lake
We bred Rupee and Lucor several times on the return trip from Wonder Lake to Headquarters this March. The spring sunshine and snow provided all the necessary romance for the breedings to take. Rupee started delivering her pups at 8:30 pm on May 21, 2015 and the last pup arrived around 1:30 am. Eight pups in total – three girls and five boys. All are little carbon copies of Lucor. Though their coloration is changing by the day, it does not appear that there are any redhead pups like their mom. This is Rupee's first litter and she is a natural mother. She is doing a great job taking care of herself and her pups which right now means she is keeping them well supplied with milk and body heat and cleaning. The pups eyes and ears are closed for the first several weeks of their lives and they can't produce their own body heat, nor can they eliminate waste without licking from mom. They definitely completely depend on her right now and all of their energy is focused on growing bigger and stronger every day. We'll keep you updated as they grow.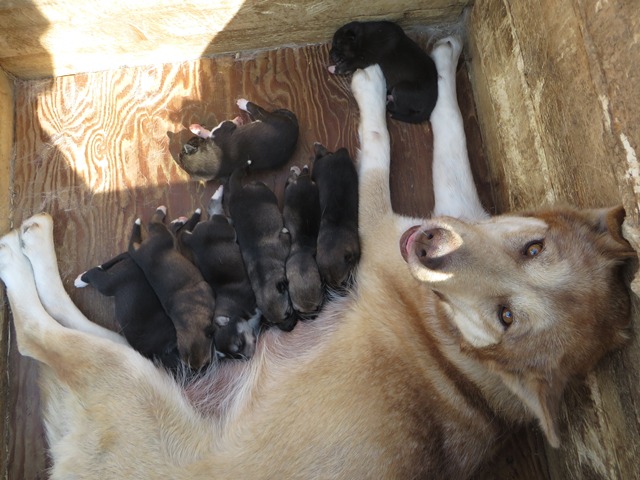 Proud mom Rupee and her pups