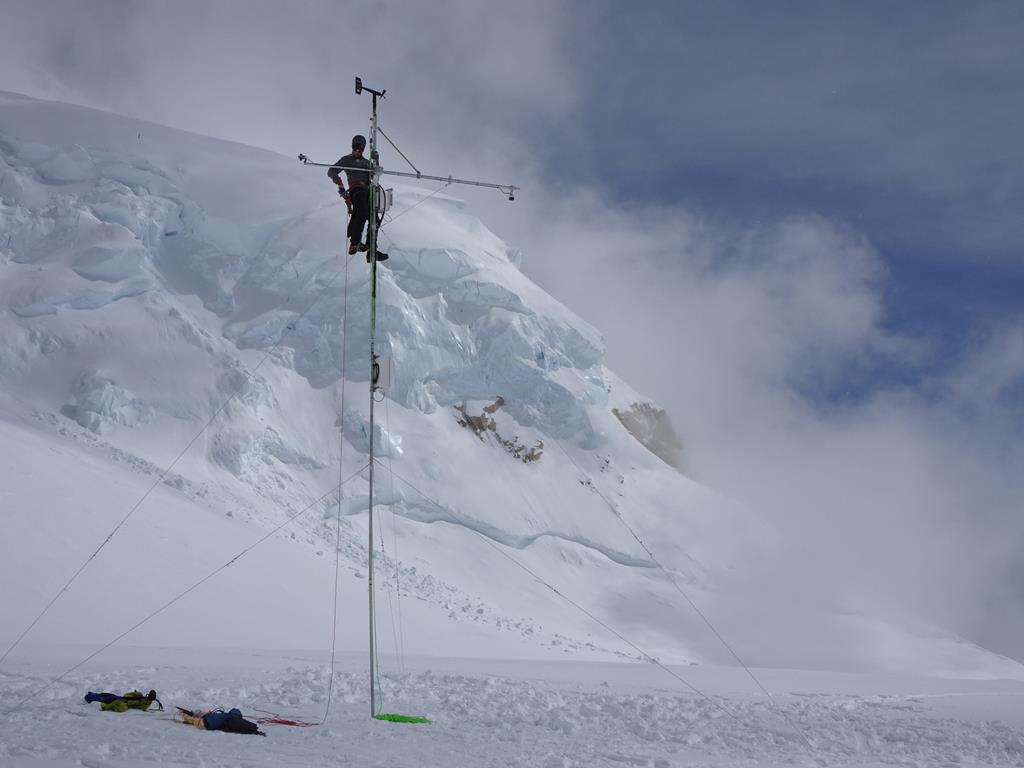 South District Ranger Tucker Chenoweth performs testing of the 14,200-foot camp weather station.  NPS Photo / Michael Loso

New Weather Stations Will Provide Accurate, Timely Weather Information to Scientists, Climbers, Forecasters, and Pilots 
Last climbing season, the National Park Service completed installation of three new weather stations on Denali's Kahiltna Glacier, close to the West Buttress climbing route. The highest station is near the 14,000-foot camp, with lower stations at Kahiltna Pass (10,200 feet) and Basecamp (7,200 feet). Each station is mounted on the glacier surface on a tall mast designed to remain operational year-round, even during several meters of potential snow accumulation. All three stations collect hourly measurements of air temperature, snow accumulation, and melt, while the 14,000-foot camp and Basecamp stations also measure wind speed/direction and incoming/reflected solar radiation. The latter two stations are also equipped with telemetry equipment that allows rangers, forecasters, and the public to view real-time measurements online*. These are now among the highest year-round weather stations in Alaska.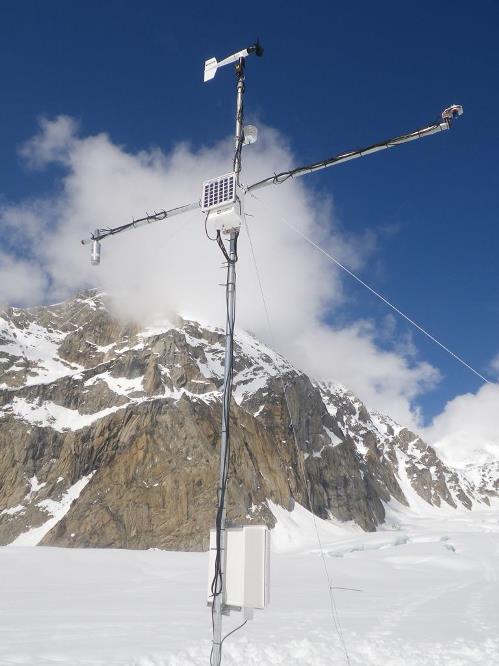 The 7K (Basecamp) weather station is ready for winter.  Photo: Dominic Winski
The new stations are a joint effort of several collaborators with overlapping goals:
From the NPS Inventory and Monitoring (I&M) Program, Geologist Michael Loso provided overall project leadership and will use the stations for ongoing glacier monitoring.
 
I&M Scientists Pam Sousanes and Ken Hill assisted with station design and programming for use in statewide climate monitoring.
 
Denali South District Ranger Tucker Chenoweth provided logistical, aviation, and safety support and will utilize the stations for real-time planning of routine and emergency search and rescue operations.
 
National Weather Service Hydrologist Crane Johnson designed and tested the telemetry equipment. The Fairbanks Weather Forecasting Office will use the data to inform forecasting efforts on Denali.
 
University of Maine Research Professor Dominic Winski shared critical insights from previous weather station installations on Mount Hunter and led a team of undergraduates in construction of the Basecamp station.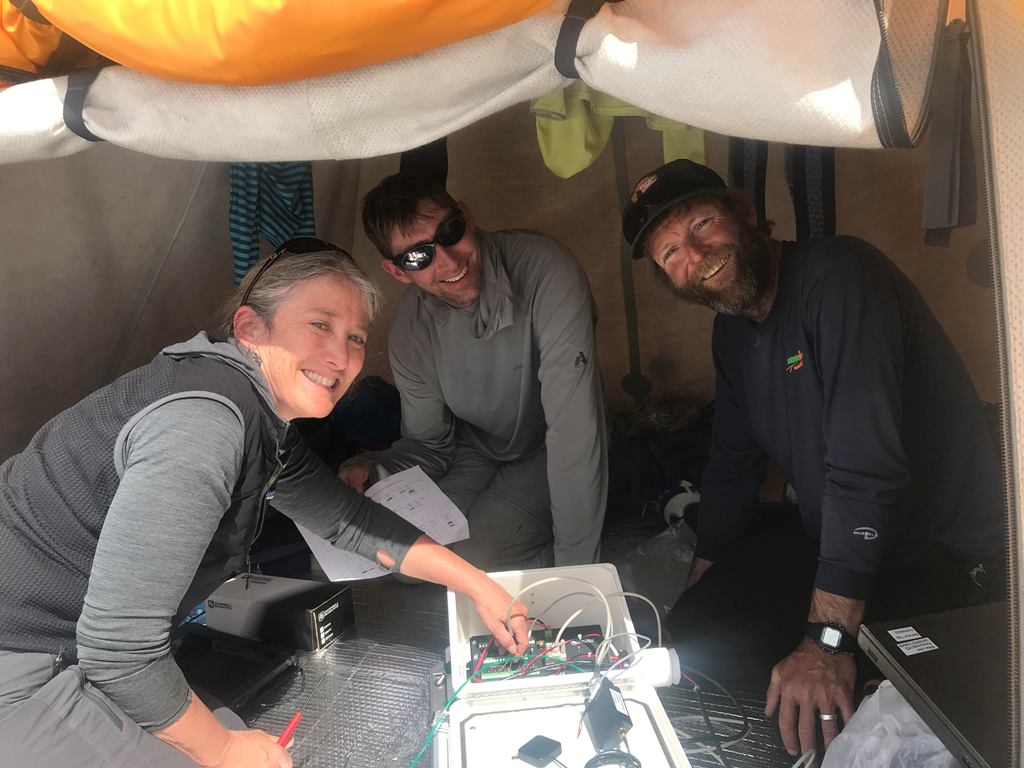 Scientists Pam Sousanes, Dom Winski, and Michael Loso programming the Basecamp weather station. NPS Photo / Tucker Chenoweth
Telemetry data from the Basecamp and 14,200-foot camp stations is published via the MesoWest website, provided by the University of Utah Department of Atmospheric Sciences.  For one-stop shopping for Denali Weather information -- including direct links to the MesoWest Weather Observations and to the National Weather Service Denali climbing forecasts (look for those to start April 29, 2019), webcams, as well as other regional Alaska forecasts, go to
MountainWeather
.  Look to the orange-red tabs at the center of the page.  The Denali Dispatches blog will provide this link daily throughout the climbing season, as well as other anecdotal observations (sky conditions, route conditions. etc.) 
ALSO COMING SOON:  Geologist Michael Loso will be interpreting and sharing the raw weather data collected from 7K and 14K stations over the past winter, as well as his observations on general glacier health...