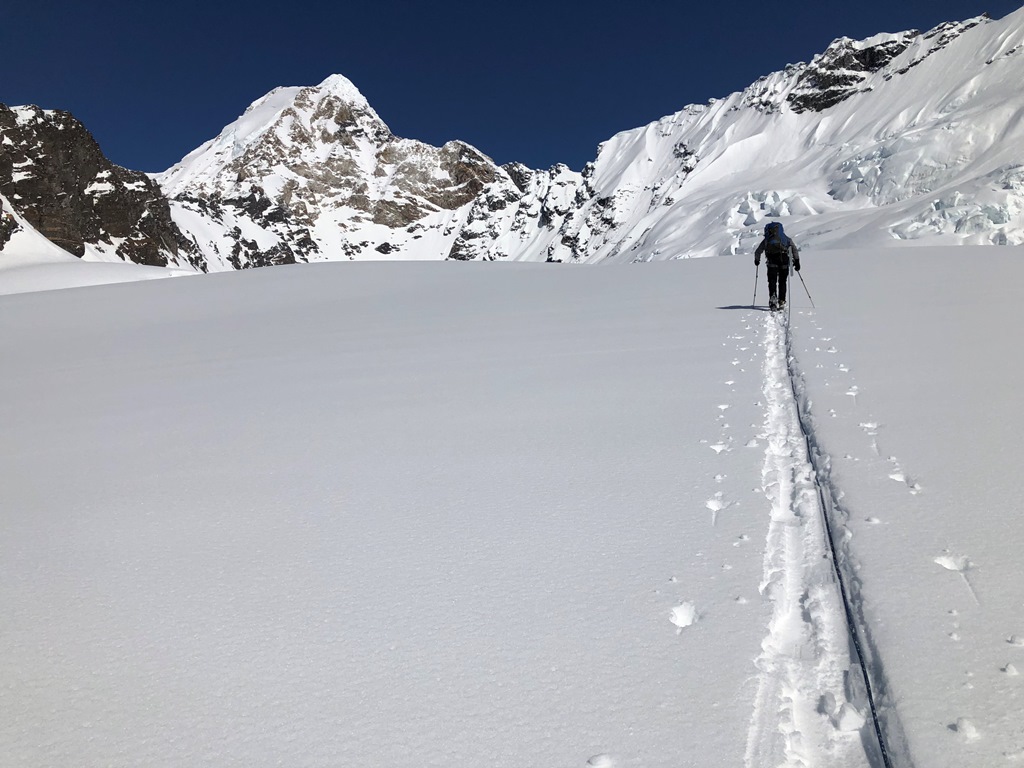 (NPS Photo / Dave Weber)

Mountaineering ranger Dave Weber, park volunteer Mike Gibbs, and I have just returned from a mountaineering patrol on the remote Dall Glacier in the western Alaska Range. Our primary objective for this patrol was an ascent of Mount Russell, one of the Alaska Range's most beautiful mountains. Our intention was an ascent of the unrepeated south ridge route, established in 2017 and which was reported to be an excellent, moderate route to this elusive summit and one destined to become a classic route of the Alaska Range.  
 
Part 2: Attempt on the South Ridge of Mount Russell
Although Mount Russell remains a seldom-attempted mountain, in nearly every season at least a few teams come to Alaska considering a visit. Most never reach the mountain due to the noted issues with localized weather endemic to the region. Nonetheless, the 2017 report from the first ascent of the south ridge created a notable stir in the climbing community, and by 2018, one party had already made an unsuccessful attempt to repeat the route.

I had attempted Mount Russell's north/northeast ridge twenty years ago this spring with the late Joe Puryear and my wife Lisa Roderick. It was late March, and after making only minimal progress up the route, we were stopped cold by a trio of prolonged storms that featured high winds, bitterly cold temperatures, and multiple meters of new snow. We had planned on a maximum of six days out and back from Talkeetna. The weather prevented pick up until day fourteen, by which time we had been on severe food and fuel rations for the last four days of the trip. Similar to how it goes in the Kichatna Spires, where extended waits to get in or out of the mountains are common, Mount Russell is a place where having a robust bag of contingency supplies is a wise idea.

The past three seasons, starting in 2016, fellow ranger Dave Weber and I had made plans to visit Mount Russell for a climbing patrol and to bring back more institutional knowledge of the mountain to our group here in Talkeetna. In each season, our efforts to even reach the mountain were unsuccessful due to poor weather. This season, our luck changed, and a strong high pressure system began settling into southcentral Alaska just prior to our April 27th scheduled departure.

For this season, we recruited a volunteer to accompany us as a third for the patrol. Ordinarily, our technical mountain patrols consist of two rangers. But Mike Gibbs, in addition to being our group's technical rigging instructor for more than ten years, is a strong and experienced alpinist as well as enjoyable company, and we knew he would be a solid asset to our team in the face of such a remote and potentially serious adventure.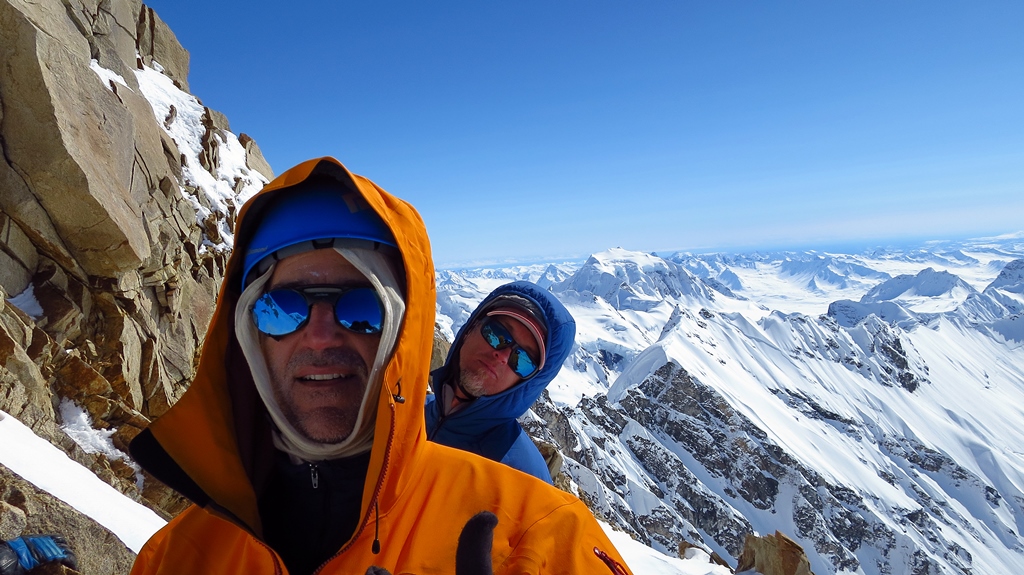 VIP Mike Gibbs and ranger Dave Weber on Mount Russell. (NPS Photo / Mark Westman)
 
On April 27th, we were landed at 5,600' on a small, north-south oriented arm of the Dall Glacier, 1 ½ miles south of Mount Russell's south face. In addition to Mount Russell, the terrain in this area offers vast and inspiring possibilities for ski touring, mountaineering, and alpinism. The Dall Glacier itself is wide, gently angled, and largely unbroken by open crevasses, offering many possible ski-wheel airplane landing sites for access. It can be assumed that very few if any of the nearby peaks in the area have ever been climbed. There are near-endless opportunities for exploration here. This is also an area that is far from the normal flight paths of the Talkeetna-based scenic flight services, so one can also expect virtually no air traffic apart from an occasional jet. It is truly remote wilderness country and visitors should be prepared to be highly self-sufficient. This area of the range is often the first place to cloud in during approaching storms, and the last to clear, so be advised that access by aircraft can be fraught with long delays.

Warm weather greeted us at our midday landing. Above us rose the face, baking in the sun. Although there were very limited signs of recent avalanche activity, and virtually no signs of recent rockfall in the area, we stifled the urge to waste no minute of the sunny weather and to start climbing immediately; instead, we decided to spend this perfect day carrying our rack and some equipment up glacier to stash at the base, reconnoiter the route, and then plan for a pre-dawn start so as to ascend the lower face during the coldest hours of the early morning.

The approach from our landing site was straightforward glacier travel which steadily gains about 1000 vertical feet in 1 ½ miles. A solitary crevasse midway, easily bypassed to the right, presented the only obstacle. We reached the base in just over one hour. The uncomfortably warm travel conditions and soft snow on this initial adventure to the foot of the route confirmed the overall wisdom of our plan. The face remained silent, also, which provided positive evidence of local stability in the snowpack.

We arose at 4:00 AM the next day and after preparing hot water and breakfast, struck out for the base of the route. Soon we were reunited with our cache. We exchanged our skis and poles for crampons and ice tools, and began climbing. We passed a large bergschrund on the left side by an easy traversing bridge, and then continued step kicking in friendly conditions, straight upwards on 30-35 degree snow for several hundred vertical feet in the central drainage of the face. The cold air and frozen snow kept the face nice and quiet, with no rockfall or snow sloughs. This portion of the climb might protect with pickets, but the only rock alongside most of this snowfield is the black shale which offers, at best, minimal to poor protection.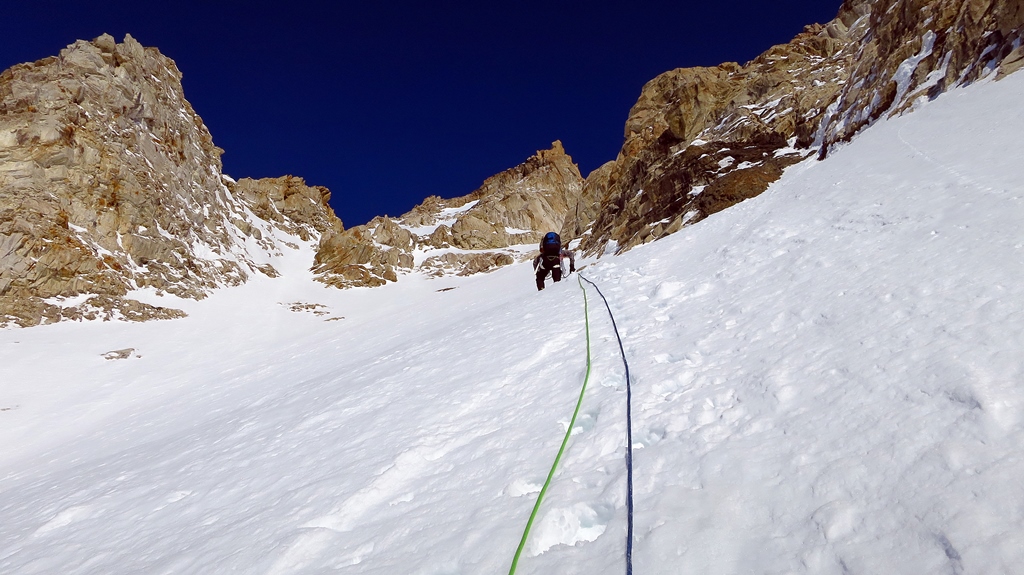 (NPS Photo / Mark Westman)

We were routefinding on this very complex face on the basis of a photo from the 2017 report with a general route line drawn upon it, as well as some aerial photos we had taken on our flight in. There are numerous options depending on how difficult of a line one is seeking.  After about 800 feet of step kicking, the rock on our left changed to granite and we broke through this band on our left by a short, 45 degree snow ramp which led to a 200 meter snow bowl angled at about 35-40 degrees. At the bottom of this bowl, on the left, we spotted what would be the only fixed rappel anchor that we would find from the 2017 ascent. At the top of the bowl, a short easy mixed step gained yet another snow band, this one about 100 meters tall. The snow up to this point had been very good for step kicking, but here it changed to a more faceted pack. As such, pickets in this section were not as good for protection as below. Rock protection is available along the edges, but would require a more devious line of ascent.

Atop this snowfield, we aimed for a prominent tongue of snow extending up into the next rock band. The granite on this band is initially flanked by an intrusion of black shale. The snow tongue led to a 12 meter step of moderate drytooling on loose rock which led up into a left trending ramp system. This ramp system, about 100 meters long, in turn led to a convenient exit onto the left hand ridge which borders the face. We later learned that we had taken a variation to the original route, which gained the ridge a few hundred feet lower. This variation and the original line are annotated on one of the accompanying photos with this report.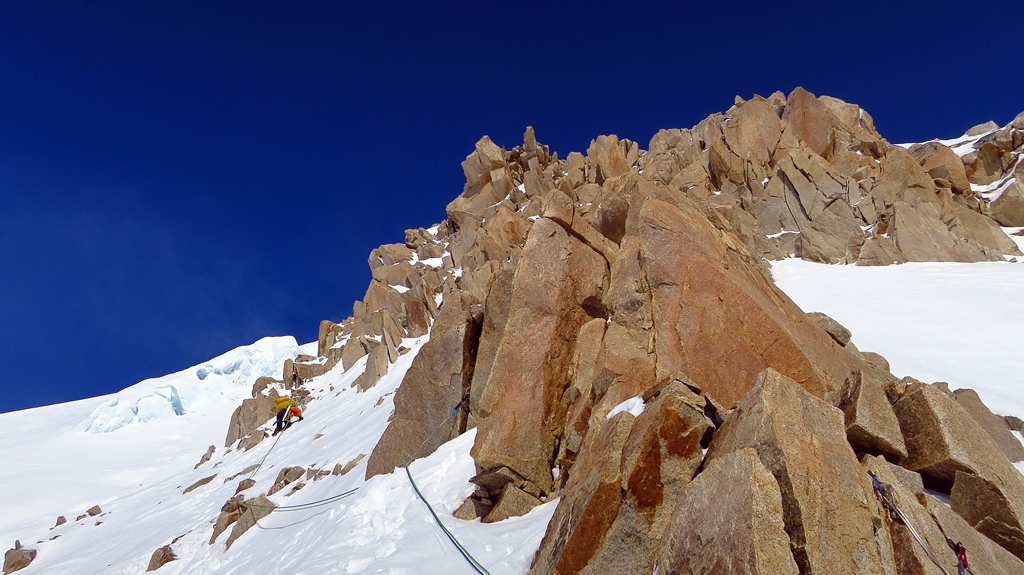 (NPS Photo / Mark Westman)

Above here, aesthetic ridge climbing on snow with occasional short steps of rock climbing on shattered but solid granite led upwards for hundreds of feet in a sensational position. Eventually we reached a taller and steeper rock step with many large protruding horns and which blocked the entire ridge. The first ascent party climbed directly through this appealing rock band. At this point, our sunny weather was continuing, but the wind was noticeably rising, with banners of snow streaming off the top of the step above. For expediency in the face of the weather, we opted to traverse out left onto the hanging glacier and bypass this rock step by way of an easy snow couloir which led up and then right to reach the top of the rock.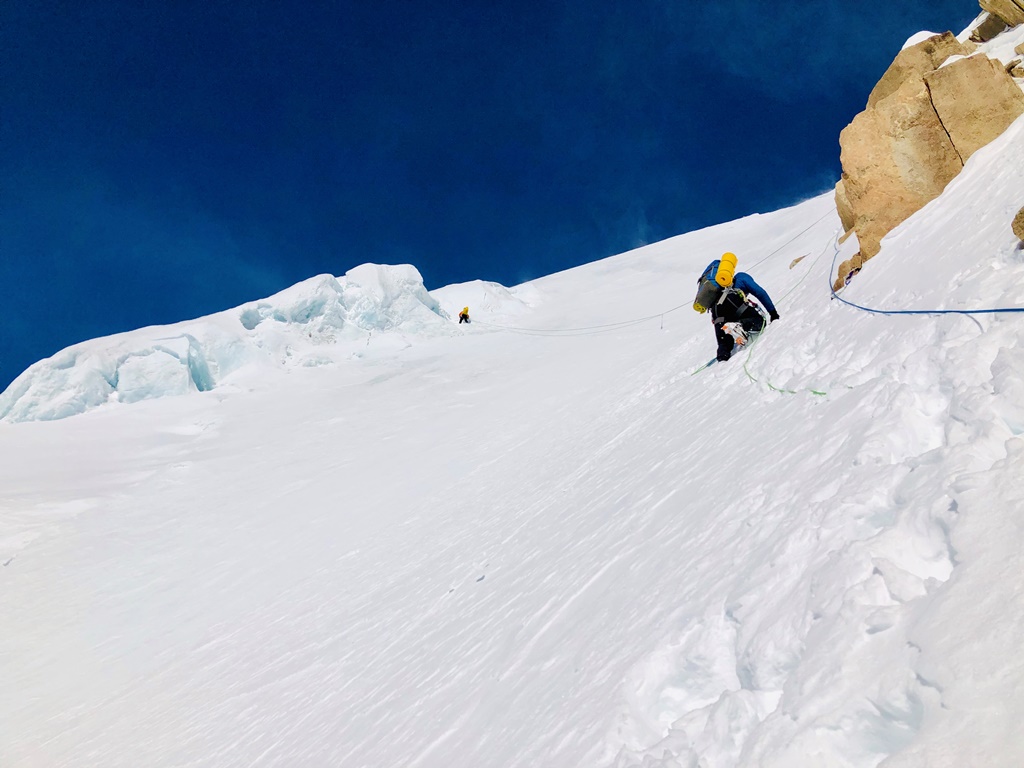 (NPS Photo / Dave Weber)

The top of the rock step was not level as we had hoped, and we were now in search of a bivouac. Up to this point, we had seen no place on the route where setting up a tent would not require significant chopping. The wind here had become quite strong with much blowing snow. Above us, the apex of the face was in view only perhaps 500 feet higher. We knew from photos that a flat bivouac site would be found up there, but the large snow banners streaming from the ridgetop foretold of much stronger winds at that location.  We decided to search for a chopped bivi site nearby to minimize our exposure to the wind at the expense of having to spend more time leveling a tent platform. After a long search, finding only unappealing hard ice layers just beneath the snow surface, we noticed a large crevasse out to our left on the hanging glacier which offered a bench on the downhill side that appeared quite level. We belayed down to and across the crevasse and after some inspection, determined it safe and established our camp with minimal digging. Luckily, the wind, which had been gusting to about 35 mph, unexpectedly dropped away and became calm. We enjoyed a beautiful evening and dinner with inspiring views of the nearby Kichatna Spires and Mount Dall to the southwest, and far to the south, the edge of Cook Inlet and the Chugach Mountains. Later, as it became dark, we could see the glow from the lights of Anchorage far in the distance. We went to sleep that night with a plan to leave most of our gear cached here and to head for the summit the next day.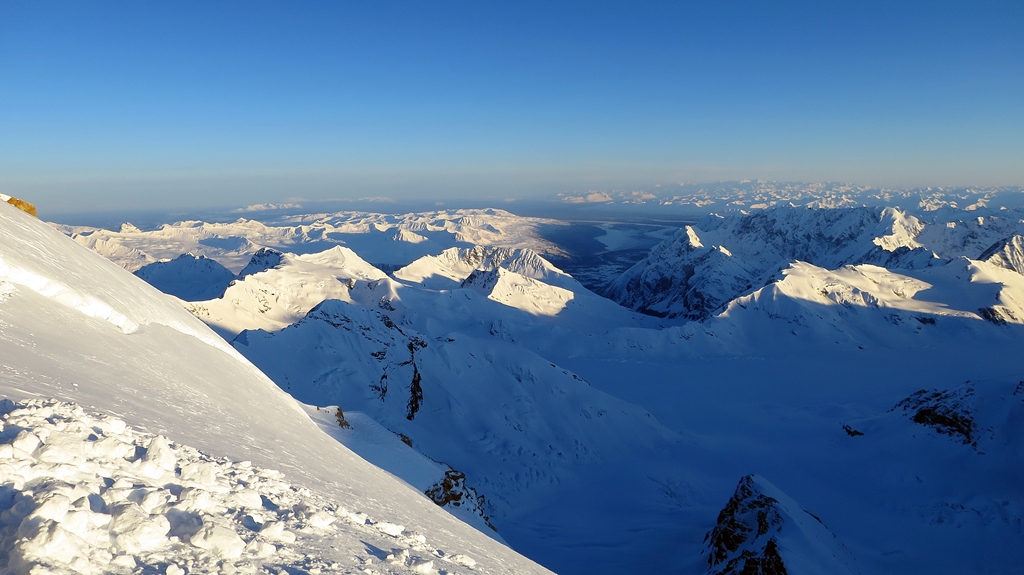 (NPS Photo / Mark Westman)

Overnight, the wind picked up again, and in the morning we looked out with disappointment to a rapidly changing environment. Wind wave clouds were building over the ridges and wispy vapor trails were streaming into the whole area. Above us, we gazed straight up into the bottom of a lenticular cloud cap over our mountain, racing over the ridge only hundreds of feet higher. An audible roar could be heard. We opted to wait a few hours to see if conditions changed, but the situation only worsened, and by 10 AM the decision was being made for us: this was not a summit day.

We had some concerns about the complexity of the descent that awaited us below- some deviations from the climbing route would likely be needed, along with some mandatory downclimbing, and we had only seen one fixed rappel anchor. The terrain above us appeared from our photos to likewise be complex and time consuming for descent. Collectively, we determined that going to the summit and then descending all the way to basecamp- over 6000 vertical feet- in a single day would be overly ambitious. Hence, we decided that waiting for another day to pass in hopes of better weather was not a practical plan. We needed to return to Talkeetna within a few days, and a much stronger storm was forecasted to arrive only 48 hours out. Today needed to be up or down, and up was not an option.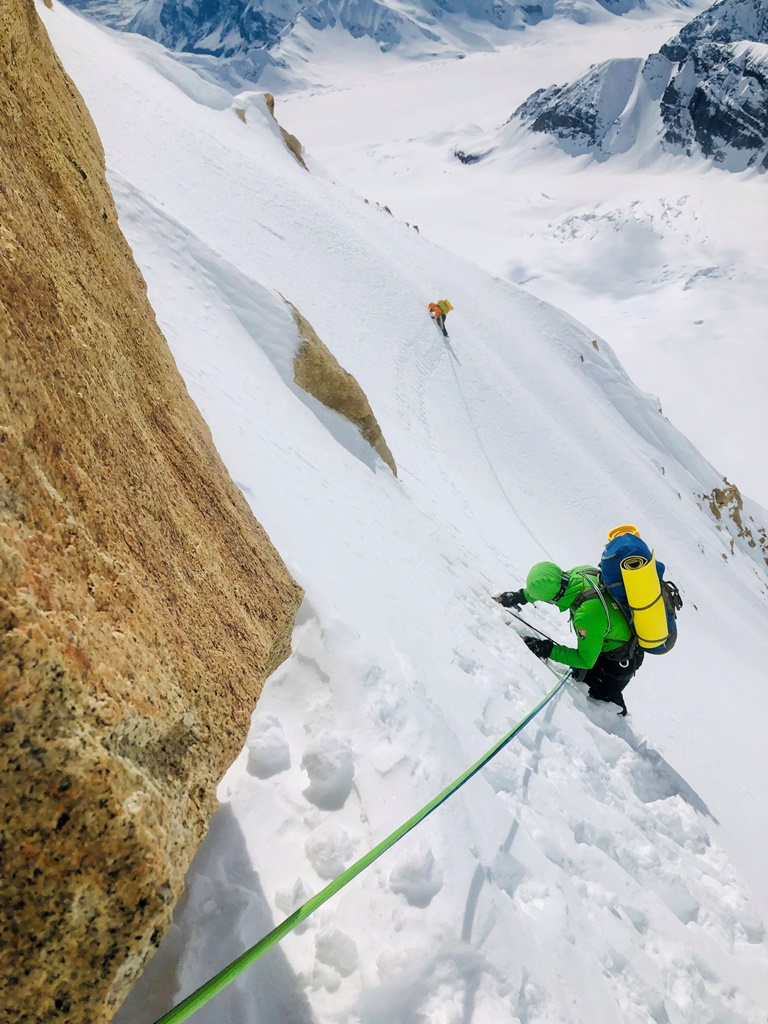 (NPS Photo / Dave Weber)

Timing is everything in the Alaska Range, and we were just a day too late. We exited the tent to begin packing to descend; at the same moment, the winds increased dramatically. Large plates of sastrugi dislodged from the mountainside and launched airborne for hundreds of feet uphill amid winds that we later estimated to be sustained at forty to fifty miles per hour. We donned goggles and wind layers and endured unceasing torrents of blowing snow in a classically pitched battle with Alaska Range weather. In full conditions, we traversed back over to the ridge, found some ice that we had spied the day before, set v-thread anchors, and began our descent. These steps did not happen as quickly as that sentence would imply, or as quickly as we would have preferred!

Within only two or three rappels, we found ourselves on the lee side of the ridge and thankfully more sheltered from the wind. As we continued down, the ever-present roar of the wind persisted above us, and the cloud ceiling followed us downward. Mike masterfully engineered our rappels. We deviated from the line of ascent in several places, downclimbed wherever possible, and made the most of each anchor by leaving as little gear as necessary while making near full rope length rappels. All in all, it went better than we had anticipated. Nevertheless, the descent took nearly as long as the ascent and we were impressed overall with the scale and seriousness of the route given the otherwise moderate technical difficulties. We reached our skis and other cached gear at the foot of the mountain just as the overcast skies gave way to steady snowfall. Happy to be off of the face, we skied away and returned to the comforts of our well-stocked basecamp. We rehydrated, cooked, and recounted our experience late into the night, already dreaming of an opportunity to return again someday.
Summary
The south ridge of Mount Russell is undeniably a classic climbing line in an extremely aesthetic corner of the Alaska Range. While the technical difficulties are not exceptional, the terrain is complex and committing. Getting caught high on this route in a storm could be a serious proposition, given that much of the route is exposed to the wind and the descent is time consuming. This is not a beginner route, but well-seasoned alpinists with a solid foundation of arctic mountaineering skills will find it an aesthetic and entertaining challenge. As with most long alpine routes, some objective hazards are present, but these can be well managed with proper timing and planning, patience, and a healthy respect for the area's notorious weather. Allow as much time as your schedule will permit when planning a trip to this area, and even if attempting to squeeze in the ascent in the span of a single weather window, come prepared to get weathered in. Finally, the route's low elevation, southern exposure, and terrain features make it a route for early season only. Aspirant teams would be advised to have concluded their expedition by early to mid May, with April being the ideal month. All of this, of course, is dependent upon the quality and depth of the winter snowpack in addition to the temperature and weather patterns of the spring season in question.

The north/northeast ridge of Russell is, when passable, a considerably easier and less serious undertaking, involving just 3,500 feet of vertical gain and no rock climbing. By contrast, the south ridge involves 6000 feet of vertical gain, considerable mixed terrain in the steep lower face, and extended ridge climbing above, involving cornice traverses, ice aretes, and a significantly increasing level of commitment as one goes higher.

Regardless of the route you might choose, a visit to Mount Russell and the surrounding area is guaranteed to be a grand adventure in some of the finest alpine wilderness landscapes of Denali National Park and Preserve.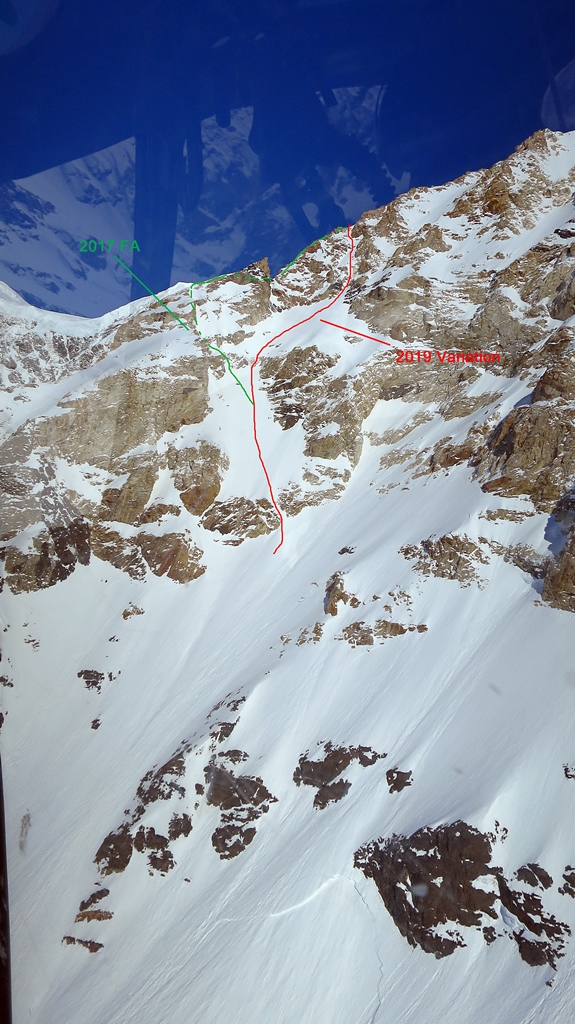 (NPS Photo / Mark Westman)