Mountaineering ranger Dave Weber, park volunteer Mike Gibbs, and I have just returned from a mountaineering patrol on the remote Dall Glacier in the western Alaska Range. Our primary objective for this patrol was an ascent of Mount Russell, one of the Alaska Range's most beautiful mountains. Our intention was an ascent of the unrepeated south ridge route, established in 2017 and which was reported to be an excellent, moderate route to this elusive summit and one destined to become a classic route of the Alaska Range.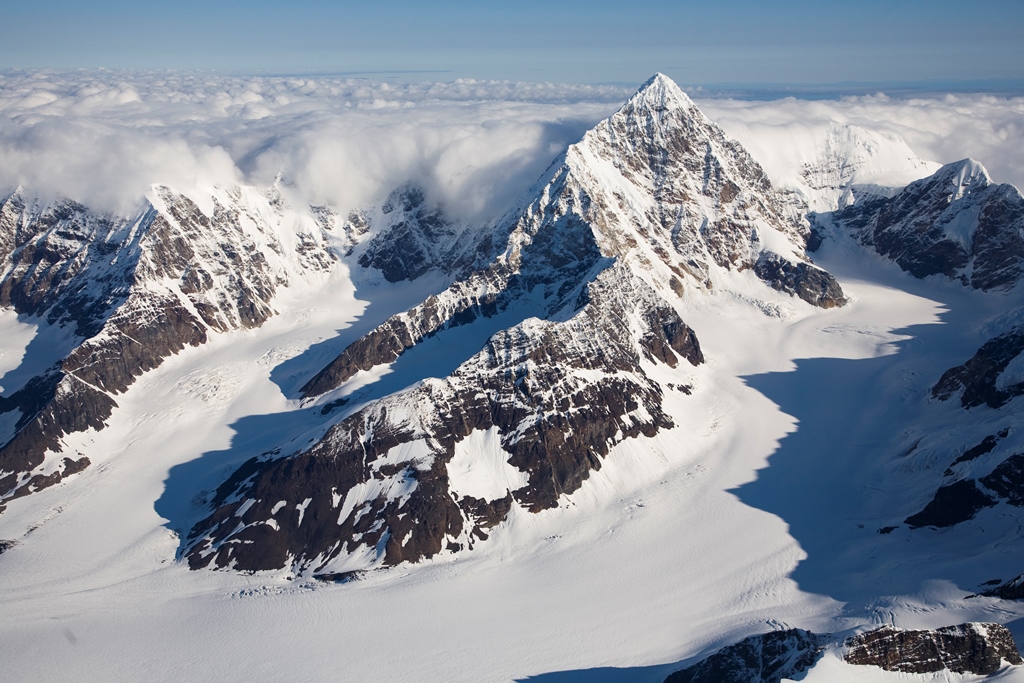 Mount Russell from the Southeast (NPS Photo - Jeff Pflueger)
 
Part 1: Background and History on Mount Russell

Mount Russell is the prominent, pyramid shaped mountain which stands alone on the skyline as viewed from Talkeetna, far to the left of Mount Foraker, and is located roughly halfway between Foraker and the Kichatna Spires. Mount Russell has only about seven or eight known ascents, by only four different routes.

The mountain's first ascent was made by a German team in 1962. This group began climbing from the Chedotlothna Glacier to the northwest, using the west face to gain the upper south ridge. The Chedotlothna Glacier has changed in the years since and is no longer a viable ski plane landing site, therefore to repeat this exact line of ascent would now require a long overland approach from the tundra north of the Alaska Range. 

In 1972, the north/northeast ridge route was established, beginning from a landing site at 8,200' on the Yentna Glacier. This route has long been considered the "normal" route for Mount Russell, and is the only route to date which has been repeated, although it has only been repeated perhaps three or four times. In recent years, the steep and heavily glaciated ridge has become very broken and changed. Large crevasses and overhanging, impassable walls of ice and rime have thwarted the efforts of several teams, including one NPS ranger patrol several years ago.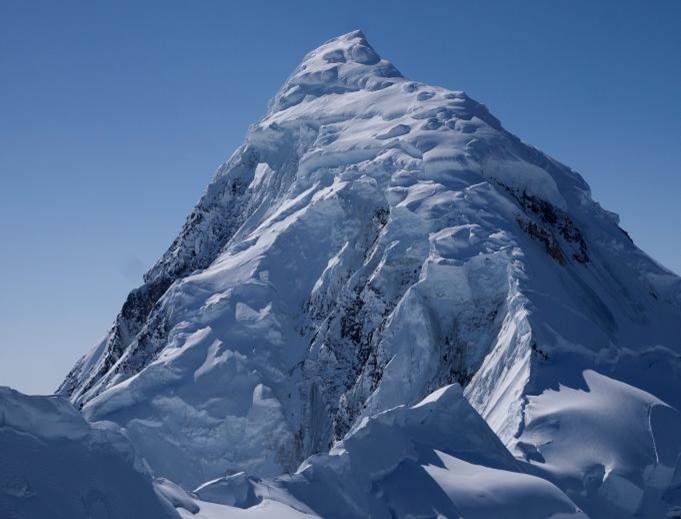 Rocky pyramid-shaped North-Northeast Ridge of Mount Russell (NPS Photo)


In 1989, Charlie Townsend and Dave Auble established a route on the 5000 foot tall east face, taking a direct and technical line up the face which leads straight to the summit. This route was a serious affair due to numerous sections of the treacherously loose black shale rock for which Mount Russell is known.  The pair was hit by a ferocious storm upon reaching the summit. After enduring a five day summit bivouac in extreme winds- using only bivouac sacks for shelter- the pair each deployed parapentes and took flight from the summit ridge, landing at their Dall Glacier basecamp just 20 minutes later.

Finally, in 2017, Freddie Wilkinson and Dana Drummond began climbing the mountain from a different part of the Dall Glacier at a point due south of the mountain. The mountain's imposing south face rises for over 4000 feet off of a small arm of the Dall Glacier. This steep wishbone-shaped face is bordered by pair of converging ridges which meet at just below 10,000 feet. Both ridges and the face in between are largely composed of a band of striking, golden granite which is a true anomaly for this part of the Alaska Range. Most of Mount Russell and the surrounding mountains in this region are composed of rotten and crumbly black shale which is wholly unappealing from a technical climbing perspective. From the apex of this face, the route continues as a sharp and occasionally corniced ice arête. Initially level, the ridge eventually begins rising at a point where the 1962 German team intersected with it after their ascent of the lower west face. From here, the ridge broadens, steepens modestly, and becomes studded with otherworldly rime ice formations set amongst steep, complex glaciated terrain. Wilkinson and Drummond returned with an ecstatic report detailing the route's exceedingly high quality and asserting that the route- especially owing to the changing conditions of the north/northeast ridge in recent years- deserves to become a popular Alaska Range classic and perhaps the new "normal" route of ascent on the mountain.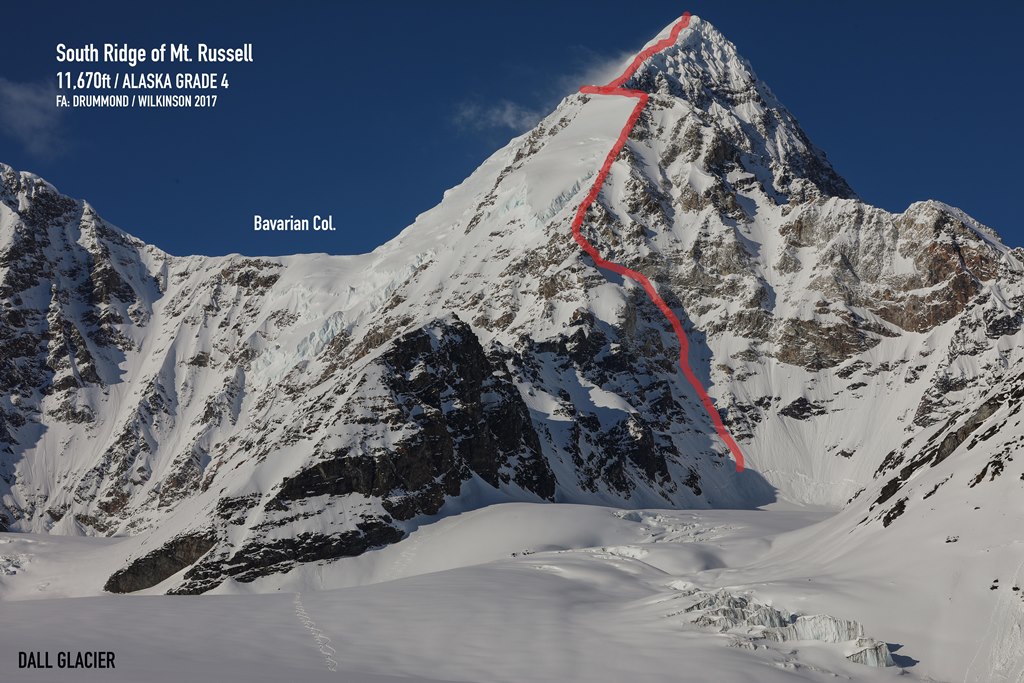 South Ridge of Mount Russell (Image: Freddie Wilkinson)


Mount Russell, although only 11,670' in elevation, is in a region of the Alaska Range that is known for atrocious weather and much stronger winds than one might expect for such moderate elevations. It is in a relatively low point of the range, and as one looks to the southeast from its flanks, there is nothing but lowland plains separating it from Cook Inlet 100 miles away, with no mountainous terrain to impede incoming storm winds originating from this direction. Russell is also a steep sided, massive peak with a relief of 5000'-7000' on each of its three major faces (west, east and south), and it stands well above the surrounding mountains. The mountain's upper flanks, as well as the summits of nearby peaks, are coated with fantastic rime ice formations reminiscent of some the peaks seen in Chilean and Argentine Patagonia and Tierra del Fuego, a testimony to its direct exposure to the strong, moist winds coming off of the North Pacific.


Stay tuned for the next installment, including observations and photos from the 2019 ranger patrol.