Someday an animal will choose you. It might not be convenient, but he/she will choose you nonetheless. And your life will never be the same.
             ~anonymous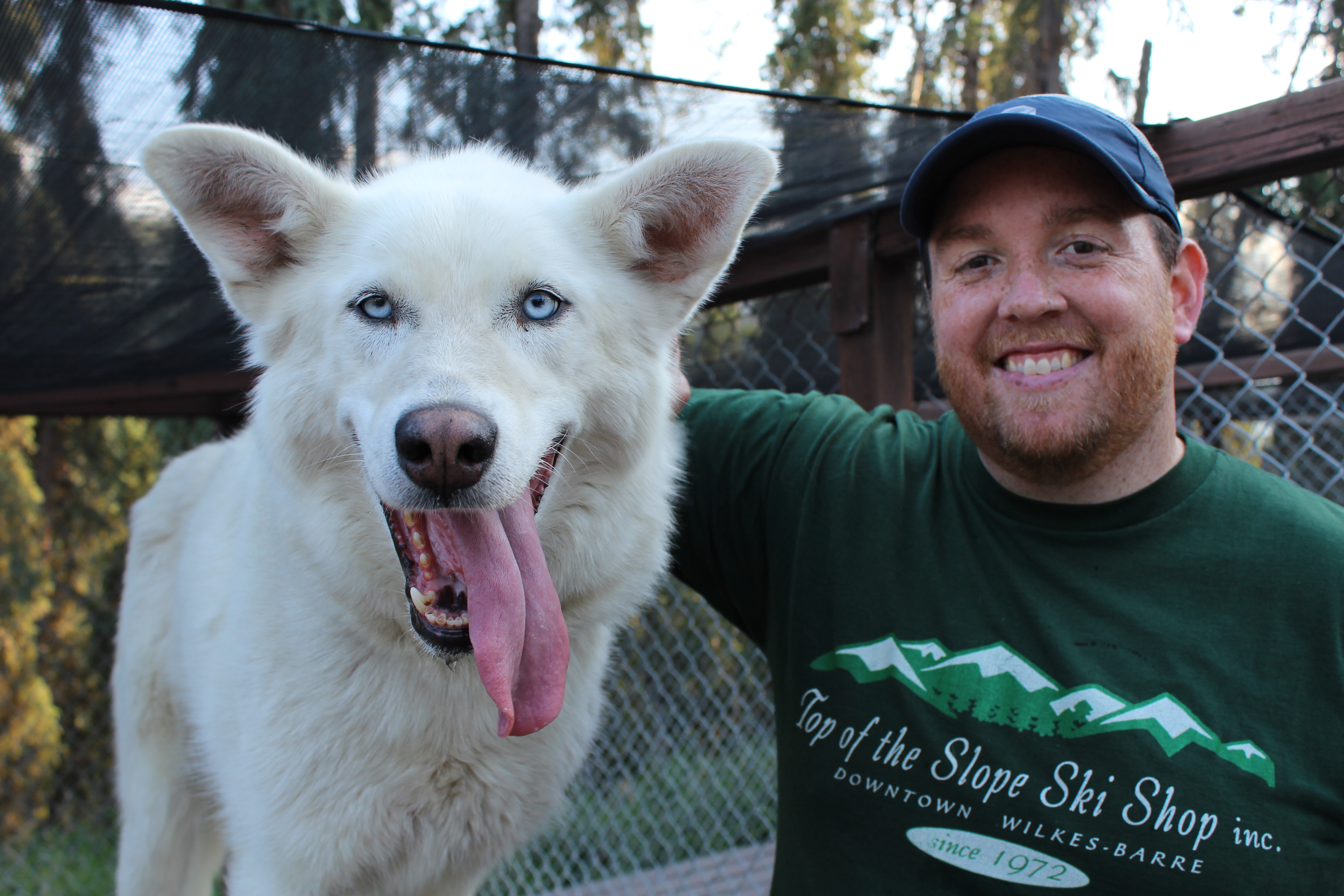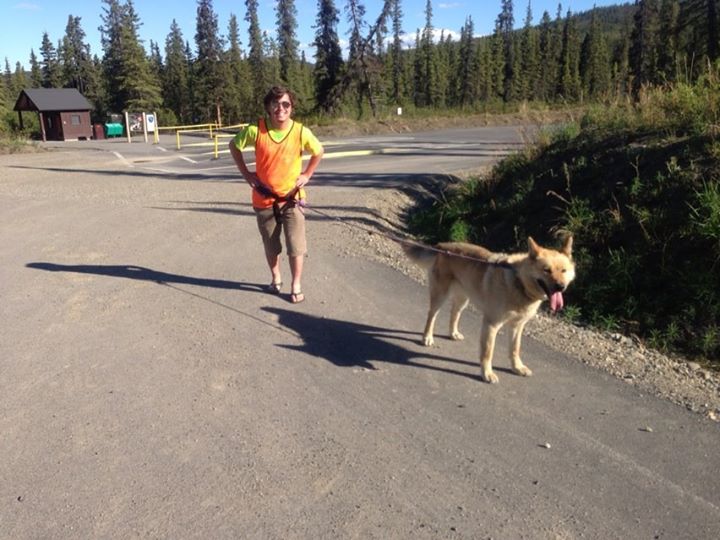 Cassin and Patrick. (Photo Credit/Patrick Burns)                     Nuna and Max. (Photo Credit/Max Bates)
It is difficult to say what first brings Denali local employees into the Kennels, to sign the paperwork as a volunteer dog walker and commit their summer to a sled dog. Perhaps it is the "walkers wanted" posters decorated with the cutest sled dog photos that are scattered throughout Park housing designed to attract and allure. Sometimes they are just missing their dogs back at home or looking for a committed exercise partner. Maybe they are hiking one of the trails and happen to wander through. Maybe it is the chorus of howling that pierces the early summer twilight, or the dinner time hungry barking that draws in the curious passerby.  It may even be instinctual; a rekindled yearning to connect with an animal counterpart the human depended on for companionship and survival many years ago. Regardless, at some point many summer seasonal workers will wander their way down to the Kennels, whether intentionally, or pulled by some obscure force.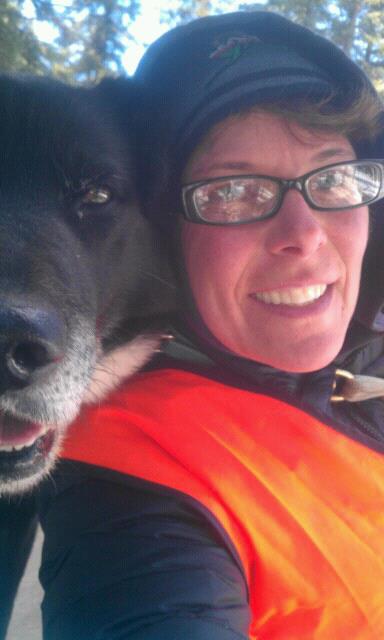 Gaiter and Carol. (Photo Credit/Carol Adam)
After verbally expressing interest in becoming a walker we will usually ask the individual to take a look around the Kennels and start to meet some of the dogs. Sometimes the bond that dog walkers develop with their chosen sled dog will start with a glance, an accelerated tail wag, smooch on the cheek or a paw that reaches out unexpectedly and rests on a shoulder. As Kennels staff we do our best to pair each walker with a compatible dog both in personality and desire to either run like the wind or spend their evening leisurely strolling up the park road. But sometimes, the dog chooses.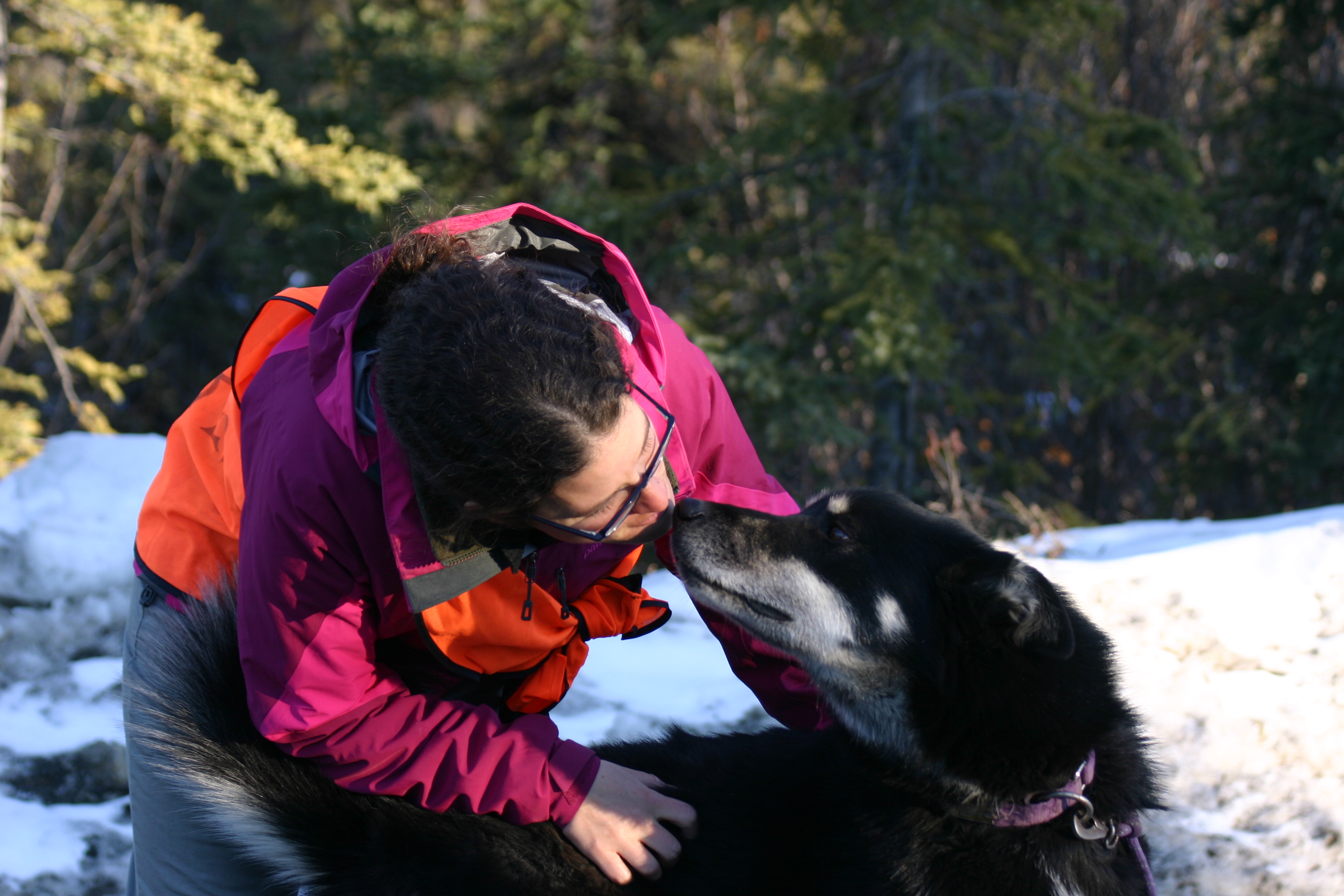 Pyro and Alyssa. (Photo Credit/Mary Ann Dowd-Sussman)
The unique bond that ties canine ranger to volunteer walker is intimate and happens quickly. Physical activity, running, walking and pulling is what these dogs eat, sleep, breathe and live to do. The one that provides that opportunity is going to be favored and loved beyond belief. After a few outings, the dog will begin to recognize the footfall of their walker coming down the path, before hey are in sight. Many of today's dog walkers have given endearing "pet names" of affection to the Denali dogs, several of which have stuck. To name a few: Lavabear, NunaTuna, AnnieBananie, Cache Money, Carpelonais, Cassin Bean, Spurtacus, Tater-Tots and let's not forget, Princess Aurora Sparklepants. 
 The dog walking program started in the early 80's with staff being permitted to take out selected dogs by the Kennels manager. The next manager, Gary Koy, formalized this into the "Adopt a Dog for the Summer" program in 1988. The major changes were assigning a dog to an individual walker, establishing policies that included dog walking hours, rules of conduct, check in and check out procedures and opening the opportunity to concession employees.
 "This lead to the development of a bond between the dog and walker that proved to be a very beneficial stress reliever for both parties," Koy said when asked why he formalized the program. 

This bond is so strong it often extends throughout the dog's federal career with the Park Service, even if the walker has left Alaska. Many dogs have a waiting list that includes several of their volunteer dog walkers throughout the years that are waiting until their Canine Ranger turns nine and is ready to be adopted.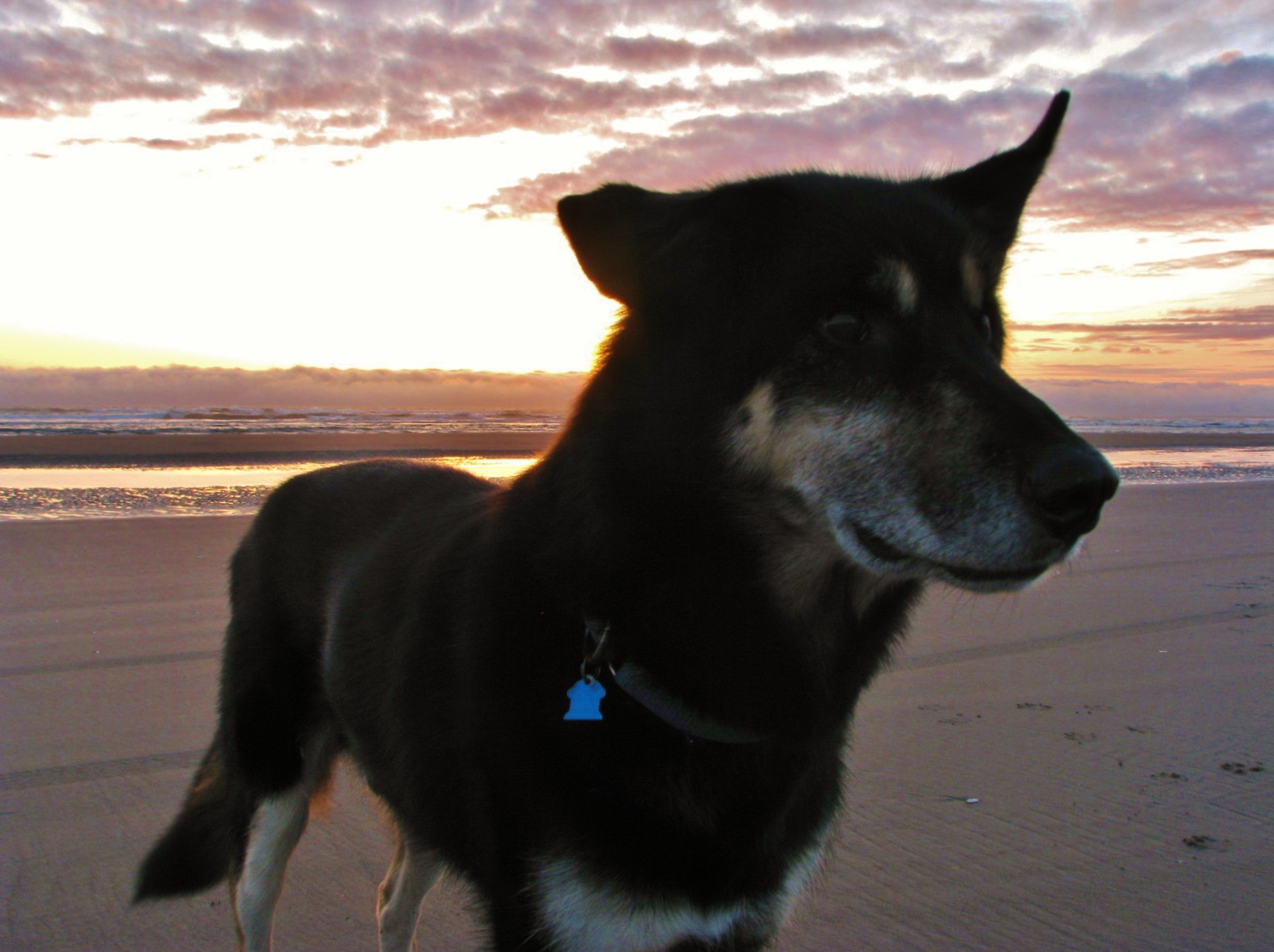 "Tonzo the Cool" in retirement. (Photo Credit/Larry Montague)
This poem was written by Larry Montague, walker of Tonzona in the summer of 2012, and now proud owner. 

Tonzo The Cool
When I walk into the yard,
They're all on the tops of their houses.
A raven barks overhead like,
"Good looks on the kibble—
Can I join your crew?"
Tuya poises next to a studded spruce pyramid—
His nose to the evening sun,
His giant paws draped over the edge of his roof
Like dripping globs of white paint,
Paint,
Paint that paints a clear picture of Muddy
With her snowy beard that never thawed
After that bitter cold night in February
When she slept so
Peacefully.
My eyes are drawn to sweet Sylvie,
Fostered sister of the Bumblebees,
Who requests whatever I have—
As long as it's right behind her ear.
Then to Lava,
That fiery individual pacing around his pen,
And daring another dog to get walked
Before him.
And to Fin—
His partly cloudy eyes and scorching
Everything else
Command the utmost sympathy
For his brothers out on the tundra.
The colors of the wild cling to Chulitna,
Coho, Koven and Kavik,
And all the rest.
Each one is like a chess piece on his or her square,
With purpose and prowess.
Every one of these whisks of winter has their superlative.
But none are as fluid as you,
Tonzona of the Rivers Litter,
With your solid black brawn dipped halfway in cream
Then roasted,
Then drank.
And those brush-tip eyebrows the color of sandalwood.
You are the inspiration behind the greatest works of art;
The force that draws a creature
Into a blank and endless world.
When I grab a leash off the wall,
The dogs start to riot.
They form a chorus that pelts the forest
With Vitamin Glee.
The magpies and red squirrels jet.
Everything is loose.
Every tether is tight. Except for yours, Tonzo.
I peer through the madness and see you shining
Through a diamond-link fence,
Steeped in a faith so deep
That waiting
Only makes you richer.
How the brown sediment in your baby eyes settled—
On this ninth twirl of Earth
—To that unimpressionable level of concentration,
I can only search for in my body's soil.
I unlatch the gate and slide into your pen.
You start to bubble.
As I careen in for a kiss,
Drops of drool hit me where my conscience
Seeks no shelter from the much-needed rain.
First, a penetrating warmth.
Then,  slow panting.
Your tail sways like a baton beating time.
Overhead—the wing-beat of the raven
Then no sound, until
Click.
We barrel through the tunnel of upbeat barks
As teeth and tongues flash at us.
You throw a couple bellowed grunts
To the misguided youth,
As you move ten-below cool
With a frozen smile.
We get beyond their sight
And the kennels erupt
With frantic "booOOOOs!"
As we walk,
I crunch the gravel
While you play the shaker in our traveling band.
Your ears dribble the air;
Your tongue lathers space before you glide through it.
Once—and just once—
The leash becomes tangled between your legs.
You dance out of it like the slickest Double Dutch player,
In stride,
Still sniffing the wafted wonders of the world.
I love that we're tied together on this road,
You and I.
I love watching you splash through the water on hot days
Like today,
And when you stop and look back at me
If trucks roar past us.
I love how you drop down in the ditch
Then rise, drenched in jewels, to skirt the slope.
You got rhythm, pal!
You make the forgotten shoulder shine.
Just before we round the last turn for home,
I watch you slice through a patch of dandelions
And flush hundreds of white seed-heads
Into the sky. I see them fly free
Only to succumb to your irresistible pull,
And land all over your jet-black back.
—This was the first time my eyes glimpsed the universe.
It only seems right that it was in Alaska,
Attached to a sled dog.
Those people who warned me
That the Poplars turn yellow at the end
Must have never spent summer
With a friend like you, Tonzo.
You are everything I ever wanted
To be.
Love,
Larry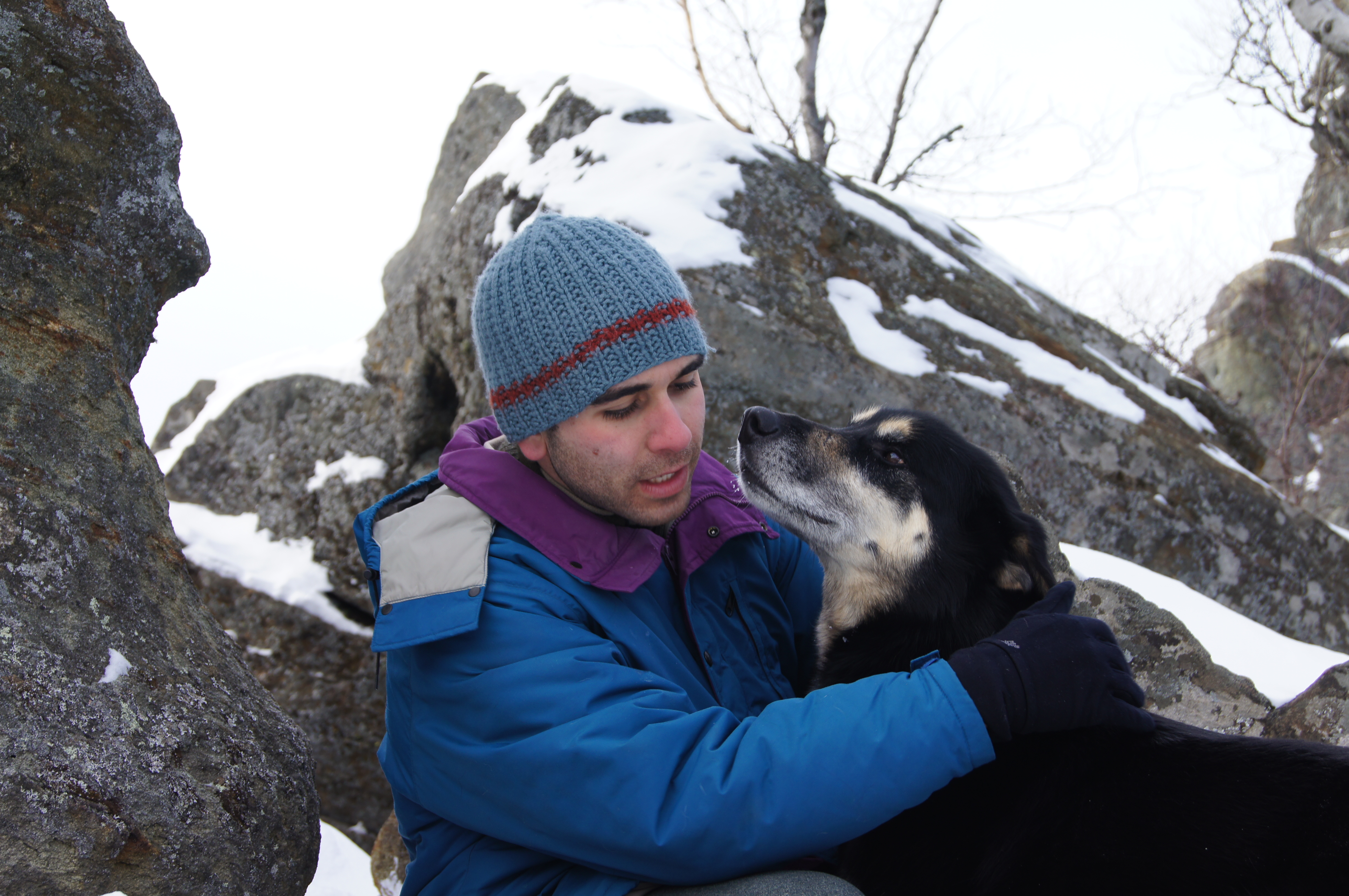 Larry and Tonzo enjoying a hike up in the mountains in northern New York. (Photo Credit/Larry Montague)
Endless thank yous extended to Larry and all of our volunteer walkers past and present. As another summer closes all of us at the Kennels hope to see you next year. If not, we hope you remember the summer you learned from, laughed with and were loved by a Canine Ranger walking together with the mountain breeze. Because they will certainly never forget.